Turkey Arrests Belgian ISIS Suspect At Site Of G20 Summit
Stung by accusations it has not done enough to fight ISIS, Turkey begins to disclose details about its efforts to fight the group.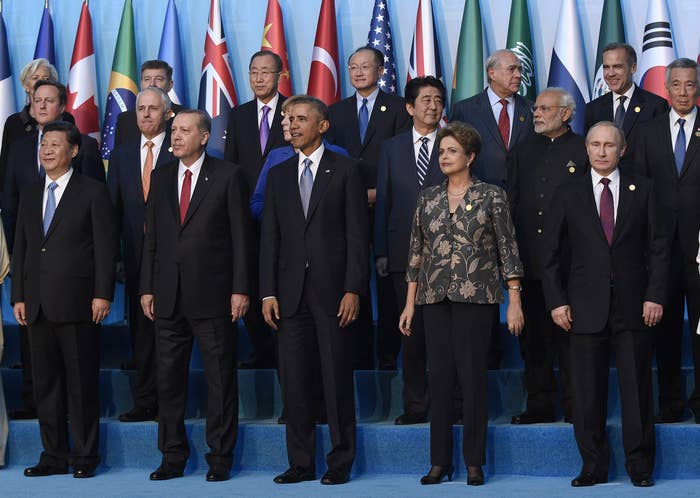 ISTANBUL — Turkish authorities have arrested a Belgian national of Moroccan descent and two accomplices with alleged ties to the ISIS terrorists who attacked northern Paris last week.
A senior Turkish official said Saturday that Ahmad Dahmani, 26, was arrested at a luxury hotel in the south-eastern resort city of Antalya, the site of the recent G20 summit, along with two other terror suspects. The three have appeared before a judge and are being held in prison, the official said.
Turkish security forces are describing Dahmani as an ISIS militant preparing to cross into Syria. He arrived in Turkey from Amsterdam a day after the Nov. 13 Paris attacks, on the eve of the G20 Summit, which brought together world leaders including President Barack Obama and Russian President Vladimir Putin. The officials have not yet provided any details of any alleged plots involving Dahmani and the two unnamed suspects. Turkey's Dogan news agency reported the team had scouted out sites for the Paris attackers, but disclosed no evidence.
"We believe that Dahmani was in contact with the terrorists who perpetrated the Paris attacks," the official said in an email distributed to journalists. "The Turkish security forces dealt a major blow to ISIS by arresting Ahmad Dahmani and his accomplices."
Dogan news agency described the two other suspects arrested as Syrian nationals Ahmet Tahir, 29, and Mohammed Verd, 23. They are reportedly accused of helping Dahmani slip back into Syria.
Turkish opposition figures and some Western analysts and officials have accused Turkey of allowing ISIS to build up its strength in its Syrian and Iraqi strongholds, by prioritizing instead its conflicts against Kurdish separatists guerrillas and the regime of Bashar al-Assad. But in recent days Turkey has begun to take more aggressive steps to publicize its efforts against ISIS.
Turkish officials days ago revealed the existence of a two-year-old program meant to identify potential terrorists entering the country. Teams of expert profilers, attached to various risk-analysis centers at border crossings and airports, flag potential militants and question them. Since 2013, more than 4,700 suspects have been questioned, about 1,300 denied entry and 500 foreign nationals deported, said a senior Turkish official.
Turkish officials have also imposed bans on 26,600 individuals described as foreign terrorists, half of them from Arab nations and about a quarter of them from Western countries.
On Wednesday, Turkish officials denied entry to eight Moroccan nationals. "The individuals were detained in accordance with the assessment of on-site profilers, who flagged the Moroccan nationals as terror suspects," said the Turkish official, noting that some of the detainees remained in custody pending further interrogation.
Earlier this month, another 41 Moroccan nationals were denied entry into Turkey based on the assessment of profilers, the official said, and simultaneously deported. Moroccan media said the men were economic migrants, attempting to gain access to Europe for job opportunities using the same routes as Syrian and other refugees fleeing war zones.
Turkey has been the main transit route for foreign militants attempting to join ISIS and for ISIS jihadis wanting to return to their countries of origin. Turkish officials have persistently complained that Western allies have failed to provide them intelligence on potential terrorists. A Turkish official said Belgian authorities had not informed Ankara about Dahmani, which is why he was able to enter the country and get within miles of a meeting at which global leaders were gathered.
"The police apprehended Dahmani based on intelligence gathered by the Turkish intelligence," the Turkish official said. Intelligence sharing is absolutely necessary if the international community wants to combat terrorism. Had the Belgian authorities alerted us in due time, Dahmani could have been apprehended at the airport."