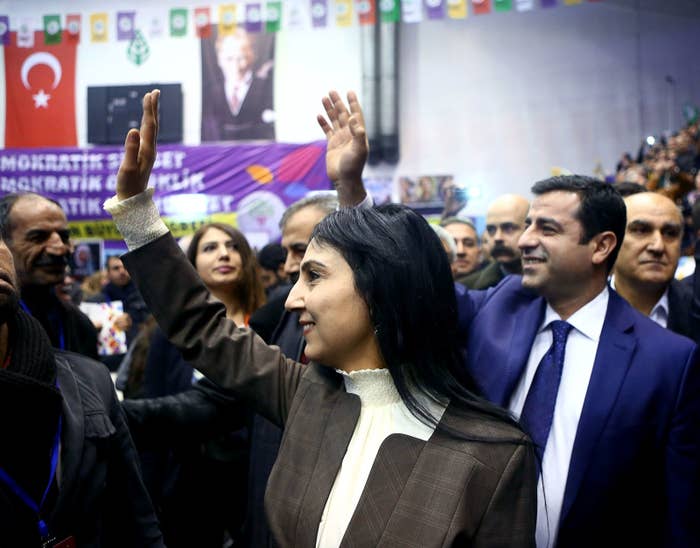 ISTANBUL — Police officers banged on Figen Yuksekdag's front door at her apartment in Turkey's capital, Ankara, just after midnight on Friday. Impatient, they unlocked the door from the outside then entered the home, waving a piece of paper, an arrest warrant for the co-leader of Turkey's third-largest political party, the left-leaning Kurdish-led People's Democratic Party, known by its Turkish acronym HDP.
"What are you doing?" Yukesdag could be heard telling the lead police officer in a dramatic video posted online. "You are sneaking into my home like a bandit!"
"Calm down," a police officer insisted as he struggled to apprehend the 45-year-old journalist and women's rights activist. "Please calm down."
"Your prosecutor is a bandit!" she replied. "You are a bandit."
Yukesdag, along with her HDP co-leader Selahattin Demirtas and 10 other members of the leftist party's parliamentary delegation, was arrested early Friday in a nationwide sweep that heralds a potentially dangerous phase in Turkey's political and security trajectory. Hours after the arrests, a car bomb struck a police headquarters in the southeast city of Diyarbakir, killing eight people and injuring 100 in an attack authorities attributed to the Kurdistan Workers Party, or PKK, the outlawed Kurdish militant group. Turkish authorities cut off access to Twitter, Facebook, and other social media tools, in a likely attempt to stifle calls for protests.
The arrests capped a stunning two weeks during which Turkey's authorities arrested the HDP co-mayors of Diyarbakir, the country's largest Kurdish city, and editors of Cumhuriyet, the country's largest opposition newspaper. Many independent analysts fear the high-profile arrests will sharpen security worries and damage the country's economy. Turkey is currently at war in Syria with ISIS, which has launched repeated attacks inside the country. At the same time it is fighting Kurdish rebels in the southeast and in northern Syria, while threatening to intervene militarily in northern Iraq to halt the advances of Shia militias in and around Mosul.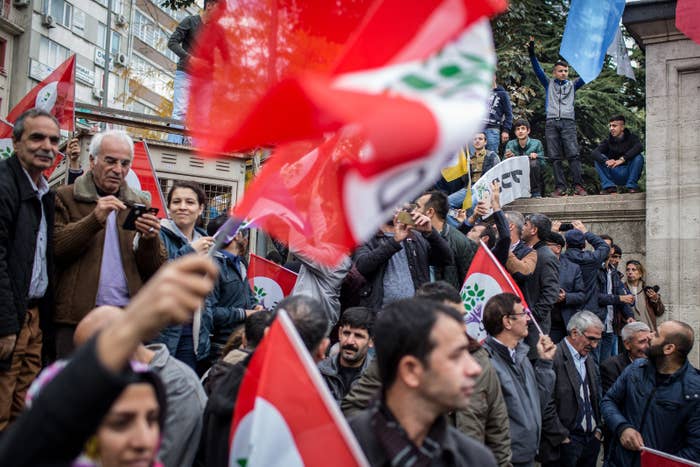 On Friday, the nation's main stock index, down 8% this year, fell nearly 3%, while Turkey's lira fell to fresh lows against the dollar and the euro. Federica Mogherini, foreign relations chief of the European Union, said she was "extremely worried" about the arrests; she met with Demirtas in June.
The detentions follow a wave of mass arrests and firings of suspected supporters of Turkey's failed July 15 coup attempt and other government opponents. The HDP, along with all of Turkey's main political parties, strongly and quickly condemned the attempted coup, allegedly perpetrated by supporters of Fethullah Gulen, who leads an Islamic movement. Demirtas, in an interview a day after the coup failed, told BuzzFeed News he hoped the putsch effort would make Erdogan "a little easier with his opponents."
But critics say the government is exploiting the emergency rules implemented in the aftermath of the coup attempt to settle old scores and streamline adoption of controversial measures, including reshaping Turkey from a parliamentary to a presidential system. Turkey's main opposition Republican People's Party (CHP) leader Kemal Kilicdaroglu said the arrests send Turkey "in a dangerous direction," while other members of this party described the detentions as a "coup" that would divide the country.
Emma Sinclar, Turkey director of Human Rights Watch, called the arrests an "outrageous step in the draconian crackdown that the Turkish government has been pursuing over the past four months," in a statement emailed to reporters.
It remains unclear how far the government plans to escalate the confrontation with the HDP lawmakers, who represent the aspirations of many of the country's large and restless Kurdish minority. One of the HDP lawmakers detained overnight, Zia Pir, has already been released, but a judge ordered both Yuksekdag and Demirtas to remain in jail. Warrants have also been issued for three other leaders who are either abroad or still at large.
The HDP lawmakers were wanted on relatively minor charges of failing to respond to a summons for a long-standing investigation into allegations of stirring up unrest in the country's southeast in October 2014, when ISIS attacked the Syrian Kurdish city of Kobane, Turkey's semi-official Anatolia News Agency reported.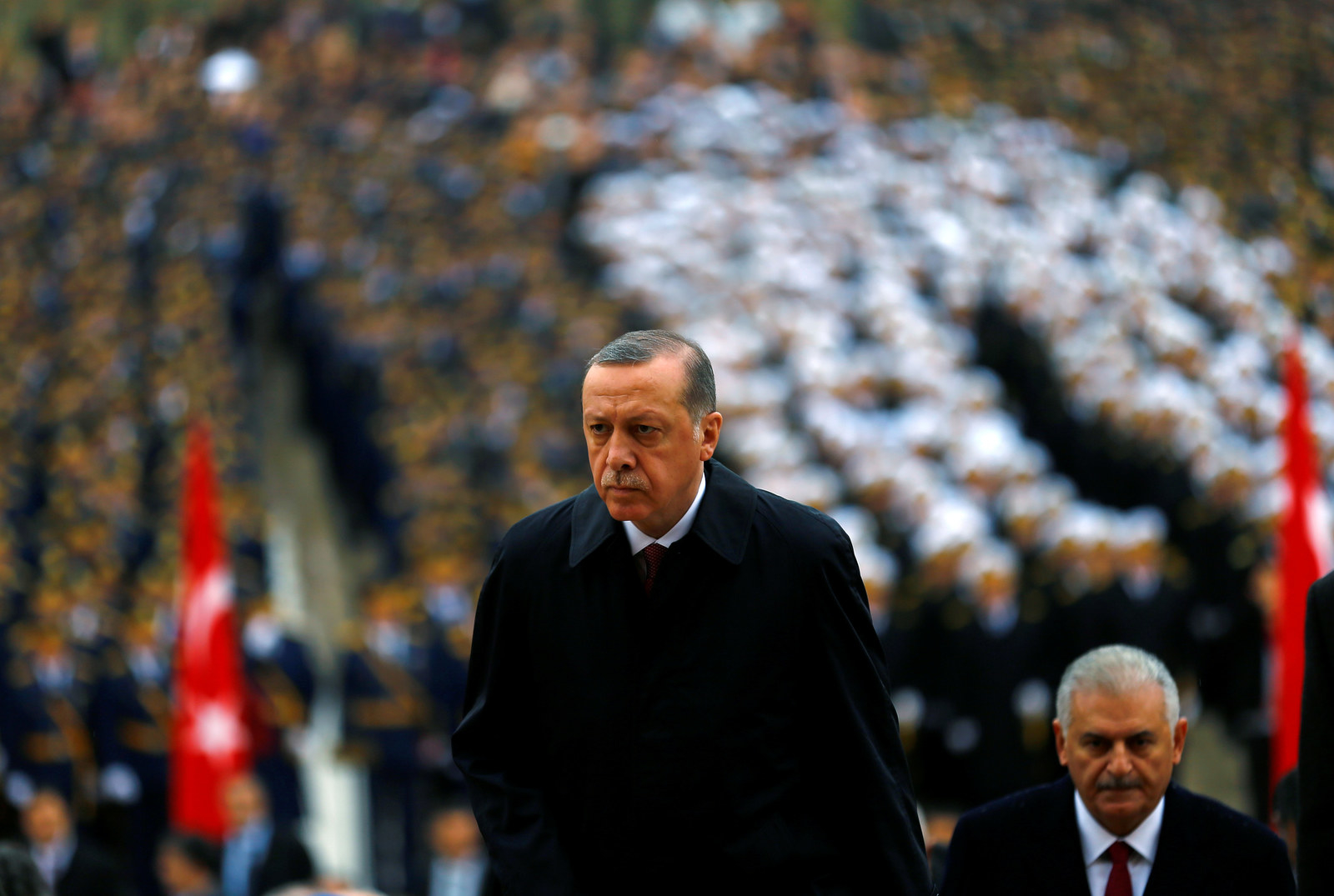 The Turkish Parliament, controlled by members of President Recep Tayyip Erdogan's Justice and Development Party (AKP), stripped lawmakers of immunity earlier this year, making the arrests possible. "Those who refuse to respond to the summons by prosecutors asking for their testimony in probes, and hence break the law, are taken into custody so as to take their testimony," said a statement issued today by the press office of the prime minister.
"The popular vote doesn't give them a mandate to support terrorism," Prime Minister Binali Yildirim told reporters in Ankara on Friday. "If someone does wrong or something with terrorism, he or she should give an account for this."
The HDP sought to hold a press conference at its headquarters in Ankara after the arrests on Friday, but cancelled after it said journalists were barred from approaching the building. During a meeting in July, Demirtas told BuzzFeed News few Turkish journalists interviewed him any more for fear their employers would be pressured into dismissing them. His outlook for the country was bleak during a press conference with a small group of international journalists in March.
"All the opposition that could put pressure on the government is under pressure by the government," he said. "What's happening in Syria and Iraq, Turkey is quickly becoming a part of that. It appears there's a dark future coming. We would be really glad if we are wrong about it."