Turkey And Russia's Epic Spat Actually Seems To Be Getting Nastier
Turkey's prime minister accuses Russia of ethnic cleansing while his Russian counterpart says Moscow could have started an all-out war over the downing of its plane last month.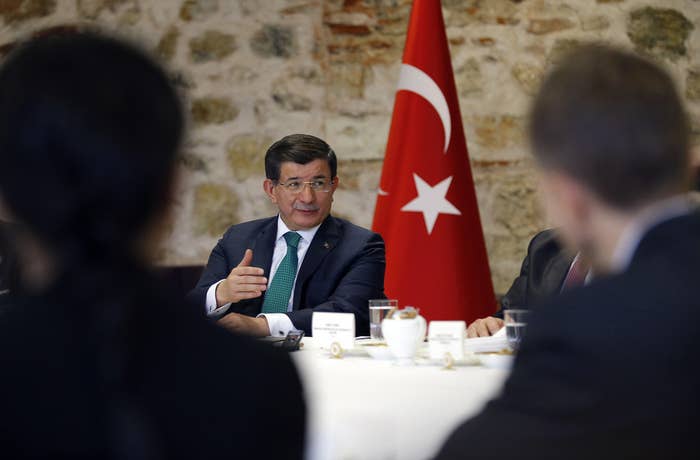 ISTANBUL — Turkey's prime minister on Wednesday accused Russia of "ethnic cleansing" against Syria's ethnic Turkmen and Sunni Arab populations in a bombing campaign he alleged had strengthened ISIS by targeting moderate rebels that were fighting the jihadi group.
The Russian bombing efforts strengthened Bashar al-Assad's regime and protected Moscow's airbases while actually bolstering ISIS, Turkish premier Ahmet Davutoglu told a small group of journalists at a meeting inside Istanbul's ornate Dolmabahce Palace.
"Russia is trying to make ethnic cleansing — you can write it — ethnic cleansing in northern Latakia to force (out) all Turkmen and the Sunni population who do not have relations with the regime," he said. "They want to expel, they want to ethnically clean this area so that regime and Russian bases in Lattakia and Tartous is protected. Their fight is not against (ISIS)."
The rare roundtable interview with a dozen U.S. and European news outlets that included BuzzFeed News came as Ankara and Moscow find themselves in an incessant war of words in the aftermath of Turkey's November 28 downing of a Russian fighter jet which allegedly crossed into Turkish airspace. Earlier on Wednesday, Davutoglu's Russian counterpart Dmitry Medvedev said that Moscow could have opted to launch an all-out war against Turkey in response to the downing of the MiG fighter jet.
"How did states usually act in the 20th century in such situations? They started a war," he said, according to a transcript of his remarks. "Because this is a direct attack on a foreign state. Naturally, in today's life, in today's situation, a war is the worst thing that can happen. That is precisely why it was decided not to respond symmetrically to what the Turks did."
ISIS, the regime of Bashar al-Assad, and a collection of rebel groups fighting both of them have been locked in a grueling civil war in Syria for several years. In September, Russia began launching airstrikes in support of the regime, severely complicating a war zone that includes an aerial campaign against ISIS by a U.S.-led coalition.
Davutoglu's criticisms of Russia, spread over a 90-minute discussion on Turkey's domestic and international affairs, amounted to some of the harshest criticisms of Moscow's air campaign. He all but accused the Kremlin of helping ISIS by hitting northern Syrian rebel groups in and around Azaz that focus exclusively on battling the group.
"Who is fighting against Daesh? " using the popular Arabic acronym for ISIS. "People from Azaz, people from Northern Aleppo. Then Russia is bombarding them and trying to cut logistics from Turkey to Azaz. Who is benefiting from this? Daesh. Not even the regime. Daish."
He warned the West the Russian offensive would create a whole new wave of refugees, first landing in Turkey then making the sometimes perilous trip by sea to Europe, where they have already bolstered right-wing populist groups. "If this continues from Aleppo to Latakia, 3 million people are leaving," he said, "If this bombardment continues, I cannot tell you how many more millions may come to Turkey."
He also suggested Russia and Iran, which also backs the Assad regime, were behind recent tensions between Turkey and Baghdad over Turkish training bases in northern Iraq. On Wednesday, the U.N. Security Council refused a Russian proposal to censure Turkey over the bases.
"If there was no such tension between Turkey and Russia because of the airspace violation in Syria, Russia wouldn't be so vocal because of our troop transfer," he said. "This act of Russia is not because of solidarity with the Iraqi government but because of their reaction to Turkey."