ANTAKYA, Turkey — Just a few more days, the pediatrician assured his friend, and he would come back. Doctor Hatem, as he is known in the tight-knit community of Syria war physicians, had an important exam to take in Istanbul, a half-hearted attempt at career development in the midst of the chaos that had engulfed his homeland. Hatem asked his fellow pediatrician and friend, Muhammad Waseem Moaz, to delay his own long-planned break a little while longer so he could sit for the test.

"You stay, and I will change places with you later," he promised his friend.
The last couple weeks of April had been a particularly stressful stretch of the war. A shaky cessation of hostilities between pro- and anti-Syrian regime forces was crumbling in Aleppo, Syria's commercial capital and largest city. Casualties were mounting again as helicopters and planes pounded the city with barrel bombs. One day a missile landed in the city, barely missing the Children's Hospital, where Hatem is the senior doctor.
Then there was the daily battle to stock up on essential supplies. Transit routes to opposition-held territory in eastern Aleppo had closed as rebels lost control to fighters from the regime of Bashar al-Assad, to ISIS, or to Kurdish militias. Only the dangerous Castello Road leading to the northwest, through Idlib province, remained open. Doctors had stocked up on six months of supplies, but the regime appeared to be targeting their warehouses. "We used to get supplies through Kilis, but now everything is affected by the siege," Hatem said.
In any case, many of the children couldn't be treated by basic drugs or bandages; as well as physical injuries, they suffered from nightmares, neuroses, and panic attacks. Some were wetting their beds at the age of 10. Promises of relief from abroad had never materialized, leading to a sense of abandonment. "They hear us," said Hatem, of western policymakers. "They see the bombing. They watch everything. Why don't they try to stop it?"
By asking him to stay a little longer, Hatem knew he was asking a lot of Moaz — after all, he hadn't seen his family, most of them sheltering along the Syrian border in Turkey, in four months. But Hatem promised to meet up with Moaz's brothers on the way out and deliver some money. Moaz, who was a kind of mentor to Hatem, agreed.
The phone call came at around 10pm on April 28. A regime airstrike had hit Aleppo's al-Quds hospital, a facility supported by Doctors Without Borders, where Moaz also worked. Dozens of patients and staff had been killed. Hatem's home was also destroyed.

"One of my friends called and said Moaz was injured," Hatem recalled over coffee at a cafe in Turkey earlier this month. "I said, 'Go visit him.'"
When the friend called back he told Hatem, "He's finished." Moaz was dead.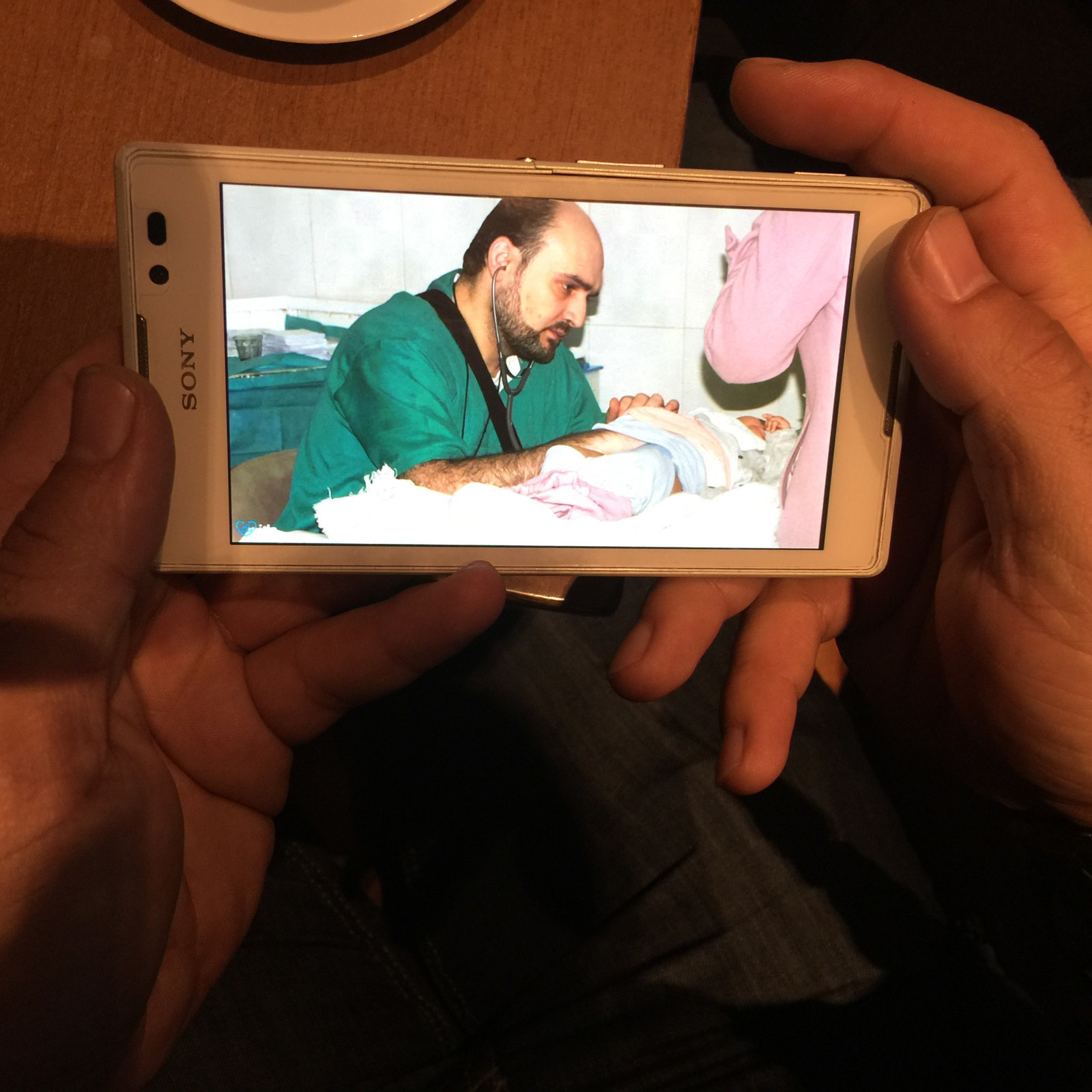 "There's an old saying that if you kill a doctor you kill 100 people," said Hatem, his eyes glistening. "When they killed Dr Moaz, they killed 5,000."
Short and lean, with a soap opera doctor's handsome looks, 29-year-old Hatem is a good-humored man, mostly smiling as he recalled the games of soccer he used play with Moaz and other medical staff. But the mask slipped and his shoulders drew inward when he described the guilt he felt at his friend's death.
"He was my friend," he said. "He was on his way to visit his family, and I stopped him."
Moaz, 36, was the most experienced of half a dozen pediatricians in Aleppo, and his death sparked a round of international outrage and grief. "He was honest and very committed. He worked in conditions you cannot even begin to imagine," Doctors Without Borders representative Aitor Zabalgogeazkoa told the BBC.
Opposition leaders and military analysts do not believe it was an indiscriminate strike that killed him — they see a pattern in the Syrian regime's targeting of hospitals, schools, and food supplies, an attempt to drive out populations in rebel strongholds. In March, Amnesty International accused the Syrian and Russian armed forces of "deliberately attacking health facilities in flagrant violation of international humanitarian law" in what "appears to have become part of their military strategy."
"We are fighting the regime, and we will never go back to before."
Moaz was buried the day after his death in eastern Aleppo by his brother, Bakri, an orthopedist in the city. The same afternoon Bakri went right back to work, treating the overwhelmingly civilian casualties of the Russian and Syrian bombing campaign. Hatem, too, said he wanted no respite, and was heading straight back into Syria. First he intended to visit Moaz's grave and pay his respects, and then to resume his duties at the Children's Hospital.
"I'm one of the people used to living in Syria," he said. "I want to go home. I look forward to it."
As for al-Quds hospital, a fortified substitute facility has been designated and was scheduled to be up and running already, in what is seen as an act of defiance against the Syrian regime.
"Bashar al-Assad must see that the doctors will stay," said Hatem.
In late April, the Assad regime and its Russian backers began striking the eastern half of the northern Syrian city of Aleppo with one of the largest aerial assaults on a city in recent history. Hundreds of barrel bombs and missiles rained down on Aleppo, including the one that destroyed al-Quds hospital. They also allegedly targeted water pumps, power relay stations, food and medicine warehouses, and schools. At least 250 people, mostly civilians, were killed in the city last month.

"One raid ends and another starts right after," said Abdul-Hamid Bakri, a 21-year-old activist and former college student, in a phone interview from Aleppo during the bombings. "They are targeting the heartbeats of the city — the hospitals, the warehouse for bandages. We are losing any supplies that could help the wounded."
Syrian rebels in Aleppo have also been accused of responding to the regime attacks by firing crude homemade bombs into government-controlled neighborhoods of Aleppo, including one that allegedly struck a hospital.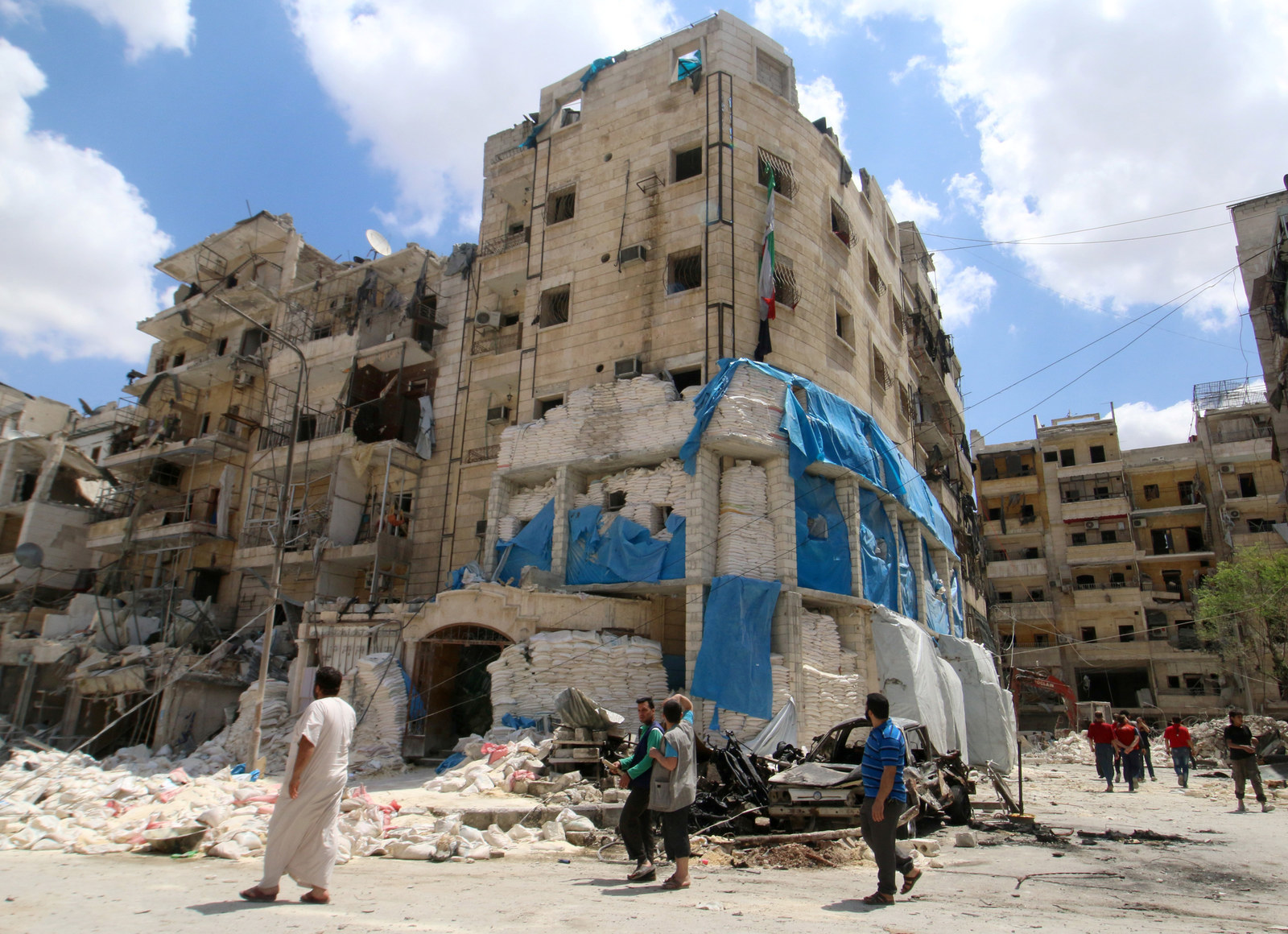 Since early May, the fighting has quieted somewhat, as Russia, the U.S., and regional powers attempt to restart stalled peace talks in Vienna. But neither opponents nor supporters of the Syrian regime place much faith in international efforts to end the war. Both sides are girding themselves for the next round in the fight over Aleppo, now the most fiercely contested city in the Syrian conflict.
Over the course of five years, the war has become ever crueler. Pro-government forces, rebels, ISIS, and autonomy-minded Kurdish militias attack civilian areas and lay sieges meant to force the other side to buckle. But the Syrian regime is the only force in the country with air power, and the U.N. and independent observers say it plays the largest role in destroying civilian lives and infrastructure. In a telegram sent this month to his patron, Russian President Vladimir Putin, Assad vowed to fight for Aleppo until a "final victory" had been assured.
But the Syrian regime's push to starve and weaken its opponents in Aleppo is countered by a determined rebel effort, funded by Turkey, Saudi Arabia, and other Gulf countries, as well as international aid organizations. In eastern Aleppo, anywhere between 250,000 and 400,000 people remain, and Syrian-backed opposition forces are preparing for the grim possibility that the city will become fully encircled.
The wealthier western quarter of Aleppo has long been under the control of the regime, while a coalition of relatively moderate rebel groups, as well as perhaps 200 fighters from the al Qaeda-linked Jabhat al-Nusra, control the eastern half of the city that includes the badly damaged historical old quarter.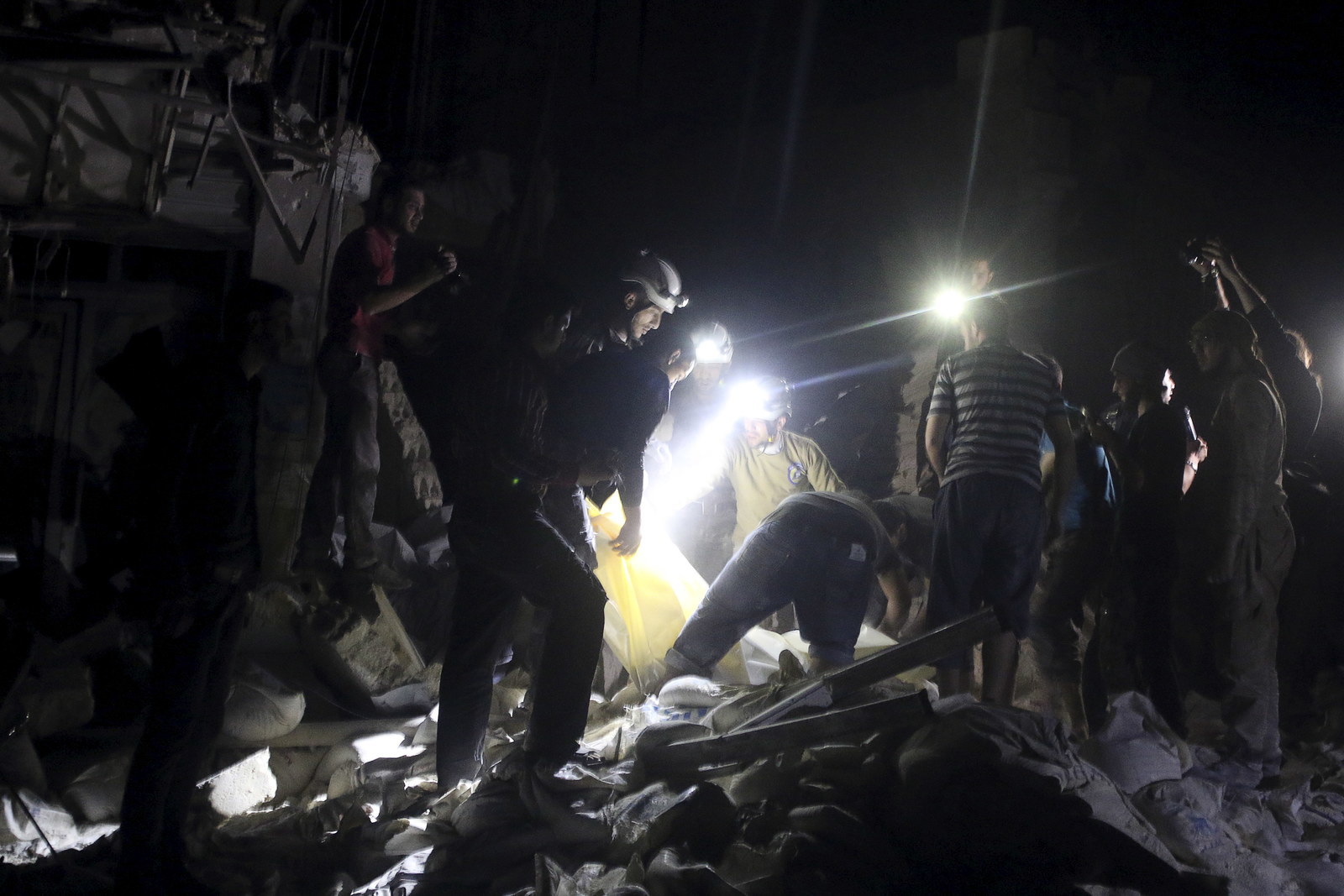 Syrian government forces, backed by Iranian ground troops and Russian airstrikes, are attempting to encircle the city, while opposition forces do everything in their power to stop them.
But even if Aleppo were placed under a full-scale siege, opposition leaders say they have developed ways of getting supplies in and out of blockaded districts, including by surreptitiously purchasing supplies from regime-held parts of Aleppo. "Because of the back-and-forth fighting, you never have full control of the land," said Mohammad Yassine Najjar, an official in Syria's opposition government, based mostly in the Turkish city of Gaziantep.
"The first line of resistance are the civilians already in Aleppo," said Abu Kader Allaf, deputy minister of communications in the US-backed opposition government, with offices in Gaziantep. "Everyone knows these 300,000 people will never leave. They will stay no matter what. Some of them are even wealthy businessmen who chose to stay. Even if they have an option to leave, they will stay for religious or national reasons. They will not leave the city. They have buried their children there."
"There's an old saying that if you kill a doctor you kill 100 people. When they killed Dr Moaz, they killed 5,000."
On May 2, Allaf and his colleagues managed to get two engineers along with 10 truckloads of supplies through the dangerous Castello Road. "It's not enough, but it got through," said Allaf. "We told the engineers to stay here and rest and let things cool down, and they refused."
Allaf is a grey-haired engineer in his forties who until two years ago was in charge of emergency electricity service for the entire city of Aleppo, living in the regime-controlled west of the city. In a 2013 confrontation with authorities, he spoke out about Assad's paramilitary Shabiha enforcers looting power facilities. Once an apolitical civil servant, he was arrested and accused of supporting the opposition, and locked up in a tiny cell with nearly 100 other prisoners. "Daily one of us died," he recalled. "Even the insects were dying."
When he got out of prison 51 days later, following the intervention of a senior official in Damascus, he had dropped in weight from about 200 pounds to 135 pounds. He soon defected to the opposition and fled abroad, where he now focuses exclusively on restoring enough electricity and water services to the opposition-held city to make life tenable.
"The regime is actually aiming to destroy all the basic services for Aleppo, so it can stop all life support for the 300,000 people in the city," he said. "But we won't allow it. During the cessation of hostilities, we worked to restoring sanitation and health services, as well as utilities and roads. Aleppo is cleaner now than even before the war."
Opposition groups are doing their best to get supplies into Aleppo; one organization, Ibn el-Balad, set up a kitchen this month in the city center that feeds meals of chicken, rice, and yogurt, along with two pieces of bread, to 3,000 people per day, with plans to increase the number to 8,000 within a few weeks. "We are helping those who have the will to stay there," said Zakaria Bako, a 35-year-old Syrian in charge of the program. "Why should they leave? This is their land."
Armed rebel forces play a key role in keeping supply lines open. "The regime will lose," said Yasser al-Youssef, a fighter and spokesman for the Nour al-Din al-Zenki movement, a unit of Free Syrian Army. Over pizza and soft drinks at a restaurant in Gaziantep, he sketched out on a napkin the contours of a battle that took place on that particular day when regime forces sought to cut off the Castello Road. Instead Syrian rebels won back some areas.
"The Iranians and the regime are tricking the Russians, claiming that they are holding ground," Youssef said. "But we are from this area. We have a lot of experience."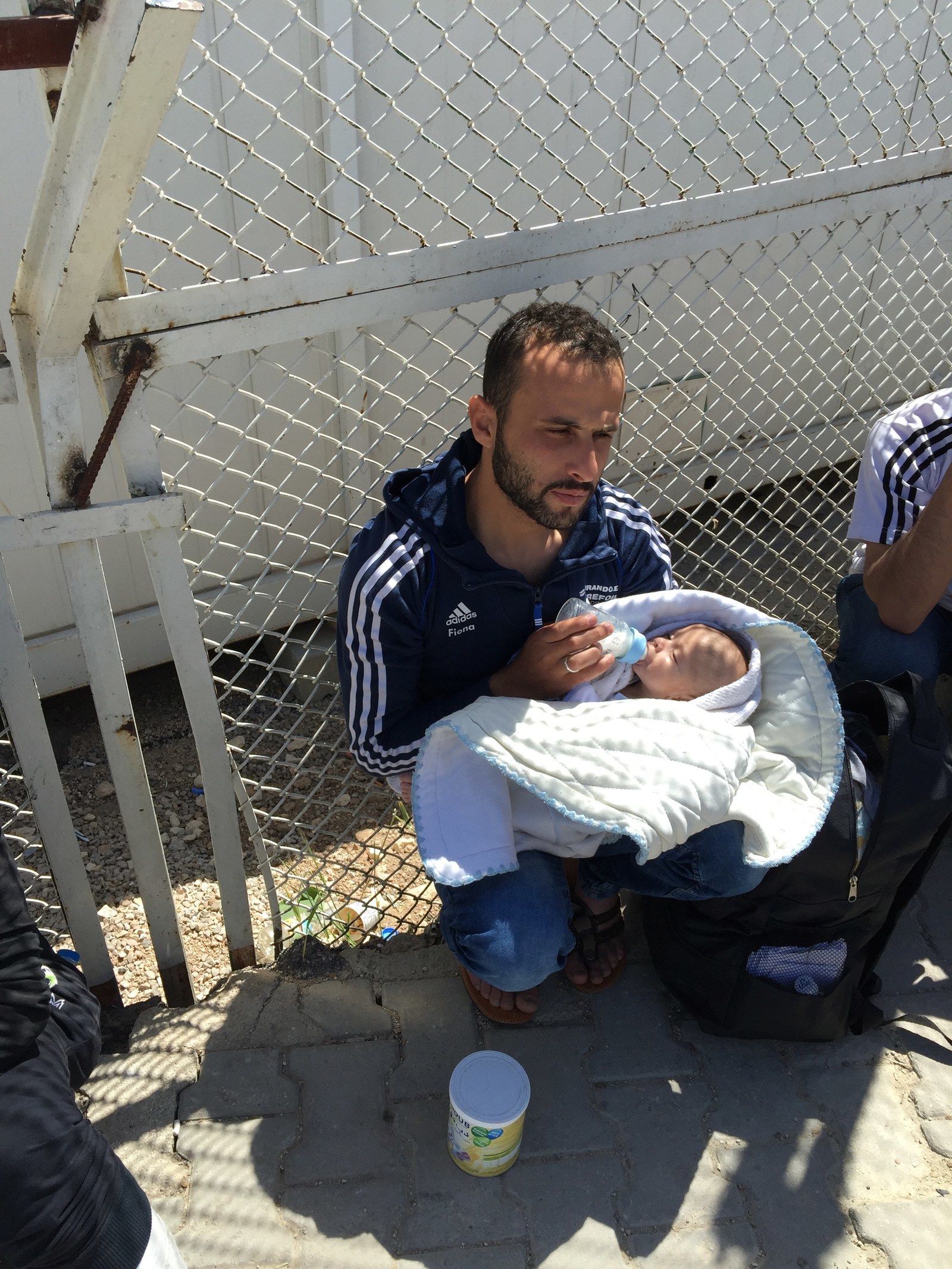 At the Syrian border crossing near the Turkish city of Kilis, 24-year-old Ahmed sat in the sun, comforting his crying 10-week-old son, Ali. He had lived between the northern Aleppo province city of Tal Rifaat and a nearby camp until his son began having stomach troubles. Doctors in Syria said Ali must be treated in Turkey; they simply didn't have the equipment or expertise.

"The situation there is so terrible," said Ahmed, as he mixed baby formula for his son, and sat among a small group of Syrian refugees. "I had to get my baby boy here."
Mohammed Katoub, a Syrian doctor working inside the country, said late last year that civilians could withstand bombs or starvation, but would leave the country in a heartbeat if they feared for the health of their children. Fighting units have their own medics and clinics for treating wounded rebels and systems in place to get them across the border to Turkey in case of ailments too severe. Those wanting to give Syrians inside the country a chance to survive have set up an elaborate and dangerous underground railroad for transporting and healing the sick and wounded inside the country.
"The many different armed actors have made the crossing of multiple lines of control an arduous, dangerous, and uncertain undertaking by heroic aid workers," Nancy Lindborg, president of the United States Institute for Peace, said in testimony before the Senate Foreign Relations Committee on Tuesday.
Doctors inside the country, sometimes overwhelmed by the complexity of the traumatic injuries they need to treat, belong to WhatsApp groups that include Syrian and other physicians around the world. They post photographs and descriptions of wounds and ailments, seeking advice from colleagues.
Patients with injuries too severe to be treated inside Syria are loaded onto ambulances painted to look like normal cars. Drivers and medics radio ahead to the border, where another team transfers the patients to hospitals in the border towns of Reyhanli or Kilis, or the provincial capital in Antakya.
"They arrive bloodied and destitute, sometimes at night," said Khaled al-Homsi, a physician for the charity Healthcare Organization, with offices in the southeast Turkey city of Antakya. "We give them clothes, shoes, a little money for food."
Those patched up and healed often want to head right back into the country. Abu Jaffar, 25, was fighting against ISIS forces in eastern Aleppo province when a rocket struck near him in early May. The fire from the blast nearly burned off his face, but doctors say his badly injured left eye should fully recover.
"We were in a battle there, and we managed to kill a lot of those guys," he said. "They started shelling us with mortars. We managed to liberate some areas, but I was hurt."
Lying on a stretcher in the waiting room of Kilis State Hospital, he said he would return to Syria as soon as he could to continue to fight.
Aymen Abu Allah, who oversees Healthcare Organization, walks with a severe limp and the help of a cane. His right leg was struck three times in various regime attacks, the first during the same 2012 barrage of rockets that killed U.S. journalist Marie Colvin in the city of Homs.
"It's a revolution, not a crisis to defuse," he said. "The international community tries to treat it like a crisis. But we are fighting the regime, and we will never go back to before."