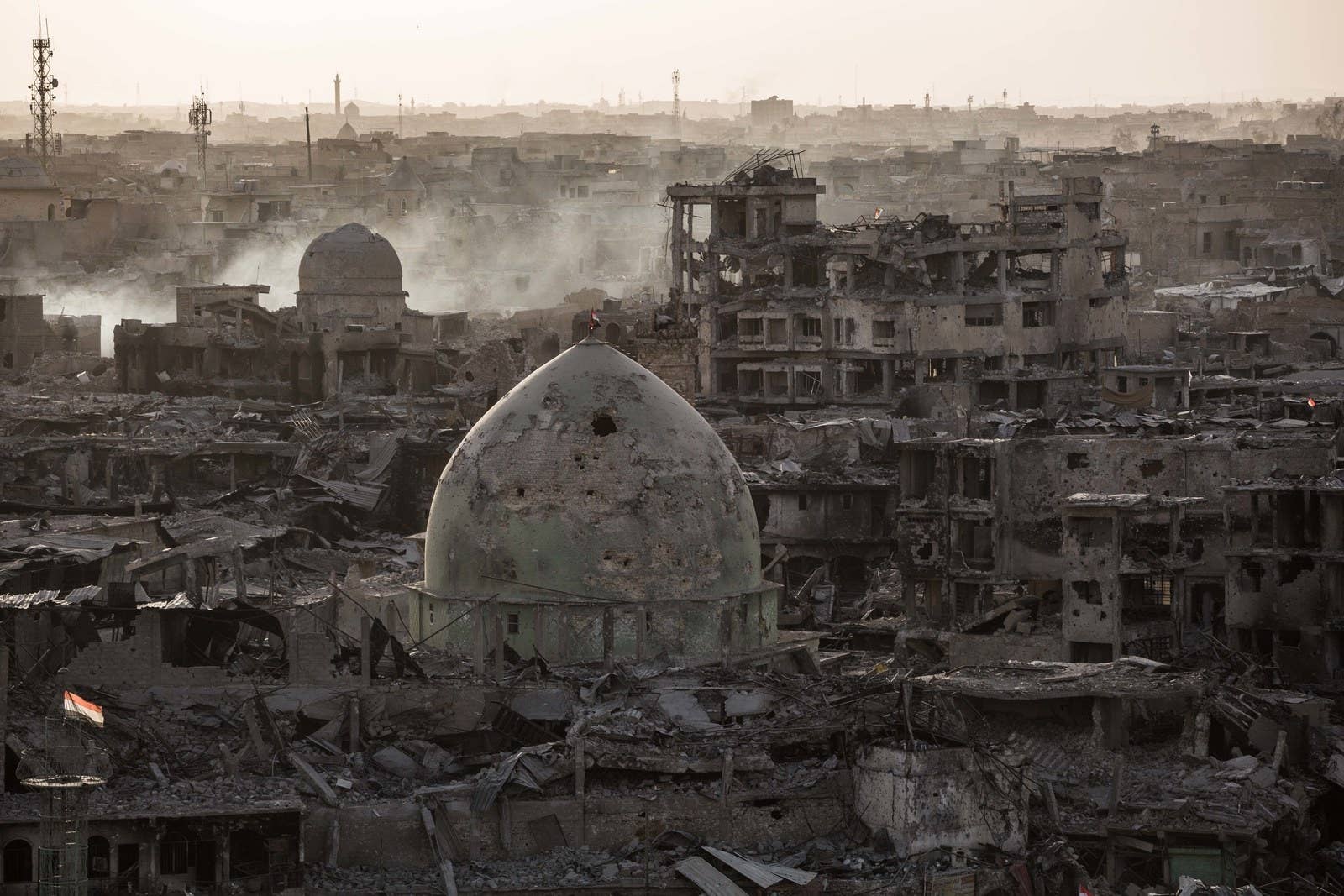 MOSUL, Iraq — ISIS has cost Ziad Salem deeply: his job as a guard at the ministry of oil; his marriage to a wife who turned out to be an ISIS sympathizer; and his home once her family tarnished him as an opponent of the caliphate, sending him into hiding. Then, when the war to liberate Mosul began in earnest, he lost his city.
"ISIS promised it would create a caliphate that would stretch from Baghdad to the Philippines," the 48-year-old said during a walk to see what remained of his shattered hometown. "Instead I lost everything. But above all I lost my city and country."

Iraqi Prime Minister Haider al-Abadi declared victory over ISIS in Mosul this week, emphasizing that the challenge of reconstruction must now get underway. In west Mosul's topography of pain, loss, and destruction, Salem might have gotten off easy. A once proud, relatively prosperous city of an estimated 1.3 million in 2014 has now been reduced to rubble, and all but depopulated. Much of the city's ancient old quarter lay in tangled heaps of cement, twisted girders, and electrical wire.

Firas Moayed, 41, accompanied a delegation of Iraqi civil defense officers through the wreckage to collect the bodies of his brother Leith's family, including several children. The corpses of nine people — men, women, and children — had been collected and lain on the back of a pickup truck. "Of course I am sad," Moayed said. "I loved my brother. But there were 30 of my relatives staying in that building. And it's a miracle not all of them died."

A few hundred meters away, the last pockets of ISIS held out, operating within a network of tunnels beneath the old quarter and a few buildings nearby. Down one alleyway, the corpse of a slain ISIS fighter dangled from a doorway. Gunfire and occasional airstrikes continue to rattle parts of the city. On Friday, at least one Iraqi soldier was killed, struck by a sniper's bullet in the head in the Old City's Jewish quarter. They rushed him to a medic near what remains of the front line, but he died along the way, said Amr Jabbar, a nurse working at makeshift clinic assembled inside a storefront.


Earlier in the day, Jabbar said, soldiers brought in an 8-year-old girl. Her arms and legs were badly burned but she managed to tell her story using broken Arabic: She was the daughter of an ISIS couple who had been killed in the fighting. They bandaged up the terrified girl and handed her over to an international aid organization, he said, showing a picture on his cell phone of the distraught child. "Her name is Khadija," Jabbar said.

Throughout the city, Mosul's residents contemplated their losses of the last three years of ISIS rule and an intensifying war. Hani Musa, a 53-year-old carpenter, lost his wife, Falen, in a suicide bombing during the first few days of ISIS's June 2014 takeover of the city. She was 44. For the last three years, he's been struggling to raise his six children, the youngest of whom was 3 when he lost his mother. "He doesn't even remember his mother," he said. "I've had to be mother and father to them."

Amr Khaled was seeking shelter during a particularly intense day of fighting three months ago. A mortar struck. When he regained consciousness hours later, he had 18 stitches in his belly, and shrapnel wounds all over his midriff. The 29-year-old mechanic was relieved he survived, but dismayed to learn that four people, including two children, were killed by the same mortar.

Fatma Kamel, 42, had to keep her four daughters aged 10, 11, 12, and 16 out of school for three years, and worried that their work and career prospects would be stunted. But even now she fears she won't be able to send them to school because her husband lacks a job and books and transportation cost too much. "They are really bright girls, smart," she said. "They want to study and do well."

Few of the hundreds of thousands of civilians who fled the city have returned to western Mosul. Those in town are those who never left, like Ali Ahmad, 47, who was walking with his 7-year-old boy to Friday prayers at one of the city's few functioning mosques. "There's no water, no electricity, no services," said the grammar school teacher. He would have left Mosul as soon as Iraqi forces entered but he had no money; ISIS had prevented him from working, before eventually ordering him back to his old job for a salary one-tenth of the $400 per month he previously earned.
"It hurts," said Capt. Mustafa Hilal of the Iraqi national police. He was looking out at the destruction of the city from the rooftop of a bombed out 11-story hotel used as a sniper's nest by ISIS. "To see the destruction, the families displaced, the children killed."

ISIS fighters shot Ali Mahmoud's 15-year-old grandson, Mohammed, in the head during the first days of their rule, while he was out buying some milk and cheese. "They had said something to him, and he talked back to them, and they shot him," said Mahmoud, who is 77 years old.

Mahmoud's home was commandeered and trashed by ISIS; his family only managed to move back in a few days ago. In the living room, the family recounted their woes over the last few years. One of Mahmoud's sons stepped on a mine and ripped up his leg. Another had his insides shredded in a mortar strike. Another was arrested by ISIS and jailed and tortured for months on suspicion of being a sorcerer. Bahera, Mahmoud's elderly wife, showed us bird hutches where the family bred prized pigeons gathered from across Iraq. The ISIS fighters who had forcibly taken the home killed all of them.

"Even the animals. May ISIS be cursed," said Bahera. "They killed our grandson. May God strike them down."