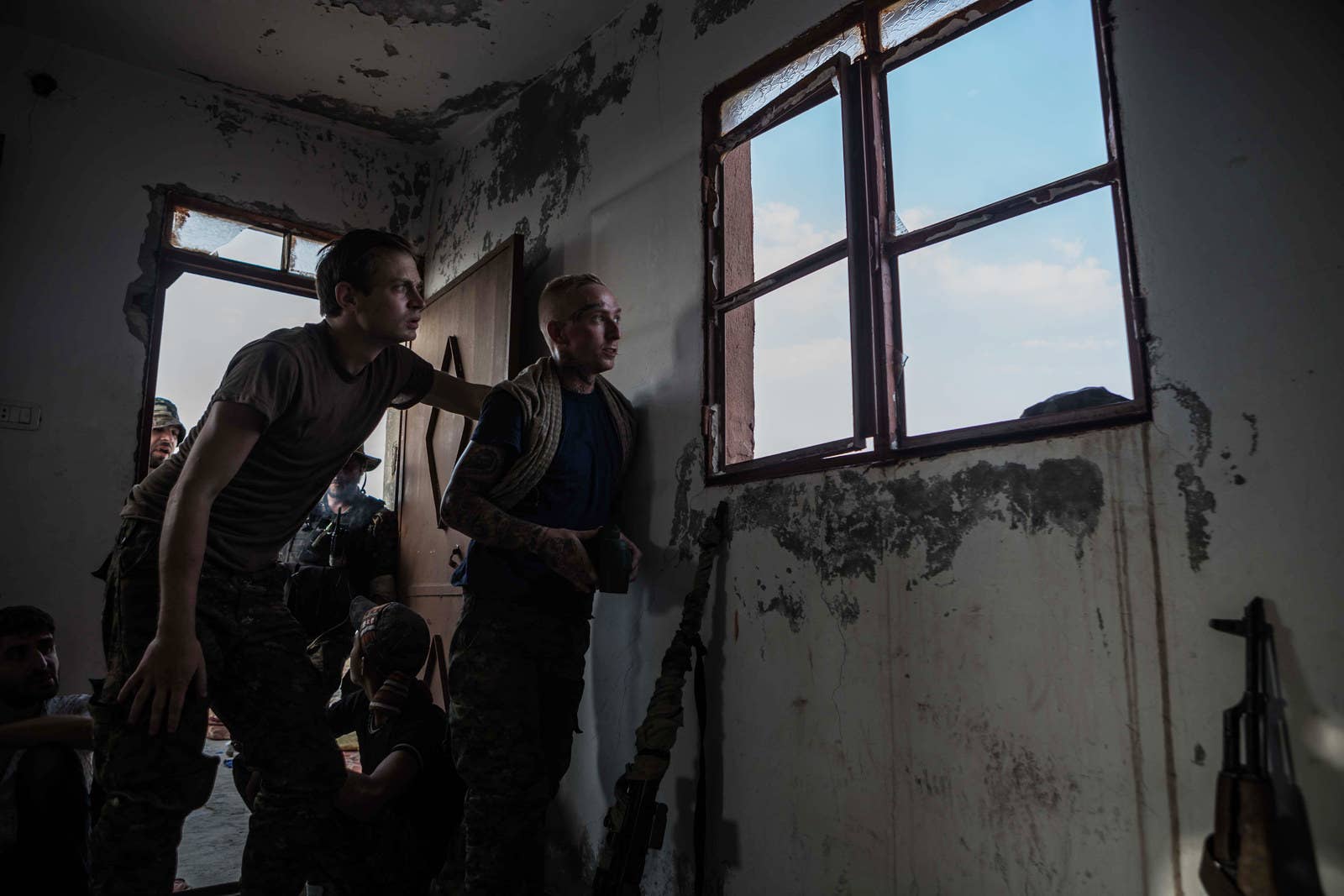 RAQQA, Syria — Kevin Howard has always sought adventure and meaning.

The 28-year-old California Bay Area native first joined the US Marines, serving in Iraq and Afghanistan. Then he joined the French Foreign Legion to broaden his horizons but eventually "got tired of scrubbing toilets." Now Howard, with a pasty white complexion, blond hair, and body art across his arms and face, is fighting on the front lines against ISIS in northern Syria on behalf of the Kurds, Christians, and Yazidi minority he befriended while he was deployed to the Middle East.
"I learned about the Kurds and the Yazidis and I always told myself I'd go back," Howard said during a break in the fighting at a frontline position along the western edge of ISIS-controlled Raqqa. "I really loved the Yazidi people," he said, referring to the ethnic minority subjected to genocidal violence by ISIS in their homeland near the Iraqi city of Sinjar. "And then [ISIS] in 2014 came and they killed almost everybody I knew, everybody I kept in contact with."
That was three years ago. Now US troops backing Iraqi government forces and Syrian militias are locked in a battle to push ISIS out of territory it has held as part of its self-proclaimed caliphate since 2014. Among the most jarring sideshows of the war is the presence of dozens of Western fighters who have volunteered with the Kurdish-led force in northern Syria, as well as in Iraq. They came to the Middle East for different reasons. Some wanted to put their military experience to use against ISIS. Some are leftist activists who say they believe in the quasi-socialist vision of Syria's Kurds.
Westerners like Howard draw inspiration from the international volunteers who joined Spain's Republicans in the 1930s war against the fascist dictator Francisco Franco. Back then, Western countries refused to help the Republicans until it was too late. In the war against ISIS in Syria and Iraq, the US-led coalition has been escalating and deepening its commitment to the effort since the militant group took over Mosul in Iraq in the summer of 2014.
The State Department has issued numerous travel warnings cautioning private US citizens against visiting Iraq or Syria to engage in armed conflict. US-led coalition officials leading the war effort said they consider the foreign volunteers a potentially distracting nuisance, and steer clear.
"In addition to the extreme personal risks of kidnapping, injury, or death posed by such actions, legal risks include arrest, fines, and expulsion," Col. Joe Scrocca, spokesman for the US-led coalition, wrote in an email response to a BuzzFeed News inquiry. "US citizens are reminded that fighting on behalf of or providing other forms of support to designated terrorist organizations, including ISIS, can constitute providing material support for terrorism, a crime that can result in penalties, including prison time and large fines."
As Howard acknowledged, "We're not really supposed to be here."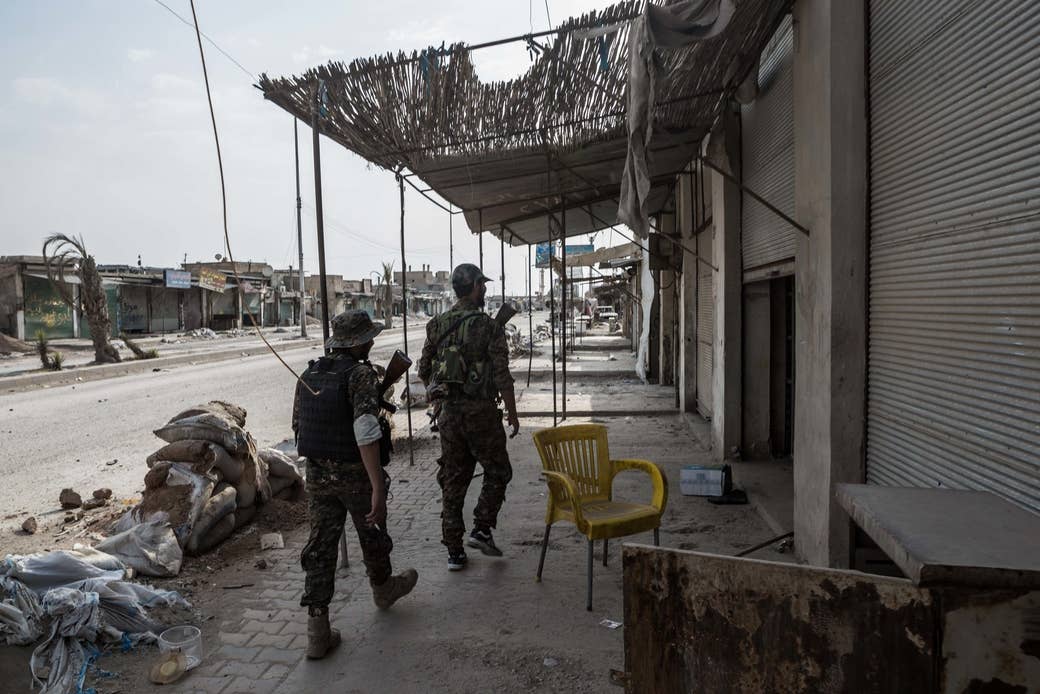 Still, Syrian militia commanders said they welcomed the foreign volunteers, especially those who have served in Western armed forces.

As dusk approached one evening in July on the eastern front of Raqqa, a group of Western volunteers boarded a pickup truck, dressed in full battle gear. The men, part of the International Freedom Battalion of the People's Protection Unit, or YPG, the Kurdish-led Syrian armed force fighting ISIS alongside US forces, were going on what they called a "raid," basically taking control of a building inside or close to enemy territory.
Their commander, Claudio Locatelli, a 29-year-old Italian from the northern city of Padua, gave each man a hug and wished them good luck. The dozen or so men, he explained, comprise the only international unit fully embedded with the YPG. They include fighters from the US, the UK, Canada, France, Germany, Spain, Italy, Norway, and Finland. "We all took different paths here," said Locatelli. "Some of us are here as activists in solidarity with the YPG. Some others are here fighting ISIS. What keeps us united is the idea that what we do here is right."
BuzzFeed News
St. Louis native Jake Reiter (right) chats with a fellow international volunteer at a makeshift command outpost in western Raqqa.
All the men crossed into Syria illegally at various points over the last several years with the help of smugglers, risking prison sentences of up to 10 years imposed by the authorities in Iraqi Kurdistan, which is also fighting ISIS but hostile to the YPG. All volunteers must pass through the YPG's training academy, a one-month course that some complain is heavy on ideology and light on military training. Others find the YPG's leftist ideals appealing.

"I like the fact that it's a feminist, democratic, secular revolution," said Macer Gifford, the nom de guerre of a 30-year-old British citizen from Cambridge who has been in northern Syria for three years, first as an aid worker, then later as a fighter for the Syriac Military Council, one of the pro-YPG militias fighting ISIS.
Turkey considers the YPG a terrorist organization, and its foreign fighters have been vilified by Turkey, as well as their home countries. One US official in Syria complained that many of the volunteers were war junkies, ex-soldiers looking for a fix, or akin to tourists seeking a thrill. They wear high-end military gear, including knee pads and night-vision goggles, and appear eager to rush to the most forward positions. Jake Reiter, a 25-year-old American from St. Louis, said he decided to join the war against ISIS after he was discharged from the Army early over what he called a technical foul-up. "I obviously failed to fulfill my contract to my country, and I had to help out some other people in some other way," he said. "ISIS is obviously not a good group."
The volunteers sometimes seem disturbingly out of place in a war zone. One day in mid-July, for example, Reiter and a British volunteer were dropped at a command post near the western front of Raqqa. Speaking little Kurdish and no Arabic, they were confused, wondering nervously if they were lost in the middle of contested territory around ISIS-controlled Raqqa. They struggled to figure out if they were where they were supposed to be. But the fighters at the outpost welcomed them, and invited them to stay for an offensive to take a small enclave of Raqqa the next day. They eagerly took part.
Volunteering to fight ISIS is a perilous endeavor. At least three US volunteers reportedly died fighting against ISIS in Raqqa in July.

All the foreign fighters worry about being potentially hassled by their governments if and when they return home. One of Howard's colleagues told him he was invited for a chat with the FBI six months after he arrived back in the US. They'd been tracking his movements and phone calls since the moment he landed, he said. But they only wanted to know whether he'd encountered any strong anti-American sentiments among the foreign volunteers he'd encountered abroad, said Howard.
"We have nothing to hide here," said Howard. "We're literally out here to defend our lives and defend the lives of our friends."
For Howard, coming to Syria was a way to give his life value, risking his own skin to take up what he considered a just cause — defending the victims of ISIS — as well as a way to escape the malaise and mediocrity that characterizes daily life in the US.
"These are just some people you see on the news at six o'clock and you change the channel and watch Seinfeld," he said, referring to the Middle Eastern victims of ISIS, as well as those fighting the militants.
"But these are people. This is my friend Amir," he said, slapping a young fighter on the back.
"These are good men and women," he said. "They're people worth fighting for. At least for me, I'm not going to change the channel and watch Seinfeld any more."