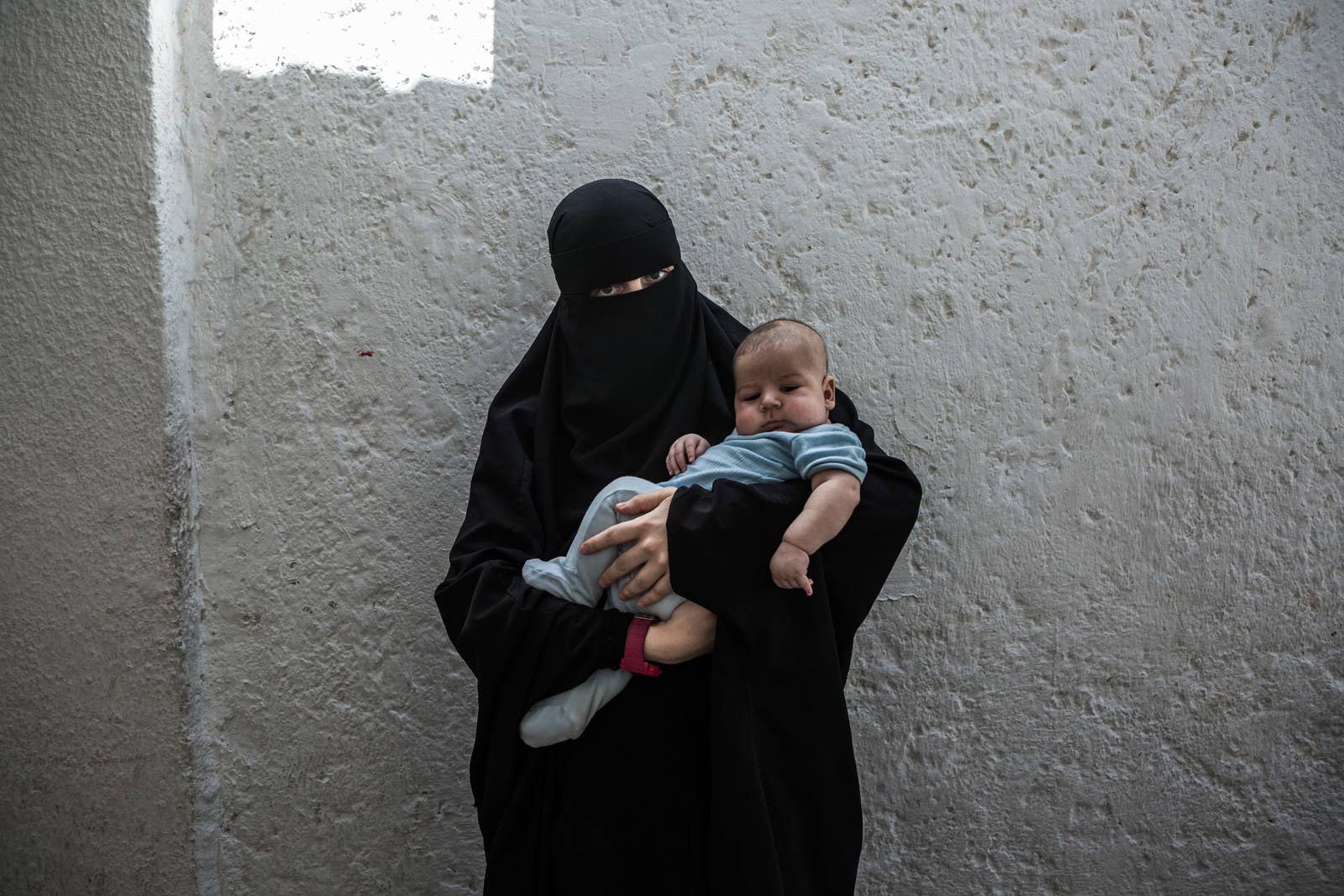 AIN AL-ISSA, Syria — Aisha Khadad was an English teacher, a wife and mother to two small children with another on the way, when Syria's violent convulsions caught up with her.

A Syrian regime sniper's bullet felled the 30-year-old's husband in 2012 in their hometown of Homs, she said. The widow wound up in Damascus for several years working as a single mom. Eventually, she moved, fell in love again, and remarried.
The town she moved to was Raqqa, the capital of ISIS's crumbling, self-declared caliphate, and the man she married was a trained ISIS foreign fighter.
"We were looking for paradise but all we got was hell," she said during an interview at a makeshift detention center inside a displaced persons camp 40 miles north of Raqqa, where she is being held by US-backed Syrian-Kurdish forces along with other suspected ISIS wives and their children.
"The big proof that (ISIS) are not good people is that they're losing everything now," she said. "Those who are victorious are on the right way. But, you know, they are losing. They are just retreating."
After losing Mosul following a nine-month battle in Iraq, ISIS is now under pressure from US-backed forces surrounding Raqqa, the new focus of the campaign to deprive the group of territory.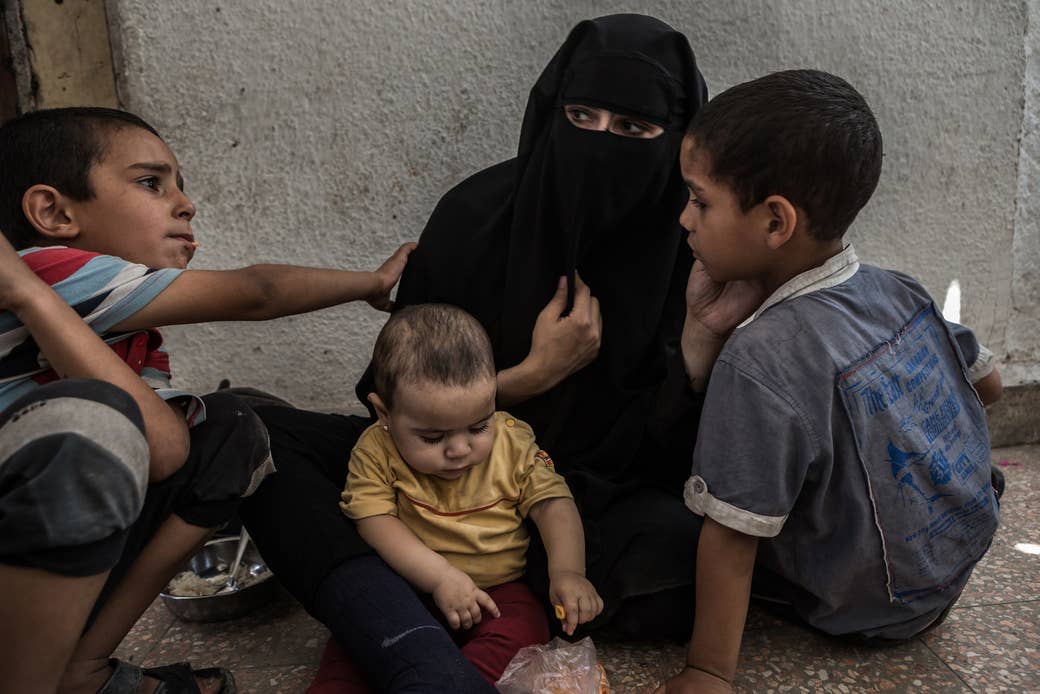 The US-backed Syrian forces that are slowly eating away at ISIS's capital have captured at least a dozen families of suspected foreign fighters. They include Khadad, a Tunisian woman, a Russian, a Lebanese-German dual national, and others. They are crowded in a series of cinder block buildings in the intelligence offices of the 5,000-person camp, which is funded in part by the UN. A group of women and the children of alleged ISIS members from Indonesia reside in a tent nearby. None has been accused of any crime. Many of the women are married to alleged foreign fighters. Since nationality in Syria is passed on through the father, the status of those children born in the caliphate is legally murky.
"We keep them away from everyone else because it's very dangerous for them," said an intelligence officer for Rojava, the Kurdish-dominated de facto government overseeing northeast Syria. "Maybe their husbands killed some of the other people's relatives, and the others in the camp will seek revenge. The rest of the people in the camp may also feel afraid of them."

BuzzFeed News was granted access by the Raqqa Municipal Council and the refugee camp's intelligence office to speak to several of the women inside the facility, as well as to the Indonesian family, over several hours. Some were eager to speak, while others declined. One stayed inside a room and sang Qur'anic verses to her children, one of whom was named after ISIS leader Abu Bakr al-Baghdadi.

Now, with the group in retreat and US-backed Kurdish-led forces taking over, none of the women would say they supported ISIS. All made claims that were impossible to prove. They denied their husbands or fathers were hardened ISIS fighters, or insisted they were ignorant of the men's actions and of ISIS's many crimes. They appealed for help and mercy, if only for their kids. Many seemed to have problems with their extended families, and were consumed with shame about the consequences of their choices for their families.

Their stories were filled with contradictions and holes in credibility. All allowed their faces to be shown in public, but most insisted on wearing niqabs covering all but their eyes for photographs.
"Coming here was the biggest mistake of my life," said Khadija Omry, a 29-year-old Tunisian who came to Syria in May 2013 with her Tunisian husband and two-year-old son.

Though they described their move to Raqqa as disastrous and were full of regret, none of the women voiced much sympathy for, or even awareness of, ISIS's victims. They often glossed over questions about the group's many battlefield atrocities, and reports of their public beheadings, massacres of religious minorities, mass rape, and bartering of women — all of which came to global attention after the group's 2014 takeover of Mosul and northern Iraq.

"I thought all the stories about ISIS were sedition against Islam," said Nour Khairadania, a 19-year-old Indonesian who said she was among a group of 25 relatives who snuck into Syria across the Turkish border and moved to Raqqa in August 2015. She spoke fluent English.

"We watched the videos of how great life was under ISIS," she said. "We thought all the negative stories about the Islamic State were lies. When you fall in love with someone you only see the good side, and if someone tells you he or she is bad for you, you don't listen."

Khairadania said she and her family came to Syria for the promise of free education and health care, under what they thought would be the benevolent rule of what ISIS pitched as authentic Islam. But like the others, they were quickly disillusioned. ISIS immediately demanded that their men join the violent jihad against its many enemies, and, when they refused, confiscated their passports and denied them any benefits.

"They said, 'Who are you? You didn't sacrifice for the Islamic State. Why should we do anything for you?'" said Khairadania.
Omry, the Tunisian woman, said her husband was killed fighting other Syrian rebel groups at the end of 2014. She said she was placed in a dormitory for ISIS widows and their children. The apartment building was run by an ISIS enforcer named Um Adab, a Moroccan who mistreated the women and their kids, denying them diapers and medicine. They were allowed to leave the complex only once a day for an hour, and then under an escort, she said. Omry said she suspects it was all intended as pressure on the women to remarry other fighters. She eventually relented, marrying another Tunisian fighter.

Omry, her second husband, and her two kids surrendered to the forces of the Kurdish-led and US-backed Syrian Democratic Forces as they entered her district of Raqqa six weeks ago.

Khadad, the English teacher, said she only moved to Raqqa en route to Turkey, and was trapped there by ISIS. Yet by July 2015, when she settled in the city, its reputation was clear to the world.

She too said she was placed along with her three boys in the dormitory for ISIS widows. An ISIS-trained Moroccan fighter who lived nearby proposed marriage and she quickly accepted. Khadad said her new husband was disillusioned with ISIS and refused to fight for them, even after undergoing three months of military training, preferring to spend his time repairing and selling old cars. They eventually had a daughter, who is now eight months old. She described a life of tedium and despair under ISIS.
"He told me after marriage we will leave here and move to either Turkey or Morocco," she said. "All the time all around us is death, violence, slaughtering people, and people looking for blood and more blood."

When the forces of the SDF entered their neighborhood six weeks ago they surrendered, kneeling down and submitting to searches, she said. The entire family of six was taken away to Kobani, a city under the control of the northern Syria authorities. Khadad's husband was taken away while she and her children were kept in a cell for several days, before being moved to the camp.

At least some of the women come from complicated backgrounds. Nadja Ramadan, a 28-year-old German-Lebanese woman, said she suffered psychological problems in part because of her family history. She said she left her mother under disputed circumstances to move from southern Germany to Lebanon as a six-year-old. She said she was forced to marry a cousin at 14. They had three children together. At 26, she managed to divorce him, and marry a Turkish-German man named Cem Kula. She's now the mother of two more children.
The couple moved to the caliphate in July 2014, as ISIS was rampaging across Iraq and consolidating its hold over Syria. Now she said just wants to go back to Germany and care for her kids. Syrian-Kurdish authorities have seized her passport. Her husband is in jail in Kobani.
"I didn't come here for war or fighting," she said. "I came here for my husband. That is the truth. I didn't watch television. I didn't know. I didn't want to know."