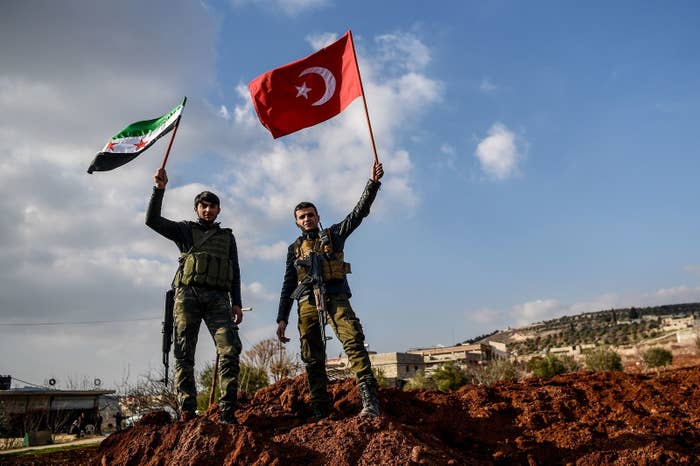 Up above, past the muddy embankment, through the tree cover and scrub at the top of Bursaya Mountain, the forces of the Kurdish militia known as the People's Protection Units, or YPG, lay in wait.
For days the men of the Levantine Front, one of several Syrian Arab rebel groups fighting alongside Turkey, had been locked in combat with the Kurds. It had been a draining, relentless back-and-forth battle over control of Bursaya, which at 2,800 feet is one of the highest peaks in the strategic 900-square-mile corner of northwest Syria known as Afrin. Both sides in the conflict told BuzzFeed News controlling Bursaya and other hilltops was key to controlling Afrin. After a week of fighting, the weather had caused a brief halt.
"The battles with the Kurdish separatist parties are always fierce because they grew up on the belief that they are oppressed and have rights to build their independent state," Mohammed Abu Saleh, a Free Syrian Army military commander who serves as a Levantine Front brigade leader, told BuzzFeed News. "We have failed in several incursions to control the mountain because of the weather."
The grueling battle over Bursaya is one of at least eight military incursions by Turkey and its Syrian allies, mostly former rebels who fought against the Assad regime, into the Afrin pocket, the latest dimension of Syria's messy seven-year war. It has been slow going, and some analysts predict the fight could stretch on for months, introducing a fresh layer of unpredictability to a war that has for more than half a decade shaken the region, tested alliances, and created the worst humanitarian disaster since World War II. Already Turks claim hundreds of YPG fighters have been neutralized while Kurds have claimed more than a dozen Turkish casualties, while civilian casualties mount. The fight only looks to get tougher as it moves toward the city of Afrin.
"Urban warfare with the PKK will be one of the crucial stages for this operation," Murat Yesiltas, director of security studies at SETA, a think tank close to the Ankara government, told BuzzFeed News. "The duration of the operation may also potentially weaken Turkey's military decisiveness."
After Afrin, Turkish President Recep Tayyip Erdogan insists Turkish forces will continue the operation all the way until the Iraqi border. That may be a stretch: Capturing the Afrin pocket may take many months, as it did for Turkey and its Syrian rebel allies to dislodge ISIS from the Jarablus area, the stretch of Syria's north captured in a seven-month operation that began in August 2016. More realistically, Turks may set their sights on the Manbij area, a sector of northern Syria east of the Euphrates River where US military personnel are based. The US has warned Turkey not to attack Manbij, announcing that it has no plans to withdraw from the area, and dispatched an envoy from Washington to Ankara to get the point across.
How well Kurds perform in Afrin could determine Turks' future plans, raising the stakes of the current battle. "In the long term, the YPG can't win," said Michael A. Horowitz, an analyst at Le Beck, a security and risk management consultancy. "But they can make sure the operation will be costly enough that the Turkish threat to extend their operations to Manbij and eastern Syria will lose some of its edge."
But Turks, equipped with state-of-the-art warplanes and tanks, will likely win Afrin. "The Kurds depend on first-class snipers, artillery, and tanks, and we face fierce resistance at the beginning of entering any occupied village," said Laith, a 22-year-old Syrian rebel fighter who has been battling against both ISIS and the YPG for much of his adult life. "But they have two choices because of the heavy pressure on them from Turkish heavy artillery shelling — either withdraw or get detained."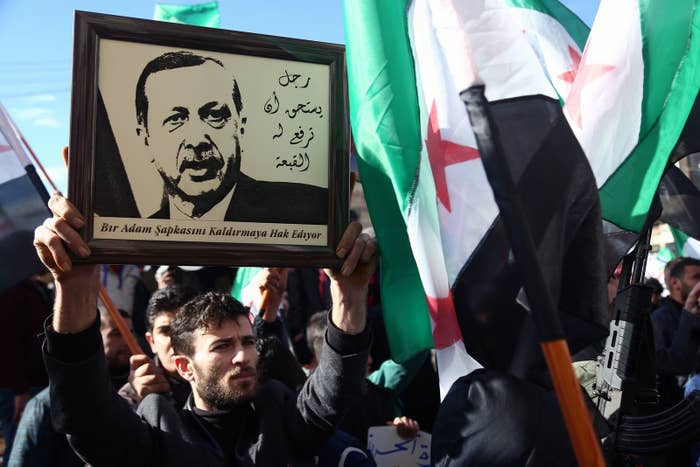 Turkish armed forces and allied militias numbering at least 25,000 fighters began their offensive to gain control of Afrin on Jan. 20. The reasons are complicated. Turkey says it's to defend the country against terrorist threats, but the country's law enforcement and intelligence apparatuses have successfully prevented any major terrorist attacks for more than a year.

Turkey also says it sees a growing threat to its south. The enclave is run by the YPG, a Kurdish militia that is a sister organization to the Kurdistan Workers Party, or PKK, which imagines it as part of a future autonomously run region of Syria. It remains unclear what, if anything, triggered the operation. Turkey has been warning about the solidifying YPG presence to the south of its border for years, and has repeatedly criticized the US for arming and training the Kurds.
"We neither have our eye on anyone's land nor ever intend to unjustly and unwarrantedly target anyone," Erdogan said in a speech Tuesday. "That is why we exercised patience for six, seven years until it was no longer bearable. But from now on, we do not take heed of anyone."
But unlike Turkey's fight to take Jarablus from ISIS last year, the Afrin offensive carries much more domestic and international risk the longer it continues.
At home, the YPG has the sympathy of many of Turkey's Kurds and some leftists. Most of Turkey's political parties have endorsed the military intervention, and it seems well received by a public that sees the PKK as a longtime nemesis. But Turkey's government has also severely cracked down on any Turks who've questioned the war, a further sign of the erosion of political space under Erdogan. On Tuesday, 11 members of the Turkish Medical Association's central council were arrested for signing a statement opposing the incursion into Afrin.
Turkish officials are vague about when they will finished in Afrin. "How long will the operation be?" Deputy Prime Minister Bekir Bozdağ told Anadolu Agency on Jan. 29. "This operation will continue until the last terrorist is neutralized. It is not possible to tell a certain period of time. The length of the operation depends on its success."
For Turkey, Operation Olive Branch, as it's called, also carries enormous diplomatic risks by challenging clients of two global superpowers. The US appears to be nervously watching the Afrin operation, as its Kurdish allies criticize it for not taking a firmer stance in their defense, while publicly insisting that Turkey limits the operation in Afrin and be sensitive to civilian casualties.

Though Turkey opposes the Assad regime, it has also managed to cultivate a broad, fairly solid understanding over Syria with Damascus' primary patrons, Russia and Iran. Tehran has already protested the Turkish incursion, not wanting to allow Syrian rebels who oppose Assad expand their influence in northern Syria. Russia has signed off on the operation, at least for now. The longer the offensive continues, the more of chances of a battlefield encounters with Russian, Syrian or Iranian forces watching nervously from the sidelines.
"The Turkey–Russia and the US triangle will be determinant factors," said Yesiltas. "At this stage, both Russia and the US seem to accept Turkey's operation. But it does not necessarily mean that this politics will not change. Turkey's next military move will depend on whether Russia and the US will close their eyes against the continuation of military operation."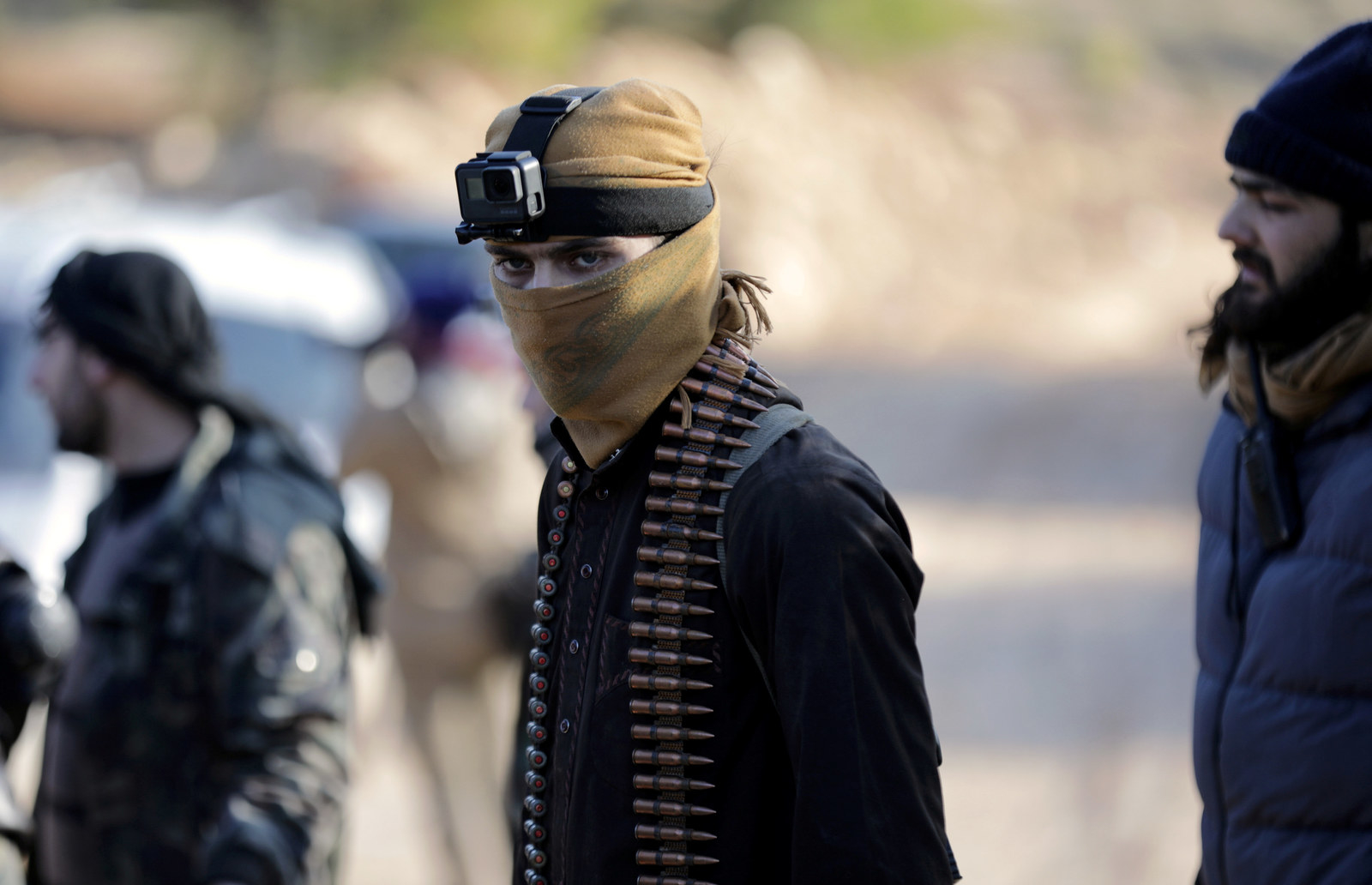 The multidimensional conflict in Syria has long been bedeviled by local and international players' contradictory aims and opportunism. Syrian people wanted freedom from Bashar al-Assad's dictatorship, but watched helplessly as their uprising was largely hijacked by jihadi extremists seeking to establish various forms of harsh Islamic rule. Assad sought help from Iran and Russia, who have used his country as a geopolitical tool to confront the US and its partners. To wrest territory from ISIS, Washington partnered with YPG and its front groups, only to watch them seek to establish an autonomous state based on PKK principles in territories they capture.

For the US, the outbreak of fighting in Afrin represents a glaring but heavily predicted complication in its efforts to fight against ISIS and play a role in determining Syria's future: Turkey, a NATO ally, and US-trained Syrian rebel fighters are fighting Washington's premier ally in northern Syria.
For the last three years, the Syrian branch of the PKK and its front groups have served as the main partner in US efforts against ISIS in Syria. The PKK is a decades-old militant group fighting the Turkish government for a measure of autonomy for the country's large Kurdish minority. Though feted in some Western circles either for its left-leaning stances it or its Syrian partners' military skills, the PKK is listed as a terrorist organization by the US, European Union, and Turkey. In a further twist, the Syrian branch of the PKK and its front groups are also the main partner in US efforts against ISIS in Syria.
With the war against ISIS drawing to a close, Turkey and its Syrian clients ignoring Washington, and Assad and his Iranian and Russian patrons nearly triumphant, the US finds it has few if any allies on the ground left, except for the YPG.
"The problem is that Washington doesn't have many cards left in its hands in Syria," said Horowitz. The YPG is the last one, he told BuzzFeed News. "After that, it's basically game over."
For the Turks, the battle for Afrin represents something of a milestone as Turkish forces for the first time robustly confront a PKK affiliate inside Syria. It's a chance for Turkey to help shape the future of its southern neighbor even at the cost of alienating its NATO partners, especially the US, but also Germany, which has protested against weapons it has sold to Ankara being used in Afrin.
Winning control of Afrin would also connect Syrian territories held by Turkey's rebel allies in Aleppo to Idlib province, giving Ankara's proxies dominion over a large section of the border. It would also deny the Kurds an enclave overseen by a PKK affiliate to the south of its border, which Ankara says it won't tolerate.
Turkey's aim is to roll back territory controlled by the PKK's allies degrade their military capacity, Yesiltas said. "At this stage, Turkey will not compromise over its strategic aims," he said.
Syria's Kurds on the other hand hope to unite Afrin with the rest of their self-ruled region, which they call Rojava, across the country's northeast. Syria's Kurds were long oppressed under the dictatorship of Assad and his father, Hafez, who stripped them of their citizenship and deprived them of their language and cultural rights. They fought valiantly against ISIS, losing hundreds of fighters, eventually drawing the support of the US in the quest to dislodge the jihadi group from northern and northwest Syria, including from its capital, Raqqa. They now insist they will fight until the end to defend Afrin and reap the rewards for their tremendous sacrifices.
"Turkey is the fourth-most-powerful army in the world and the second [largest] army in NATO," Sihanouk Dibu, an adviser to the Rojava government, told BuzzFeed News. "It uses all kinds of weapons, in addition to [thousands of rebel fighters] alongside the Turkish army. They have not succeeded yet, and this in itself is a failure for them and a victory for us."
The big winner of Turkey's endeavors could be Russia. Erdogan met Russian President Vladimir Putin five times last year, and certainly obtained a green light from the Kremlin before ordering tanks into Afrin. That bolsters Moscow's status as arbiter of Syria's future. The operation also forces Syria's Kurds to decide whether to fight Turkey on their own or seek some kind of accommodation with Assad, which is ultimately Moscow's aim.


The newest layer of the Syria conflict also puts further strains on the lives of civilians, many trapped between warring forces and closed borders. Turkey insists it is taking care to limit disruption of civilian lives, noting that it hosts more Syrian refugees than any other country in the world. But the Kurdistan Red Crescent issued a statement on Wednesday saying at least 64 civilians had been killed in the fighting since the conflict began. At least 20 were children. Many families have taken shelter in basements of residential building for fear of being struck by rockets or airstrikes. Turkish armed forces said Wednesday at least 712 militants had been "neutralized."
At least 30 rockets allegedly fired by the Syrian Kurds have also reportedly struck inside Turkey, according to a Turkish official. One killed a 17-year-old female in Reyhanli on Wednesday, Turkish media reported.
For ordinary people on the ground the war creates more death and destruction. Up to a million people live in Afrin, according to Syrian Kurdish officials.
"Not a single neighborhood has been spared," Akram Salih, a reporter for the Iraqi-based Kurdistan 24 channel said in a report from Jandairis, a town inside Afrin that had been hit by Turkish airstrikes. "Most parts of the town have been destroyed. Many civilians whose homes have been destroyed are now living out in the open in very bad conditions."
By late Saturday, the rain and snow had ceased and it was time for Turkey's allies to move again. Turkish warplanes that had been at the leading edge of the offensive scoured the skies, launching airstrikes, while Turkish artillery hammered suspected YPG positions in the mountains and hilltops. The fighters moved up the slope in armored vehicles, some men equipped with night vision goggles. The clashes continued for five hours as Syrian fighters serving as a ground force for the Turks sought to seize well-fortified and strategically located YPG positions manned with snipers.
By Sunday afternoon, Turkey claimed the fighting was finished when it had won control of Bursaya, though Kurdish media on Monday insisted some fighters were holding out. Syrian rebels said they killed and captured dozens of men. Gruesome photos showed FSA fighters standing on the bodies of YPG soldiers. Control of the mountain will make it easier to cordon off Afrin.
"We are still on the top of the mountain," Abu Saleh told BuzzFeed News in a conversation over WhatsApp. "We are protecting it as the key to liberating the rest of the region."
Burcu Karakas contributed additional reporting to this story.