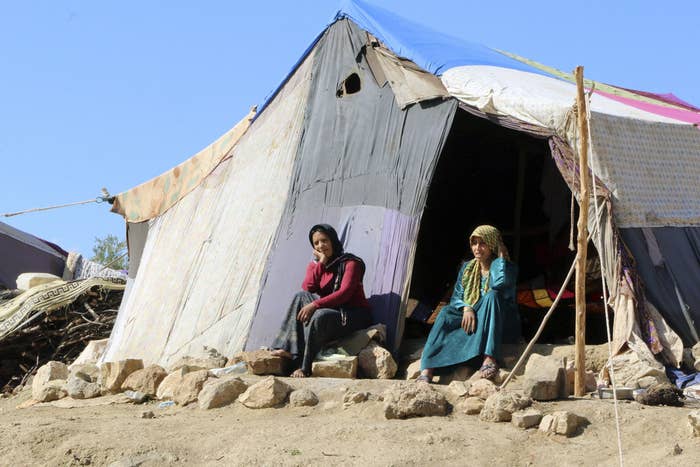 ISTANBUL — Aid workers are propping up tents, preparing provisions and deploying medical staff as they brace for a new wave of displaced Syrians escaping renewed fighting in and around the country's commercial hub, Aleppo.
The contested city is the focus of an intense military campaign. Russian warplanes partnering with ground forces backing the regime of Bashar al-Assad are attempting to rest control of swathes of the city, including the center, from an assortment of rebel groups that have controlled it for years.
Pro-regime militias, including Hezbollah fighters and Iranian military advisers, are said to be sweeping in from the south of the city and to the north of Homs, prompting up to 80,000 people to gather up their meager belongings and head either north toward the Turkish border or west toward regime-controlled territories.
"(The airstrikes) never stop, going and coming," said Zaidoun al-Zoabi, an Aleppo physician and aid worker. Jet "pilots are flying at low altitudes, and people are so scared, 24 hours a day."
Vanessa Huegenin, of the United Nation office of Humanitarian Coordination, told BuzzFeed News aid groups estimated 50,000 people departed from Aleppo province in the past week ending Wednesday. "People lack tents, water, basic house kits and food," she said.
The displaced Syrians, with millions already scattered in Turkey, Lebanon, Jordan as hundreds of thousands scramble to get to Europe, pose a vexing a challenge for policymakers seeking to balance humanitarian priorities with political considerations in countries increasingly intolerant of refugees. German Chancellor Angela Merkel traveled to Turkey last weekend in a controversial attempt to convince authorities to slow the tide of refugees in the country.
But critics say Merkel's approach fails to address the root of the problem: the no-holds-barred war in Syria, a conflict exacerbated by the recent Russian intervention on behalf of Assad.
Video footage posted to the Internet on Thursday, which corroborates witness accounts and other published reports, showed intense shelling, purported by advanced Russian warplanes, striking sites described as the southern outskirts of Aleppo.
Other footage posted online showed farmers driving trucks loaded with household goods traversing roads beneath the gray skies that have moved in over northern Syria during the last few days.
Aid workers on the Turkish border are bracing for a fresh wave of displaced Syrians.
"The situation there is really terrible, terrible even for a person who is involved very much in humanitarian aid, who is very much accustomed to the war itself," said Zoabi, who works with UOSSM International and arrived in southern Turkey from Aleppo on Tuesday. "This time it is totally different. People are far more scared than before, far more hopeless. They have adapted and adjusted to war right now, but this is not something they can deal with."
Turkey, which has so far hosted more Syrian refugees than any other nation, has grown impatient with the crisis. Turkish President Recep Tayyip Erdogan on Thursday reiterated longstanding calls to set up a safe zone inside Syria to allow those escaping the war to remain in the country and to better arm rebels fighting the Assad regime.
"If these are done, I believe the migration from Syria will stop and the refugees that we are hosting will also be able to go back," he said.
Zoabi and other aid workers said the families have not yet arrived on Syria's borders, likely because of the dangerous ISIS-controlled territories they'd have to cross get out of the county. But he said he saw dozens of groups sheltering in the countryside as he made his way to the frontier. "I saw scattered families camping here and there, everywhere, in trucks, walking, trying to escape the violence," he said.
The U.N. estimates that at least 35,000 people are in the move in this new wave, but Zoabi and others said there were perhaps more than 70,000 in the last week. Aid workers are struggling to get the supplies into the country to help residents survive an impending spell of cold and rain.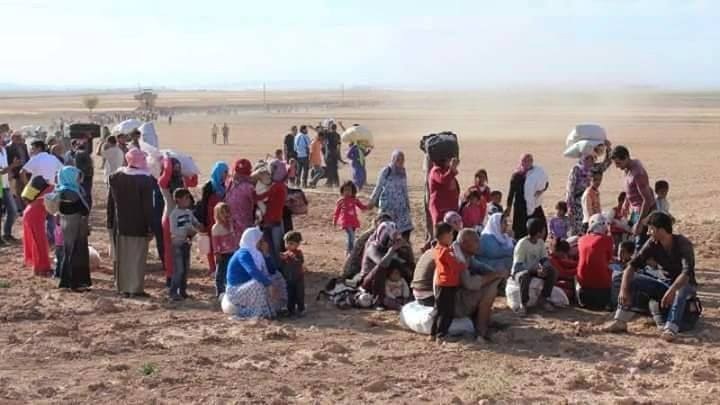 Zoabi said most of the families are impoverished and didn't have the means to escape until now. "They are very poor people who did not even have money to eat," he said. "They are desperate. Now it's even difficult to locate people."
The new wave of displaced people from around Aleppo may be just the tip of the iceberg. Syria's front lines have been largely frozen for the last two years. If Russian-backed regime militias begin to move aggressively in the country's densely populated northwest or its rebel-controlled south, even more displaced Syrians will arrive at Turkish, Lebanese and Jordanian refugee camps and, eventually, the West.
Sarah Dadouch contributed to this report.