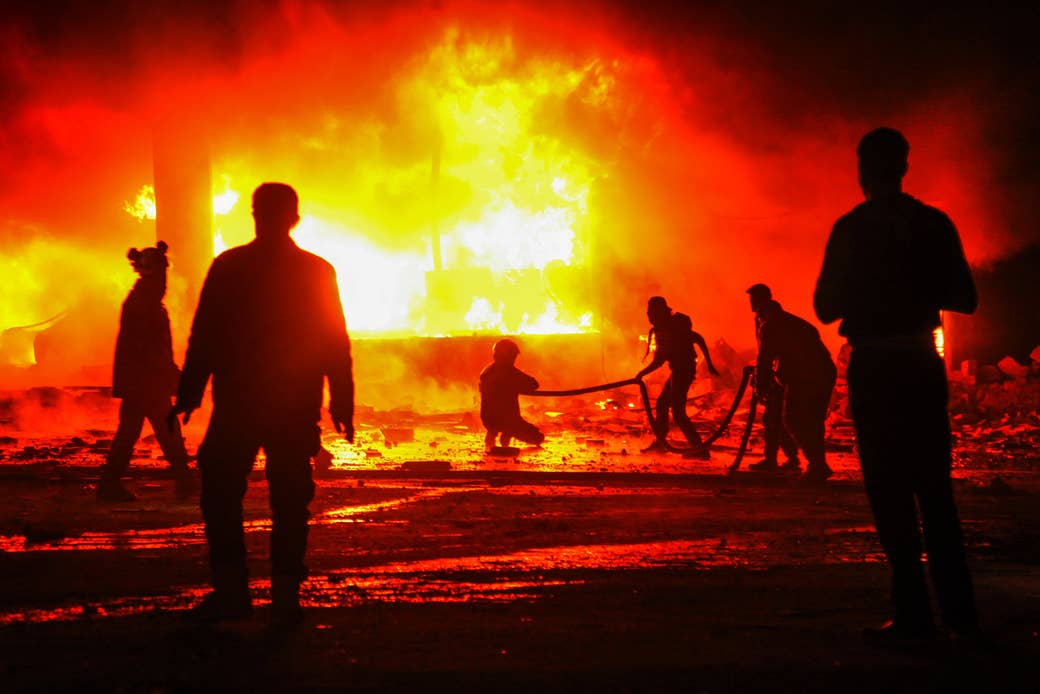 ISTANBUL – Seven years after it began, Syria's messy, bloody civil war could finally be nearing its end. But a conflict that has left half a million people dead — and displaced nearly 13 million more — is being replaced by something even more dangerous.

Despite the heavy involvement of the UN and the international community, chances of a lasting peace between the government of Bashar al-Assad and the rebels fighting him seems more distant than ever, even as some governments begin denying fleeing Syrians shelter in the belief the conflict is "winding down."
"The Syria war seems to be just getting started"
Russia has taken on a key role since its direct intervention in the conflict in 2015, launching decisive air strikes and expanding its military footprint to support Assad's regime, but it has failed to quell the conflict on a number of fronts, and questions remain about its ability to ever do so.
Supported by Russia and Iran, and an assortment of allied militias, Syrian dictator Assad appears close to triumph in his battle to fend off an armed rebellion — having inflicted horrific punishment on civilians in territory still controlled by his adversaries — while a US-led coalition is on the verge of stamping out the last traces of ISIS's self-proclaimed caliphate.

But those two major developments only appear to have hastened the next chapter in the conflict, as local, regional, and global powers vying for influence and turf scramble to assert themselves and shape Syria's future.

"While the Syrian civil war may be winding down," Andrew Tabler, a Syria expert at the Washington Institute for Near East Studies, told BuzzFeed News. "The Syria war seems to be just getting started."
In less than a month, a number of extraordinary events have catapulted Syria back into the headlines and heightened a sense of dread across the Middle East.
The warfare highlighted a dangerous phase in the Syria conflict, a potential new normal where international powers fight each other to establish red lines and spheres of influence inside the country.
"We're really reaching an endgame in terms of different stakeholders starting to carve their spheres of influences," said Randa Slim, a scholar at the Middle East Institute in Washington. "The intra-Syrian fight is finished. It's about Iran. It's about Israel. It's about Turkey. It's about Russia. It's about the US. They are now involved in waging the fight on the ground."
Emile Hokayem, a Middle East expert at the Institute for International and Strategic Studies in London, said, "You had four foreign powers in the last few days that have lost helicopters, drones, or planes over Syria. This is not a contained conflict. This is a fully regionalized conflict."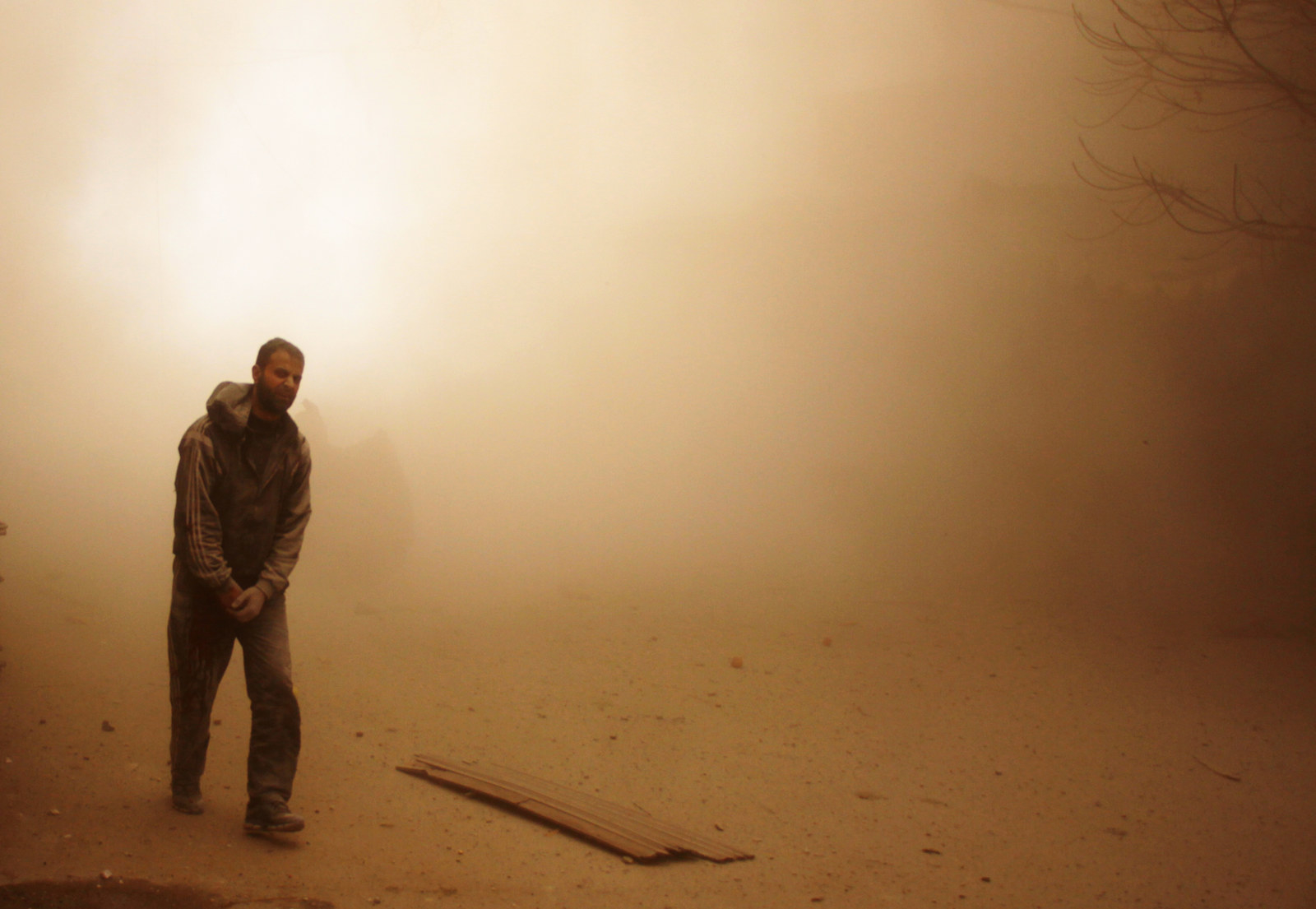 Making that conflict all the more dangerous, most of the diplomatic attention given to Syria so far has focused on the war between the regime and its people. Diplomats have devoted little attention to the burgeoning conflicts between Israel and Iran and its proxies; Turks and Kurds; and the US and its allies against pro-regime forces. In fact, in an illustration of Syria's complexity, any impending political deal between the regime and the opposition could actually exacerbate the country's other wars.

"Always, when a political solution approaches, we see a military action on the ground from all sides – Israel, Turkey, Iran, Russia," said Mona Ghanem, one of the pro-regime delegates who attended a largely failed peace conference in the Russian resort city of Sochi this month. "It is a bone-breaking game. Each side wants to preserve its interests before the agreement takes place."
"The situation is so messy that the Russians can't deliver for anyone"
Russia intervened in Syria to help prop up a longtime ally and undermine the credibility of the West. The assumption that Russia now owns Syria and was in control of the battlefield has given policymakers in Western capitals a way of putting the conflict on the back burner. Even opposition figures who once scoffed at any communications with Moscow now accept its role.

"We are aware that the Russians are the strongest in the Syrian crisis, and we are keen to communicate with them because we have reached the stage of dividing up power in Syria," said Alise Mofrej, a Syrian opposition activist now based in Germany. "This war is no longer the war of the Syrians now."
Israel Prime Minister Benjamin Netanyahu was on the phone with Russian President Vladimir Putin on Saturday, likely to urge him to rein in Iran, which has become a junior partner in the Kremlin's Syria gambit. Netanyahu has accused Iran of deploying allied militias along its Syrian frontiers and establishing missile factories aimed at producing weapons to target Israel.
But the idea that Moscow will bring about a settlement in a multilayered conflict as tangled as Syria may be illusory. Moscow's track record on enforcing red lines in Syria has been poor. Russia failed to ensure Assad would stop using chemicals, failed to rein in Iran's influence as requested by Israel and Moscow's own Arab allies, and failed to deliver on in its own plan to work with Iran and Turkey to establish so-called de-escalation zones meant to draw down the war. The Sochi conference this month was also largely regarded as an abject failure.
"Russia is the central actor, they are the architect," said Hokayem. "But the situation is so messy that the Russians can't deliver for anyone. There's a question of Russian will and competence. But they're the only ones in the game at this point."
None of the regional and global powers involved in the Syria conflict are seeking to provoke an all-out war with their rivals over Syria, say diplomats and experts. But as casualties and rhetoric escalates, so does the risk of an all-out confrontation between these powers.

US Secretary of State Rex Tillerson is headed to the Middle East this week to meet with leaders in Egypt, Kuwait, Jordan, Lebanon, and Turkey in likely attempts to ease tensions. One European diplomat focused on Syria said the emergence of a plan from the Sochi conference this month to create a 150-member body to write up a new Syrian constitution could give peace efforts some life.
"The idea is to come up with a pool of candidates for a constitutional committee to look at how constitutional reform could lead to a process of reconciliation and eventual transition," said the diplomat, who spoke on condition of anonymity.

"There was a time to shape this. But we lost it"
But others argue that the Syria conflict has become so complex and volatile that it will require more than just parachute diplomacy, sparsely attended occasional peace conferences, and secretive backchannels like the ones that likely exist via Moscow between Iran and Israel. Joost Hiltermann, the Middle East director at the International Crisis Group, says the Syria conflict appears so intractable because it has come to embody all of the major Middle East crises of the last 100 years: the Israeli-Arab conflict, the Arab Spring uprisings, the rise of Iran and Hezbollah, the aspirations of region's ethnic Kurds, and the emergence of jihadist groups.
"There is no single solution," said Hiltermann. "We must look at the various layers of conflict, and make sure if we address one conflict layer we don't aggravate another. We need to look at all of them individually and with extreme care."
Such delicate diplomacy seems unlikely. For now, most players understand that diplomacy will take a back seat to air strikes and rockets. Diplomatic platforms serve as occasional brakes on escalation. "[All sides in the conflict need to] understand that one party can't dominate Syria, and develop enforceable ground rules through deescalation to implement ceasefires," said Tabler.
Just a few years ago, Western policymakers imagined Assad's victory would be the worst-case scenario for Syria. That now seems quaint. Among the potential disasters now are an all-out war between Israel and Hezbollah that would encompass parts of Syria, or a shooting war between Turkey and Assad regime forces.
Other new dangers include clashes between US and Russian military personnel on the ground, or fighting breaking out between NATO partners Turkey and America over Kurds that Washington considers allies and Ankara regards as terrorists.
"There is a recognition by policymakers of how bad the situation is, and how complex, and an acknowledgement that the tools to deal with this are no longer present," said Hokayem. "Even some kind of dialogue is not going to make a difference. People are set on capturing whatever territory they can seize. There was a time to shape this. But we lost it."
CORRECTION
Alise Mofrej's name was misspelled in an earlier version of this post.