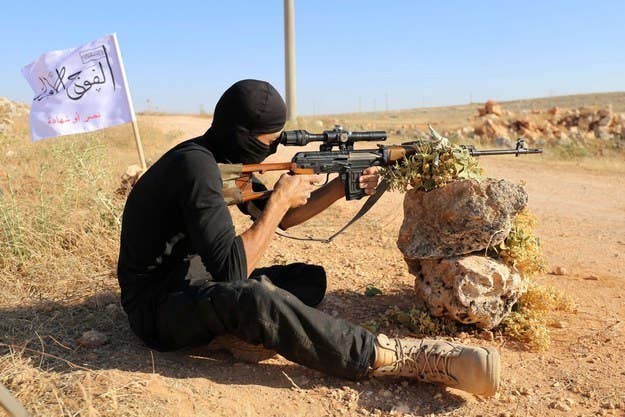 GAZIANTEP, Turkey — Two weeks ago, fighters from the Syrian rebel faction Levant Front won a hotly contested piece of land from the regime in Aleppo. They have, for more than a month, joined other Free Syrian Army brigades to defend the town of Marea from a series of ferocious attacks by ISIS. In the last few days, the group has also launched attacks on the regime's military airport in Aleppo and clashed with Bashar al-Assad's forces for control of the key Sheikh Najjar industrial area north of the city.
So it came as a surprise to Levant Front militant Mohammad Yasser Othman when he arrived in Turkey on Monday to learn that Russian Foreign Minister Sergei Lavrov had just described the Free Syrian Army as a "phantom."
Lavrov used the term in an attempt to justify a bombing campaign whose targets included an array of militant groups fighting the power in Damascus. But Othman and others attached to the moderate rebels of the Free Syrian Army, a loosely allied amalgam of rebel groups, insist they are alive if not thriving.
"The regime from the beginning labeled us terrorists and jihadis, and because of their media machinery they got this idea out into the international community," Othman said during an interview in his group's makeshift office above a supermarket in Gaziantep, about an hour's drive from the Syrian border. "We rose up peacefully against the regime, and it later turned into something else. But we rose up for freedom, justice, and dignity."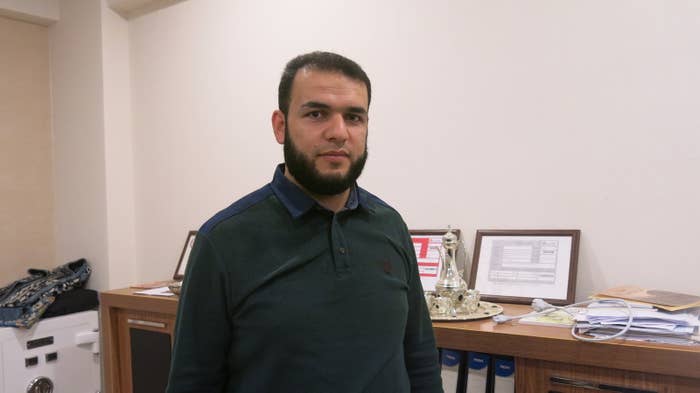 Russian forces backing Assad's dictatorship began a bombing campaign last week targeting Syrian rebel groups. Russian President Vladimir Putin this week suggested that armed Russian "volunteers" may also join the fight. Moscow claims it is fighting ISIS, but a majority of the targets have been non-ISIS rebel groups fighting against Assad's forces. Othman claims at least one Russian aircraft targeted one of their bases inside Aleppo late Sunday.
"What the Russians are doing is destroying the last vestiges of the Free Syrian Army," U.S. Senator Lindsey Graham told BuzzFeed News. "That means that Assad will be militarily secure."
Once the leading force fighting the Assad regime, Free Syrian Army leaders acknowledge they have lost significant numbers of fighters on the front lines and to other militant groups, including the al Qaeda-linked Jabhat al-Nusra and the ultra-Islamist Ahrar al-Sham, which is backed by Turkey and Qatar. Despite the growing power of the radicals, they insist they continue to dominate the very heart of Aleppo and parts of Syria's north such as Marea, where they remain among the most robust forces fighting ISIS. They say they would be even more successful against ISIS, the Syrian regime, and its Iranian-backed Shia militia allies if not for missteps and lackluster support by Western powers.
"The basic problem is that they give ammunition and weapons to a handful of trainees only," said Col. Hassan Mustafa, acting commander of Division 30, which participated in the failed U.S. train-and-equip program to fight ISIS. "I have 1,200 fighters. But they only armed 54 because of strict vetting."
Rebel leaders warn that the Russian involvement will further radicalize Syrians, draw more foreign fighters, especially those from the north Caucasus, and complicate an already horrific conflict that has cost at least a quarter million lives and displaced millions. Prodded into action by the stepped-up Russian involvement, more than 40 rebel groups — including the Islamist faction Ahrar al-Sham — have begun talks to create a unified command for the country's north called the Aleppo Army.
"We see Russians as enemies of the Syrian people," said Izzedine Salem, a leader of the political office of an Free Syrian Army unit in Aleppo called Festaghim Koma Omrat, a reference to a Koranic verse.
"It's not a war against ISIS," he continued. "It's 10% fighting the Free Syrian Army and 90% killing civilians. It will have a negative effect. Many people will join the extremists, like what happened in Afghanistan."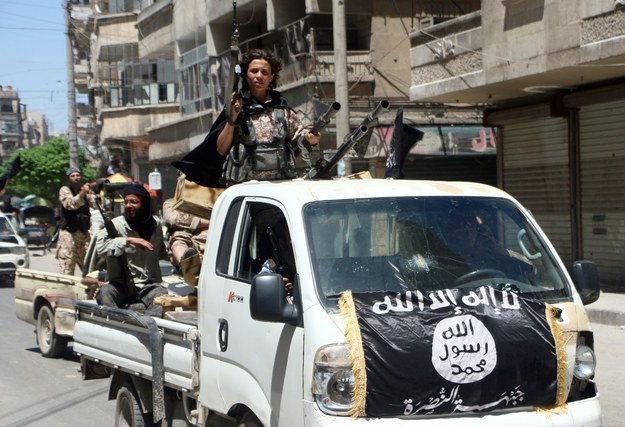 Among the Syrian rebels fighting both the Assad regime and ISIS, few conform to Western ideals. Many of the fighters hail from rural conservative backgrounds, and the leaderships of these groups tend to be hardcore Islamists. But their religious outlook is generally in tune with much of the contemporary Arab world, especially outside of the cosmopolitan quarters of major cities.
The Levant Front's charter, released in June, called for the establishment of Islamic government with Sharia as the sole source of law. The group calls itself part of the Syrian Free Army, vehemently opposes both ISIS and al-Qaeda, and argues for the protection of Syria's minorities. "The Levant Front is part of the Syrian revolution," said Hassan Sheikh, a leader in the group. "Our main goal is to bring down the regime, and to achieve the aims of the people for a democratic civil state with multiple religions and sects."
Salem, a former electrical engineer, says his group is "very moderate" and believes in a democratic Syria that is a home to Christians, members of the Alawite sect, which Assad belongs to, and the country's Sunni majority. "We don't have a problem with anyone who has not taken up arms against us," he said, noting that his own mother was Christian.
However, groups in nations across the region from Pakistan to Mauritania advocating Islamist ideologies that won power by the gun or the ballot box in the Middle East have poor records on human rights and treatment of minorities, though perhaps no worse than the secular authorities in power.
"The Free Syrian Army is not a lie, but it is fading away."
Salem and others described extensive contacts between the moderate rebels and the U.S.-funded operations room near the Turkish town of Reyhanli, which is also backed by Turkey and Arab allies of the rebels and is known by its Turkish acronym MOM, which translates to "joint operations center." "All the Free Syrian Army units now being hit by the Russians are getting paid by MOM," Salem said.
Some fear the Russian attacks will further weaken the Free Syrian Army, exacerbating the continued hemorrhaging of experienced fighters from relatively moderate units into more radical and well-funded groups such as Ahrar al-Sham, known as the strongest single entity fighting Assad. More radical rebel groups already control much of Idlib province to Syria's far northwest and dominate Homs and Hama, though Free Syrian Army units also have a presence there.
Syrian activist Rami Jarrah traveled to Aleppo over the past year to create a series of short documentaries depicting ordinary life in the city under the rebel rule and the travails of the Free Syrian Army. In one segment, a fighter confides to Jarrah that he felt ashamed that after four years of war, his men had failed to deliver on any of the promises of the revolution and couldn't even protect Syrians from the regime.
"The Free Syrian Army is not a lie," Jarrah said in a telephone interview, "but it is fading away."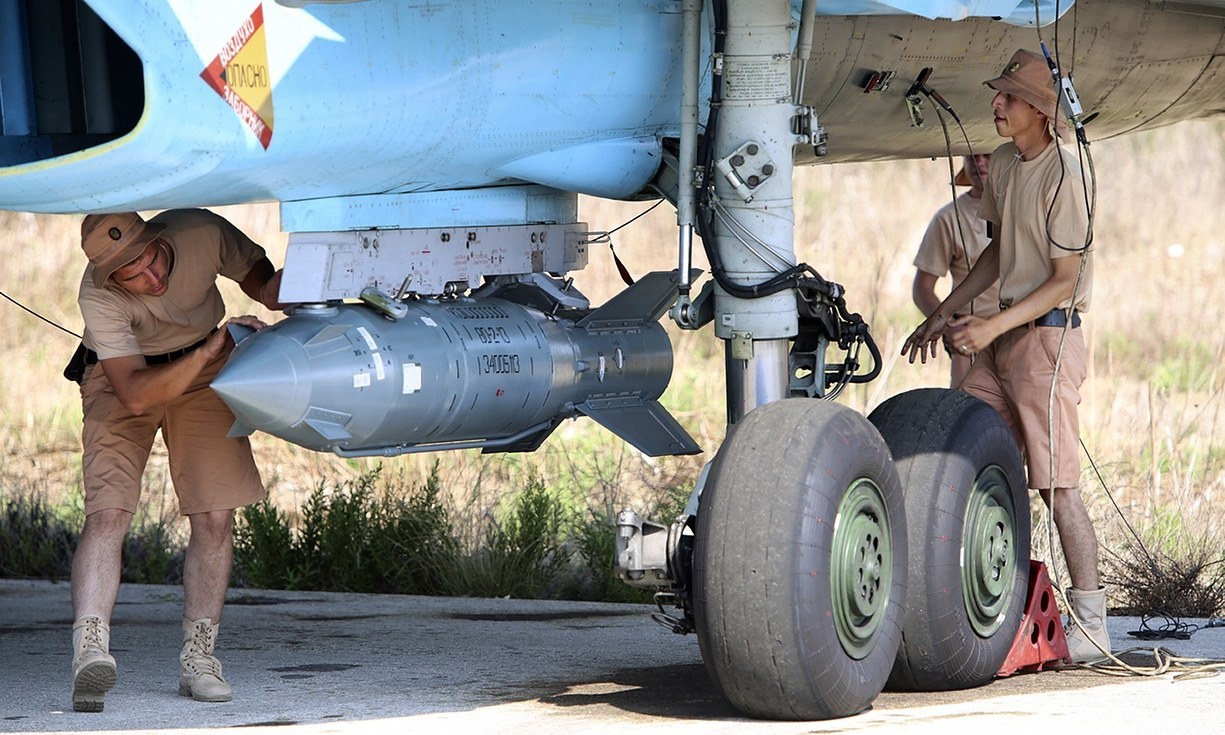 On Aug. 3, hundreds of Jabhat al-Nusra fighters had swarmed the base of the Free Syrian Army's Division 30, attacking U.S.-trained rebel fighters at their base near Azaz in northern Aleppo province. Besieged by artillery and heavy machine guns, the panicked men radioed the Americans and and begged for air support, which barely managed to push back the advance. At least five of the fighters were killed.
Weeks later, another commander of Division 30, Anis Ibrahim, known also as Abu Zeid, surrendered himself and more than half of his equipment to Jabhat al-Nusra on Sept. 21.
"Now we have a freeze in the program and no people under training," complained Mustafa, clenching his fists and shaking his head as he sat on a park bench in Gaziantep. Although he suspects Ibrahim was forced to hand over the weapons after Jabhat al-Nusra threatened to kill his family, he still wants him to be tried for treason.
Western forces led by the U.S. have struggled to create a credible force to take on ISIS on the ground in Syria and roll back its advances. Some foreign policy experts argue almost all such programs fail because U.S. goals rarely coincide with those of the fighters being trained.
"If you force these people to primarily fight ISIS instead of the cause of ISIS, then you're going to lose them."
But Mustafa said that was not the case with Division 30. He said his men were ill-prepared for any kind of big fight for logistical reasons and that he had warned the Americans. They had entered Syria weeks earlier after some had completed a 72-day training course in Turkey.
The Obama administration had originally planned to train and arm 5,000 men a year over three years to fight ISIS. But of the 420 names Mustafa submitted, the Americans accepted only a few dozen. Of a separate group of hundreds of men Ibrahim recommended for training, Americans accepted only about 70, giving him little muscle when Jabhat al-Nusra approached him.
"The Americans wanted identification cards," he said. "But because of the war, most of us no longer have our identification cards."
Although he praised the training program, most likely conducted at the U.S.-operated Incirlik air base in southern Turkey, Mustafa said the men received none of the weapons they needed to survive in Syria, including better mortars, night-vision goggles, mine-detection devices, and anti-tank missiles.
Jarrah, the activist, said the moderate Syrian opposition is bleeding fighters to more extreme groups because many Syrians disagree with the U.S. priority of fighting ISIS over the regime. "If you force these people to primarily fight ISIS instead of the cause of ISIS, which is the regime, then you're going to lose them," he said.
But Mustafa says he and his men prioritized fighting ISIS, and that the road to defeating Assad in Damascus effectively leads through Raqqa, the apocalyptic jihadi group's stronghold. He noted that his wife and seven children live in the territory under ISIS control.
"We think that fighting ISIS is more important than fighting Assad right now," he said. "The effect ISIS has on Syrian society is a lot worse than Assad."
John Stanton in Washington, D.C., contributed to this report.