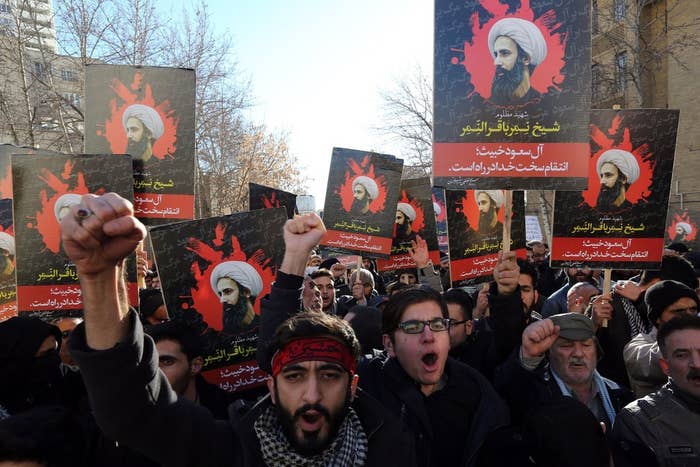 Saudi Arabia declared Sunday it would sever all diplomatic ties with Iran after mobs stormed its diplomatic outposts in two Iranian cities in a move that could have severe consequences for U.S. efforts to defeat ISIS as well as international efforts to tamp down several conflicts.
Iran and Saudi Arabia are already fighting each other via proxies in stalemated conflicts in Syria and Yemen and find themselves on opposite sides of political deadlocks in Iraq and Lebanon. The drastic worsening of relations between Iran and Saudi Arabia will only harden Tehran's support for Bashar al-Assad in Syria and Riyadh's support for Syrian rebels fighting him. That will waylay any Obama administration efforts to wind down Syria's bloody, messy, and destabilizing war as it approaches its sixth year and to focus regional efforts on combatting ISIS.
It may also undermine both Iran's moderate president Hassan Rouhani's attempts to outmaneuver hardliners within Tehran's political establishment as well as quiet voices in the Arabian Peninsula, including in Oman, Qatar, and Kuwait, calling for a cooling down of tensions between the region's two powers.
"It's a heyday for hardliners in the region on both sides," said Randa Slim, an analyst at the Middle East Institute in Washington. D.C., who speaks to both Iranian and Saudi officials. "I see this as a loss for those calling for reconciliation and an improvement of relations. That camp has been dealt a very tough blow."
The worsening of relations between Saudi Arabia, which hosts two of Islam's most important sites and sees itself as guardian of the world's Sunni, and Iran, which sees itself as leader of the Shia, will also likely exacerbate sectarian hatreds and violence between Islam's two main sects from Lebanon to India.
"Distinctly bad move by Saudi Arabia to break diplomatic relations with Iran," Sweden's former foreign minister Carl Bildt tweeted. "Will increase tension in the region."
Saudi Arabia's Foreign Minister Adel Jubeir said in a television appearance that he had ordered all his country's personnel to vacate Iran, where it operates an embassy in Tehran and a consulate in the shrine city of Mashhad, and ordered Iranian personnel to leave his country within 48 hours after a mob of Iranians stormed and torched both missions in response to the execution of an Iranian-trained Saudi cleric.
"Saudi Arabia is breaking off diplomatic ties with Iran and requests that all members of the Iranian diplomatic mission leave... within 48 hours," he said. "Iran's history is full of negative interference and hostility in Arab issues, and it is always accompanied by destruction."
An Iranian official accused Saudi Arabia of attempting to divert attention from its execution of Sheikh Nimr Baqir al-Nimr, the Shia cleric, by ending relations with Tehran. "Saudi Arabia cannot cover up its major mistake of executing a religious leader by announcing its decision on cutting ties with Iran," said Deputy Foreign Minister Hossein Amir-Abdollahian.
He added that no Saudi personnel were hurt in the embassy sackings. "Iran is one of the safest countries in the region and all diplomats carry out their work in an absolute secure environment," he said, according to state television.
The attacks on the embassy and consulate were likely the work of semi-official extremist pressure groups linked to radical clerics or seeking to embarrass the Rouhani government and sully his diplomatic achievements ahead of crucial February elections for parliament and the Assembly of Experts elections. Rouhani, as well as Iran's judiciary, quickly condemned the attacks on the embassy and consulate and vowed to arrest its perpetrators. But the Saudi foreign minister said his government had repeatedly asked Tehran for additional security to protect its diplomatic missions, to no avail.
Such breaches of international law, often driven by Iranian domestic political calculations, have damaged diplomatic relations before. Ideologically driven protesters stormed the U.S. embassy in Tehran in 1978, severing diplomatic ties to this day, and the British embassy in 2011, which only reopened last year.
A mob of protesters attacked the Saudi embassy in Tehran in 1987, resulting in the death of a Saudi official and ending diplomatic ties with Riyadh that were not restored until three years later.
But the current diplomatic breach between two of the region's main sectarian and military powers comes at a particularly transformative and dangerous time. The U.S. is in the process of disengaging from the region. Russia is in the process of re-engaging. Civil wars are flaring. States are collapsing. Millions of civilians are fleeing war zones. All the while, ISIS and other jihadi groups surge into the ungoverned crevices from Afghanistan to Libya.
"It's bad for the U.S., especially for the administration attempt to make peace happen in Syria and in Yemen," said Slim. "It means a blow to Obama's policy of balancing the two regional powers through managed competition rather than regional conflict. The regional context is not going to be welcoming to diplomatic overtures as we were thinking at the end of last year."
Few believe Saudi Arabia and Iran will engage in a direct war. More likely, both Saudi Arabia and Iran will turn up the temperatures in various conflict arenas, perhaps nudging Lebanon's factions into open conflict, and engage in covert ops; Iran has already been accused of seeking to assassinate Saudi officials abroad.
Many will also be closely watching how Saudi Arabia's allies and regional clients react. Under newly ascendant King Salman, Saudi Arabia has often sought to draft other Sunni countries into various attempts to counter Iran. Bahrain and the United Arab Emirates may be tempted to also sever diplomatic ties. Qatar will likely resist.
But Slim wondered whether other Sunni countries such as Oman, Kuwait, and Turkey, who share congenial ties with both Tehran and Riyadh, will try to convince Saudi Arabia to reverse course, or at least maintain some channels of communication with Iran "to keep the costs of any escalation tolerable."