REYHANLI, Turkey — Before the war, the two cousins were inseparable.
Abdel Rahman Rahmoun loved to swim and train pigeons. Thaer al-Zein favored cars, math, and tinkering with tools and engines. The two boys, now 17 and 14, grew up in neighboring towns among the hilly farmlands of Syria's northwestern Idlib province. After the war came, their families tried to keep them as far from it as possible, despite the armed men marching through their towns.
First came forces loyal to the Syrian dictator Bashar al-Assad, then the anti-Assad rebels of the Free Syrian Army, followed by other rebel groups, including Islamists. All the while, Syrian bombers flew overhead.
Then, in October last year, Russian planes began to scour the skies.
Abdel Rahman was standing outside his family home in the tiny Syrian village of Marayan on a November afternoon when the Russian rocket hit, knocking him to the ground. He felt fine when he came to moments later, he said, and tried to get up. That's when he realized both his legs had been blown off. "I looked up and my brother was screaming, but I lost consciousness," he recalled.
About a month later, Thaer was gathering firewood when another Russian missile hit. He struggled to get up, but couldn't. His father, Abdel Jalil al-Zein, first took his son to a local doctor, who stuck needles in his toe. There was no response. He loaded him into his car and drove him to the field hospital along the Turkish border, and when medical personnel there couldn't help his son either, he obtained the permissions to cross into Turkey. Doctors eventually found a piece of shrapnel lodged in his spine. It has paralyzed him from the waist down, probably for life.
The two teenagers still hang out, but now they are permanently disfigured. They lie in the sitting room of a rented apartment in the Turkish town of Reyhanli, where they now live. Al-Zein lies on the bed with a catheter running from him, and Rahmoun lies on a mat a few feet away — one a double amputee, the other a paraplegic.
"I know that God will eventually give us our rights," said al-Zein.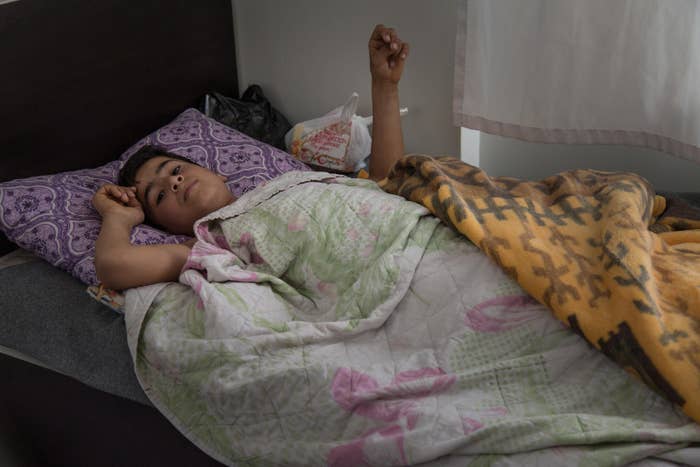 The two boys are among the tens of thousands maimed, wounded, or displaced in the 100 days of fighting in Syria since Russia intervened in the conflict. The Kremlin's stated aim is to help the Syrian regime confront ISIS — but it has since directed as much as 90% of its bombing at rebel-held areas, according to U.S. State Department officials who testified before Congress in November. That has allowed both the regime and ISIS to make gains from the Western-, Turkish-, and Arab-backed rebel forces.

More than 2,300 people, including more than 750 civilians and 100 children, have reportedly been killed by Russian airstrikes. All of this has happened without appreciably changing the dynamics of the war.

"There are new weapons that have entered Syria, and a lot of bombing, rockets, and airplanes," said Islam Allouch, an Istanbul-based spokesperson for Jeish al-Islam, a Saudi-backed rebel group whose fighters and districts remain one of the primary targets of the Russian onslaught. "But there's no change in military tactics or strategy. If Americans intervened, then the school of war would change, or the Chinese. But the Russians are the same as the Syrians. What happened is, that there's no huge change, but the regime is stronger."
Independent Russian observers acknowledge that Moscow's concrete gains have been at best incremental, and mostly defensive. "The immediate goal was to make sure that the political regime in Damascus would survive," said Andrey Kortunov, director general of the Russian International Affairs Council in Moscow. "The idea was to secure the highways, distribution networks, supplies channels."
Mostly, say rebel units and experts closely following the war on the ground, the Russian onslaught has helped Syrian ground forces and Iranian and Shiite militia allies regain positions they had lost over the previous year of fighting.
"At the beginning of the intervention there was a shock," said Allouch, whose commander, and cousin, was killed in a Russian or Syrian airstrike in eastern Damascus late last year. "The rebels lost some places in Damascus, Homs, and Aleppo countrysides; near Idlib, Hama, on the coast. But after awhile we got used to this intervention, and we started taking back many places."
"We cannot address airpower with our rockets."
Russian airpower has been backing Iranian, Syrian, and Hezbollah troops for months without being able to advance significantly in southern Aleppo, despite early gains. Syrian ground forces are often unable to hold onto newly won terrain. "Some fronts are lost, but we go back and take them back," said Ahmed Zaki Assi, a spokesperson for the hardline Islamist rebel group Ahrar al-Sham, a force of 10,000 to 20,000 fighters said to be backed by Turkey and Qatar. "One day the southern Aleppo countryside was taken by the regime, and the next way we took it back."
Two hours before Assi spoke to BuzzFeed News, Russian forces strafed his group's positions in Maraat Numan, near where he was speaking from in Idlib province. The war has gotten tougher, he acknowledged, but it remains better than the situation in 2011, when Assad's forces could open fire on peaceful protesters without consequence, or in 2013 when Iran and Hezbollah first entered the war in support of Assad.
"We've had harder conditions before," he said, speaking via Skype. "The revolution is weakened because of this, but it's not going to be ended by the Russian raids or others. On the ground, the revolutionaries advance. But the weapon that we can't respond to is airpower. We cannot address airpower with our rockets."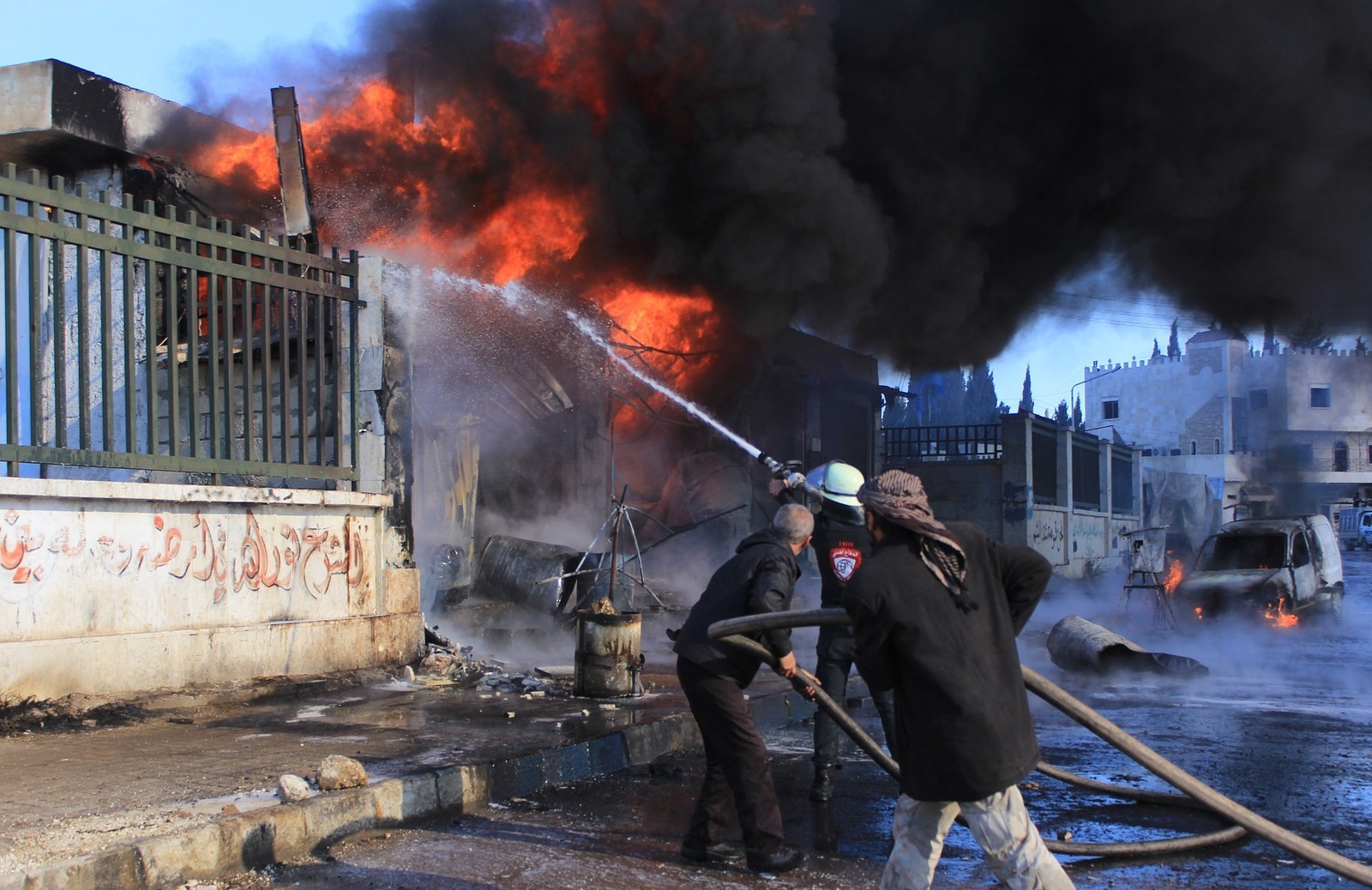 Abdul-Salaam's diabetic 64-year-old mother, Hanifa, and his two siblings had been sheltering in Azaz, a town north of Aleppo, for about six months when the Russian campaign began. There had been occasional fighting on the outskirts of Azaz, especially between ISIS and Syrian rebel groups, but rarely inside the city itself.

That all changed once Turkey shot down a Russian fighter jet last November, spurring Moscow to step up its bombings of areas controlled by rebels allied with Ankara. Russians struck a convoy of relief vehicles coming from Turkey into Azaz, according to reports. Two days later, they hit the city center, terrifying Abdul-Salaam's mother.
"My family didn't know what to do," recalled Abdul-Salaam, a former student of English literature at Aleppo University, now living in Turkey.
Abdul-Salaam spent early December struggling to find a way to get his mother, brother, and sister across the now-closed Turkish border. But smugglers demanded $500 a head that he couldn't afford, and offered no guarantee of successfully evading increased Turkish patrols. Besides, the normally stoic Hanifa was too weak to make the dangerous trek across smuggling routes.
"She was so afraid of kidney failure," he said. "For the first time in years she called to say, 'We're not OK.'"
Eventually, Hanifa and her children decided their best option was to move her to live with other relatives in the Kurdish-held city of Afrin. As they departed, all hell broke loose.
Taking advantage of the Russian strikes, Kurdish forces in Afrin sought to wrest control of towns to its northeast from Syrian rebel groups. Then ISIS made a lunge east, seeking to take control of Azaz. "Everything just went crazy," said Abdul Salaam.
It took Hanifa and her two children four days to make the journey to Afrin, normally a 30-minute drive, huddling each night in the cold to escape the fighting. Syrian rebels, armed with weapons supplied from the Gulf, fought back both the Kurds, who have formed a de facto alliance with Moscow, and ISIS. In the end, no territory changed hands. But many lives were lost or thrown into chaos.
The picture of the conflict painted by the Assad regime and its allies reflects the boost in morale they've received from the Russian intervention. Each day, state-controlled news outlets in Damascus, Moscow, and Tehran spew propaganda about progress in the war to defend the Syrian regime.

"Urgent: Militants Smashed by Syrian Army's Massive Operations in Latakia," said one headline of Iran's Fars News Agency, which hews closely to the line of the Revolutionary Guard.
"Syrian Army Liberates Key Areas Near Deir ez-Zor Military Airport," said another recent piece by Russia's Sputnik News Agency.
"Syrian Army establishes control over four villages near Salma in Latakia and another in Aleppo," declared a piece by the official Syrian news agency.
Russia has presented its intervention as an attempt to save Syria from the cruelty of "terrorists." It denies a single civilian casualty and has largely ignored the humanitarian consequences of its intervention, including an increase in the number of refugees seeking safety in Turkey and onto Europe.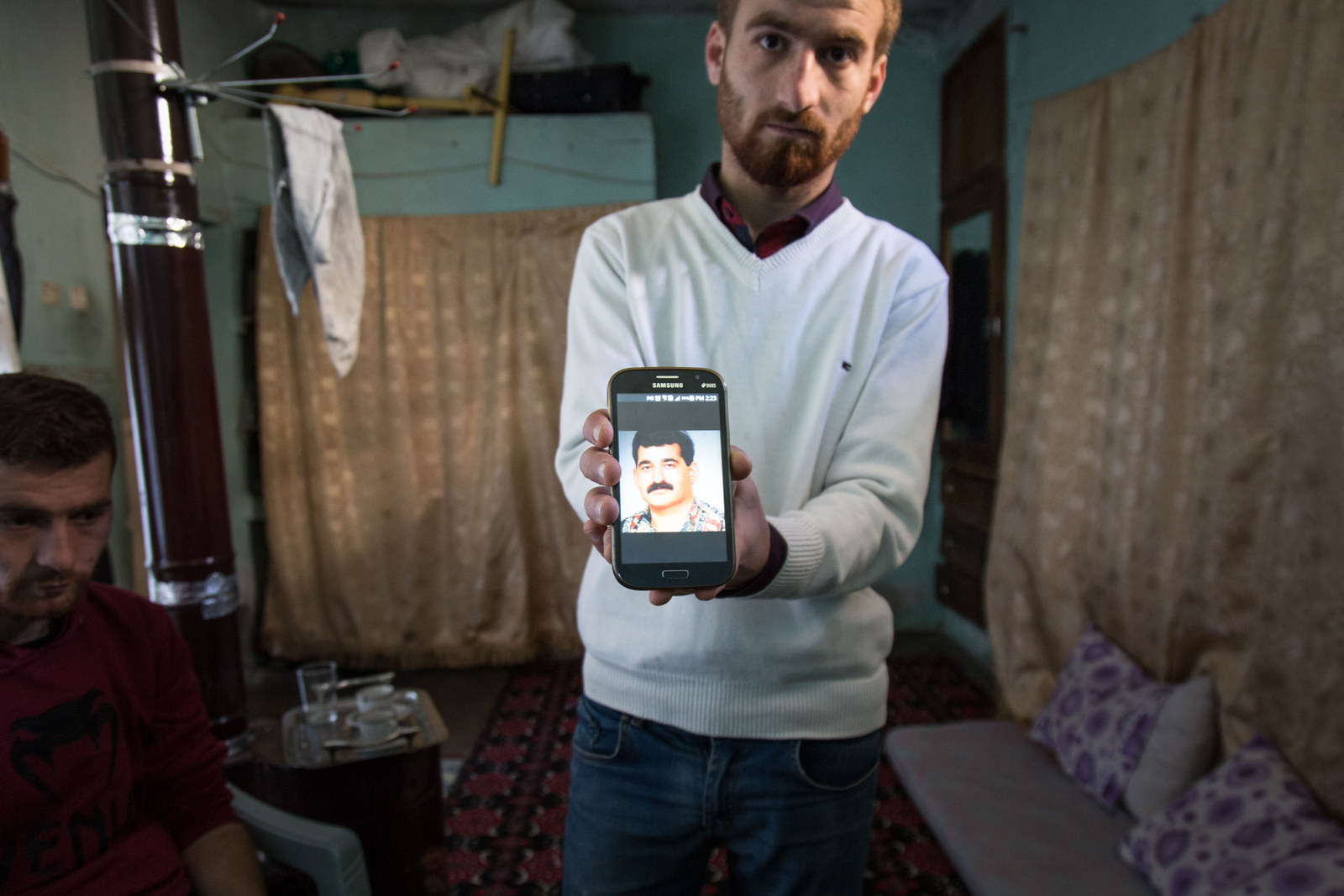 Early last month, Yousser and Ibrahim Seif were among 10 men hiding in the icy cold along the Turkish border when they decided to make a break for it. They turned off the cell phones they had been using for light and bolted, trying as hard as they could not to make any noise as they bundled through a field, when they spotted a Turkish patrol. Panicked, they headed back toward Syria, panting as they hid in the brush, and felt the temperatures drop further.
Yousser, 21, was once a law student at Aleppo University, and Ibrahim, 24, studied civil engineering in Latakia. Both abandoned their studies as the country's crisis worsened, setting up a small shop selling groceries in their native Atareb, until a Russian jet fired at their home. Luckily, the house was empty. But it was a close call, and they decided it was time to leave Syria.
"The difference between the Russian and Syrian airstrikes is that the Syrians are not that accurate," said Yousser. "The Russians, once they hit a building it's completely destroyed. There is no way to rebuild it."
International relief groups say the Russian campaign has prompted a fresh humanitarian crisis in Syria, though few people are able to cross the border. Under international and domestic pressure, Turkey has tightened controls, allowing very few people in or out of Syria. By late October, aid workers had warned of tens of thousands of newly displaced Syrians seeking refuge inside or outside the country, and the numbers have only increased since winter set in.
"The Russians, once they hit a building it's completely destroyed. There is no way to rebuild it."
Yousser and Ibrahim found a smuggler and paid him a few hundred dollars to get them across. But in the end, all he agreed to do was get them to a small opening in the barrier between Syria and Turkey. At least the smuggler was honest. "He told us he took no responsibility for what happened after we crossed," said Yousser. "He was not able to even advise us because he didn't know what was going on beyond the perimeter."
Early last month, they crossed the border just before midnight, braving the sub-zero temperatures. They traveled in a group, figuring if they were spotted by a Turkish patrol at least some of them would still be able to make a break for it. They'd heard stories of Syrians being shot dead by security forces while trying to cross the border. Carefully evading patrols for hours, they eventually found themselves in a field near the border city of Kilis, just as dawn began to break. They nearly wept with relief.
"We risked our lives," said Yousser. "It was very difficult. It was so dangerous."
They now live in a rented single-story hovel in a slum that is home to impoverished Turks and Syrian refugees on the outskirts of Kilis. Here they are planning their next move: to join the waves of Syrians hoping for a better life in Europe. "If I can get access to education I will stay here in Turkey. If not, I will go to Europe," he said. "But I miss my family really. I miss them so much. And I have a decision in mind and I will call it 'The dream of my life,' which is to go back and rebuild my country, even if I go to Europe."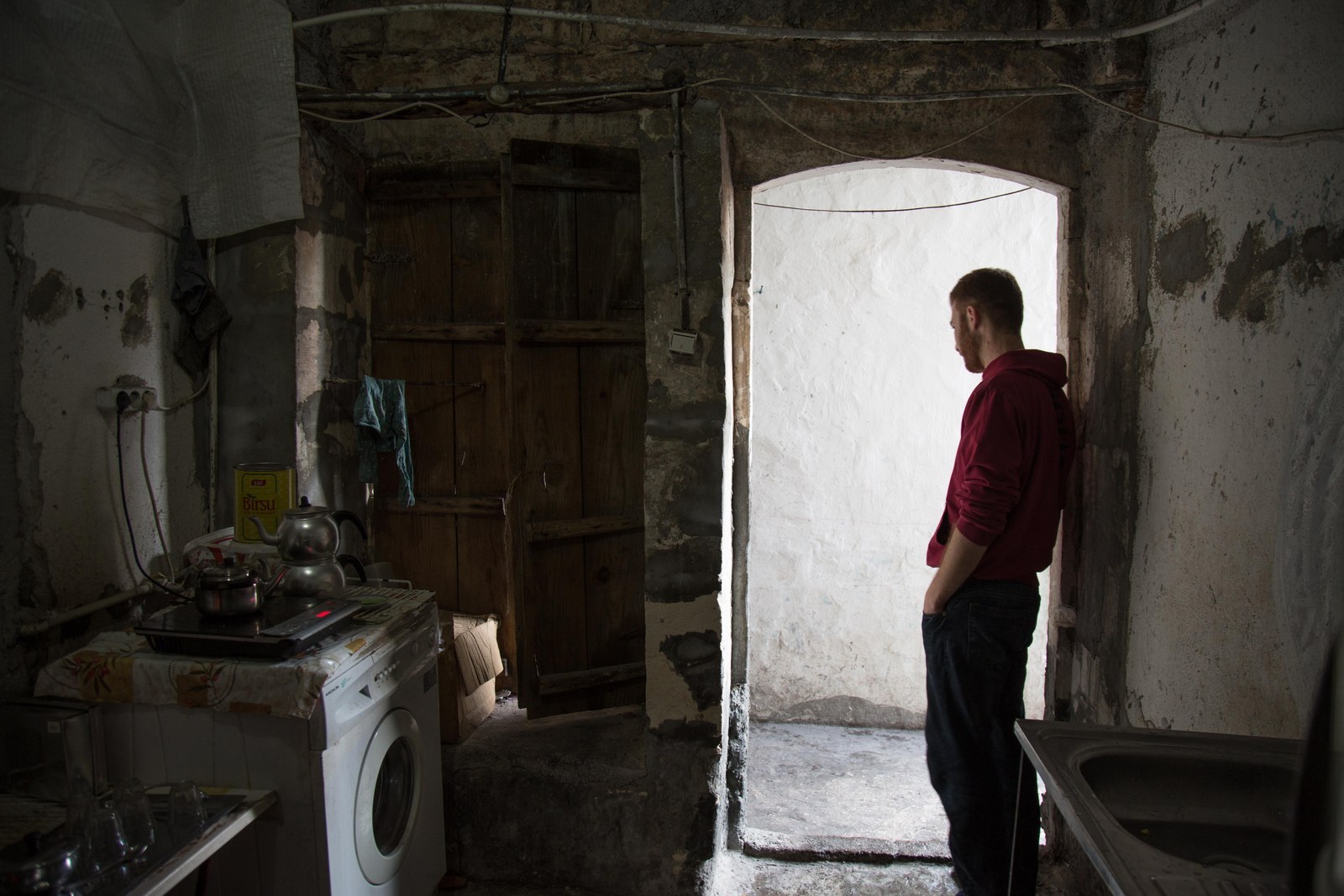 In November, Mohammed Katoub entered Syria for the first time in years. It was part of his job as chief protection officer for the Syrian-American Medical Society. But he didn't tell his wife. He didn't want to spook her. She knew how often medical facilities in Syria were struck by Russian and regime air strikes. Katoub, once a mild-mannered Damascus dentist, figured he would be safe during the three-day excursion, where he was to hold a series of workshops for medical workers in a town in northern Idlib.

But as luck would have it, his trip coincided with Turkey's downing of a Russian plane. He was teaching the doctors and nurses about sexual violence against women when the Russian airstrikes began. A missile landed 400 meters away from the clinic, one of more than 100 care points and medical centers operated by the organization inside Syria. "I was explaining the difference between rape and sexual assault," he remembers. "We ran into the streets because it is much safer than inside a facility."
The clinic director ordered all patients and all staff except for emergency personnel home. As the shift changed, with some heading to Turkey and some coming back, a grim mood settled in. "They all said goodbye as if they would never see each other again," he said, sitting in his organization's office in Gaziantep.
"By targeting bakeries, schools, and hospitals, you make people lose all hope."
For the small and dedicated core of mostly Syrian professionals providing health care and humanitarian services to those inside Syria, the Russian intervention has made an already hellish situation even more difficult. Katoub's group has counted 300 attacks on its medical facilities since the conflict began, with the numbers of wounded and the logistical challenges increasing dramatically since the Russian intervention began. Since Sept. 30 they've had an attack every two days on a medical facility, double the number of previous months, said Katoub.
Zakaria Ibrahim, 26, an anesthetist at a gynecology clinic in Azaz, was working when a Russian missile struck within 10 meters of the facility, setting parts of it on fire. "Now the hospital is closed," he said, as he waits for a lift home near the Turkish border after finishing a rotation.
"The idea is to weaken the civilians to make those living under the opposition areas feel life is hell," he said. "By targeting bakeries, schools, and hospitals, you make people lose all hope."
Health care providers have had to change the way they operate. Care points and makeshift clinics are scattered in various basements; a reproductive health center may be in one place, incubators somewhere else, and the operating room in yet another location. "You cannot find the normal understanding of a hospital," he said.
The Syrian regime had long been accused of targeting medical facilities. But Russia's use of more powerful precision weapons has dramatically worsened the impact while increasing the number of patients, including 45-year-old Abu Steif, who nearly had his legs seared off by a suspected Russian bomb that struck a bakery in Idlib on Nov. 22 around 4 p.m.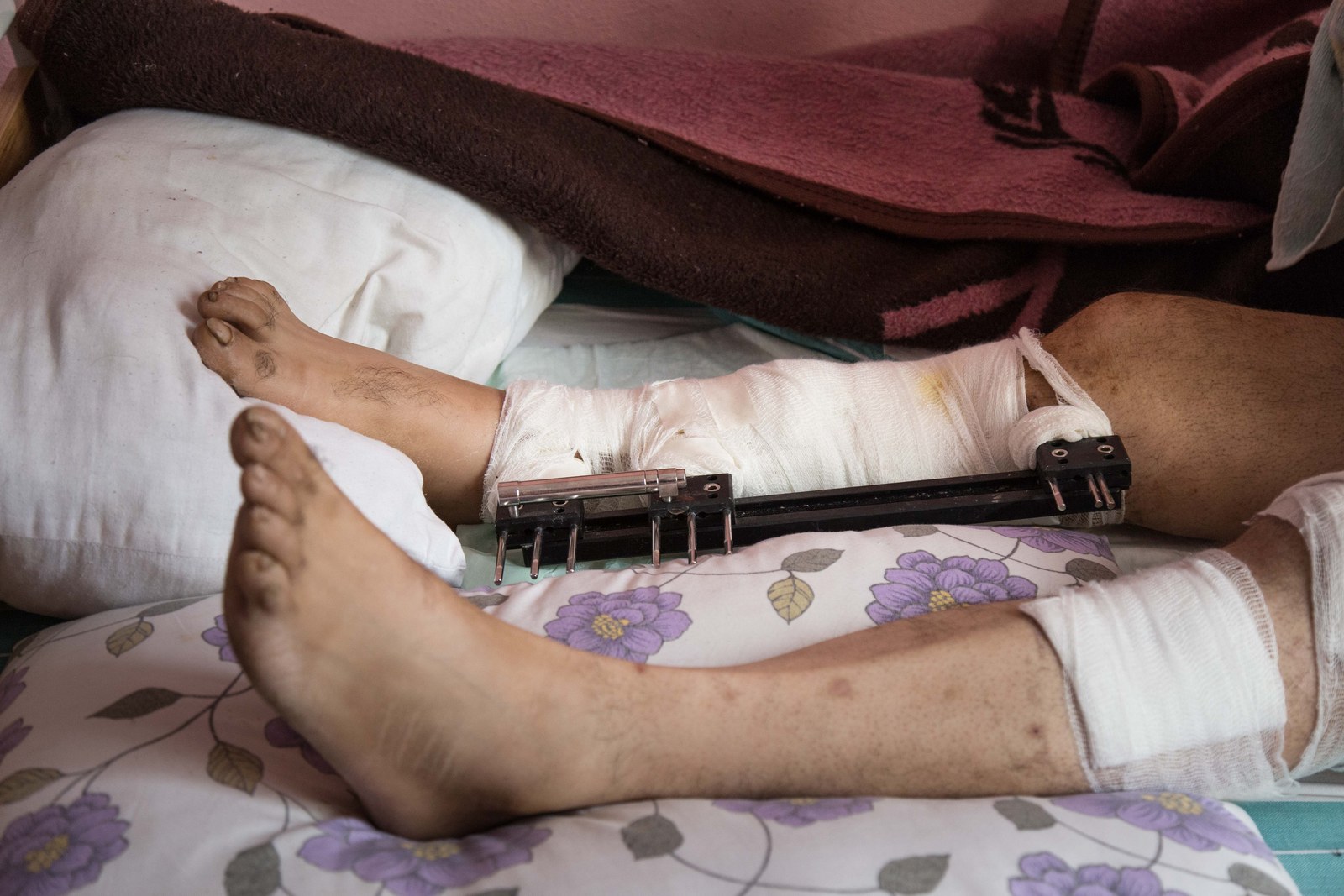 "I was out getting a haircut for my 12-year-old son," he said. "I saw my cousin and I was going to say hello, just pulling out my hand to greet him, when the bomb struck."
No one has had the heart to tell him that his son died in the blast, and he hasn't yet summoned the courage to ask after him.
"The damage is specific and much greater," said Abdul-Razzaq Darwe, 36, a doctor in rural Aleppo. Just minutes before he had crossed the border into Turkey at Kilis, his face blanched with exhaustion after completing a lengthy stint inside the country.
"When planes attack, the number of patients triple or quadruple," he said. "My job is harder; our personnel doesn't suffice. What we have is not enough, not enough for vaccinations, not enough for surgery, not enough at all."