Putin Is Using Spy Tactics To Split NATO From The Inside
The Russian president is using a country's vulnerability to try to peel it away from NATO, and it may be working. "This is the application of foreign policy using intelligence techniques," an expert said.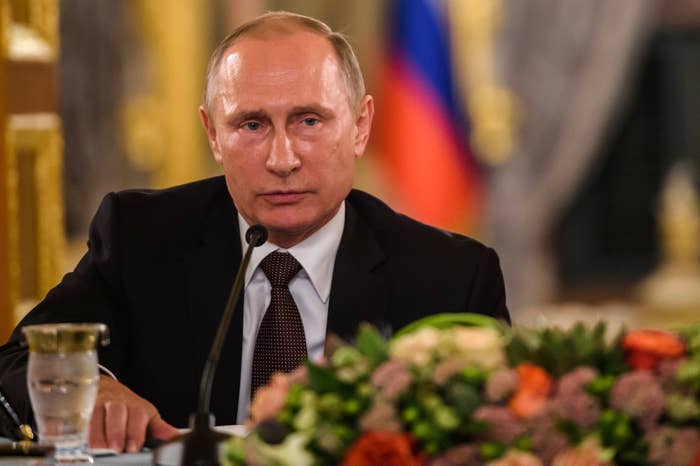 ISTANBUL — Turkey was struggling through a troubled time. Its rebel allies in Syria were losing ground and Kurdish militants attacked some of its cities. Its closest friends repeatedly harped on its spotty human rights record. And in July 2016, a faction within its military tried to overthrow the government. That's when one of its foremost rivals came calling.
Less than two days after the failed coup, Russian President Vladimir Putin phoned Turkey's president to offer his "unconditional" support and sweep past troubles under the rug. This shrewd maneuver to exploit Turkey's vulnerability was right out of the spy recruitment playbook that Putin once learned as a KGB officer, analysts say.
"This is the application of foreign policy using intelligence techniques," said Marc Pierini, a longtime former EU diplomat and now a scholar at the Carnegie Endowment for International Peace in Brussels. "If you want to recruit someone, turn somebody, you exploit their weaknesses, assess their psychology, and the Russian president is an expert at that."
Turkey's drift toward Russia became more evident in a late December deal over besieged Aleppo that was a victory for Moscow, historically one of Turkey's archrivals. For the second time after that deal, Russian warplanes on Wednesday launched airstrikes to support Turkish-backed forces fighting ISIS in northern Syria. This rare instance of direct military cooperation between Moscow and a NATO country is even more remarkable in that it happened a little more than a year after the two countries ruptured ties when Turkey shot down a Russian jet along the Syrian border.
"The aim of Russia is not destroying NATO but to make cracks in the wall," said Cenk Baslamis, a Turkish journalist who was based in Moscow for 21 years and now runs a media criticism website. "For Russia, Turkey is a country that should not be with the West, but will never be very close to Russia."
Growing cooperation between Russia and Turkey could complicate the Middle East policies of President-elect Donald Trump. On the other hand, Trump has called NATO "obsolete" and has welcomed cooperation with Putin to fight Islamic extremists in the Middle East.
On Wednesday, the US announced that it had also resumed airstrikes to aid Turkish-backed forces in northern Syria, a move partially seen as an attempt to smooth over frayed ties.
Turkey and the US — NATO allies who are committed to each other's mutual defense — have been at odds over a number of issues including Washington's partnership with the Kurdish forces fighting against ISIS in Syria and the presence in the US of an Islamic cleric whom Turkish President Recep Tayyip Erdogan blames for the failed coup attempt in July that left Turkey isolated and weak, and open to Moscow's advances.
Pierini, the former diplomat, said Russia employed the same tactic when President Barack Obama boxed himself into a corner in 2013 over a vow to intervene in Syria if the regime used chemical weapons, offering him a face-saving way to avoid military action but give Moscow crucial leverage over the country's future.
Analysts say Erdogan and Putin have a lot in common. Both are elected presidents with autocratic tendencies known for stoking their popularity with nationalistic appeals. Both denounce what they describe as Western norms on individual liberties and defend traditional values that oppose LGBT lifestyles and broader roles for women. While the US and EU regularly criticize Turkey over its human rights record, Russia offers support without strings.
"The Russian endgame is if you can have a NATO member whose ambivalence toward the West you can intensify, that's a win," said Terrell Starr, a Russia expert and senior reporter at Foxtrot Alpha, a military news website.
To be sure, it is very unlikely that Turkey will opt to leave the world's premier military alliance, let alone before Trump's administration takes over and begins clarifying its policies toward Turkey and the Middle East. What's more, enmities between Turkey and Russia pre-date even Peter the Great three centuries ago.
"Currently what we hear from Erdogan is declarations or statements," said Alexey Khlebnikov, senior editor at the Kremlin-funded Russia Direct, a foreign policy website. "So far he hasn't done anything to contradict NATO policy."
Putin may be playing a longer game. He began laying the groundwork to wean Turkey away from its allies in 2003, when Erdogan's Islamist-rooted party first came to power and immediately voted to bar US forces from using Turkish territory to mount an invasion of northern Iraq. Putin sensed an opportunity. "It was a pleasant surprise and shock for Russians because up until then they thought Turkey did what the West and especially the US wanted," Baslamis, the long-time Moscow correspondent, recalled.
Putin visited Turkey the following year in what was described as the first official visit ever by a Russian leader since Russia and what was then the Ottoman Empire established relations five centuries earlier. Trade ties blossomed. Russian tourists flooded Turkey's sun-drenched resorts.
"The idea is to take small steps to stop Turkey [from] pinning its own future, and thus its foreign policy, toward Europe and Euro-Atlantic structures," said Max Suchkov, a political analyst at the Russian International Affairs Council, a Moscow think tank.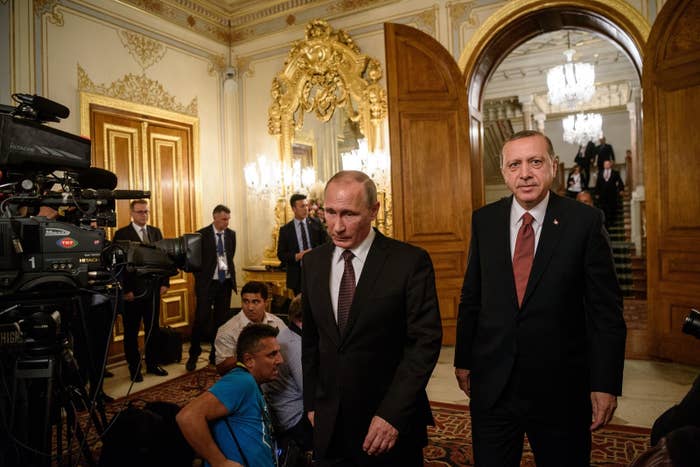 The strategy is paying off. In recent months, Turkish media close to the Erdogan government have heated up their anti-American rhetoric; tabloids here frequently blame the US for terror attacks based on little more than conspiracy theories. Turkish officials regularly threaten to bar US military personnel and aircraft from using the Incirlik airbase, a military site in southwest Turkey that's crucial to the US air war against ISIS in Iraq and Syria.
Analysts described Russia's Turkey approach as part of a broader Kremlin strategy to undermine Western powers by supporting far-right and fringe political players and engaging in cyberattacks, most prominently the hacking of Democratic leaders in a bid to help Trump win the White House, as US spy agencies allege.
US officials acknowledge they're uneasy with Russia's outreach to Turkey, which has NATO's second-largest army, and that Washington is unlikely to address any of Ankara's concerns soon.
The Trump administration would face a tough, lengthy challenge if officials try to short-circuit the US judicial process to extradite Fethullah Gulen, the well-connected Pennsylvania-based cleric whom Erdogan blames for the coup. Also, US military officials insist the forces led by Syrian Kurds are the most effective local forces battling ISIS near its Raqqa stronghold.
Much to Washington's annoyance, Turkey has again begun speaking about purchasing Russian advanced air systems. Turkey and Russian military officials this month acknowledged that Russia provided support for ongoing military operations in northern Syria in a rare recent instance of Moscow and a NATO partner collaborating militarily.
Still, Turkey needs the West to continue to equip its armed forces, which use NATO standard gear and systems, placing severe constraints on any deals between Moscow and Ankara. Turkey remains among the top 10 worldwide customers for US and German weapons.
"Recently they have become closer, especially as Russia seeks to exploit the tensions between Turkey and the US after the coup attempt," said a US official, who asked for anonymity to discuss negotiations with a key ally. "But can Russia really peel Turkey off from the West, especially given a decades-long relationship?"
The US and Turkish militaries retain close bonds. The US chairman of the Joint Chiefs of Staff, Gen. Joe Dunford, has said he and the Turkish chief of the General Staff, Gen. Hulusi Akar, "speak frequently."
But the biggest barrier to cooperation between Russia and Turkey is their centuries-old distrust.

"Russia is only looking out for Russia. Turkey understands that," another US defense official told BuzzFeed News.

So far, US officials say Russia has yet to offer Turkey big enough incentives to make a significant policy shift. Despite their pledges, Moscow was unable to ensure that Syrian President Bashar al-Assad's forces adhered to a ceasefire, at one point reportedly attacking buses evacuating civilians from Aleppo. Meanwhile, Russia has offered only very limited aerial strikes to aid Turkey's allies in Syria struggling to defeat ISIS in the city of al-Bab.
But Turkish and Russian officials have also upped their cooperation over the last few months, often to the Kremlin's advantage. In December, after the shocking assassination of the Russian envoy to Turkey by an off-duty police officer, many experts expected a rift.
Putin quickly forgave Turkey for the security lapse, and adopted the Turkish government narrative that Gulenists, perhaps backed by the US, were behind the killing in hopes of sabotaging relations between the two nations.
Putin also pressed ahead on a joint meeting with Turkish and Iranian officials in Moscow the next day. He used Turkey's shame over the killing to press it to agree on a Syria truce that included everything Moscow and Tehran wanted, such as language linking some rebel groups to al-Qaeda, and almost nothing Ankara wanted, namely the departure of Iranian-backed militias.
"The incident strengthened Russia's hand," said Emre Ersen, a Russia specialist at Istanbul's Marmara University. "It gave Russia a significant advantage on the ground."