One Of The World's Longest Serving Spy Chiefs Was Just Fired
Algeria's Mohamed Mediene was widely believed to have wielded enormous power. His sacking could signal a period of instability inside one of the region's crucial oil and military powers.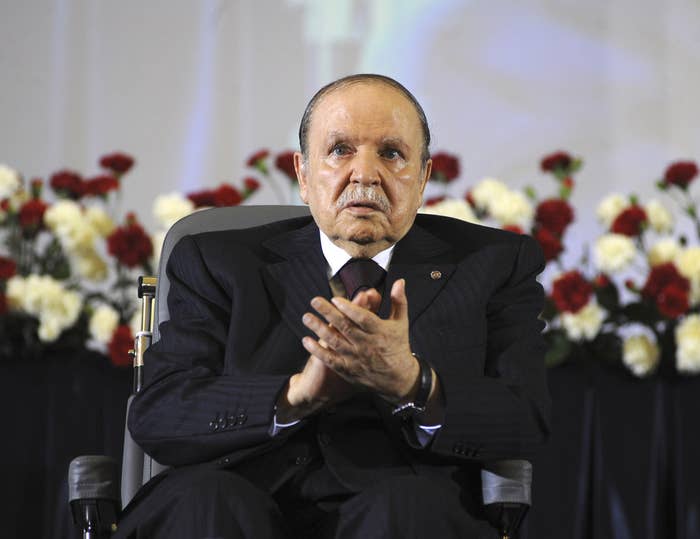 One of the world's most mysterious and powerful government officials may have met his political end on Sunday as part of the obscure power struggles inside the oil-rich north African state of Algeria.
Mohamed Mediene, known largely by his nom de guerre "General Toufik," was abruptly removed from his job as head of Algeria's spy agency, the Department of Intelligence and Security, local media reported. Mediene, 76, has served as Algeria's top spy for 25 years, making him what many described as among the longest serving spymasters in the world — if not the longest serving.
Algeria's official news agency reported that Algeria's aging, sickly president Abdelaziz Bouteflika replaced Mediene with Maj. Gen. Athmane Tartaq, a presidential adviser.
News of Mediene's sacking stunned Algeria watchers. Rarely photographed, his nickname was the God of Algeria, and he was rumored to have tentacles in politics, media and commerce as well as the security forces.
"It's a huge deal," said one Algeria analyst who asked to speak anonymously for fear of rupturing ties with the ruling elite. Mediene's departure, described as a "retirement," comes amid an apparent crackdown by Bouteflika's government on entrenched members of the country's security elite that began to gather force in 2013 but picked up steam over the summer.
On Saturday, an Algerian official confirmed the arrest weeks earlier of former counter-terrorism chief Abdelkader Ait-Ouarabi, better known as "General Hassan." A number of other generals have been sacked in recent weeks as part of what some have described as much-needed reform. Algeria's generals have dominated politics and commerce since the brutal 1990s civil war against Islamists that Mediene oversaw.
"Bouteflika was always hostile to the military's influence over policy. All the reforms he's made since 2013 to the military are part of a reform to get rid of the army's political heavyweights from civil war," said the analyst.
But a more worrying possibility presented in Algeria's French and Arabic-language press is that the purge is the outcome of potentially destabilizing infighting between the country's various corrupt oligarchic cliques.
"Everyone knows that the clans tear each other apart in the government and that this is done in total opacity," an Islamist opposition leader, Abderrazak Mokri, told the news website Tout sur l'Algerie. "It is not a public matter as to who knows the ins and outs."
Algeria is a key Western ally in the fight against jihadi groups taking root in North Africa. But it is suffering from falling revenues as oil prices plummet and faces the prospect of a dangerous succession battle once Bouteflika, 78 and very ill, is unable to lead the country.
"Mediene's relationship with the Bouteflika 'clan' was always tense and he stood in their way a number of times," said the analyst. "Some say him out of the way clears the way for the Bouteflika clan...to choose the successor to Bouteflika without having to worry about him opposing their choice."