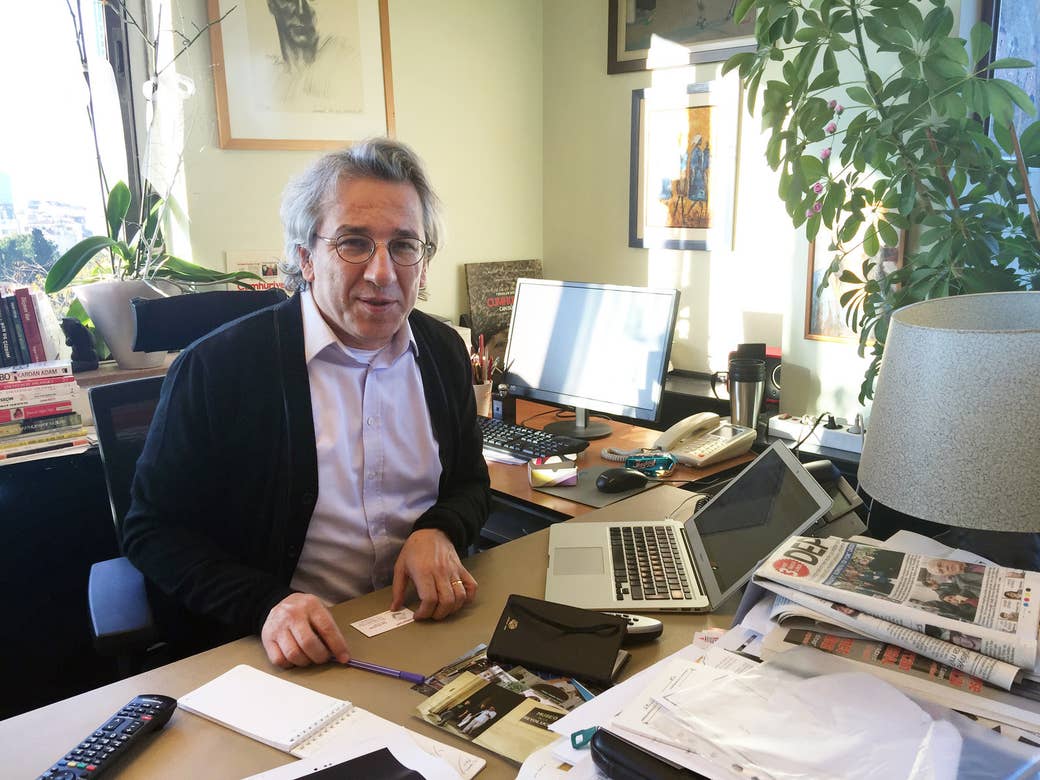 ISTANBUL — Can Dundar knew he was a marked man.
It was shortly before Turkish authorities summoned the editor-in-chief of Cumhuriyet, one of Turkey's largest newspapers, and one of his most senior editors, to court and locked up in a jail cell on Thursday. The energetic 52-year-old intellectual, with a full head of messy grey hair, lounged in his office in central Istanbul and rifled through the nation's newspapers, pointing out all those taken over by the government in recent years. In crisp English, the journalist — whose first name is pronounced "jan" — explained why he believed the government under the country's increasingly powerful president, Recep Tayyip Erdogan, had continued to crack down on the press even after its decisive election victory earlier this month.
"He views every kind of criticism as a threat or as an insult," Dundar told BuzzFeed News in an exclusive interview. "He hates criticism. Politically, his background is as an Islamist guy. He's much more used to having people obeying without criticism. This is their tradition. Criticism is almost forbidden. It's considered shameful."
Dundar was jailed on Thursday and faces a possible sentence of life in prison on espionage and terrorism charges for publishing a report in May that included photos and videos alleging Turkish intelligence officials were smuggling weapons to Syrian rebel fighters described as jihadis in January 2014. The report, yet to be refuted or denied, shone an uncomfortable spotlight on allegations that Turkey has supported, or at least turned a blind eye, to the growth of extremist groups in Syria, including ISIS.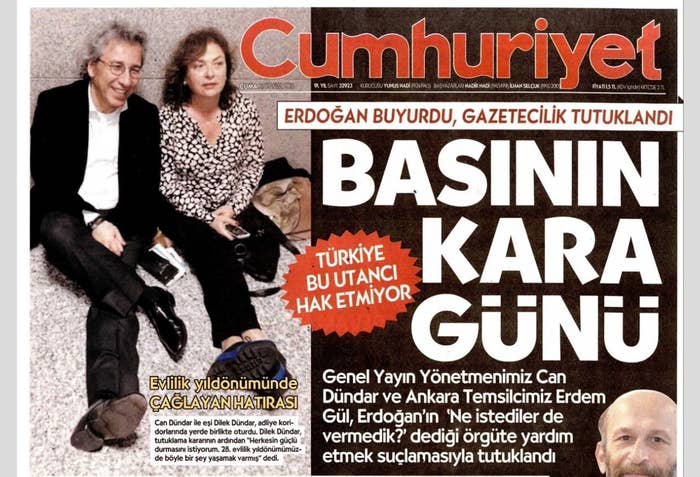 Civil liberties advocates had hoped that the crackdown on media would ease after Turkey's divisive election campaign came to an end earlier this month. But just hours after the results came in, giving Erdogan's Justice and Development Party (AKP) a surprise victory, authorities continued a months-long campaign of intimidating visits to media offices, arresting journalists and hauling others into court.
"Journalists are attacked, beaten and deprived of accreditations to cover government meetings," said a report issued by eight media freedom groups last month. "Media owners are severely threatened and newspapers are seized. Imprisonment has become a common verdict for any criticism against President Recep Tayyip Erdogan."
Turkish authorities dismiss criticism from Western governments and press freedom advocates, who they say fail to acknowledge the country is facing off against both ISIS and the armed separatist Kurdistan Workers Party (PKK) in a dangerous part of the world. "National security is a concern for Turkey," said Harun Armagan, a spokesman for the ruling AKP. "We are under attack by two terrorist organizations, they are trying to create chaos and journalists need to be sensitive."
The great mystery is why a government with so much popular support would tarnish its own international reputation by sabotaging democratic advances it had in part facilitated over the last decade. Some say a culture clash underlies the press crackdown, with irreverent Westernized journalists brushing up against the more traditional values of Turkey's Islamist-rooted AKP. Supporters of the AKP call that explanation snobbery, noting that Turkey had a worse track record on freedom of expression during the decades of military rule that preceded Erdogan, who was himself jailed for reciting a Koranic verse the floor of parliament.

"They are trying to understate and diminish the value of the people," said Amargan. "They are trying to say we are tribal and simpleminded. The fact is, under Erdogan Turkey has become more democratic, more European."
Despite Erdogan's apparent power, he may also be nervous about his ultimate fate amid allegations of financial impropriety that have dogged him for several years, including an alleged money-laundering scheme involving Iran, said Tahir Ozyurtseven, Dundar's deputy and now in charge of Cumhuriyet. "He's scared of what might happen to him because he's corrupt," he said. "He's afraid that everything that he's done outside of the law."
A subterranean battle between followers of an Islamic scholar named Fethullah Gulen, who counts supporters among leaders in commerce, media and the security forces, has fueled many of the press battles. Gulen, in self-imposed exile in the U.S., leads a secretive charity that has created a network of schools around the world promoting a moderate version of Islam. Last month a video surfaced showing an Erdogan loyalist berating and throwing out journalists at Bugun, a newspaper seized on financial grounds from a business mogul linked to the Gulen movement. Government officials point out that Gulen supporters within the bureaucracy sought to jail their opponents in the media when they had the upper hand a few years ago.
"The group illegally wiretapped the phones of various anti-Gulen journalists between 2011 and 2013, according to data uncovered by the judiciary watchdog in early 2014," said one government official, on condition of anonymity because he was not authorized to speak to the media.
In all some 1,000 journalists, mostly linked to the Gulen movement, have been pushed out of their jobs in the month since the election, said Mostafa Kuleli, secretary general of the Journalists Union of Turkey. In many cases, Erdogan's business allies buy up and politically neuter news outlets deemed critical.
"It's the worst time ever for journalists in Turkey because we are fragmented," he said at the offices of Cumhuriyet the day after Dundar's arrest.
"The government owns more than half of the media," said Kuleli. "They're seizing televisions and barring others from satellite broadcasts. What's worse is that everyone is blaming each other. They say this one is Gulenist, these are Kurds, this one is leftist. That's why it's an easy job for the government to oppress the media."
No media outlet is too small a target for the government. Authorities recently jailed two editors of Nokta, a weekly satirical and investigative magazine with a circulation of 5,000, on national security charges for publishing a cover after Erdogan's election victory, warning that Turkey was headed to civil war.
"The pressure on the press is such that we cannot bear it any more," said Ertugrul Erbas, an editor at the magazine. "Even if you make a small criticism, they can't tolerate it. Meanwhile the pro-AKP press everyday is like, 'Long live Erdogan.'"
The government defended the decision to prosecute the journalists. "Right after an election that a party won with 50% of vote you can't say it's a civil war," said Amargan, the AKP spokesman. "Journalists should also have ethics. They have to think about the country and be sensitive to the country's feelings. Criticism can happen as long as it's respectable. When you insult someone that half of the people is behind, it's insulting to them."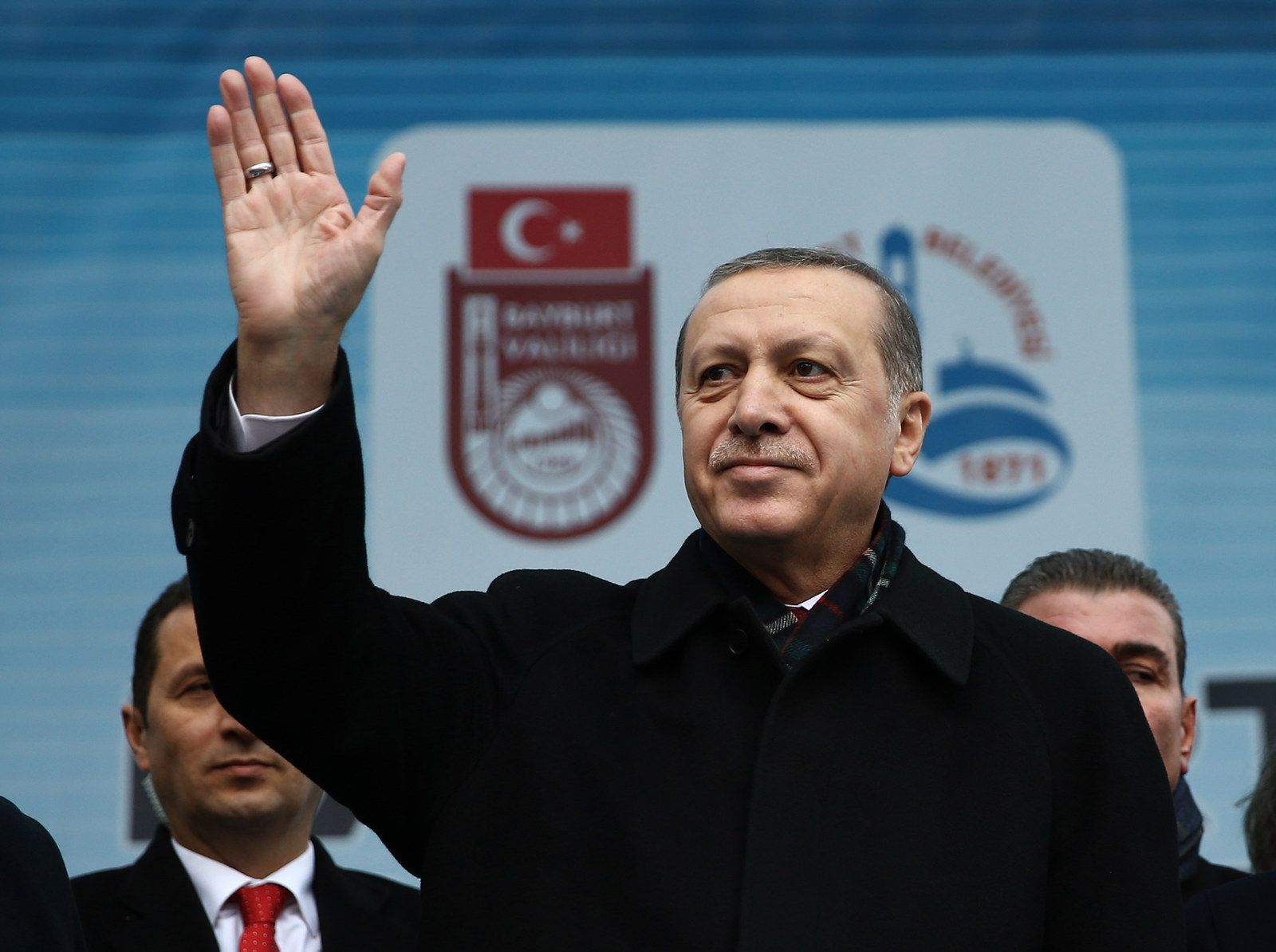 Just after the article on the secret arms shipment to Syria was published in late May, Erdogan went on television demanding a life sentence for Dundar. "I will pursue him to the end of the matter," he said. "He will pay for it."

Dundar responded on Twitter to his more than 2 million followers: "I will pursue him to the end of the matter. He will pay for it."
Last week he traveled to France to receive the Reporters Without Borders 2015 Press Freedom Prize, awarded to his paper. Both RSF and other Western press advocacy groups sought to bolster his standing in the weeks before his anticipated court date, in hopes of keeping him out of jail. But one insider with deep knowledge of workings inside the country's capital, Ankara, says the Turkish government only seriously considers the opinion of one institution on such matters: The White House. The U.S. government needs air bases in Turkey, a NATO member, to launch attacks on ISIS; Washington has firmly stood by Ankara even after questions arose about its quick use of force to down a Russian plane on Tuesday.
"The only government Turkey cares about is the U.S.," said the insider. "The fact is that President Obama came here for the G20 and didn't say one word about human rights or freedom of expression." Yesterday, the State Department put out a brief statement saying it was "troubled" by the arrests.
In court late Thursday, Dundar argued that Erdogan himself had just said it was not a big deal if Turkey had sent weapons to rebels in Syria. "If Erdoğan says, 'So what if the trucks were filled with weapons?' Then I say, so what if we published it." It was to no avail. As he and his Ankara bureau chief, Erdem Gul, a father of two, were sent into pre-trial confinement, applause broke out among supporters inside the courtroom, video showed. "We're going to jail," he tweeted. His lawyer Bulent Utku says he was taken to Silivri prison, on Istanbul's outskirts.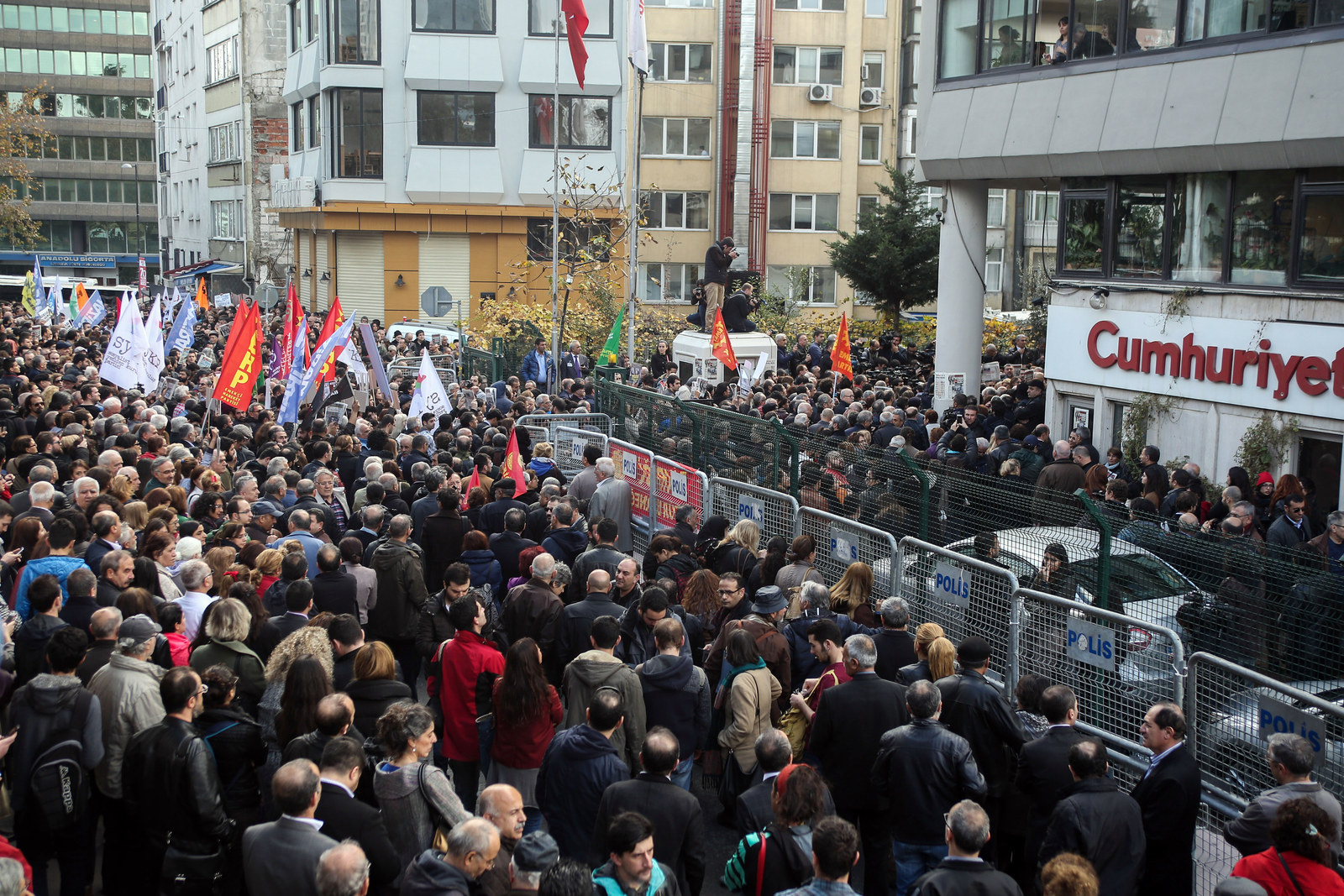 The next day hundreds protesters gathered outside the six-story building in support of the editor. "Murderer, ISIS!" they chanted. "Can will write again!"
But few believe that any popular outpouring of opposition to the crackdown will emerge. Outside of a small sliver of intellectuals and activists, the public barely responds to the arrests and even seems in some respects to condone it. Erdogan and his supporters likely view their resounding election victory as an endorsement of their media policies. Dundar said the public's silence about the press likely reflected cultural shifts in Turkey that he and his ilk failed to accept.
"We can't understand why they're so silent about all of this," Dundar said during the interview. "We don't want to accept that people love him. We used to say that Turkey was a train heading west with its people on board heading east. Now it's turning east, and only some people like us are pushing west."