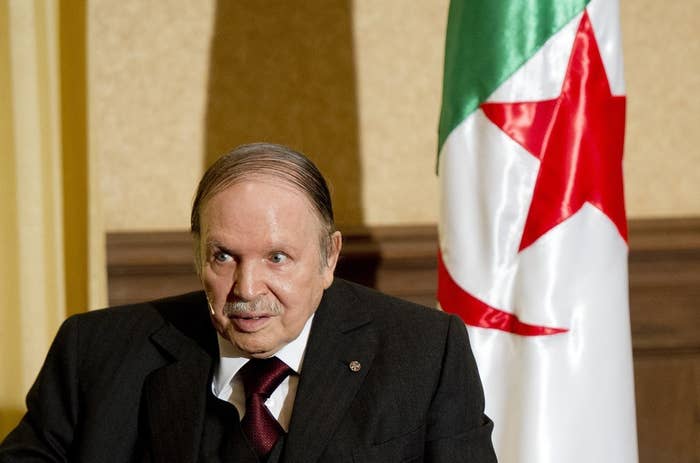 CAIRO — It is the largest country by land mass in all of Africa, and the second or third largest by population in the Arab world, blessed with massive oil and gas reserves that have turned it into one of the key military and political powers of the Mediterranean.
But many say Algeria is in deep trouble, with its ailing longtime ruler nowhere to be seen and factions struggling over a successor. On Wednesday the future of the country took on a new tone of urgency amid a report that Abdelaziz Bouteflika, president of Algeria for the last 16 years, had been rushed to France a day earlier for emergency medical treatment. Algerian officials have not responded to the report.
Algeria, a key partner in Western efforts to fight a burgeoning Islamist militant threat in Africa as well as a crucial source of energy supplies, has been undergoing a governance crisis for years, said Ali Benflis, a former prime minister and presidential candidate.
"We all know that there is a state of power vacuum and that Bouteflika is no longer able to be in charge and that this power vacuum is being filled with extra-constitutional forces," he told BuzzFeed News in a telephone interview from Algiers, the capital. "There is no one to lead the country."
A group of 19 politicians, including former ministers, last Friday signed a letter voicing concern about Bouteflika's heath, wondering whether he was actually running the country's day-to-day affairs and requesting a meeting with him. "We believe it is our duty as Algerian patriots to draw your attention to the deterioration of the general climate in our country," the letter said.
Bouteflika's prime minister, Abdelmalek Sellal, insisted Monday his boss was in "full control," but the president hasn't appeared in public for weeks.
Algeria has long been one of the most stable countries in the region after emerging from the wreckage of a 1990s civil war between security forces and Islamist militants that left tens of thousands dead. It weathered the Arab Spring uprisings that shook its neighbors by raising public salaries and handing out cash for housing and municipal projects. Beyond security cooperation and close energy sector ties, U.S. firms have increased investments in Algerian agriculture, pharmaceuticals and education.
But the crash of oil prices has hit Algeria hard. Oil and natural gas exports account for 97% of its foreign earnings and two-thirds of its budget. Algeria this year experienced a budget shortfall for the first time in a decade after oil revenues plummeted 50%.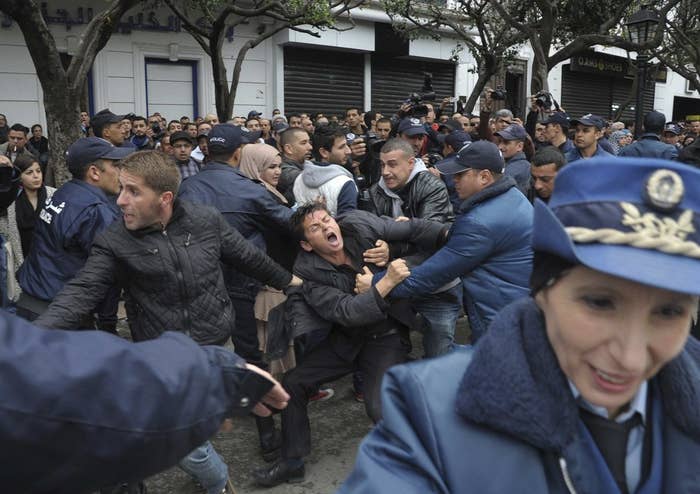 So while Algeria remains relatively stable, the country is heading into uncharted waters, said one well-connected Algeria watcher.
"Algeria in many ways seems like the Titanic, a behemoth in terms of its size and its population," said the analyst, speaking on condition he not be identified. "The iceberg that it's heading toward is an economic one. The macroeconomic model that has guaranteed stability and development since 1999 no longer works. And it doesn't have the crew to move it away from the iceberg."
Bouteflika is now serving his fourth term as president following 2014 elections widely derided as unfair. He was flown to France for medical treatment for weeks in the summer of 2013 and again for a brief stay last year. In clipped public appearances on state television, he sits in a wheelchair and rarely speaks.
Algeria experts say those surrounding Bouteflika are running the country, angling for advantage once he passes from the scene. In September, the country's longtime intelligence chief was sacked in what many considered part of a turf war between factions jostling over Bouteflika's successor. Said Bouteflika, the president's brother, is said to be among the most powerful people in the president's jittery inner circle. Shorly after a retired general, Hocine Benhadid, described Said Bouteflika and his circle as "madmen" who were "plundering the country" and warned of an uprising if he succeeded his brother, he was arrested.
A report by the risk management consultancy Verisk Maplecroft described a battle between Bouteflika, who is grooming his brother as a hand-picked successor, and other high-ranking officials in the political scene and security forces seeking to challenge him.
"The stakes are very high in finding a successor for Bouteflika," said Bart Hesseling, a North Africa specialist at the Delma Institute, an Abu Dhabi think tank. "A lot of people people have hopes that a successor would lead to dynamism."
In the meantime, paralysis and infighting between elites has become the norm as the country eats through its once massive foreign currency reserves, reportedly down nearly 30% to $150 billion in October, to subsidize fuel, food, education and housing and keep the restless young population placated.
"What Algeria needs is macroeconomic reform, political reform, and governance reform," said the analyst.
Benflis, who received 12% of the vote running against Bouteflka in elections last year, said what Algeria needs first of all is political reform and an independent commission to oversee elections widely derided as unfair. A legitimate, popular government can make the tough decisions needed to avert an economic catastrophe. "No one can know what is the actual weight of any political force in Algeria because of the rigging of elections," he said. "It is hard to ask people who do not feel duly represented to make sacrifices."