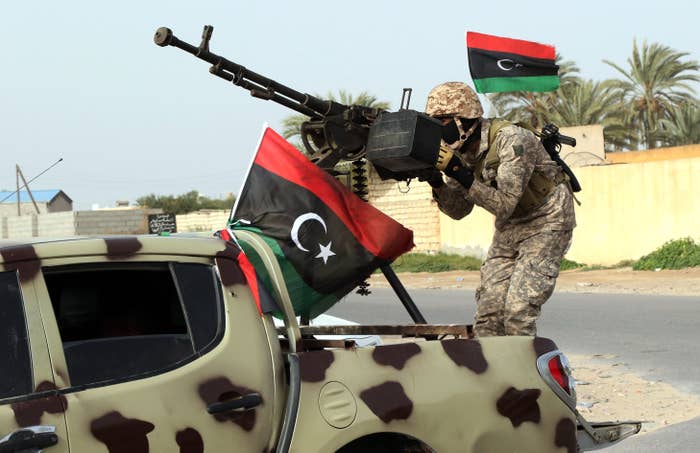 ISTANBUL — Washington has yet to find viable partners for a robust military presence in Libya, contrary to some reports, U.S. officials and counterterrorism experts have told BuzzFeed News.
Last week, the Washington Post quoted the top uniformed official in the U.S. military as suggesting that American military could dispatch troops to Libya "any day" to help local militias fight against ISIS.
But the comments, made by U.S. Marine Gen. Joseph F. Dunford, chair of the Joint Chiefs of Staff, were deftly loaded with caveats, and Washington is not ready to deploy its soldiers in Libya, U.S. officials and counterterrorism experts say.
There's also little chance the Obama administration, which is hoping to install Hillary Clinton as its successor, would take the election year risk of significantly expanding the tiny number of special operations forces already present inside Libya. Clinton is fending off criticism about her support for the 2011 Libya intervention, which toppled the country's dictator but plunged it into a new era of instability, leading to the 2012 murder of the U.S. ambassador in Benghazi and the rise of ISIS.

"Libya is her albatross and the Republicans are trying to use Libya to emphasize that Hillary's foreign policy would be a disaster," said Geoffrey Porter, president of North Africa Risk Consulting and a former instructor at the Combating Terrorism Center at West Point. "If a U.S. sailor or soldier or airmen would be killed or wounded in Libya, it would give the Republicans a lot of ammunition."
Libya is a fragmented and lawless country with three rival governments and various tribal and regional armed groups vying for control. U.S. military personnel have for months been entering Libya to assess, and perhaps advise, militias and armed groups fighting against ISIS. Last week, Faez Serraj, the head of the internationally recognized government backed by the U.N., said he didn't want any foreign boots on the ground. Senior U.S. officials are seeking to lift an arms embargo on the country to supply weapons to certain groups fighting ISIS but are cautious about the possibility of providing more robust assistance.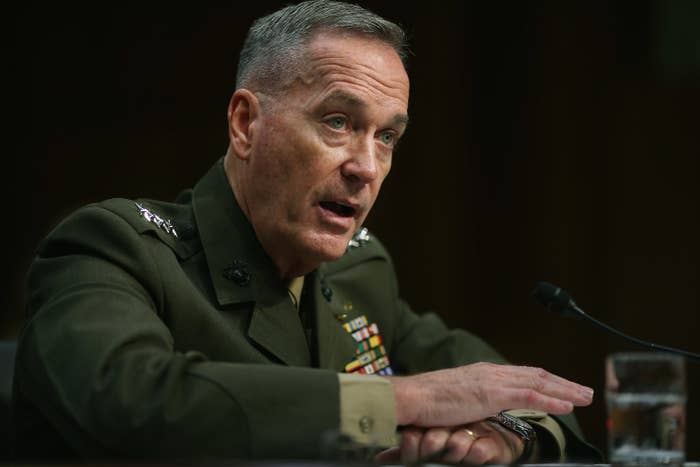 Shortly after Dunford's remarks, White House spokesperson Eric Schultz suggested the U.S. was a long way off from deploying troops in Libya. "We're happy to entertain a request from the Libyan government, but I don't know if it's gotten to that level of detail yet," he said.
U.S. Secretary of State John Kerry, speaking alongside Serraj and the Italian foreign minister last Monday, described the hoops Libya would have to leap through to get significantly more international military assistance.
First, Libya's House of Representatives, a body representing one of the country's three governments, must approve the Serraj government. Second, a unified Libyan government must begin fighting ISIS through a joint military command. Then a unified Libyan government would have to begin taking control of the ministries and accelerating aid to the Libyan people. Only then could the Libyan government seek an exemption from a U.N. arms embargo.
"The United States stands ready and the international community stands ready to provide humanitarian, economic, and security support to the new Libyan government on their request," Kerry said, before adding, "We're not talking about troops and boots and that kind of intervention."
Dunford himself has acknowledged that a number of issues would have to be resolved before any kind of military intervention would be considered.
"No. 1: Do the leaders of NATO want to do this? No. 2: What would it look like? No. 3, who is interested in participating, and what's a reasonable timeline to establish such a mission? There are many questions still looking for answers," Dunford told journalists aboard an aircraft while returning to Washington from Brussels last week.
U.S. officials who spoke to BuzzFeed News suggested military intervention in Libya was one of numerous scenarios up for discussion. "There are a number of proposals that have been considered over the last several months on how we, with our partners, including those in Europe, could support any effort that helps bring stability to Libya," said Lt. Commander Anthony Falvo, spokesperson for Africom, which oversees U.S. armed forces operations across Africa.
Porter said he had spoken in recent days to U.S. Special Operations officers who worked inside Africa. According to him, most of them said they were concentrating their efforts south of Libya, in the Lake Chad area, "simply because we can do stuff there."
But Libya, he said, is still in the planning stages. "The planners are just planning and it's kind of a joke because they're not sure what they're planning for."