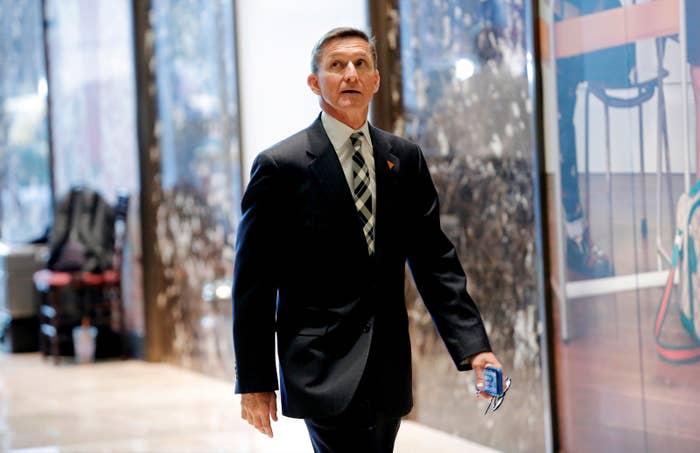 UTRECHT, Netherlands — The lobbying firm run by Donald Trump's pick for national security advisor made a deal with a Turkish-owned Dutch company that was acting on behalf of an undisclosed Middle East energy company — an arrangement experts say could violate US government filing rules.
Ekim Alptekin, the Istanbul-based aviation industry executive who owns the Dutch consulting company Inovo Limited Partnership, told BuzzFeed News in an extensive telephone interview that he had hired retired Lt. Gen. Michael Flynn's firm for a fee "well below six figures" after being retained by a large Middle Eastern energy company eager for research on Turkey ahead of a possible large-scale investment in the country's gas sector. Alptekin declined to publicly disclose the name of the energy firm or the country in which it is located.
The registration papers — for Inovo, and for the deal with Flynn's consulting firm, Flynn Intel Group (FIG) — do not mention an energy firm in a third country, or any third party. Disclosure forms filed with the Senate by Flynn's firm say Inovo hired it in September to advise on matters pertaining to a proposed US law on embassy security. Another filing in October said Flynn's firm would advise Inovo on "US domestic and foreign policy." Flynn's company did not file under the Foreign Agent Registration Act (FARA).
"I hired FIG for business intelligence and they provided it, and to the best of my knowledge Mr. Flynn has never been engaged in the work directly," Alptekin told BuzzFeed News from Istanbul. "If he has been part of the work, I will be honored, but I never enjoyed any direct commercial interaction with him."
Alptekin said he worked mostly with Flynn's partner and legal counsel Robert Kelley, who knew about Inovo's relationship to the Middle East energy company. "Bob Kelley of course knew I had clients who valued Turkey's investment environment and in particular a regional energy company that asked me to include professional advice which I subsequently secured through FIG," he said.
Kelley did not respond to several phone calls and text messages seeking comment. He told The Intercept last week he was only allowed to read a statement saying the company "registered pursuant to law for our company to represent the interests of a private company." According to the statement, Flynn vowed to sever ties with the firm if he returned to government.
The arrangement has raised concerns of ethics watchdogs who say it is in possible violation of federal FARA rules designed to make transparent the influence of foreign players and money in US policy.
"It should be reported under FARA, which requires lobbyists for foreign interests to lay out an almost a biographical story about where the money is from, who the client is and include whether it's on behalf of any third-party interest," said Craig Holman, government affairs lobbyist for Public Citizen, which advocates reform of Washington lobbying rules. "It would be a violation of FARA reporting rules to conceal where the original money is coming from. Foreign interests cannot simply hire a third party and then evade disclosure."
During his presidential campaign, Trump vowed to crack down on foreign lobbying in Washington, arguing that not only his opponent, Hillary Clinton, but the entire political establishment had been hopelessly corrupted by moneyed international players. Allegedly failing to disclose the involvement of a third party in a lobbying deal is what prompted federal investigators to examine Paul Manafort, a Trump campaign adviser who resigned before the election.
Flynn's deal with Inovo raised flags after it was revealed that the company was owned by Alptekin, who is reportedly close to Ankara's political and economic establishment. Flynn's own pronouncements on the Turkish government appear to have flipped as Trump's victory drew nearer. He has been critical in the past — applauding the failed July 15 coup attempt against Ankara's Islamist-rooted government, then later, on Election Day, writing a piece supporting Turkey's demand for the extradition of Fethullah Gulen, the US-based nemesis of President Recep Tayyip Erdogan and alleged mastermind behind the failed coup attempt.

Alptekin founded Inovo 11 years ago. Dutch registration documents link the company to two addresses in the central Dutch city of Utrecht, yet BuzzFeed News found no trace of the firm during a recent visit.
One of the locations is a two-story, two-unit colonial house on Adriaan Street, tucked away in a quiet, upscale section of Utrecht. The other, about 10 miles away on Ridderhof Lane, is a two-story, single-family townhouse in an equally leafy and quiet western suburb of Utrecht. Neither owner appears on Inovo's registration documents. No one was home when BuzzFeed News knocked earlier this week.

Alptekin said he had registered Inovo in Utrecht using the addresses of friends because of lax Dutch taxation and corporation registration rules. "Inovo is not an active company," he told BuzzFeed News. "It's really just me."
Lobbying experts remain concerned.
"We don't really know who's influencing the US government in this case, and what their motives are, and that's troubling," said Scott Amey, general counsel for Project on Government Oversight, a Washington watchdog organization. "There should be an ethical obligation for a lobbying setup to know who its clients are and whether they have a legitimate purpose or goal, especially when they are a foreign entity."
European money-laundering experts also say any Netherlands address should have raised red flags within Trump's camp. Dutch authorities have come under pressure by EU regulators for allowing persons and entities to register trusts and front companies that handle questionable cash, a reputation that Dutch and US watchdogs say Flynn and his partners should have considered.
"The Netherlands is not Panama yet in that we haven't had a scandal like the Panama Papers," said Eric Smit, editor-in-chief of Follow the Money, an online publication investigating corruption. "But we should be looking for an Amsterdam Papers scandal any day. There's a lot of dirt hidden beneath the shiny surface of the Dutch financial industry."
Alptekin, who completed a 2003 fellowship in the US House of Representatives, said he was not a Turkish "government guy," and others who know him were skeptical about suggestions he hired Flynn to do the Erdogan government's bidding in Washington. Alptekin said he has met with Flynn several times, most recently in New York "two or three months" before the election. "To believe that a guy like that in a position he's in would publish an article like that, especially in a lobbying context, is a severe misunderstanding of the political situation," he said. "If anyone offered Flynn money to change his position on national security, I don't think that person would survive the conversation."