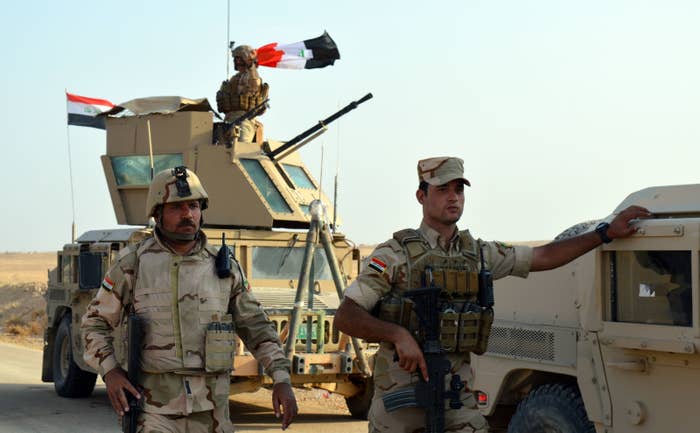 ISTANBUL — Iraqi forces backed by US-led air and ground support and trained by a coalition of Western powers have knocked out ISIS's ability to launch further attacks after three years of battles in the country that began after ISIS captured Mosul and declared a caliphate in 2014.
Now they face a new series of challenges, including the possibility of ISIS regrouping or security forces falling back into the state of decline that allowed militants to take huge swaths of Iraq in the first place.
Brig. Gen. Andrew Croft, deputy commander of the US-led mission against ISIS, told BuzzFeed News that ISIS forces in Iraq were "collapsing faster than either Iraqis or Americans had anticipated." In a Skype interview from Baghdad on Monday, he said he anticipated Iraqi security forces would at some point grind the militants down to a mere policing problem as they battle them in a few pockets in north-central and western Iraq.
He defined victory over ISIS in Iraq as the point when the militants are no longer able to coordinate attacks against Iraqi security forces.
"We saw that in Mosul and Tal Afar they had command-and-control ability to fight the Iraqi security forces," he said. "Once their ability to fight ISF in a militarily significant way, is defeated, it goes to a police type of action as opposed to a military type of action."
Despite having been mostly defanged in Iraq, ISIS continues to stage car bombs in the capital, Baghdad.
Beyond Iraq, ISIS may pose fresh challenges to the West, where appears to be expanding a campaign of terrorist attacks. "ISIS continues to plan, resource, and execute attacks from its remaining safe havens in Syria, Iraq, and Libya," said a September 18 report by the Institute for the Study of War.
Some conflict experts warn that anything short of a decisive all-out victory against ISIS could lead to the group's resurgence. "For the country to enjoy a stable, long-term peace, the Iraqi coalition cannot just regain all Islamic State territory," according to a report by the Brookings Institute issued over the summer. "Its forces must destroy the Islamic State as an insurgent group too."

For now the group remains holed up in a few pockets that include the Hamrin mountains in remote central Iraq, Hawija to the north and the far western outskirts of Anbar province — a far cry from the summer of 2014, when ISIS was able to fire rockets into Baghdad's airport. Croft credited better training of Iraqi military personnel over the last few years and more intricate coordination between air and ground forces for helping push ISIS back to the country's peripheries.
"Iraqis launched simultaneous attacks," he said. "ISIS can't handle attacks on multiple axes."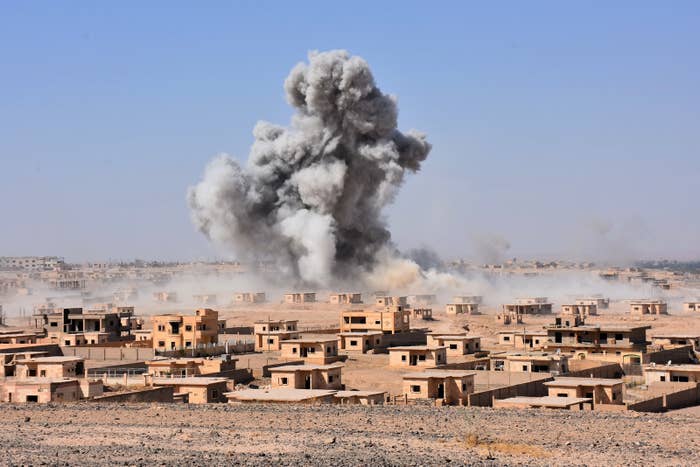 One of the bigger challenges in the coming months will be to prevent ISIS from regrouping in neighboring Syria, where it still maintains strongholds in Deir el-Zour and other towns along the border, and launching a fresh offensive into Iraq. For now, forces loyal to the regime of Bashar al-Assad and his Russian patrons are battling ISIS in that corner of Syria.
"Everybody's watching closely what is happening in Syria," said Croft, adding, "what the Syrians and Russians do, we have no influence over."
Croft said a potentially destabilizing September 25 referendum calling for the independence of Iraqi Kurdistan hasn't damaged efforts to stamp out ISIS — at least not yet. Virtually all of Iraq's neighbors, and many of Iraq's Kurds, have called on Kurdistan leader Massoud Barzani to cancel or delay the referendum.
"The timing is not auspicious for the work against ISIS," he said. "From the military perspective as far as campaign against [ISIS], it's not really affecting what we're doing right now. From my foxhole, it hasn't had any negative effect."
Beyond the immediate threat, many worry how well Iraqi forces might handle the next version of ISIS, which was spawned by Al Qaeda in Iraq. "The key to success is the ability to create a training pipeline that leaves ISF with the ability to continue to generate a credible force that would defeat version 2.0 and whatever comes afterward," he said. "Instead of focusing on short term effects that are important, focus on long-term capability that is sustainable and affordable."