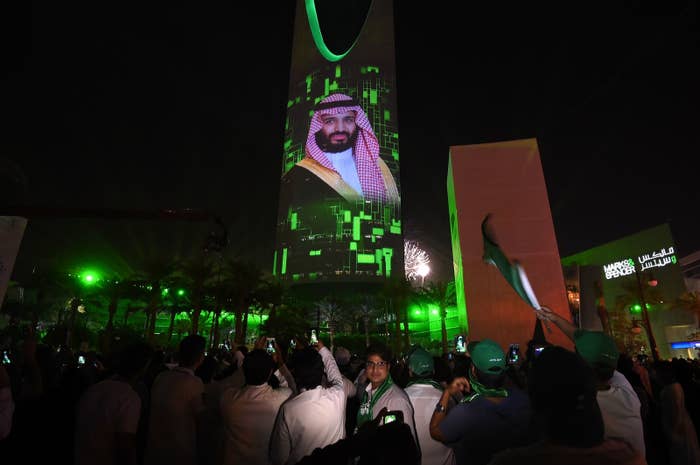 CAIRO — Mohammed bin Salman, the Saudi crown prince who paid more than half a billion dollars last year to purchase a 440-foot yacht after spotting it off the coast in the south of France, makes for an unlikely leader of an anti-corruption crackdown in the name of the people.

But that's what Saudi Arabia, one of the last few remaining absolute monarchies in the world, is currently undergoing, with an extraordinary purge of top princes and officials last week. Many see the move as a naked power grab — but Saudi Arabia is also badly in need of the shake-up.
"People are so much in support of what's happening," said Ahmed Saadeldin, an advertising executive in Jeddah. "These corrupt individuals were in the way of the people's aspirations. The general public are happy, to tell you the truth. If it's anything it is a reverse coup."
Bin Salman's strike against his country's elite has earned him wide plaudits, from both international investors who do business in the kingdom and have long complained about corruption, and ordinary Saudis struggling to get by amid rising prices and what they perceive as a rigged economic playing field. One thing that irks many Saudis is that royals have made a racket of buying land on the cheap and sitting on it, pushing up housing prices and making homeownership an increasingly unattainable goal for the middle class.
The crackdown shows no signs of ending. On Thursday, the Saudi investigation reportedly expanded to the United Arab Emirates, with authorities seeking bank account info on 19 Saudis implicated in holding illicit assets and embezzling government funds.
Most observers don't think it's an anti-corruption drive alone. The arrest of Saudi billionaire Prince Alwaleed bin Talal and former finance minister Ibrahim Alassaf, along with top members of the royal family and current and former officials, is an attempt by bin Salman and his father, King Salman, to consolidate power ahead of the ascension of the 32-year-old. A crackdown on corruption may very well be a tool to wipe out any traces of dissent against the crown prince's rise.
"You do not mass arrest people in the space of 24 hours, under the guise of a previously unknown anti-corruption body, promising to provide evidence later down the track," Michael Stephens, a Gulf analyst at the Royal United Services Institute, wrote on Twitter. "You do not arrest senior military officials, and individuals unconnected to business initiatives in the Kingdom, and freeze 1,700 bank accounts including those of rival princes, simply because of corruption."
But regardless of the intent, the arrests and freezing of assets are meant to spark fear among the entire Saudi ruling class, which has been doing business a certain way for decades, as detailed in leaked State Department cables dating back years.
"Aside from the stipends system, a handful of these senior-most princes enrich themselves by controlling several billion dollars in annual expenditures in 'off-budget' programs," one leaked cable said, citing, ironically, bin Talal, who was among the most high-profile Saudis arrested over the weekend. "Through these off-budget programs, five or six princes control the revenues from one million barrels per day of the kingdom's eight million barrels per day of crude oil production," the cable continued.
Ali Shihabi, founder of the Arabia Foundation, a Washington-based think tank close to the Saudi leadership, called bin Salman's gambit a "restructuring" of the royal family, tightening the circle of power and perks. "You can't have 10,000 shareholders who expect unlimited privileges," he said.
"Bin Salman couldn't arrest everyone. He has picked highly symbolic, even flamboyant figures," said Shihabi. "With a few exceptions, the individuals involved are viewed as having been recipients of ill-gotten wealth. It's shock therapy for the elite."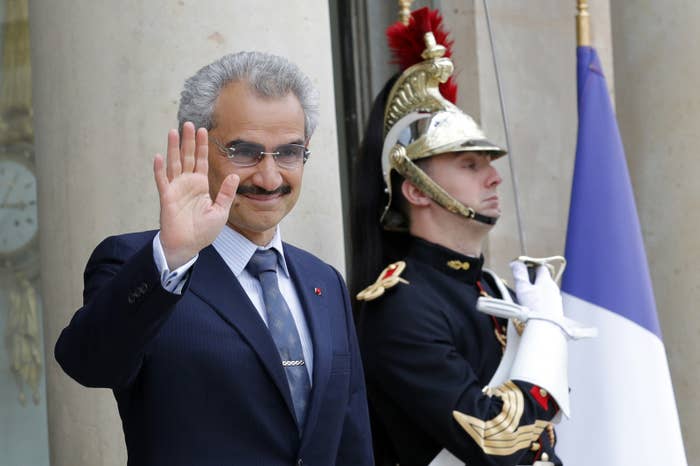 Other Gulf countries have undergone similar, if much quieter shake-ups, especially the UAE, whose figurehead, Crown Prince Mohamed bin Zayed al Nahyan, is considered bin Salman's mentor.

But bin Salman's noisy approach over the weekend — arresting more than 200 people and holing them up in the Ritz Carlton — could also severely backfire. Never before have attempts to grapple with graft drawn as much of the international spotlight or publicly humiliated so many powerful people.
"There have been anti-corruption drives across the Middle East and North Africa, for example, in Dubai, Oman and Morocco at different times and, of course in Egypt in 2011 and 2012," said Angus Blair, chief operating officer for Pharos Holding for Financial Investments, a Cairo-based firm that operates across the Arab world. "But nowhere near the scale being seen in Saudi Arabia currently."
When the 2008 financial crisis swept through the Arabian Peninsula, heads rolled in Dubai, the flashiest of the seven princedoms that make up the UAE. Large companies that had been leveraged to the hilt in risky real estate ventures were allowed to go bankrupt, their assets bought up by Abu Dhabi, the capital, and the wealthiest of the seven emirates. Members of the royal family and other elites were locked up and forced to pay back huge amounts before they were quietly released.
At the same time, bin Talal, who invested in Twitter and Citibank, was also highly leveraged. His Kingdom Holdings portfolio went south, losing an estimated $8 billion in one quarter. Yet he escaped the fate of Dubai royals, and Kingdom Holdings shares began to rally. Many wondered if he had cut a deal with the Saudi minister of finance, whose daughter married the prince's son in 2005.
Bin Salman's drive to so dramatically cleanse Saudi Arabia's reputation for corruption and bad practices may be a path to fulfilling broader ambitions, which include keeping government coffers full for confronting archnemesis Iran and pursuing his ongoing war in Yemen, and drawing funding for massive development projects, including a new $500 billion city on the Red Sea called Neom. Saudi authorities have already sought to assure investors that the arrests and freezing of assets won't affect foreign partners.
Gulf experts say the crackdown is also a sorely needed moment of reckoning for the oil-rich kingdom, along the same lines of what Dubai underwent in 2008 and Abu Dhabi experienced in recent years, as well the periodic purges of Chinese Communist Party elite on corruption charges — often to the applause of the masses.
"The anti-corruption campaign in Dubai in the late 2000s serves as a model for Saudi Arabia and its anti-corruption campaign," said Theodore Karasik, an adviser at Gulf State Analytics, a research consultancy. "However, a better example is the anti-corruption campaign in Abu Dhabi that's been ongoing for the last few years. This is where everybody, and I mean everybody, had to come in with their books and have accountants pore through them and look for embezzlement."
Saudi-style corruption has a unique etiquette. Rarely if ever are bags of cash transferred. According to a corporate investigator who spent years scrutinizing Saudi figures for Western clients, kickbacks sometimes take place in plain sight, transferred via electronic or paper bank transfers.

But more often, Saudi-style corruption is subtler and harder to detect. The finance departments of public and private companies sometimes inflate costs. Other times, the corporate investigator said, companies connected to Saudi royals hand off projects to subsidiaries that fail to complete the work or go under, leaving the government holding the bag.
Family members are often involved on all ends of the corruption, making it difficult to get anyone who witnessed an irregular transaction to talk, lest they breach loyalty to their kin. Saudi firms often own businesses in neighboring Arab countries, specifically Lebanon but also Egypt and Jordan, where they can stuff ill-gotten gains, according to the investigator.
"Monies move between these family members to other prominent family business leaders outside Saudi," said the investigator. "The industries are usually construction and energy."
The most high-profile irregular business dealings in Saudi Arabia have been going on in plain view and can be easy to stamp out. Some observers cited the case of the Saudi Binladin Group, whose owner Bakr bin Laden was among those arrested last week. The gigantic but now troubled construction firm, which was founded by the father of Osama bin Laden, made a fortune on public projects that included highways, airports, and the $27 billion expansion of the mosque at Mecca.
But two people who closely follow business matters in the Gulf say Saudi Binladin won government contracts for decades by directly negotiating with the royal palace instead of bidding on projects through the Ministry of Finance, sometimes charging more than the actual cost of the buildings and splitting profits with royals. "Lots of them were no-bid, sole-source contracts," said the corporate investigator, who spoke on condition of anonymity because he is bound by a confidentiality agreement.

BuzzFeed News has reached out to the Saudi Binladin Group for comment.
Saudi corruption also runs deep within society, worrying some it could be impervious to bin Salman's shock-therapy reforms. Abdul al-Lily, a UK-educated Saudi professor of sociology and author of a book on Saudi values called The Bro Code of Saudi Culture, described something called Vitamin W, for "wasta," or connections, which you need to get anything done in Saudi Arabia. It's how Saudis get ahead in life, and access education, loans, and employment opportunities.
"It's like, 'You can't get this job without Vitamin W. You need some Vitamin W to get into this school,'" he said. "A member of a family has a good position and he has a family duty to employ everyone in the family. And they would see it as a good thing, serving your family. I admire the project to address corruption, which is an amazing thing, but how would Saudi society define corruption?"
Though at the wheel of his dad's absolute monarchy, Bin Salman is also a millennial who may have tapped into a deep vein in Saudi society — especially among the young — that senses that something is fundamentally wrong with the country, that it is in bad need of a transformation. He has called for massive reform of religious institutions, including creating a clearinghouse that will vet all clergy's religious edicts, and famously spearheaded plans to allow women to drive.
"This is about MbS as a Martin Luther and a Robin Hood, because he has a lot of support from everyone under 40," said Karasik, using the popular initials for the crown prince.
Karasik, who speaks regularly to people close to the Saudi leadership, also said bin Salman envisions a "separation of mosque and state" that could upend the conservative kingdom, whose foundation rests on a partnership between the al-Saud family and ultra-hardline Wahhabi clerics.
But here again, the crown prince may encounter deeper forces that have shaped Saudi Arabia for decades. Lily said that every single innovation from abroad — whether women's education or photography — encountered fierce and persistent resistance at the Saudi grassroots. In the case of photography, people originally embraced it before regretting it and torching their family albums; images of people are considered forbidden under the strict version of Islam touted by Wahhabi clerics.
"Saudi values are about social resistance to change," said Lily. "Normally, in the West, people believe in progress. In Saudi Arabia, it is the other way around. They believe that progress is bad. And the more you go backward the better it is."