In one campaign appearance, the candidate thundered against entrenched elites who arrest and jail dissidents. At another campaign stop, one of his surrogates criticized the government's military interventions abroad. In a TV ad, he railed against government censorship of social media.
"Our power is not for causing terror in the region and world," the candidate said during a speech to teachers on May 7. "The power of Iran and Iranians and the culture of Iran is for building peaceful coexistence with our neighbors and the world."

Listening to him speak, you could be forgiven for thinking Hassan Rouhani is a scrappy political outsider staging an upstart campaign to push his way into power. In reality, he is Iran's incumbent president and is running for re-election on May 19, when he will face off against prominent hardline cleric Ebrahim Raisi and three minor candidates. If no candidate wins a majority, it will go to a second round vote on May 26.
Even though he's the incumbent, Rouhani is seeking to win the election by campaigning as an outsider. Just as billionaire Donald Trump and former investment banker Emmanuel Macron achieved victory campaigning against the establishment, Rouhani runs as a critic. But he's railing against features of a political system he helped invent, first sitting at the side of the founder of Iran's Islamic system, Ayatollah Ruhollah Khomeini, and later as the country's chief nuclear negotiator.
"The reality of the Islamic Republic is its conflicted nature constituted by different interests and worldviews," said Farideh Farhi, an Iran and Middle East scholar at the University of Hawaii. "What is interesting in this election is that this conflicted nature has come to the fore, and is being openly discussed as part and parcel of electoral politics."
On Monday, Tehran mayor and presidential candidate Mohammad Baqer Qalibaf abruptly dropped out of the race and endorsed Raissi, upending what had been seen as a three-way race and raising questions about the inner calculations of Iran's opaque political elite.
Iran's hybrid system combines elements of a theocratic dictatorship with those of an electoral democracy. After vetting by a panel of religious scholars and jurists, the president and parliament are popularly elected. But it's the country's supreme leader, Ali Khamenei, a top-ranking Shia cleric, who ultimately calls the shots on national and international matters. A grouping of religious associations and foundations, including one run by Raissi, also hold sway over institutions. In recent years, the powerful Revolutionary Guard, an ideologically zealous branch of the armed forces, has begun to eclipse others inside the government on domestic, economic, and international affairs.
Still, the squabbling between factions produces consequential politics. Hardliner Mahmoud Ahmadinejad's 2005 victory pushed Iran toward the right, launching eight years of confrontation with the West and Israel. Rouhani's surprise 2013 first-round election victory prompted the landmark nuclear deal with world powers and raised hopes Iran could temper its policies.
But continuing US sanctions and the hardliners' antics have so far thwarted Rouhani's ability to leverage the nuclear deal into any drastic changes domestically or internationally. To attract votes, he is trying to galvanize moderates and opponents of the regime, even drawing on the continued popularity of former presidential candidates Mir-Hossein Mousavi and Ali Karoubi, under house arrest in Tehran since protests and violence erupted over vote-rigging allegations in the 2009 elections, by calling for their release.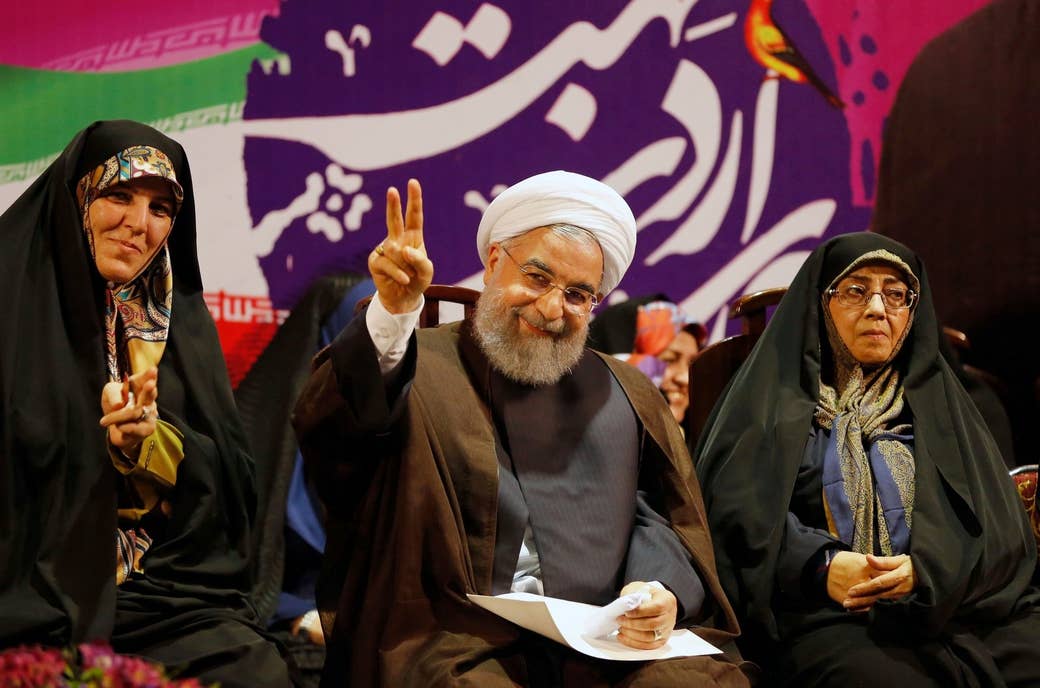 "Rouhani knows that the more he is seen as anti-establishment, the better his chances of mobilizing Iran's silent majority and getting re-elected," said Ali Vaez, Iran expert at the International Crisis Group, the conflict resolution organization and advocacy group. "He pursued a similar strategy in 2013, portraying himself as a loyal critic," a trusted member of the inner circle who attempts to represent the viewpoints of outsiders.
Despite tight control of state television by hardliners, Rouhani and his supporters have found creative ways to reach out to voters. In one ad posted online and broadcast on TV, Rouhani speaks about environmental degradation of the country. Earlier in the ad, an aide is shown listening to members of Iran's Arab minority. In another, soft piano music plays in the background while cancer patients talk about how Rouhani has managed to drastically lower treatment costs over the last four years, keeping them alive.
These are Rouhani's attempts to show he at least understands the depths of Iran's problems. At the same time, in each of his messages he deflects blame for the problems onto hardliners already widely seen as blocking any attempts at substantial reform.

"He's angry because he's sick and tired of being challenged by unelected bodies in Iran every time he's tried to improve Iran's relations abroad in order to develop Iran's economy," said Meir Javedanfar, an Iran specialist at the Inter-Disciplinary Center at Herzliya, a university in Israel.
The frank back-and-forth is part of the loosening of political restrictions that precedes most Iranian elections. This is widely seen as an attempt to increase voter turnout by spicing up the normally dull political talk. But the breaches of decorum and testing of boundaries also show deep cracks inside the regime over the country's foreign policy gambles and domestic political repression.
Iran's official campaign season lasts less than a month, but the political fight has quickly gotten nasty. Questioning of the country's Syria policy by former Tehran mayor and Rouhani supporter Gholamhossein Karbaschi prompted prosecutors to file a complaint against him. At the behest of Rouhani's campaign, authorities blocked former presidential candidate Qalibaf from operating a website promising cash handouts if he's elected president. Hardliners controlling state television censored parts of a Rouhani campaign documentary. Suspected hardliners smashed up two Rouhani campaign offices in upmarket districts of Tehran.
Rouhani's rivals have even publicly trolled him, playing the populist card used by right-wing politicians in the West to paint incumbents as rich and out of touch.
In one video promoted by the hardline Tasnim news agency, a young man supposedly campaigning for Rouhani on the street is met with disbelief and cynicism. Before he dropped out of the race on Monday and endorsed Raisi, conservative former Tehran mayor Mohammed Baqer Qalibaf repeatedly alleged that Rouhani is wealthy, demanding that he release a list of his properties. "I announce my readiness to swap my home, and the properties belonging to me and my entire family, with half of Mr. Rouhani's home," he told Tasnim.
Last Thursday, a group of hardliners protested near Rouhani's house, demanding to know where he got the money to buy a residence they claimed is worth $1.5 million.
Conservative Mostafa Mir-Salim even borrowed campaign rhetoric from Trump, blasting Rouhani for failing to make good trade deals with China and Turkey. "I told the government to go and negotiate with them," he said in a campaign ad airing on state television. "I asked them not turn our country into a consumption market."

Rouhani is officially campaigning under the staid slogan "Iran, once again." But on the ground, he has responded to attacks on him by pushing the boundaries of political debate. He has accused hardliners and members of the Revolutionary Guard of sabotaging Iran's international relations by writing anti-Israeli slogans in Hebrew on munitions. "We saw what they did in order to disrupt [the nuclear deal]," Rouhani said in a television appearance. "They wrote messages on the missiles so that we won't be able to reap its benefits."
As hardliners criticized the government for a lack of opportunities for university graduates at the second of three televised debates between the candidates, Rouhani fired back at them for creating an environment where young people and those outside the elite circle of power are miserable.
"We need to provide equal rights to all factions and parties," Rouhani said. "When we appoint a Sunni female governor, we come under attack from two sides. One side criticizes us for appointing a woman to a senior post, and the other side criticizes us for appointing a Sunni person to a senior post."
Polls show a tightening race, with Raisi's numbers improving as conservatives hammer away at Rouhani's lack of economic accomplishments and, ironically, the continuing lack of freedoms enforced by security apparatuses under the control of hardliners.
"Rouhani did not start the public spat," said Farhi. "His opponents did, by attributing all the failures of the Islamic Republic — economic and social inequality, corruption, mismanagement, and astoundingly even its lack of freedoms — to Rouhani's government."

Rouhani is no wild-eyed radical. At his core, his career as a loyal deputy of Khomeini, speaker of parliament, and secretary of the powerful Supreme National Security Council shows he's dedicated to the regime but hopes to smooth out some of its rough edges. Though he may have grown embittered toward the regime over the decades and especially during the past four years that he's been in power, he remains a pragmatist.
"Rouhani's 2013 campaign engaged in similarly provocative tactics, very successfully, as a means of building credibility with reformists and those who remained disaffected from the regime as a result of the 2009 uprising and repression," said Suzanne Maloney, an Iran expert at the Brookings Institute in Washington.
"In fact, it was exactly this point in the 2013 campaign that he seemed to embrace an anti-establishment message," she said. "I'm very doubtful that it foreshadows a profound shift in the way that Rouhani approaches his position if he in fact holds on to the presidency for a second term."