Iran's Hardliners Used The Release Of U.S. Prisoners As A Reminder Of Who's In Charge
As elections approach and Tehran makes amends with the West, Iran's Revolutionary Guard seeks to establish who is the primary driving force in the country.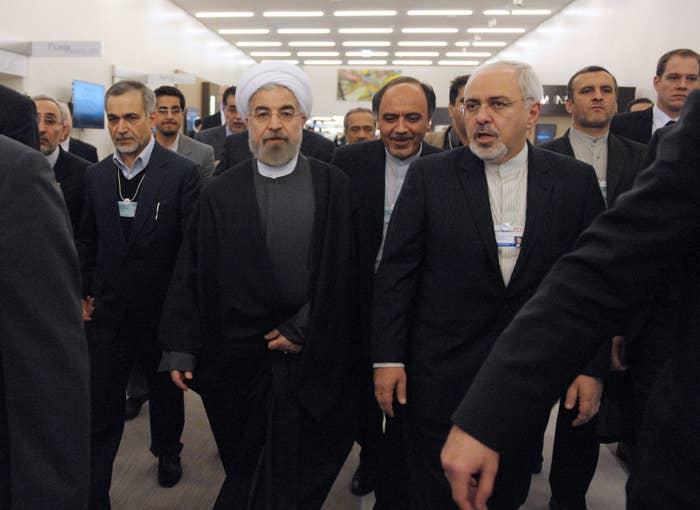 Even before the four detained men were released and put on a plane, Iran's hardline establishment sought to demonstrate to the world and to Iranians who was really in charge in Tehran.

The Fars News Agency, a semi-official organ considered close to Iran's Islamic Revolutionary Guards Corps, announced that Washington Post journalist Jason Rezaian and three other Iranian-Americans would be released from prison and allowed to leave the country, following up with news of a historic prisoner exchange with the U.S.

Word of their impending release quickly dominated the airwaves, eclipsing even Saturday's implementation of the nuclear deal hammered out over nearly a decade.

The images of U.S. Secretary of State John Kerry and Iranian foreign minister Javad Zarif shaking hands quickly during their moment of triumph — the day of implementing the crowning achievement of both their diplomatic careers — stopped airing. They became quickly overtaken by photographs of Rezaian and word of the Obama administration's deal to exchange him and others with seven convicted Iranians locked up in U.S. prisons.

Zarif and his patron, Iranian president Hassan Rouhani, have struggled for months to improve Iran's image in the world and bring home $100 billion in sanctions relief. They strive to tout successes for their reformist and moderate allies ahead of closely watched February 26 elections for parliament and the Assembly of Experts, which chooses the successor to the country's ultimate authority, Supreme Leader Ali Khamenei.

But each step of the way they have been stymied by hardliners within Iran's political elite seeking to steal their thunder. It's almost as if hardliners are trolling or mocking Rouhani and Zarif.

Painstaking efforts to improve damaged relations with the Persian Gulf states and the Arab world were thwarted after Iranian hardliners on January 2 stormed the Saudi diplomatic missions, spurring Riyadh and its allies to break off or downgrade relations with Tehran. Khamenei, Rouhani, and even Revolutionary Guard commanders uniformly condemned the trashing of the missions and announced arrests of suspects.

But few believe that hundreds of protesters in Iran, where small demonstrations by schoolteachers or bus drivers have been quickly crushed before they even begin could gather in front of sensitive diplomatic outposts and clamber over their fences without some kind of official approval. Some news outlets accused members of the country's Basiji militia, under the command of the Revolutionary Guard, of staging the attack and the police standing aside out of fear and refraining from gathering evidence.

"The invading Basijis removed all computer cases, several lap tops, a number of telephones and some other office equipment and took them to their homes like spoils of war and are currently using them," said the reformist Saham News website.

Efforts to assure world powers that Iran was becoming a responsible regional power were nearly thwarted on January 12 after Revolutionary Guard's naval force captured 10 U.S. sailors in the Gulf. The story and its incremental developments seemed again to be spoon-fed through the Fars News Agency. The sailors were quickly released, with both Zarif and Kerry hailing the power of diplomacy, but not before Fars and other hardline outlets published images of the sailors on their knees surrendering with their hands behind their heads.

"Despite evaluations and imagination of enemies about the Revolutionary Guard, it finished the job in favor of Iran and showed that it will not remain negligent for a moment when it is about Iran's national interests, territorial integrity as well as independence and dignity," said a commentary published Saturday in the hardliner Javan newspaper.

The message in all three incidents — directed at both a domestic and international audience — is not so much that the hardliners close to the Revolutionary Guard will sabotage the nuclear deal or torpedo efforts to improve Iran's ties to the West and the rest of the world. It is that that they easily could if they wanted, and moderates like Rouhani and Zarif may be powerless to stop them.

Zarif may earn public plaudits for his diplomatic successes and Rouhani's faction may win more votes, but the sometimes shadowy hardliners close to the country's deep state continue to drive Iran's security and diplomatic agenda.

Otherwise, Rezaian, who had friendly ties to Rouhani's camp and was occasionally even allowed into the president's entourage, would never have been arrested on trumped up charges of espionage in the first place.