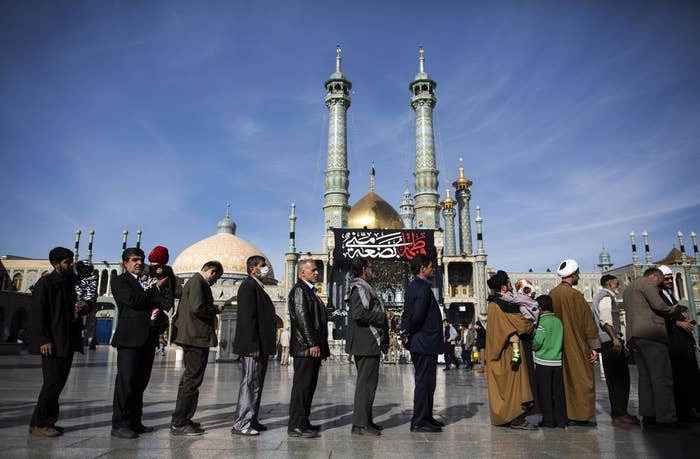 Iranian moderates significantly expanded their control over major government bodies in elections, delivering a victory for President Hassan Rouhani and his allies, as well as a measure of vindication for those in the Obama administration who argued the nuclear deal with Tehran could weaken hardliners.
Results of Friday's election for parliament and the Assembly of Experts, which oversees the office of Supreme Leader Ali Khamenei, are not final and continue to be tabulated (the official results will be announced Tuesday). But early results reported in local media suggested that moderates had at least quadrupled their share of 20 seats, while state television said reformists and moderates had won 44% of seats that are not subject to runoff elections, compared to 50% for conservatives and 6% for independent candidates. According to the Associated Press, none of Iran's factions appeared likely to receive a majority.
"Pragmatists will be at least four times stronger and have a considerable weighty faction within the parliament," Hossein Rassam, a former adviser to the U.K. foreign office on Iran and a London-based independent consultant, told BuzzFeed News.
Iran's 290-member parliament allocates seats for each province roughly proportionate with their populations. Early results suggested that a coalition of moderates allied to Rouhani had won all of Tehran's 30 parliamentary seats and 15 of 16 Assembly of Experts seats.
What's more, they managed to oust some of the most prominent hardliners from parliament and the Assembly of Experts, including Ayatollah Mohammed Yazdi and Ayatollah Mohammed-Taqi Mesbah-Yazdi, the cleric who served as ex-firebrand President Mahmoud Ahmadinejad's spiritual guru. As results came in, reformist media gloated over the defeat of hardline lawmakers who had insulted or threatened moderate politicians over the years.
The results came even after the powerful Guardian Council, a panel of clergy and jurists that vets all national political candidates and laws, rejected thousands of prominent reformist candidates. Iran's reformists sought to change Iran's course in the late 1990s and early 2000s. Many of the movement's brightest stars and intellects are in jail or exile.
Rouhani and his allies opted to cultivate and promote a slate of relatively unknown moderate candidates that managed to slip through the vetting process. Voter turnout was relatively high at around 60%, according to preliminary turnout figures.
Rassam said the moderates exploited splits within the conservative camp between ideological hardliners and pragmatists to expand their power.
"This doesn't mean the return of the reformists," he said. "We're dealing with a different generation. I prefer to call them pragmatists."
At least 20 of the new members of parliament will be women — the highest total ever.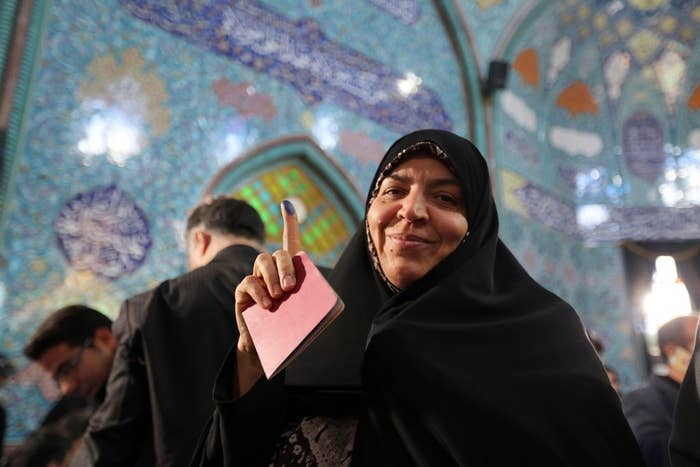 The election results suggested not only a significant victory for Rouhani but also for those within the Obama administration who had argued that the landmark nuclear deal implemented earlier this year could empower Iranian moderates and eventually change the country's domestic and foreign policies and tone.
Rouhani and his allies campaigned on the success of the nuclear deal, and at one point prominent pragmatic conservative Ali Mottahari urged voters to use politicians' stance on the nuclear deal as a litmus test on deciding which candidates they would support or reject.
Mohammad-Sadegh Javadi-Hesar, a reformist politician, told the Financial Times that the results showed many Iranians were fed up with the hardliners who had dominated parliament for the last dozen years. "People seek progress, good relations with other countries, and want Iran to be developed," he said.
Rouhani, who himself won a seat in the Assembly of Experts, will now gain some leverage in pushing forward his domestic and foreign policy agenda, which include easing tensions with the West but have so far not encompassed any change in Iran's controversial military intervention in Syria.
With increased parliamentary support, he will also have more responsibilities and fewer excuses for any future failures. "Now he has to deliver," said Rassam. "Now the Supreme Leader can come back to him to say, 'Now you have support in the parliament. No more complaints. No more excuses.' Until now they were the opposition and they could say, 'We don't have the power.' Those who voted for them they are going to have expectations."