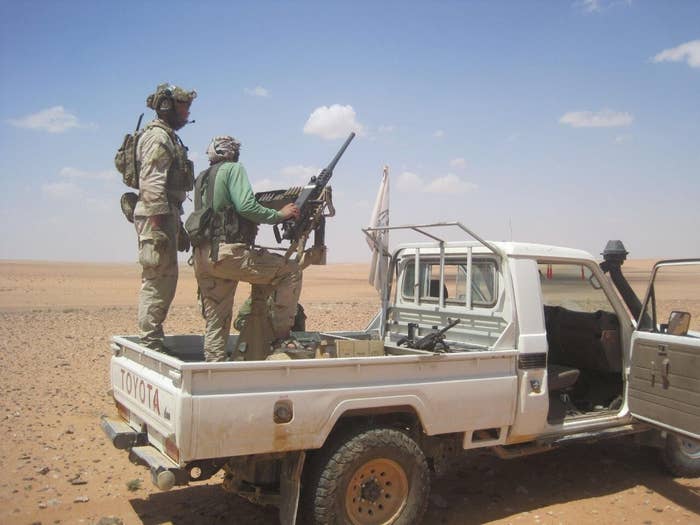 GAZIANTEP, Turkey — It's called Area 55: a 55-square-kilometer zone that encompasses the main highway connecting Damascus to Baghdad. The barren land, situated near a tri-border area where Syria, Iraq, and Jordan meet, has increasingly become a source of friction between Moscow and Washington.
A US-backed Syrian Arab rebel faction controls the stretch of desert in far southeastern Syria, working with American and British troops at a base near the town of al-Tanf, but few understand precisely why. US officials say the position is meant to guard against the potential resurgence of ISIS. But the rebels, numbering several thousand, say they are there to prevent Iran from moving material and personnel back and forth between Iraq and Syria. Al-Tanf happens to lie directly between Baghdad and Damascus, both of which are heavily influenced by Tehran.
"The Free Syrian Army is working with the US and UK in the desert along the Iraqi-Syrian border," Ibrahim al-Idlibi, an adviser to the Syrian rebels fighting against the regime of Bashar al-Assad and its Iranian-backed allies, including the Lebanese militant group Hezbollah and Iraqi Shia militias. "The purpose is to stop Iranians and Hezbollah, to cut the road between Damascus and Baghdad."
"If any militias enter this square," drawing a map on a piece of paper detailing the area, "they will die."
As the war against ISIS in Syria appears to wind down, the outpost at al-Tanf has been a growing source of confusion about US intentions in Syria, where the Pentagon has deployed about 2,000 military personnel. President Donald Trump said Thursday the US was leaving Syria "very soon," but other senior Washington officials have said America has long-term interests it seeks to secure in the country. Two US military personnel were killed and five wounded in Syria on Thursday by an improvised explosive device, the military announced. The incident reportedly took place near Manbij, near the Turkish border.
Moscow has repeatedly indicated it views the US base in al-Tanf as a major thorn in its side. Russian foreign ministry spokesperson Maria Zakharova on Feb. 15 described Area 55 as "a de facto occupation by the US military." Foreign Minister Sergey Lavrov, in a March 19 television interview, raised suspicions about the US presence.
"One would also like to ask why humanitarian organizations are unable to visit the huge territory of the US-controlled al-Tanf community in southern Syria and the local Rukban refugee camp," the foreign minister said. "The US side has unilaterally established control over that area. We saw to it that the government of Syria support this approach, and now humanitarian organizations have to go there."
Last month, Russian defense ministry spokesperson Igor Konashenkov called the displaced Syrians at Rukban "hostages" of the rebel groups.
US forces have been based at what the the Pentagon has described as a "garrison" in a "temporary coalition to train vetted forces to defeat ISIS" for more than two years, possibly since the beginning of the ISIS war in 2014.
"It's a relatively routine occurrence of fighting against ISIS militants that are moving through the area around al-Tanf, where coalition-backed partner forces are operating," by British army Maj. Gen. Felix Gedney, deputy commander of the anti-ISIS coalition, told reporters in December.
The area first came under scrutiny after a confrontation between US forces and pro-regime militias last June. Military aircraft destroyed a convoy of advancing pro-regime forces and shot down a drone allegedly attempting to fire on Syrian rebels in al-Tanf, but insisted the actions were in self-defense.
"The coalition's mission is to defeat ISIS in Iraq and Syria," said a June 8 statement released by US forces. "The coalition does not seek to fight Syrian regime, Russian or pro-regime forces partnered with them."
But the Syrian rebels say their mission has different aims: "The objective of our presence is to stop the advancing of Shia, cut the Baghdad-Damascus road and protect the displaced people in a camp, who came from Deir ez-Zour after the regime took control of their areas," said Mohannad al-Talaa, the commander of the Revolutionary Commando Army, which makes up the bulk of the Free Syrian Army fighters in the area.
Talaa said his fighters number 4,500, were trained in Jordan, and receive salaries, weapons, and vehicles from the US-led coalition.
Mostly, the men bide their time. Though ISIS is nearby and possibly regrouping, al-Tanf is surrounded by regime checkpoints, preventing Talaa's men from fighting them. They last battled ISIS more than two months ago, killing 16 fighters and capturing 17. The area used to receive supplies and maintain ties with Ghouta, the rebel-held region east of Damascus that is about to fall to regime forces, leaving al-Tanf even more vulnerable.
Adding to the confusion, many say Iranian allies could quickly make their way around Area 55, by plowing through the desert. In addition to flying from Iran, Syria experts have noted that Iranian-backed Iraqi militias have already established a land route to the north of al-Tanf they use to get to and from Damascus.
"You can easily find another way to go, because it's flatlands," said Jawad Abu Hatab, prime minister of the Syrian opposition government in exile. He noted that Iran or Iranian-backed forces control a phosphates factory to the west of al-Tanf, giving them an easy way station on the land route between Damascus and Baghdad.
The US has mostly depended on Kurdish-led force called the Syrian Democratic Forces in its efforts against ISIS, but Talaa speculated that the Americans were keeping them around in al-Tanf to hedge their bets as various powers jostle for position in Syria.
"In the future, the Americans will have to support the Free Syrian Army in the face of the Shia wave," said Talaa. "Because their Kurdish ally will not carry out this task if asked in the future."