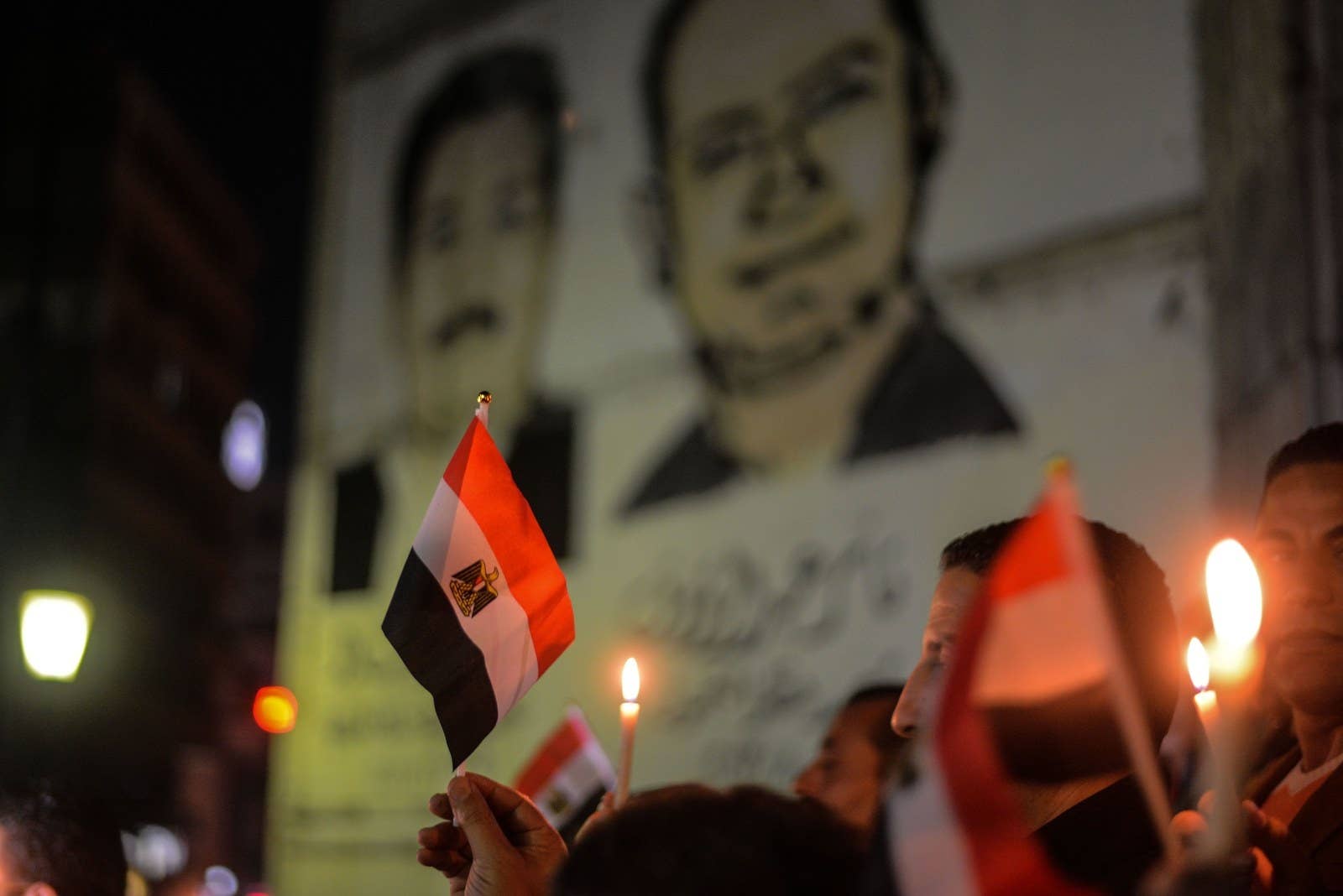 CAIRO — Um Mohamed's home is just a few minutes' walk from the main mosque in Rawda, in the Sinai Peninsula. The 45-year-old mother of two lives alongside another 2,500 people in this spare, arid village, most of whom eke out a living at the nearby salt mines, or as farmers.
The population has grown over the last few years, as families moved there to escape violence between insurgent groups, including the local branch of ISIS, and the Egyptian army, which has used increasingly brutal tactics to drive out militants from the surrounding area. Locals feared that the conflict was edging ever closer, but it had mostly been calm in Rawda.
That changed last Friday. Um Mohamed was hanging clothes in the backyard of her house on a cool, breezy afternoon when the shooting and explosions started.
"At the beginning I thought it was regular army stuff," she said in a voice call interview. "But after a while I heard screaming in the street."
Panicked, she ran downstairs to protect her daughters, huddling with them in the corner of a room. The shooting went on for around 20 minutes, but Um Mohamed — the name is an honorific and she asked that her full name not be disclosed — said it felt like hours before the the gunmen withdrew and emergency vehicles arrived.
"They kept firing at us," Magdy Rizk, a high school math teacher in Rawda, told the independent Egyptian newspaper Mada Masr from his hospital bed. "We couldn't hear anything else because of the sounds of the gunfire. Everyone was running. Some were trying to escape and others were looking for their children. No child or elderly man was spared."
A swarm of gunmen in pickup trucks had attacked the mosque in a massacre that killed at least 305 people, including 27 children. They opened fire not just on the mosque, but appeared to have tried to kill anyone that moved in the streets outside. Among the dead was Um Mohamed's husband, a farmer, whose bullet-riddled body was found on a street near the mosque.
"Most of the men in the village have been killed," she said. "We don't know what will happen to us."
Many unanswered questions remain about the assault, in part because independent journalists and observers are barred from northern Sinai. But most observers believe ISIS's local affiliate, Sinai Province, was behind the killings, an act of religiously inspired hatred against a religious order despised by jihadis and an attempt to establish its relevance against another surging al-Qaeda affiliate with a spectacular act of violence.
Only around 1 million of Egypt's 90 million people live in the Sinai Peninsula, which separates Egypt from Israel and was the site of several wars between the two countries. Many Egyptians largely ignore what goes on in north Sinai, but the Nov. 24 attack placed it front and center in a country that has been focused mostly on getting its economy back to normal after several years of revolution, civil unrest, and a coup. Not only did it take place a few miles outside the normal conflict zone within north Sinai, its target was ordinary civilians worshipping at Friday prayers.
Survivors described a merciless assault on civilians. Mohammed Abdul Fattah, a 26-year-old imam of the Rawda mosque recovering from a leg injury, told BuzzFeed News he was delivering the Friday sermon when he heard an explosion and shooting first outside, then inside, the mosque. Panicked, he leaped to the floor and got down. Two congregants bodies fell atop of him, and he began repeating the shaheda, the Muslim vow of faith, as he struggled not to move.
"I felt my congregants blood trickling onto my face and I thought that the best thing to do was just stay put and not move," he said in a phone interview from his home village in the Nile Delta city Sharqiya, north of Cairo. "I was waiting for the bullet at any moment."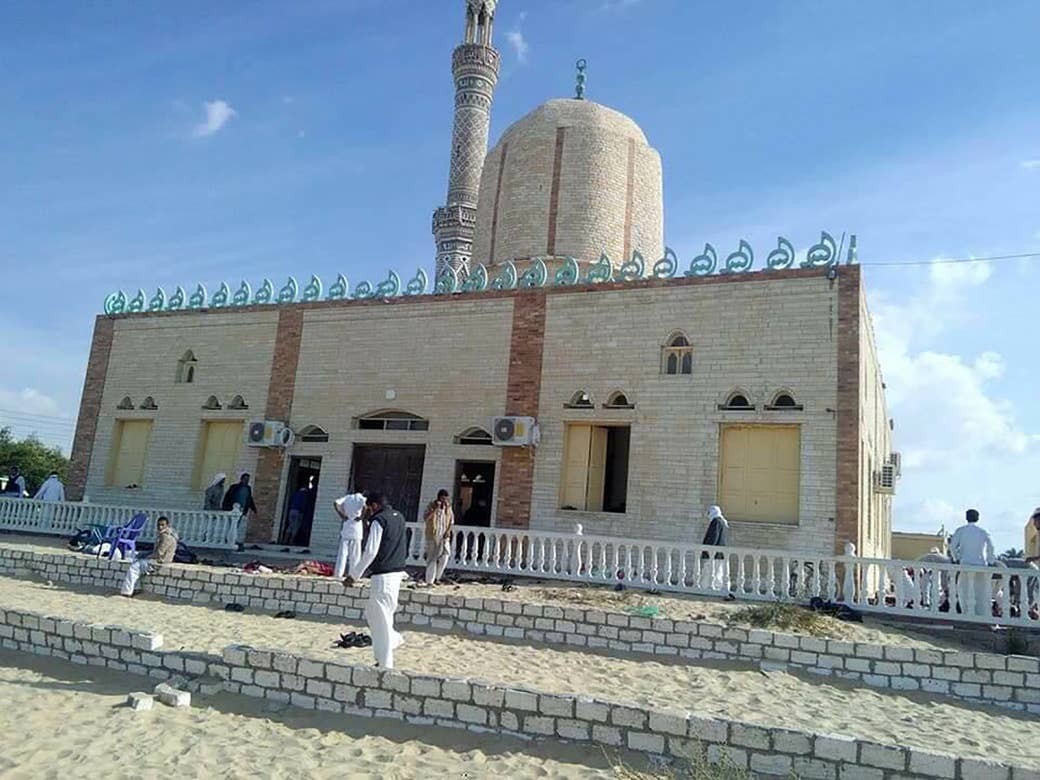 Tensions between the mostly tribal population in Sinai and the central authorities in Cairo have mounted for decades. Israel occupied parts of the Sinai between 1967 and 1982, and Egypt's security forces have eyed its inhabitants with suspicion ever since. The military has long taken a brutal approach in the peninsula, alienating the local population by bulldozing villages, launching airstrikes and rounding up young men en masse. This does little to solve the lack of economic opportunities and crumbling education and health care provision.

This latest attack has highlighted the authorities' failed attempts to deal with an Islamist insurgency that has expanded since the 2011 uprising that felled former president Hosni Mubarak. The scale of the challenge has only increased since the military coup toppled the elected Islamist president Mohamed Morsi in 2013. Newly arrived groups affiliated with al-Qaeda and later ISIS — some of them veterans of the wars in Iraq and Syria — began feeding off the grievances of the locals, drawing young unemployed men into an insurgency that prompted ever harsher military responses from the Egyptian military.
"The jihadists, they've been there in the Sinai since the early 1990s. But it was not like in this crazy way," said a businessman and community leader in Arish, the main urban hub of north Sinai, about 30 miles east of Rawda. "We started to find the young were saying that even their own families are atheists and some of them are disengaging themselves from their families and hiding themselves away. They start saying, 'This food is haram. This money is haram.'"
The businessman, along with others in Sinai, spoke via a voice call on condition of anonymity for fear of reprisals by the security forces. Independent journalists have long been barred from entering north Sinai, and those reporting on the bombing were sometimes prevented from interviewing survivors of the blast by plainclothes security forces guarding hospitals in Ismailia, where many of the wounded were taken. State media cited Egypt's chief prosecutor who said that some survivors described fighters carrying the distinctive black flag of ISIS.
ISIS has been warning that the mosque would be attacked for more than a year for its affiliation with a mystical Sufi order called the Jaririyah considered heretical by the militants. "There are still some mosques out of the hands of the Caliphate" in Sinai, the official in charge of enforcing Sharia law for ISIS's local affiliate told al-Nabaa, an ISIS magazine. "The Islamic State will destroy them once it can, God willing. The Jaririyah way is the most dangerous and unfaithful and most far and away from God."
Locals had warned security forces that an attack was impending, even building up earthen barriers around the town's perimeter to prevent an attack, according to locals and media accounts. The town had a reputation for welcoming Sufis, and ISIS reportedly warned the locals to stop practicing Sufi rites, according to several locals. Sufis, wrongly or rightly, also are widely believed by Egyptians to cooperate with Egyptian security forces, or at least tolerate them.
"What we know is that there are sort of hatreds between the Sufis and jihadis," said the businessmen from Arish. "The Sufis are not cooperating with the army, but they are not against the army."
Sinai security experts also say competition between rival jihadi groups might have prompted the attack. Sinai Province, the ISIS affiliate, has been losing recruits and territory to Jund al-Islam, the resurgent al-Qaeda affiliate.
"They needed this kind of attack to prove they still exist," said Ahmed Saqr, a former Sinai economic development official now a researcher at Keio University in Tokyo.
Indeed, most of the other Egyptian militant groups denied responsibility for the attack. A channel on the online messaging app Telegram affiliated with Jund al-Islam distributed an audio recording that it said proved its rival, Sinai Province, was behind the attack.
Many of Sinai Province's frontline leaders have also been killed by the army, and replaced by Egyptians from other parts of the country, or from Syria, Iraq, Libya, or Palestine, who have little connection to the local communities.
"Now since the leaders are from outside, they have no mercy," said Saqr. "They don't think twice when it comes to local attacks."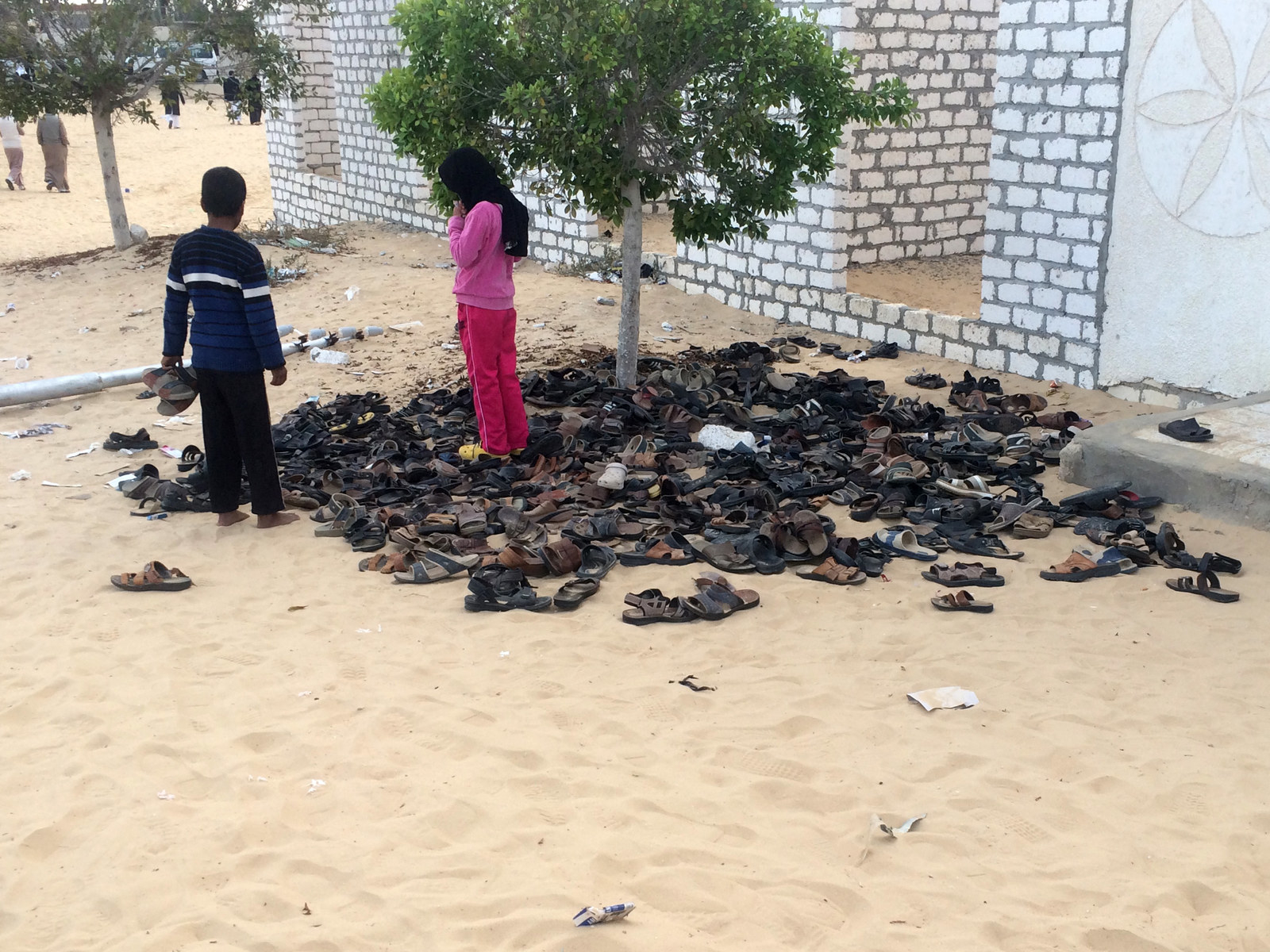 Egyptians have been stunned by the enormity of the attack. Even those who normally don't pay much attention to the ongoing insurgency in Sinai were horrified by the large number of casualties and the purely civilian nature of the target. Many worry about what comes next.

"It affects people a lot," said retired Egyptian military intelligence Gen. Sayed Ghoneim. "It showed people that a part of Egypt is not secure and nobody can do anything. Look at the morale of the people after this attack — they are very depressed."
Many are angry at the way the Egyptian authorities handled the attack and its aftermath. Um Mohamed accused the armed forces of demonizing the locals and failing to protect them at the crucial hour. Many wondered how the shooting could have gone on for so long without any intervention.
The businessman said the security forces were not prepared for an attack of this scale. "We have never had an experience like that in Egypt," he said. "We never thought they would target a mosque like this. So I don't blame the security forces."
Officials insist they had no way of protecting every mosque in Egypt. "We have thousands of mosques across the country and there is no way that police and army can secure all of them," Speaker Ali Abdel Aal was quoted as saying in Parliament by the official MENA news agency. "We can't talk about any kind of dereliction of duty at a time our sons of police and army men are sacrificing their lives to maintain the stability of security of homeland."
At the very least, many hoped that the attack would prompt a reckoning by Egyptian policymakers.
"We have to make an honest analysis of what we have done over the past few years," said Saqr. "Now ISIS doesn't have the same numbers, finances, or weapons. They are weaker but they can still cause a lot of pain. We should face the roots, not only by guns. We spend money on strategies that result in failure and corruption that feed injustice. So many people join ISIS for revenge, not ideology."

There were few signs of any change in tactic. Armed forces responded to the attack by launching airstrikes at alleged militant positions from sophisticated fighter jets sold to Egypt by the West. "This heinous crime is an alarm to all organizations that trade in raising high the banners of 'human rights and freedoms,'" said a statement issued by the State Information Service.
On social media, there was renewed talk of arming locals as militias to take on ISIS, an idea that has resurfaced periodically. But there might not be much the government can do. "I don't know what is likely to change," said H.A. Hellyer, a scholar at the Atlantic Council and the Royal United Services Institute. "Probably they'll put more security around significant symbols of Sufism, but there are so many of them around the country."
Even among Egypt's elite, who generally support the government of Abdel Fattah el-Sisi, the attack signaled a new era, and brought to the surface fresh doubts about the country's direction.
"This time was different," said Youssef Abdel Aal, a Cairo-based management consultant in his twenties. "Obviously there is a failure of the state to handle this situation. It's been three years that [armed forces] are doing massive attacks and bombings in Sinai, and the situation is getting worse. It's very worrying, given that ISIS is losing ground in Syria and Iraq, and so now they're finding new ground. You feel like Egypt is going to be a new battleground."
Despite the media attention, there were few public campaigns among Egyptians to help out the victims of the Rawda massacre. But the attack pulled those in north Sinai together. Mohamed Khalil, 25, an engineer from nearby Bir al-Abd, rushed to the village to help in recovery efforts and to donate blood. He ended up spending the entire night helping to bury the bodies.
"This attack shocked all the people of the village and left a message of terror in their hearts," he told BuzzFeed News in an interview.
"I saw the families of the injured and the victims come to the hospital and the shock was clear on their faces," he said. "They did not move, did not talk and did not help us in the ambulance. They felt alone in this world and that their lives were very cheap."


Munzer al-Awad in Istanbul contributed to this report.