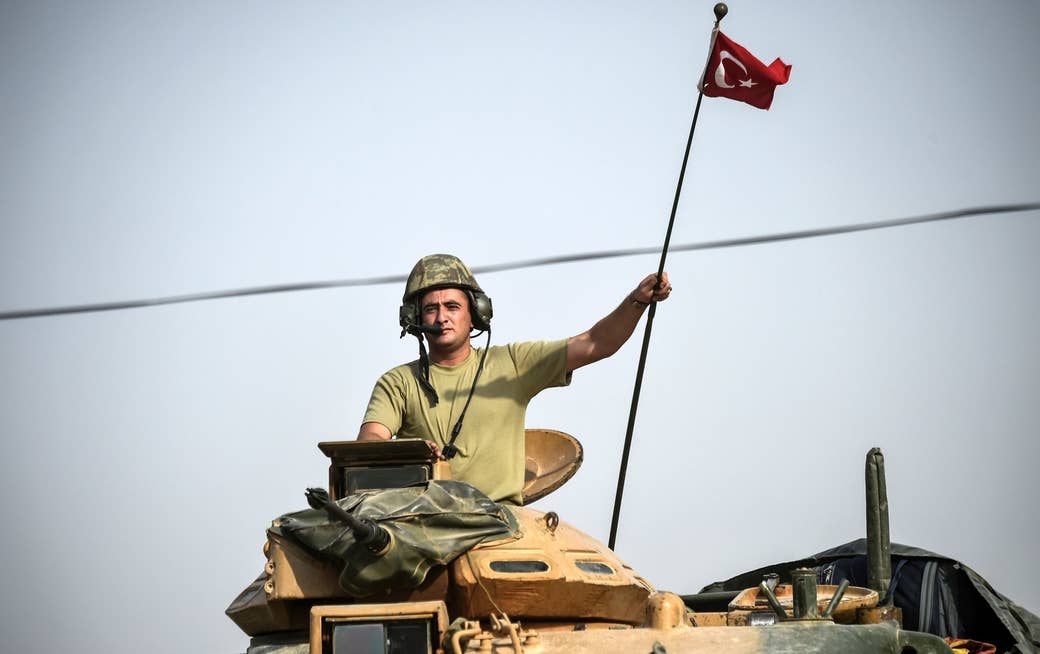 ISTANBUL — Abu Mostafa was elated. Backed by Turkey's armed forces, his Free Syrian Army unit racked up a series of rare victories against ISIS fighters in northern Syria this week, retaking five villages from the jihadi group on Tuesday.
Turkey's intervention in Syria is meant to push ISIS and Kurdish militants away from a narrow strip of the northern Aleppo province along its southern borders. But Abu Mostafa, a nom de guerre, and the fighters from his Abu Bakir al-Sadeeq brigade already harbor grander ambitions.
"We are aiming for more than those areas, hopefully even the liberation of all of Syria and not only Aleppo," he told BuzzFeed News this week over a spotty internet connection. "The Turks do not command us."
A few weeks after a surprise ground incursion, dubbed Operation Euphrates Shield, Turkish armed forces and allied Syrian rebel groups managed to carve out a long-sought buffer zone along Syrian territory to prevent cross-border infiltrations by jihadi and Kurdish militant organizations, while designating a potential safe zone for civilians fleeing the conflict. The Turks launched a ground operation, backed by Turkish and US air support, after reassuring Russia and Iran that their aims were solely to roll back the territories under the control of ISIS fighters and Kurdish-led fighting groups with separatist agendas.
But Turkey's calibrated strategy depends in part on both limiting its own involvement and reining in the ambitions of its FSA partners, whose battles against ISIS and Kurdish-led militias in northern Syria are secondary to their goal of bringing down the regime of Bashar al-Assad.
Despite the modest aims of the operation, Turkey may soon find itself drawn deeper into the Syrian quagmire at a time when its armed forces have been roiled by a coup attempt and its ongoing aftermath. Already on Tuesday, at least three Turkish soldiers were killed and four more injured in an ISIS attack on a tank in what a Turkish official described as the country's first combat deaths inside Syria.
"The longer the Turkish army remains on Syrian territory the greater the risks," said Unal Cevikoz, a former Turkish diplomat and president of the Ankara Policy Center, a think tank in the capital. "It's impossible to control all the wild-card elements."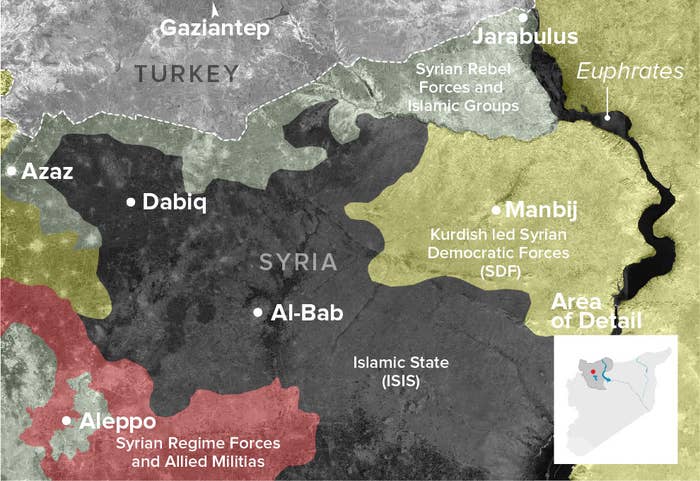 Turkish forces entered Syrian territory with multiple ambitions. First, they're seeking to block Kurdish-led fighters of the Syrian Democratic Forces from moving west across the Euphrates River to Kurdish-controlled territory, which the Turks see as an attempt to create a proto-state in northern Syria. Turks also want to push ISIS back from crucial Turkish cities, including Gaziantep, where a suspected ISIS suicide bomber targeted a wedding last month. Turkey also hoped to carve out a possible haven for Syrian civilians along the border, stretching from Jarabulus to the FSA stronghold of Azaz to the west. Turkish forces and Syrian rebel groups easily achieved their goals, establishing a long-sought buffer zone at least 25 miles deep along the Syrian border.

The question now is how much deeper the Turks want to extend the buffer zone — and whether the Turkish armed forces and a public already rattled by the cataclysmic coup attempt and a series of terrorist attacks are ready to bear the costs.
A senior Turkish official said the incursion was limited in scope and had been in the works for a year, but was delayed, he said, because of resistance within the Turkish military, US requests to hold off, and now-dissipated tensions with Russia over the downing of a jet in Syria last year. "There's no plan for a long-term presence," the official said. "The goal was to go in, accomplish the mission and leave. The aim is to protect the border areas from infiltration."
But the string of easy early victories has already spurred the Turks and Syrian rebels to press onward. Turkey now wants to push the SDF out of Manbij, to the south of Jarabulus, back east across the Euphrates. To the west, Turkey appears set to try to seize control of Dabiq, a small town and scene of a 16th-century battle that figures prominently in ISIS's eschatological vision. "ISIS sees Dabiq as a kind of mystical place," said Can Acun, an international relations expert specializing in Syria at SETA, Turkey's government-supported think tank. "They believe in the future there will be a big fight there. They will try to defend it against Turkey."
Experts say Turkey is also contemplating taking control of al-Bab, an agricultural hub northeast of the major city of Aleppo, from ISIS, a move that would give Ankara and its FSA allies control over a significant crossroads to Aleppo. ISIS may heavily contest the city — last week, its military leader Abu Mohammad al-Adnani was reportedly killed surveying the group's forces in the city. Though Turkey currently has deployed no more than 600 troops in Syria, another 20,000 have massed along its southern border to act as a rapid-reaction or deterrent force, said Acun. There are nearly 6,000 Syrian rebel fighters allied with Turkey in the north.
Even if ISIS scampers away from al-Bab at first, letting Turkey take the city — as it has when faced with overwhelming state-backed forces in Iraq — many wonder what would happen the next day. Syrian rebels used to control much of the areas now claimed by ISIS, and lost them over the last several years. Kurdish-led forces as well as those loyal to Assad are already moving toward al-Bab, setting up a potential three-way battle for the city.
"If they want to put in forces to take control of a significant part of Syria, what's the plan?" said Aaron Stein, a Turkey specialist at the Atlantic Council's Middle East center. "How long would they plan to stay? Handing it off to the FSA sounds great on paper, but why would that work this time? Do the Turks want to conduct dismounted patrols in a city of 10,000, without logistical backup?"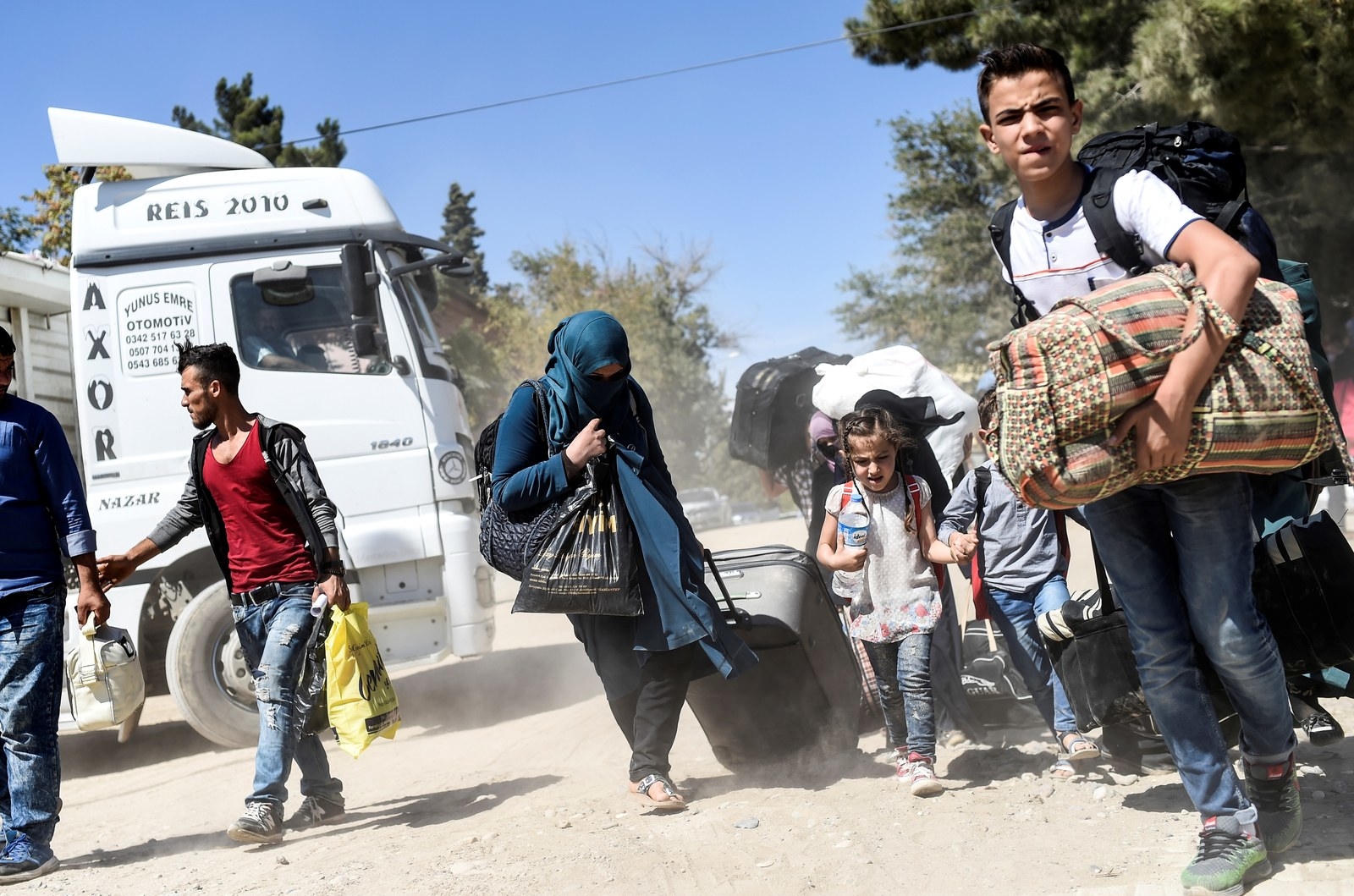 Weeks before Turkish soldiers crossed the Syrian border, Turkish diplomats carefully laid the groundwork for the incursion. Turkish analysts close to the government said Ankara promised the US that only CIA-vetted moderate rebels would participate in the operation. That means Turkey's most powerful client in Syria, the well-armed and jihadi-linked rebel group Ahrar al-Sham, won't officially be involved. Turkish diplomats and top officials met for weeks with the Assad regime's Russian and Iranian patrons before and after the incursion, assuring counterparts in Moscow and Tehran that Turkey's efforts would be limited to fighting ISIS and the Kurdish separatist groups linked to the outlawed Kurdistan Workers Party (PKK), and not the Assad regime.

"Essentially Turkey has an understanding that its vital interests in Syria are focused on the north and no longer on regime change in Damascus," said Emile Hokayem, a Middle East specialist at the International Institute for Strategic Studies. "I highly suspect that Turkey had informed Russia and Iran before entering Syria."
But Turkey's assurances might already be coming undone. Ahrar al-Sham maintains excellent relations with more moderate Syrian rebel groups, and may already be sending fighters to bolster the FSA in the north, according to several analysts and reports. And Syrian rebel groups say they won't be tied down by Turkey's goals, describing their relationship with Turkish security forces as one of partnership rather than hierarchy.
One Syrian rebel commander vowed to use any gains won with Turkey's help to take on regime forces, in what could become a nightmare scenario for Turkey's painstakingly crafted diplomatic efforts.
"Turkey's aim is Manbij and al-Bab, but our goal goes beyond that," said Ahmad Othman, commander of the Sultan Murad brigade, a major FSA unit allied with Turkey. "Our battles will continue — if the Turks arrive in al-Bab and they abandon the FSA, we will continue. We will continue to Aleppo and we will enter to Aleppo from the north. We have to liberate all the land in the eastern countryside and the western countryside and then Aleppo city until we access regime areas."
He described "smiles on civilian faces" as his men took back control of villages from ISIS. "This relieves us," he said, "and gives us greater incentive to continue to free the rest of the towns and cities."
Additional reporting by Munzer al-Awad and Asmaa al-Omar.