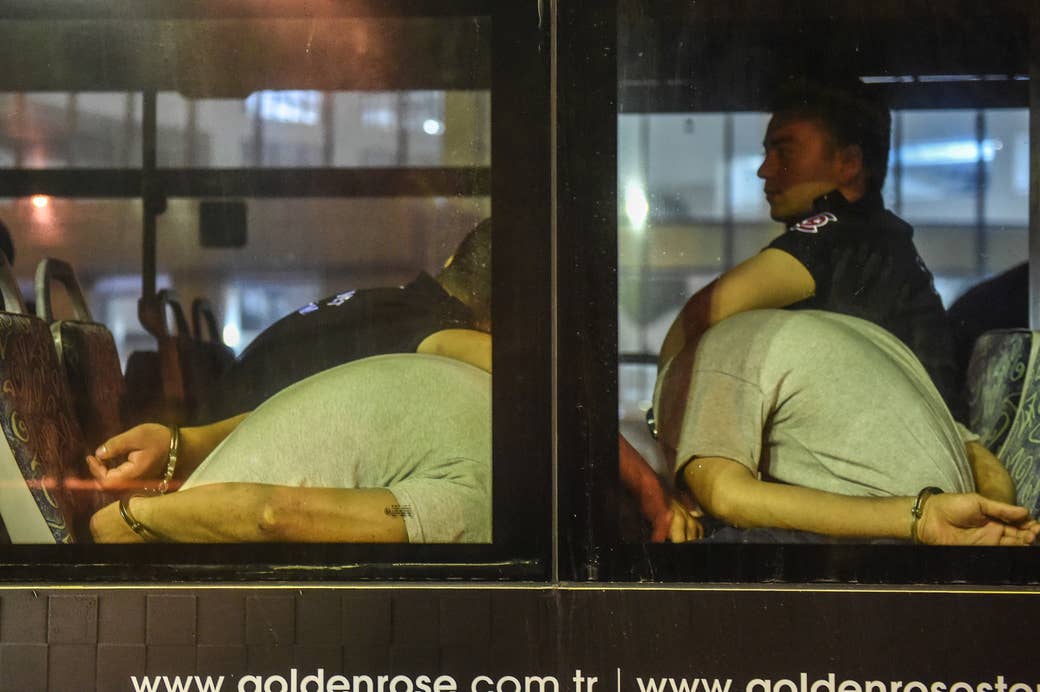 ISTANBUL — Before the night of July 15, Suat Sari was a fresh-faced 20-year-old conscript in the Turkish army. He was fulfilling his mandatory military service at a garrison near the district of Kartal, at the eastern edge of Istanbul. Now he is locked up in prison, recovering from at least two bullet wounds and a broken nose — he's being held on suspicion of participating in the failed coup attempt against the Turkish government, which it claims was plotted by followers of Fethullah Gülen, a Turkish-born cleric now living in Pennsylvania.
"He was just a soldier," says Suat's father, Hasan Sari. The 43-year-old father of five, who describes himself and his family as strong supporters of the reigning Justice and Development Party (AKP), runs a small coffee shop in the capital, Ankara. He recently traveled several hundred miles by road to Istanbul to frenetically lobby police, prosecutors, and judges for his son's release from the high-security Silivri prison. After a dayslong search for his boy, he managed to find him and arrange to meet him, most recently on Friday.
The attempted coup on July 15 left hundreds dead and injured and rattled the world, pushing a NATO country that is among the world's 20 largest economies to the brink of chaos. On the night of the coup, plotters "took the soldiers out of the base and told them this was a training exercise," Sari said.
Many such soldiers had little idea they were being used to stage a coup. Some included military academy students who thought they were on a training exercise or responding to a bomb threat. One private told Istanbul prosecutors that soldiers at his military school were ordered to gather for an assembly after dinner and taken to Istanbul's Bosphorus bridge.
"During the time on the bridge, we could not find out what was going on," the cadet reportedly told the prosecutor. "Then, we were told to say to the people that the army declared a state of siege. When we did it, people swore at us, but a commander fired his gun up in the air to scare the people."
A major gave the order to open fire on civilians, the cadet reportedly said in an account provided to the semi-official Anatolia Agency, threatening to shoot any soldiers who defied orders. Police and other security personnel eventually arrived, and a ferocious hourslong gunfight ensued. "We took shelter in front of the tank," he reportedly said. "And we saw our friend … shot in his eye and lying dead; we started to cry."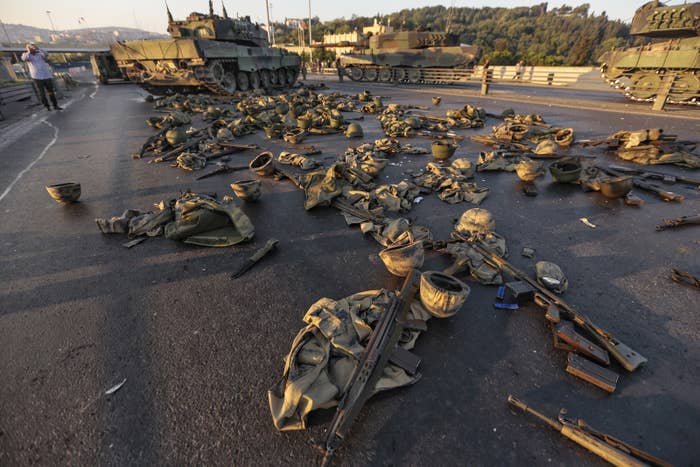 Suat told his father he has no idea who shot him during a night of chaos, whether it was enraged mobs of civilians, police officers, or even his own superiors. He told his dad he witnessed an officer kill three of his fellow soldiers for refusing to follow orders. "He is not in good shape," Hasan said of his son.
No formal charges have been lodged against Sari, and no trial date has been set. That's at least in part because thousands of judges and prosecutors have also been locked up and even more have been fired from their jobs on suspicion of being connected to the coup attempt or the Gülen movement. Human Rights Watch on Friday said at least 1,648 judges and prosecutors have been jailed since the coup. In addition, around 2,745 lower court prosecutors and judges and 190 members of the higher courts have been suspended and are under investigation.
Many defense lawyers have also refused to take up cases of alleged putschists, for fear of being tarred as supporters of Gülen's movement. Hüseyin Bogatekin is a lawyer for the Human Rights Association, a small, leftist, pro-Kurdish organization that did agree to take up cases. He recalled throngs gathered at the courts, seeking information about their detained loved ones. "Some of the families saw their kids faces for the first time around the courthouse, loaded onto buses," he said. "They are worried that their children were being tortured."
The failed coup and its aftermath have thrown Turkey's political configurations into a topsy-turvy tailspin. Among those who sought the help of Bogatekin's group was the family of a high-ranking officer. "For years, we have been sitting here filing petitions on behalf of Kurds," he said. "Now the soldiers who were torturing them are here asking for help."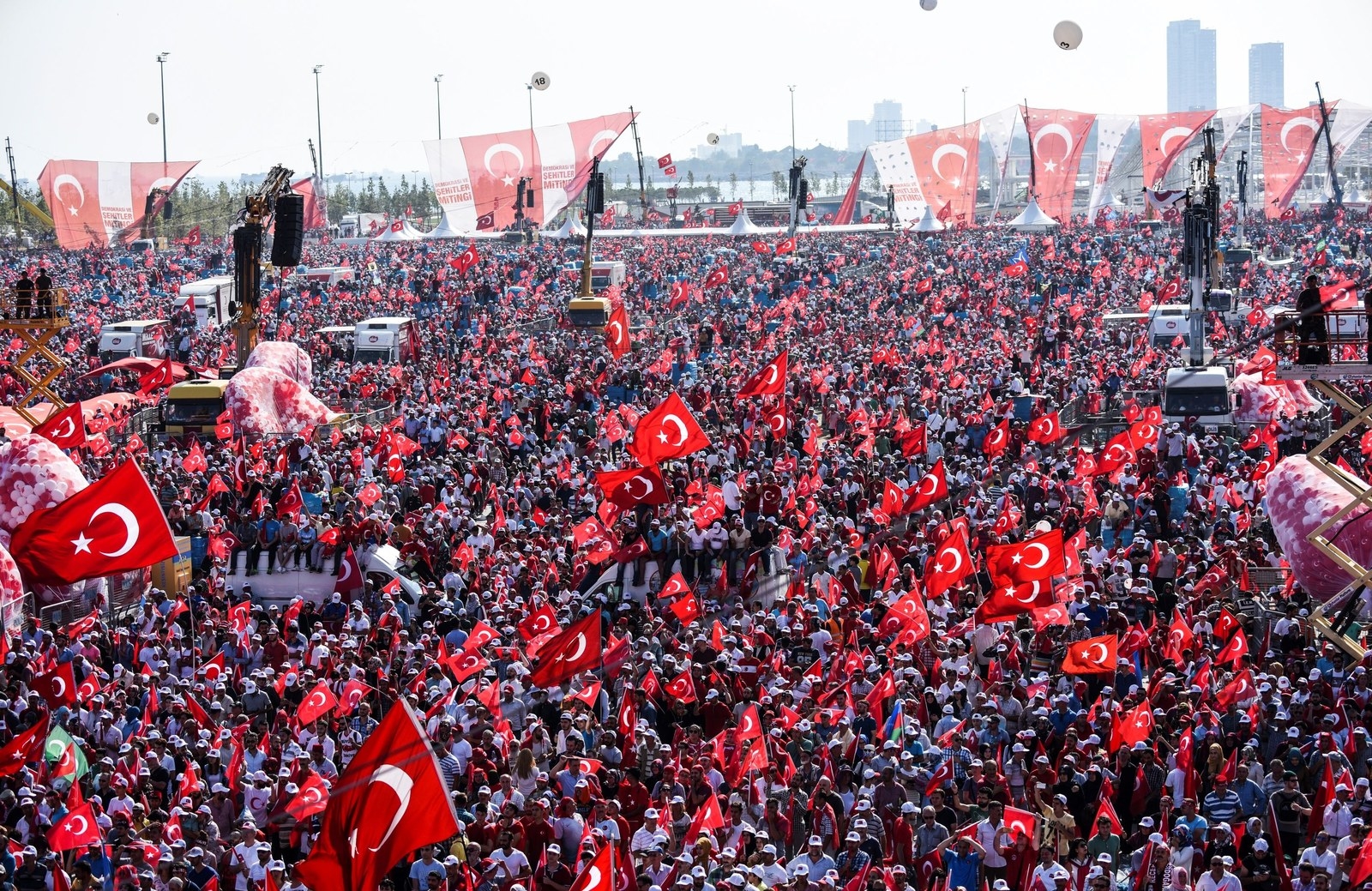 At least 1 million Turks showed up Sunday for a massive rally touted as a pro-democracy celebration on a square adjacent to the Strait of Bosphorus in Istanbul. More attended anti-coup rallies around the country. The gatherings were endorsed by two of three main opposition leaders and attended by Turks from all walks of life. Even the leftist, Kurdish-led People's Democratic Party (HDP), disinvited from the main rallies because of its alleged ties to armed Kurdish militant groups, sought to hold its own anti-coup rally in the country's southeast.

But far from feeling secure at the show of unity against the failed coup, Turkey's government and powerful president, Recep Tayyip Erdogan, have acted as if they are still staving off an imminent threat.
The numbers are staggering. At least 10,000 soldiers are in detention. At least 9,000 police officers, 44,000 educators, and several thousand public sector employees have been fired. Among those forced to resign from their jobs or jailed are 100 members of the soccer federation. Even a stand-up comedian, Atalay Demirci, has been imprisoned. His alleged crime was staying in contact with suspected Gülenists, including Oklahoma Thunder center Enes Kanter, an NBA player of Turkish descent.
Erdogan says he suspects the coup plotters are still out there, attempting to overthrow him. Turkish intelligence officials recently released what were described as the contents of electronic messages between alleged coup plotters. "In response to questions about the coup attempt, one must demonstrate a democratic attitude and make it clear that one was neither directly nor indirectly supportive of the coup," said a July 30 communication between alleged coup plotters sent over the obscure messaging app Eagle.
A Turkish official said 56,000 alleged supporters of the Gülen movement who could be connected to the failed coup attempt have been identified through the penetration of another messaging app, Bylock, allegedly used by those involved in the coup attempt.
And yet the aftermath of the coup may appear more menacing from outside Turkey than from the inside. Many of those dismissed have resigned en masse only to reapply for their jobs in shows of loyalty. Others are appealing their dismissals. Both the coup attempt and Gülen, who was despised by opposition groups for decades when he allied with Erdogan, are wildly unpopular among ordinary Turks.
But legal experts describe the dismissals as witch hunts that set terrible precedents. "These collective investigations are not acceptable," said Ibrahim Kaboglu, a professor of law at Marmara University. "They're not in line with the law."
Many other steps by the government have rattled observers of Turkey's legal system. Under a new state of emergency decree, the length of time suspects can be held without charge has been extended from four days to 30. Erdogan has vowed to re-enable capital punishment — it was abolished 12 years ago — should parliament pass such a law. Critics accuse the government of grandstanding dangerously; it would be difficult to apply the death penalty retroactively against perpetrators of the July 15 coup attempt, and the government knows it.
To fill the ranks of the judiciary, authorities are rapidly filling judiciary posts with trainees with little or no experience. They have have begun frantically rescheduling cases for months into the future. Emma Sinclair-Webb, Human Rights Watch's Turkey researcher, warned that the current targeting of judiciary "will cause profound damage to Turkey's justice system for years to come."
But disarray in the legal system may have a more immediate impact: severely complicating strenuous government attempts to extradite Gülen himself from the US.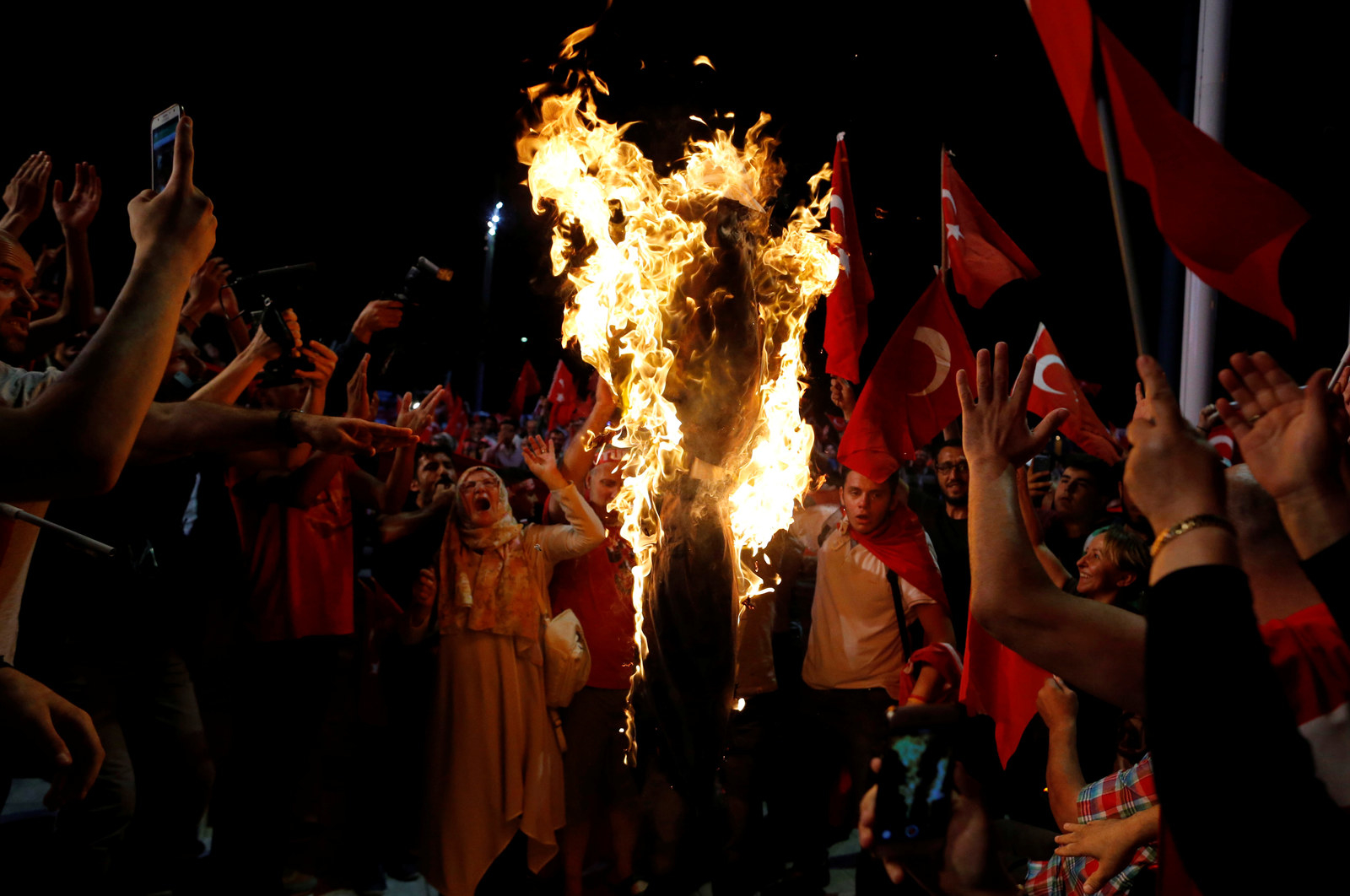 Last week, Turkey issued a formal arrest warrant for Gülen, a first step toward bringing him to court in Turkey from his movement's headquarters in Pennsylvania. Turkish officials and pro-government media have accused the US of being behind the coup attempt, arguing that Gülen's presence in the US and Washington's refusal to hand him over constitute proof of Washington's complicity in the coup. Turkish officials have also warned that failure to extradite Gülen will damage relations between Ankara and Washington.

But legal experts say it's the state of Turkey's criminal justice system that may prove the biggest obstacle to extraditing the 75-year-old. "It'll be a concern for US officials to send him back into such an environment, " said Kaboglu.
Bogatekin, who was himself briefly jailed for his alleged links to Kurdish militants earlier this year, added: "The whole system is corrupt. No country in the world would have an obligation to send someone here."
Unlike the European Union, US law requires no guarantee of a fair trial abroad for those facing extradition. But extradition law does require evidence presented to measure up to US probable-cause standards. Gülen's lawyers could tie up his case in federal court for months arguing that any evidence produced by Turkey's legal system is tainted, said Stefano Maffei, a law professor specializing in extradition matters at the University of Parma in Italy. "Just because there is no fair-trial clause doesn't mean the argument won't appear in federal court," he said in a phone interview. "The evidence gathered must satisfy US probable-cause standards."
US law also forbids extradition for political crimes, and most legal experts say allegations of leading a clandestine effort to overthrow a government — as opposed to ordering the murder of an individual — may easily fall into that category.
Gülen could also question whether Turkish courts have jurisdiction over his case. Since he hasn't been to Turkey in years, lawyers could argue that even if crimes were committed, they were committed on US soil. Even staunch US allies have found it extremely difficult bringing back suspects through America's complex, decentralized legal system for crimes committed in the US.
Once the court renders its decision, the extradition request is taken up by the State Department, which must evaluate the political ramifications of sending or not sending Gülen abroad, as well as decide on whether Turkey is in compliance with UN standards barring torture. Failure to comply would quash any extradition attempt.
Bogatekin, speaking in his office near Istanbul's Taksim Square, said his organization had yet to collect any concrete proof of torture. Amnesty International last month reported that it had gathered "credible evidence that detainees in Turkey are being subjected to beatings and torture, including rape" in the wake of the coup. Turkish authorities denied the allegations, but acknowledged physical brutality in the immediate aftermath of the coup attempt.
"They might have been treated roughly during the commotion," Erdogan said in response to the report. "If they hadn't been treated so, they would have killed our police officers. Shouldn't our policemen have defended themselves? Should they have said, 'Kill me?'"