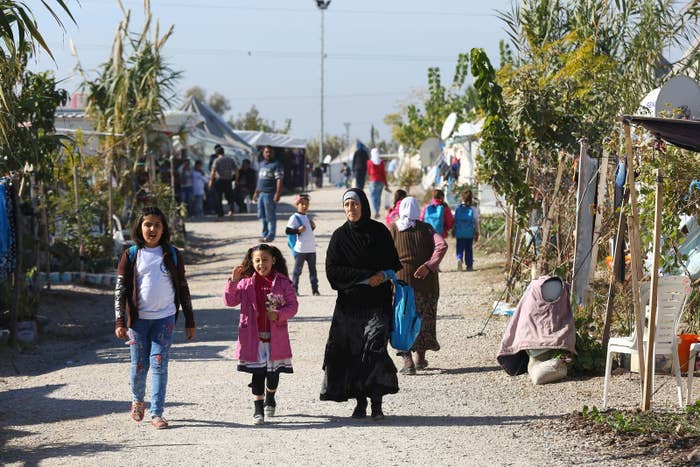 ISTANBUL — "Foolish Trump," said the sign held aloft by the Syrian protesters, in the rebel-held northwestern town of Kafranbel. "While you blush from Putin's sweet nothings, Putin prepares to schlong you like he did to the UN Security Council."
Across the world, people are watching with trepidation as Americans head to the polls Tuesday to elect their next president. But perhaps few nations have as much at stake in the election outcome as Syria, which is locked in a vicious civil war pitting the regime of Bashar al-Assad, backed by Russia and Iran, against a ragtag rebellion supported by Turkey, the Persian Gulf states, and — at least nominally so far — the US.
The two leading candidates, Hillary Clinton and Donald Trump, at least superficially appear to represent far different views on what role the US should play in Syria's civil war.
"Whoever will win will definitely have an impact on the situation in Syria," said Ahmed Mujahid, nom de guerre of a Syrian opposition activist from the Damascus suburb of Daraya, who now lives near the northwest city of Idlib.
Many Syrians have bigger personal concerns than who of the two becomes the next US president. Half of Syria's 24 million people have been displaced while the UN estimates that more than 400,000 have been killed in a five-year war that shows few signs of winding down. The ashes of the mostly failed Arab Spring uprisings continue to smolder across the Arab world, feeding cynicism and conspiracy theories about democracy and elections.
"It's impossible that American political interests would only rely on a particular individual," said Moataz Mahli, an activist who spoke to BuzzFeed News from inside the besieged city of Aleppo. "It's known to everyone that special institutions are running the show behind the scenes."
But generally, Syrians are as divided on the US elections as they are among each other. Supporters of the regime often quietly root for Trump, who has praised the Assad regime's primary patron Vladimir Putin and vowed to pull the US out of the Middle East. Supporters of the opposition hope for a win by Clinton, who has said she would press for a diplomatic solution that would lead to Assad's ouster.
"Anyone sympathetic to the opposition will be pro-Hillary as they expect her to be more aggressive against Assad and more interventionist in general," said Faysal Itani, a fellow at the Atlantic Council, a Washington think tank. "This is reflected in all the related conversations I've had with pro-opposition Syrians. I imagine pro-regime people would favor Trump for those same reasons."
Camille Alexandre Otrakji, a Montreal-based Syrian analyst who often supports the regime over the opposition, said he has yet to find a single Assad supporter who favored Clinton.
"They dislike Hillary because she dislikes them," he said. "For the past five and a half years she avoided Syrian Americans who did not support regime change. Some openly support Mr. Trump. Some clearly favor him but prefer to not admit it. A larger segment is confused or disappointed as they dislike both candidates."
While Trump has never directly praised Assad, he has said efforts to overthrow him were wrong. Still, many Syrian regime supporters are reluctant to voice support for Trump anyway because of comments he and his surrogates have made depicting Syrian refugees fleeing the war zone as terrorists, potential rapists, and in one particular example, Skittles candies. "He will take steps towards fascism," said Otrakji. "Being mostly Muslims, Syrians believe they can be targeted."
Asked about the elections, Assad himself told the Serbian newspaper Politika that he preferred neither candidate. "In Syria, the debate is who is worse, not who is better," he told the paper in an interview published November 3. "Therefore, neither will be good for us."
One Syrian opposition supporter, a restaurateur now living in Istanbul, described the choice as "between a dirty Clinton and a dirtier Trump."
But others were more enthusiastic about a Clinton win. One fighter for Ahrar al-Sham, an Islamist rebel group, warned that a Trump victory would mean "a faster and uglier" end of the Syrian war if the US follows through on his vows to minimize America's military commitments in the region.
Mahli, the activist inside eastern Aleppo, surrounded by pro-Assad forces and regularly strafed by Russian and Syrian warplanes, said he remained hopeful a Clinton win would improve the lives of ordinary Syrians trapped inside the country. Clinton favors establishing humanitarian sanctuaries inside Syria where displaced Syrians could find refuge from the war. With the seemingly more hawkish Clinton in charge, perhaps the Syrian regime would curb some of its excesses, he said.
"Maybe if Clinton won, the Americans would start paying more attention to the humanitarian aspects of the conflict in Syria," he said. "In the time of Obama, we only got fake promises."
Additional reporting by Asmaa al-Omar.