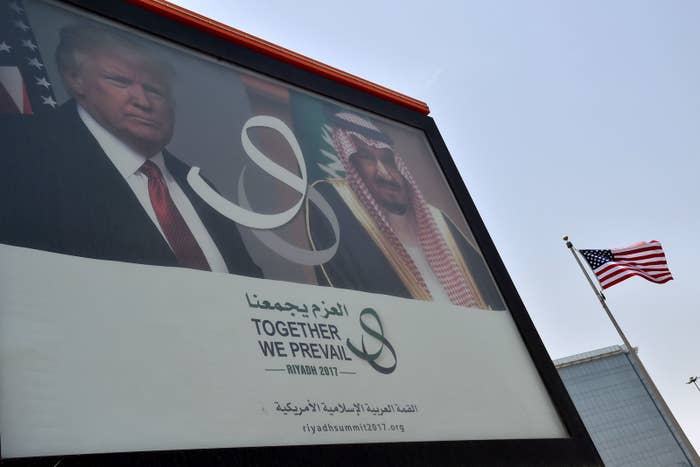 For the first time since he was elected, Donald Trump is taking his show on the road, with a trip abroad that has many observers watching nervously through their fingers — especially with visits to Israel, Saudi Arabia, and the Vatican, which host major holy sites of all three Abrahamic faiths.
Trump's visit comes at a time when the Middle East is on a knife's edge, with sectarian, ethnic, and ideological ground wars crisscrossing the region, and US, Russian, and other air forces launching airstrikes in attempts to tip the balance in their favor. Even the deftest, most well-informed of statesmen would be challenged to promote the US's interests and values without piercing the obscure layers of decorum that shroud public life in the Middle East.
Enter President Trump, with his penchant for unscripted moments and offensive gestures.
"There is so much subject matter that he could trip up on," said a Dubai-based analyst for a risk-management firm, who asked that his name not be published because his firm operates in the region. "There's so much room for it to go wrong, and that seems to be amplified with this president. The potential for Trump to say something inappropriate is really high, and this is a part of the world where personal slights and loss of face are a big deal."
Trump will be accompanied on his tour abroad by Secretary of State Rex Tillerson, a former oilman with Exxon who has dealt repeatedly with the Saudis. American country superstar Toby Keith is scheduled to perform a male-only concert over the weekend, part of the hero's welcome Trump will be given in Saudi Arabia. He will be received by King Salman and his ambitious son Deputy Crown Prince Mohammed bin Salman, as well as leaders of other oil-rich Arabian Peninsula states and representatives of dozens of other Muslim states there to open a new center devoted to countering extremism.

It's a different story in Israel, where recent strains between the Israelis and the White House have filled the visit with tension and uncertainty. A planned visit to an ancient battle site has been nixed thanks to an inability to have Trump's helicopter land there. The Palestinians, on the other hand, hope to show Trump how solid their stewardship over the Church of the Nativity has been when he visits Bethlehem, in the West Bank.

At the Vatican he will meet with Pope Francis, before heading to Belgium in an attempt to reassure jittery NATO partners of Washington's commitment to the military coalition that has been the bedrock of Western security since World War II, and a G7 meeting of the world's most powerful economies.
Everyone Trump will meet with along the way has an ask lined up for him, up to and including the pope — the Holy See will seek to convince Trump to support measures to counter climate change and to welcome refugees. The Saudis and the United Arab Emirates in particular hope to charm Trump into supporting their aim of getting the US to fight against Bashar al-Assad in Syria, while looking the other way at continued political repression in the Gulf and much of the Arab world. Israel, Trump's second stop, hopes to convince the president to move the US Embassy from Tel Aviv to Jerusalem, and support — or at least ignore — the expansion of settlements in the West Bank. All of them want tougher pushback from the US against Iran's growing influence.
Trump has done — or tried to do — business across the Gulf, most famously with an eponymously branded golf course in Dubai. Given his view of himself as a master dealmaker, analysts who spoke to BuzzFeed News predict he'll announce tens of billions of dollars in arms and other business deals, and try to align the Arab and Israeli positions on key perceived regional strategic threats, especially Iran and ISIS.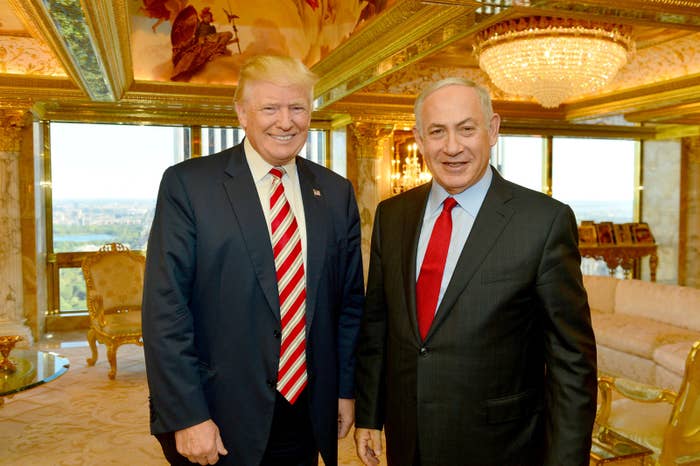 "He's used to dealing in these places," said Michael Wahid Hanna, a scholar at the Century Foundation, a New York think tank. "These are the places in which he's previously engaged — these strange, kleptocratic, authoritarian environments that have been his exposure to the world."
For now Saudi Arabia and Israel seem relieved to have him as president given their strained relations with his predecessor, Barack Obama. But throughout the region and in the US, some experts fear Trump could do or say something to exacerbate already shaky ties between the Muslim world and the US. Longtime anti-Muslim activist and White House staffer Stephen Miller has reportedly co-written the speech Trump will deliver in Riyadh, which has hardly helped to soothe troubled brows.
"He is liked by the rulers, but the minute things go badly, things could change," said Hanna. "There are constituencies that can be offended."
It's hard not to contrast Trump's Middle East visit with Obama's in 2009, when he delivered a soaring and memorable speech in the first months of his presidency during a visit to Cairo University, seeking to reset relations between the US and the Muslim world. "So long as our relationship is defined by our differences, we will empower those who sow hatred rather than peace, those who promote conflict rather than the cooperation that can help all of our people achieve justice and prosperity," he said. "And this cycle of suspicion and discord must end."
Trump's vision, such as it is, is considerably more myopic, focused through narrow security and commercial prisms that overlook concerns about human rights and decent governance. He has warmed to strongmen in the region, and has already received Turkish president Recep Tayyip Erdogan and Egyptian president Abdel Fattah al-Sisi at the White House.
"Trump is a throwback to dealing with governments as they are," said Paul Salem, a scholar at the Middle East Institute, a Washington think tank. "He's very status quo. He's comfortable with Erdogan, Sisi, Russian president Vladimir Putin, the GCC players. He's not dealing with the public. Obama addressed the public over the heads of the regime. Trump does not."
Regardless of what he says in his speech, Trump's inconsistencies and contradictions have become as famous abroad as they are in the US. Parsing any of his words for deeper meaning or policy shifts may be a fool's errand, especially given ongoing clashes in Washington between the country's security and foreign policy institutions and the White House.
"Not many people give much weight to anything he says," said a US diplomat in the Middle East, speaking on condition of anonymity for fear of losing his job. "The haphazard way in which he's operating suggests that there's no real follow-through to his policy statements. All these scandals suggest the state is not operating the way he wants it to operate."
In addition, the diplomat said, any damage he could inflict might be somewhat limited "if people assume he's a buffoon and he's not to be taken seriously."
With expectations so low, and Trump's reputation outside the region's autocrats already abysmal, and much of the broader Middle East a political and security mess, the president may be able to improve his standing simply by avoiding any colossal mishaps. "In some ways the expectations have never been lower," said Hanna. "The bar is so low Trump will be seen as a success simply by avoiding the outlandish."
Outside Your Bubble is a BuzzFeed News effort to bring you a diversity of thought and opinion from around the internet. If you don't see your viewpoint represented, contact the curator at bubble@buzzfeed.com. Click here for more on Outside Your Bubble.