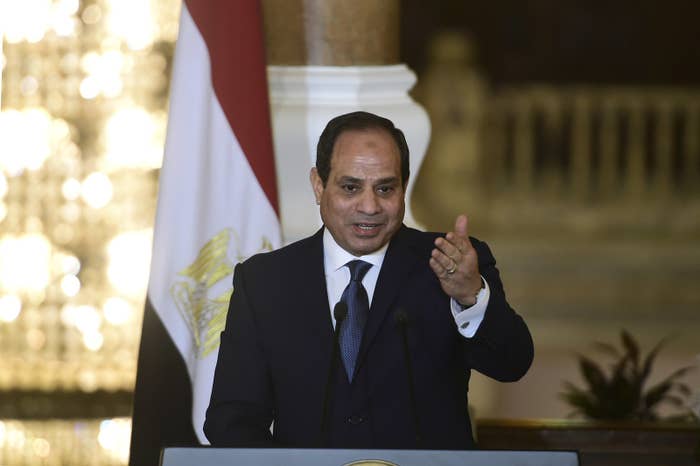 Egypt's powerful spy service recently hired a pair of high-powered Beltway lobbying firms on retainers of $50,000–$100,000 per month to influence the Trump administration.
Egypt's General Intelligence Service, known in the Arab world as the infamous mukhabarat, has hired communications powerhouse Weber Shandwick and DC lobbying firm Cassidy and Associates to spruce up its image inside Washington and promote what it describes as its "strategic partnership" with the US, according to documents filed with the Treasury Department.
The documents, dated late January, appear to have first been reported late last month by the newsletter Intelligence Online.
Foreign governments frequently hire lobbyists to improve how they are viewed among Washington policymakers, build up commercial ties or strengthen military partnerships. But it is rather rare for an intelligence service to undertake its own lobbying effort, especially one with a reputation as sullied as Egypt's mukhabarat. It has been accused by human rights monitors of torture and unlawful detention of perceived political enemies of the government of President Abdel-Fattah al-Sisi. Its very name in the Arab world conjures up images of naked men hanging from the ceilings of dungeons while screaming in agony from electric shocks.
According to the Treasury filings, the mukhabarat's DC lobbyists are to help identify potential Washington insiders "supportive" of its agenda, massage the spy outfit's public image using social media, provide crisis management help, and perhaps organize visits of Egyptian spymasters to Washington. Weber Shandwick, on retainer for $100,000 a month plus expenses, boasts on its website that it specializes in brand improvement. Cassidy, meanwhile, will be earning a quarterly fee of $150,000.
The Egyptian government has for years had a $2 million-a-year lobbying contract with the Glover Park Group. The mukhabarat's venture may suggest competition between the country's Foreign Ministry and intelligence services frustrated at the inability of career statesman to sell Egypt to foreign investors and governments.
"This is about the internal politics/rivalry between the intel service and the Foreign Ministry — the former bypassing the latter," Mauritanian-American activist and scholar Nasser Wedaddy wrote on Twitter about the lobbying deals. "The intel service has been of late involving itself in attracting investors and reassuring those already something the Foreign Ministry failed at. This is about the intel service acting like a parallel foreign and economic affairs ministry."
Egypt's has suffered through years of hardship since a 2011 uprising ousted longtime ruler Hosni Mubarak. A 2013 coup led by the then-general Sisi toppled the country's democratically elected Islamist president and led to thousands of deaths at the hands of the security forces. The murder last year of Italian scholar Giulio Regeni at the alleged hands of security officials, the downing of a Russian plane in 2015 by alleged jihadi militants, and other incidents have soured some foreign investors on Egypt and further darkened the reputation of its security forces.
The lobbying push could signal an effort by the mukhabarat to try to clean up its image. Ironically, Trump and Sisi have excellent relations. Sisi was the first foreign leader to call Trump after his November presidential victory and met with him in New York during the campaign. Egypt already receives $1.3 billion in US military aid per year, and Trump has signaled that he's willing to overlook any concerns about Egyptian human rights violations or authoritarianism in favor of a shared battle against Islamist militants.
Others saw in the lobbying effort a worrying sign of fragmentation within Egypt's security forces, a possible attempt by Egypt's spies to use Washington to gain advantages over rival soldiers and cops.
"I'd be interested to see if the lobby focuses on the GIS reputation vs. Egypt's," Timothy Kaldas, a Cairo-based political scientist affiliated with the Tahrir Institute for Middle East Policy, told BuzzFeed News. "I find it interesting how so many institutions are working on their personal reputations. Food aid is distributed from the Interior Ministry or army or GIS rather than in the name of the Egyptian state. Access to the [Trump] administration could increase its power vis a vis other institutions in the state."