ISTANBUL — Over the last few days, the regime of Bashar al-Assad has intensified aerial attacks on a besieged rebel-held enclave to the east of the Syrian capital. Assad's forces, and Russian war planes and helicopters, fired as many as 200 missiles and rockets on the Eastern Ghouta enclave on Monday alone. At times the bombing was relentless. Pictures posted on social media showed the pale lifeless bodies of children wrapped in white shrouds. Medical equipment hasn't arrived for months. The few open clinics struggled to treat bloodied patients suffering complex wounds, while rescue workers rushed to pull the wounded and dying from the rubble.

But for Firas Abdullah, the biggest challenge of the day was just getting to work that morning without getting killed.
The 24-year-old English lit major, who works as a photographer and journalist for a relief organization in the city of Douma in Eastern Ghouta, woke up on Monday with a start around 6:30 a.m., the whistle of a bomb dropping nearby serving as his alarm clock. He made it out of bed, forced down some food, put on a black hat, light-blue hoodie, and maroon scarf to shield himself from the cold winter day and made the perilous walk. Previously he used to stick close to walls as he walked, but few are left in the city.
"Now, while I am talking, there [are] three types of plane right on top of me," he said in a short video he made as he walked. "Drones, helicopters, and Russian jets."
The streets were eerily devoid of people. As he walked past bombed-out buildings, he could hear the weeping of women and children still stuck in their apartments, mourning their losses, or overcome with terror. Abdullah too was frightened, walking through what he described as a ghost town.
"Many civilians are underground in their shelters," he told BuzzFeed News in an interview. "But I have to do it to show the world what is going on."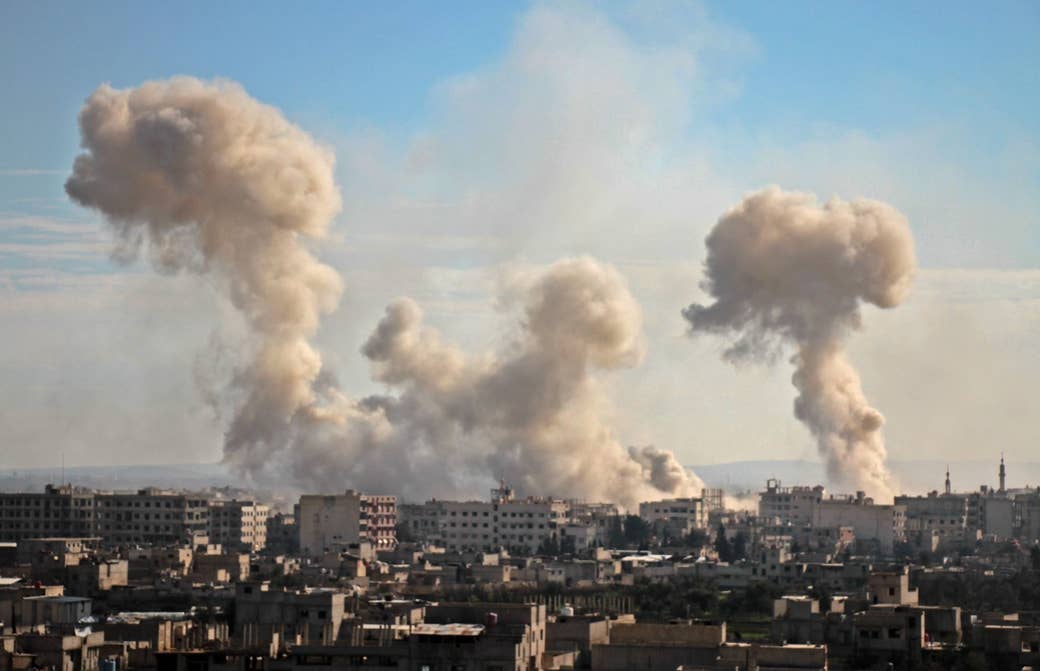 The Syrian Observatory for Human Rights (SOHR), a UK-based monitoring network, said that at least 100 people were killed Monday in what it described as the worst single-day death toll since 2015. The bombings continued Tuesday, prompting alarm by international aid organizations. "The toll rose as strikes continued and more bodies were pulled out of the rubble," the SOHR said.
Many see the air raids as prelude to an impending ground offensive into eastern Ghouta by Iranian-backed and Syrian militias along with the regime's drained regular armed forces, an assault that will have even more dire consequences for the more than 250,000 people trapped inside the area. The regime's mouthpieces have been warning of a merciless attack. Armed forces have been amassing at points south and west of eastern Ghouta.
"Hell has opened its doors to the militants," declared an article posted to the pro-regime Dimashq Now news website. "There is a perception among terrorist groups that they can repel the anticipated Syrian army ground offensive on positions they hold in Eastern Ghouta, but if they realized the scale of the army's logistical preparations, we would see waves of them surrendering themselves, their weapons, and everything they own."
The pro-regime al-Watan newspaper said the operation would include militias, elite members of the so-called Republican Guard, Russian units, and regular army units. "Al-Watan has learned that the army's entry into Eastern Ghouta is likely to begin next week," said the Feb. 19 report.

Eastern Ghouta, once a thriving suburban area of Damascus that has been under siege since 2013, is woefully unprepared for any impending assault. Prices for basic goods have skyrocketed. Shops are closed. One doctor reached via a messaging application said four hospitals had stopped operating because of the shelling, which appears to target medical facilities. About 107 physicians continue to work in Eastern Ghouta, said Hamza, a doctor who asked that his full name not be published.
A severe lack of equipment, and basic medicine, has been compounded by the frailty of many of the patients. Eastern Ghouta — although designated a de-escalation zone in a deal penned last year — has received only a fraction of aid needed in the past few months. The UN has repeatedly warned about child malnutrition. Hamza described the situation as a "double disaster."
"The Russia and regime's jets and helicopters [are] shelling everything in Ghouta," he said over WhatsApp. "All victims now are civilians. The shelling concentrate on markets, medical hospitals, civilians buildings, schools and at the time bakeries. Sometimes we fail to cope."
Syrian rebels inside Ghouta have also struck at regime-controlled areas with rockets, injuring dozens in recent days, according to pro-Assad media. On Tuesday, state-owned SANA reported five killed and 20 injured in rocket attacks by rebels inside Ghouta. Such attacks, the regime insists, justify its relentless assaults on the enclave.
But Assad opponents said that the regime began ramping up the conflict in Eastern Ghouta in November, regularly ignoring its commitments to allow aid and abide by a limited ceasefire. More than 1,000 people have been killed and 2,500 injured since then.
Syrians inside Eastern Ghouta await the coming days with dread.
"I woke up yesterday morning when all kinds of warplanes started shelling Ghouta," said Nazeer Falitani, 26, a former member of the local council. "The shelling artillery and rocket launchers never stopped. We sit in our homes. We cannot go to the streets, and all the shops are closed. We await death in anxiety."

As he spoke, a falling missile screeched in the background. He laughed. "Did you hear the sound?" he said. "May God protect whoever received the missile."
Activist Bian Rihan, 31, said she was sheltering with 21 other people, including 10 children and 2 elderly people inside an apartment in Douma. She woke up this morning at 5 a.m. to the sound of a rocket hitting a house not more than 400 yards away from her. The ground shook beneath her.
"We hear every half hour that someone has died in Ghouta, or that there is a massacre that took place somewhere in Ghouta," she told BuzzFeed News. "The children here are afflicted with hallucinations because of the sounds of explosions. Death is the master of the situation, either death by starving, or fear, or bombardment, or lack of medicine."
Abdullah, the journalist, said despite the hopelessness of the situation, neither the rebels nor the civilians in Eastern Ghouta are willing to give up. "We can't surrender," he said. "If we do, the regime will kill us one by one. If we give up, there will be no resistance to Bashar al-Assad. The people here have solidarity with the rebels. The rebels are defending the civilians here. If they came in, they will slaughter us."