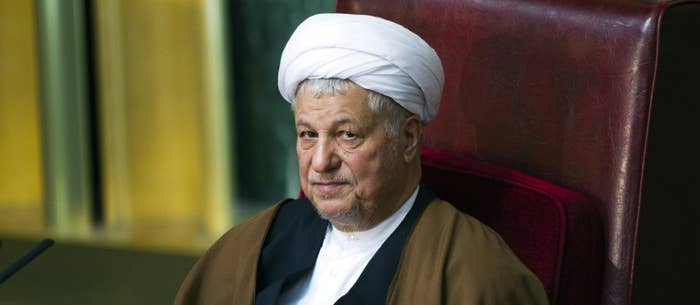 ISTANBUL — The death of Iran's former president Ayatollah Ali Akbar Hashemi Rafsanjani, a powerful patron of the country's moderates and reformists, comes at a particularly sensitive moment as Iran prepares for a crucial presidential election and seeks to fend off instability in a region engulfed in numerous overlapping wars.

Rafsanjani was a giant figure in Iran's recent history, who first came to prominence as aide de camp to Ayatollah Ruhollah Khomeini, the founder of Iran's Islamic system following the revolution of 1979. Rafsanjani not only served as president from 1989–1997, but as speaker of parliament during the 1980s, when he helped oversee the Iran–Iraq War effort, and most recently as chairman of a council that manages disputes between government bodies.
He is believed to be the key figure who helped install his friend Ali Khamenei as Iran's supreme leader after Khomeini's death in 1989, as well as the political patron who propelled the relatively moderate Hassan Rouhani to the presidency in 2013. His death will diminish prospects for a moderate successor to the conservative and staunchly anti-American 77-year-old Khamenei.

Unlike Tehran's anti-American hardliners, Rafsanjani saw integration with the world economy and diplomatic rapprochement with the West and the US as key strategies to ensure the survival of Iran's hybrid political system, which combines features of a democracy with those of a clerical dictatorship.
"You have one of the two pillars of the revolution that has passed away — the other being Khamenei," said Karim Sadjadpour, an Iran specialist at the Carnegie Endowment for International Peace in Washington. "The division of labor was that Khamenei was the ideological pillar and Rafsanjani was the pragmatic pillar."
But by the time he died of heart troubles at 82 on Sunday, Rafsajani had largely become a spent force politically and under severe restraints. His politically active son, Mehdi, has been locked up in jail by hardliners. His outspoken daughter, Faezeh, faces legal pressure. Rafsanjani himself, the scion of a wealthy pistachio farming family from Iran's southeast, had been tarred with a reputation for corruption and damaged by allegations he oversaw the assassinations of reformists during the 1990s.
Still, he was a key player within the regime's elite and likely channeled funding and political support to leading reformist and moderate institutions and individuals, including Rouhani, who faces a re-election campaign in May. Rafsanjani's death could rob Rouhani of key support. On the other hand, it might also help Rouhani and a new generation of moderates take the helm without being damaged by association with the Rafsanjani brand.
"Rafsanjani and his family were very much tainted by allegations of financial corruption," said Sadjadpour. "And so anyone seen as close to Rafsanjani is being similarly tainted."
Rouhani now becomes de facto leader of the moderates and reformists as he faces a re-election fight against conservative opponents, amid regional tensions with Saudi Arabia and its allies over its role in Syria, Iraq, and Yemen. The country also faces the possibility of increased sanctions and military pressure under the administration of incoming US President Donald Trump. Trump has said he would like to "rip up" the landmark nuclear deal Tehran negotiated with the US under Barack Obama, Russia, China, the UN, and the European Union.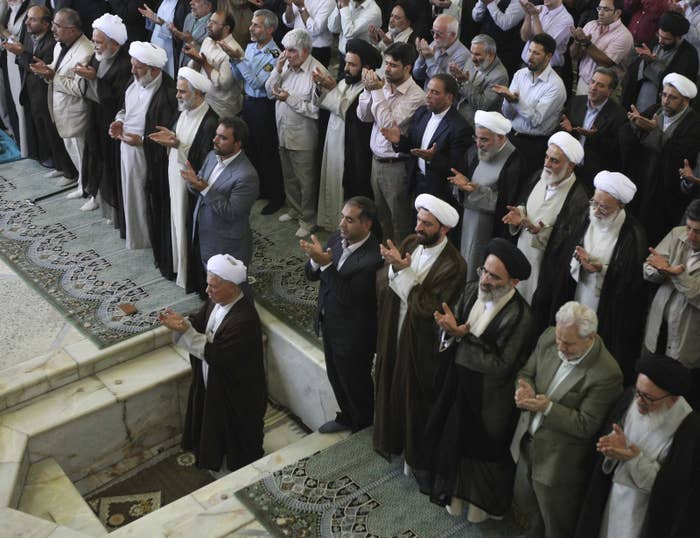 Rafsanjani, whose distinctive beardless face highlighted his Central Asian family origins, led a storied life spanning Iran's class and ideological spectrum. He was first drawn to radical Islamist politics while pursuing his clerical studies in the Iranian shrine city of Qom during the reign of Shah Mohammad Reza Pahlavi, the US-backed former monarch. Rafsanjani spent time in prison, sharing cells with leftist political dissidents. He assumed the role of de facto commander of the armed forces during the Iran–Iraq War, but later convinced Khomeini to end the conflict and make a deal with President Saddam Hussein, giving him a reputation for pragmatism at a time when fiery extremism was the norm in Tehran.
Rafsanjani later became associated with rapid real-estate development and business wheeling and dealing, as well as waves of political repression in which hundreds of dissidents were jailed and some killed in their homes in what became to be known as the "chain murders."
It was when he sought to run for a third term as president against Mahmoud Ahmadinejad in 2005 that the growing rift between his camp and that of hardliners within the establishment became pronounced. He lost after a nasty campaign, and began plotting against hardliners, eventually backing former prime minister Mir-Hossein Mousavi as a reformist candidate against Ahmadinejad in 2009.
Ahmadinejad won re-election that year amid widespread allegations of fraud, igniting the biggest anti-government civil unrest in the Islamic Republic's history. Millions poured into the streets but were brutally suppressed. Rafsanjani appeared sympathetic to the moderates but ultimately stayed loyal to the regime. He was nonetheless barred from giving Friday prayer sermons in Tehran, an influential bully pulpit, and boxed out of decision-making by Khamenei.
Still, he worked busily behind the scenes, engineering the surprise first-round election victory of his mentor Rouhani in 2013, even as his relations with Khamenei remained frosty. Highlighting this, the Supreme Leader, in his message of condolence, downgraded Rafsanjani's clerical status from Ayatollah to a lower-ranking Hojjat-ol-Islam.
"The loss of a comrade, a companion with whom one has cooperated and felt close to for a full 59 years, is difficult and overwhelming," Khamenei said.
Sadjadpour compared Rafsanjani's political status in his final years to Bill Clinton's current role within the Democratic Party. "He had a hugely influential role," he said, "But his political future was over."