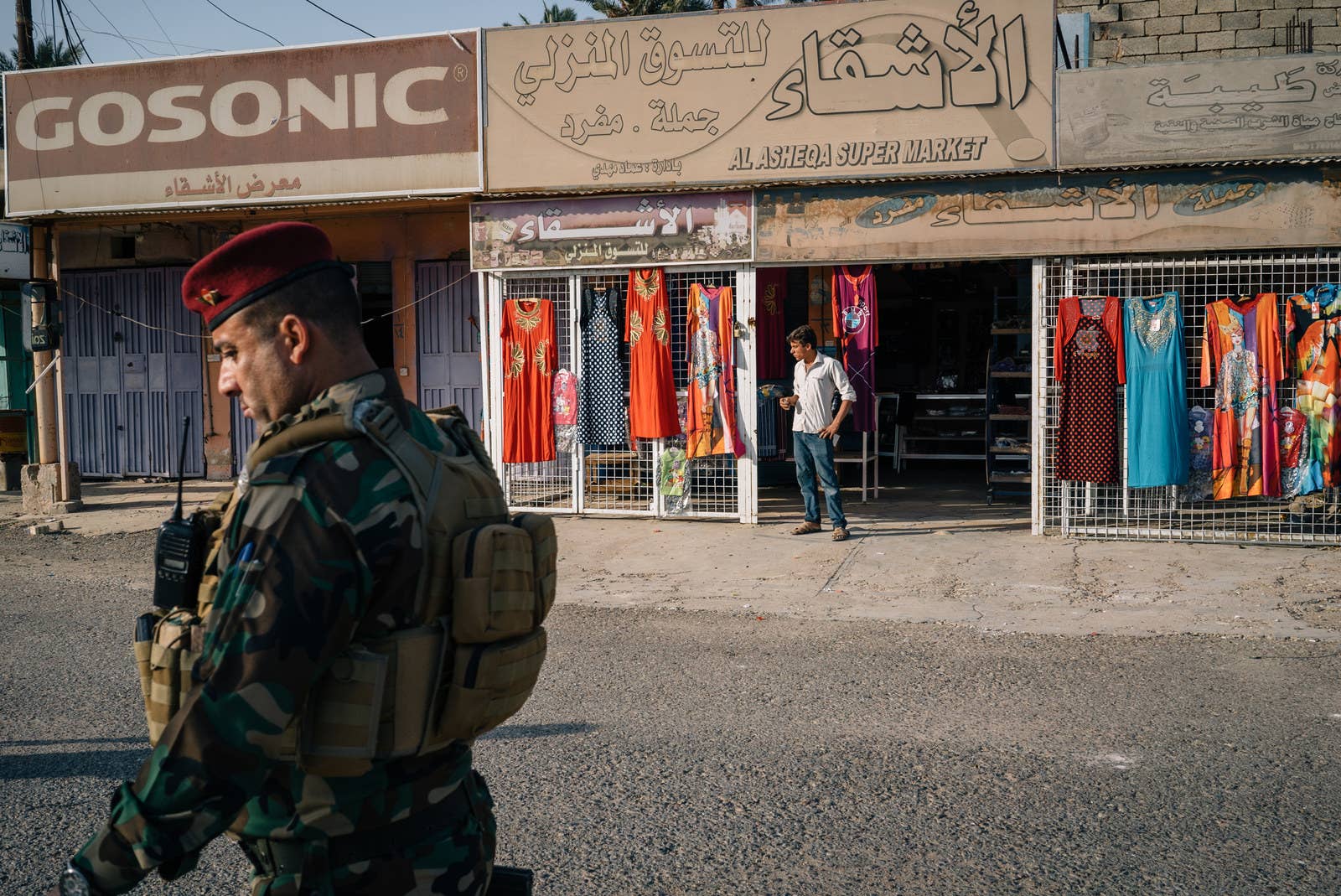 SAQLAWIYAH, Iraq — Waving white flags, Mohammad Khalil Hassan and his family joined hundreds of other people gathered at a cemetery on the outskirts of Saqlawiyah, a farming town 5 miles from the city of Fallujah.
Hassan, his wife, Nidhal Ali, and their three children were eager to restart their normal lives. It was June 3, and they had just seen their sleepy town reclaimed from ISIS's control. Their friends and neighbours wanted to rebuild Saqlawiyah, its farmlands fed by the Euphrates River that cuts through the deserts of Anbar province from the Syrian border. Most of the town's residents had been relieved to see the black flag of ISIS replaced with the red, white, and black of the Iraqi flags sewn on the uniforms of the men who had come to save them.
ISIS's brutal territorial expansion had seen it take control of the area around Fallujah in January 2014, with Saqlawiyah falling to the jihadists that September. But the problems in this part of the country stretch back to the weeks immediately following the 2003 US invasion of Iraq. Fallujah and its surroundings became the wellspring of the insurgency that confronted American forces after the fall of Saddam Hussein's regime. Overwhelmingly Sunni Arab, it remained a constant thorn in the sides of both the US armed forces and the Shia-dominated Iraqi government in Baghdad.
A measure of calm returned after Sunni tribes, backed by the US, managed to push the most extreme insurgents out of Anbar in the late '00s. But ISIS's blitzkrieg across Iraq in 2014 turned the spotlight on the province once again. It seemed even Baghdad itself might fall after ISIS reached a few miles short of the capital, shelling the airport from the eastern fringes of Anbar province.
Nearly two years of airstrikes, training, and offensive operations later, Iraqi forces surrounded Fallujah and its suburbs, and over the last few months have retaken control. Iraqi army, national police, and volunteer militias called hashed al-shaabi, or popular mobilization units, swept through the area, crushing pockets of resistance and seeking out sleeper cells.
Backed by US airstrikes, retaking Anbar from ISIS turned out to be easier than many expected, providing what many officials hoped would be a blueprint for the ongoing operation to eject the jihadis from Mosul, Iraq's second-largest city.
When Iraqi forces made their way into Saqlawiyah, it became clear that scores of men had been killed by ISIS, but the destruction was limited compared with neighboring Fallujah. "All were very much satisfied to get rid of ISIS and headed to greet the security forces," said Yahya al-Mahamdi, a member of the Saqlawiyah's municipal council.
"Take care of the children."
Iraq's prime minister, Haider al-Abadi, had publicly called on civilians in Anbar province to comply with Iraqi forces. After conferring with each other and tribal elders, the townspeople gathered at the town's cemetery to welcome the arriving armed forces.
Witnesses described jubilation at first, with the gathered crowds hugging and kissing the uniformed men, at least some of whom were Shia militiamen often feared by Sunnis. But the sectarian tensions between Iraq's majority Shia and minority Sunni had subsided as members of both sects fought for two years side-by-side against ISIS.
Then the security forces gave the townspeople an order that caused some trepidation: Military-aged men were instructed to separate themselves from the women, children, and elderly. That was "when the trouble started," according to Belkis Wille, a Human Rights Watch researcher who is investigating what happened next.
Over the course of several hours, at least 1,250 men from the cemetery, and others taken from their homes, were forced onto buses and trucks. Those left behind were suspicious, pleading with the soldiers for information. "We asked, 'Where are you going to take them?'" said Nidhal Ali, who watched her husband and hundreds of other men being taken away. "They said, 'Don't worry. We're just going to check their names on the computer.'"
But Ali said her husband knew it was the end, that he would probably never see his wife and kids again. "Take care of the children" was the last thing the 35-year-old Iraqi farmer told his wife before he was taken away. That was nearly six months ago, and she has not heard from him since. Along with the rest of the men, he was disappeared, in what appears to be the largest mass abduction in Iraq's recent history.
An attempt to reconstruct what happened in Saqlawiyah shows just how easily hundreds of men can disappear from the face of the earth in Iraq. The events of that day in June carry potentially grave ramifications for the operation to rid Mosul of ISIS and are a dark omen for Iraq's future. There may be near-universal support for Iraq's operations against ISIS, but the country's international backers and Iraqis themselves worry that retribution against those who lived under ISIS rule risks spawning another generation of jihadists.
"These crimes are not only abhorrent, they are also wholly counterproductive," UN human rights chief Zeid Ra'ad al-Hussein said in July about Saqlawiyah and other atrocities. "They give ISIS a propaganda victory, and push people into their arms. They increase the likelihood of a renewed cycle of full-throttle sectarian violence."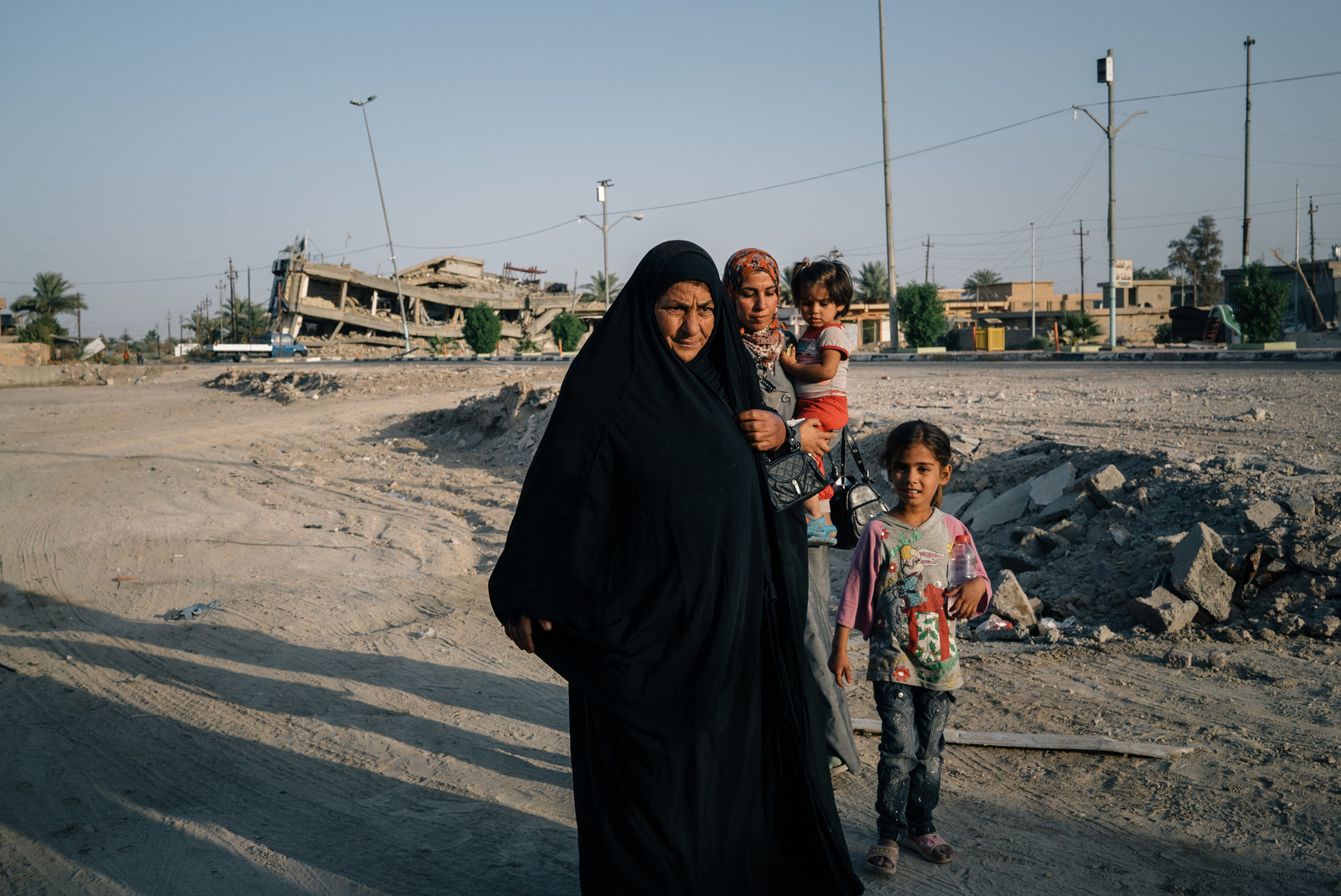 The disappearance of more than 1,200 men from one town was making waves across Anbar province. When the men didn't return hours later, distraught wives and mothers began phoning politicians in Baghdad and Ramadi, the administrative center of Anbar province, reporting that men in military uniform had taken away most of the town's able-bodied men.
Among those alerted was Mahamdi, a Saqlawiyah native who served on Anbar's province's governing council. Mahamdi, 40, was the local boy from the sticks who had done well in the big city before returning to his community. Unlike many of his peers, he was a college graduate, with a degree in political science. He had spent stretches of his adult life in Baghdad and Ramadi, but remained at ease with the gruff, barely literate farmhands of his hometown. After teaching high school in Saqlawiyah, he began working for nongovernmental aid groups around Anbar province, and was elected to the provincial council in 2010. Over the years he developed contacts in the security forces and among the political elite in both Ramadi and the capital, while keeping the trust of his townspeople.
Mahamdi spoke to people who had been in the cemetery about what had happened to the men, and quickly realized time wasn't on his side. The longer the men were incommunicado, the greater the risk they wouldn't survive. He spoke to local police officers and they began frantically searching for the missing.
One of the missing was a good friend of Mahamdi. Naema Naji Fayedh Ali, 43, was a former classmate who later became a schoolteacher and a family man. During the ISIS occupation of the town, he had been a key informant for Iraqi pro-government forces seeking to liberate the town, said Mahamdi. "I was cooperating with him by phone," he said. "He used to give the coordinates and movements of ISIS."

"I will never forget that sad moment when I saw four dead men from my tribe on the ground."
Many immediately suspected Shia militias were keeping them. Formed after the US invasion of Iraq and empowered by the war against ISIS, these armed groups are often trained or financed by Iran. The militias boast connections to powerful political players in Baghdad, and often lord it over the regular armed forces they fight alongside against ISIS. At least some of the security forces who rounded up the men of Saqlawiyah were believed to be from Katayeb Hezbollah, among the most notorious of the Shia militias.
Mahamdi called local, provincial, and national contacts and reached out to militia leaders as he tried to find his friend and the other missing men. But during two days of panicked phone calls, he had little luck. Part of the challenge was getting other security forces to cooperate — many had been fighting ISIS for the last two years and harbored grievances against those they considered collaborators.
Fallujah and the area around it is known for being particularly welcoming to insurgent groups. While officials in Baghdad salute the resistance to ISIS put up by residents and tribes of the provincial capital, Ramadi, they accuse those in Fallujah of welcoming the jihadis into their midst.
"Fallujah is a very specific area," one ranking Anbar province security official told me, speaking of the disappearances in Saqlawiyah. "You know, people there have been fighting for years, even against the Americans. And the people of Iraq look at Fallujah in a certain way."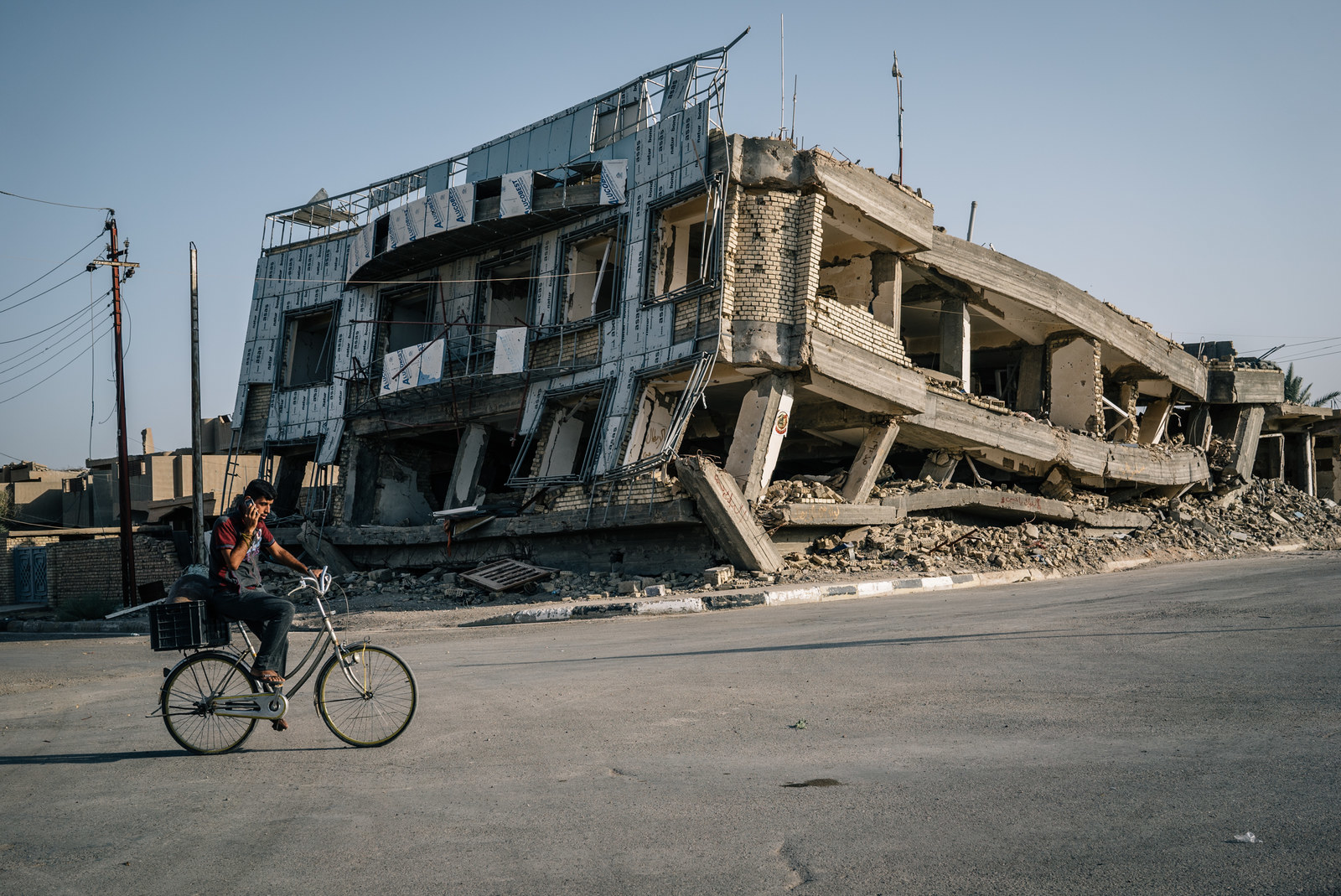 Time was running out, and Mahamdi was increasingly worried. But his frantic calls eventually yielded a tip from a source within the Iraqi government. He and his men managed to find out that at least some of the missing were being held at an Iraqi army base known as Tariq, southeast of Fallujah, about 20 miles from Saqlawiyah. Such bases are typically sprawling, with different compounds housing units from the Ministry of the Interior, the Iraqi army, and the militias or hashed al-shaabi.
So Mahamdi rounded up a group of police officers and other local officials and organized a convoy to the head to the base.
Over the course of his frantic search for the men, Mahamdi had learned that most of the abducted men were from one particular clan of his own Mahamda tribe, the Albu Kash. The targeting of one particular tribe matched what other security officials and researchers have found out about how ISIS exploits tribal cleavages. ISIS sided with some tribes against rivals who fought against its predecessor, al-Qaeda in Iraq. The worry now is that with the tables turned, tribes targeted by ISIS will take revenge on those who weren't.
In one case documented by Amnesty International, members of the pro-government Sunni Sabawi tribe used clubs and electrical prods to beat, torture, and humiliate young men and boys from a rival Sunni tribe in a village they had just seized from ISIS in the area around Mosul.
On the morning of June 5, as Mahamdi and a contingent of local police officers approached the base, they braced for what they might find.
They quickly spotted four corpses dumped along the side of the road, the first sign something was wrong. "I will never forget that sad moment when I saw four dead men from my tribe on the ground," Mahamdi recalled. "They were not even in coffins."
At first he and the police accompanying him were not allowed onto the base, but they insisted, making calls to officials in Baghdad and Ramadi to eventually cajole the uniformed men to let them past checkpoints.
They were horrified by the sight of the men from Saqlawiyah. Some were kept in a pen out in the open and others in small rooms inside the base. They confronted the captors, forcing them to free all of the men, sending scores of those with serious injuries to a nearby hospital, according to local officials interviewed by BuzzFeed News and the account gathered by Human Rights Watch.
"About 40 of them were losing consciousness, barely alive," said Mahamdi. "They had been struck in the head, nose, ears. We took pictures and gave them to the UN."
Human Rights Watch alleged "signs of torture, including rape, burns, knife cuts, and bruising from beatings."
"I was sure I was going to die."
Majid Hamid Abdullah, a 34-year-old farmer from Saqlawiyah, was among those taken from the cemetery, and later told BuzzFeed News what had happened on that day. At first he had been scared, but he reassured himself with the thought that he would be safe in the hands of the Iraqi armed forces, and that he had done nothing wrong. "The army received us, and we were treated very nicely at first," Abdullah said.
But he went on to describe a rapid descent into violence and deprivation. "They blindfolded us and took us to an unknown area and they bound our hands," he said.
According to research by Human Rights Watch and the UN, at least part of Tariq was under the control of Katayeb Hezbollah. But the army controls other parts of the base, and Sunni militias and police may have also been at the compound.
Far from treating the men as surrendering civilians, the forces at the base seem to have been convinced that the people of Saqlawiyah had collaborated with ISIS. That may be because ISIS managed to twice besiege and capture an army base next to the town in the chaotic weeks after the jihadists' takeover in 2014, raising suspicions about the ultimate loyalty of the townspeople.
But as the men in uniforms screamed at their captives, they didn't ask them about what happened in Saqlawiyah, or interrogate them about what they had done during ISIS's reign. Instead they told them they were being punished for what took place at Camp Speicher, an Iraqi army base near the city of Tikrit more than 100 miles to the north, where over 1,500 Iraqi military personnel were executed by ISIS in June 2014, according to both Abdullah and accounts collected by Sheikh Abdullah Ismail Maqdaf, a tribal leader.
According to the UN, the men were crammed into small rooms with little or no ventilation. They were beaten several times a day with sticks, shovels, and metal pipes. Abdullah feared his end was near: "I was sure I was going to die."
Another victim told Human Rights Watch he watched at least three men die in front of him during hours of beating at the hands of nearly 100 guards who were "yelling anti-Sunni" slurs at them.
"The treatment was very bad," a detainee in his forties told Amnesty International. "We had nothing to drink or eat … Some people drank their urine."
But as Mahamdi and his colleagues started counting off the names of the men they found at the army base, they realized they could only identify about 600. At least another 643 men, including his childhood friend, were still missing.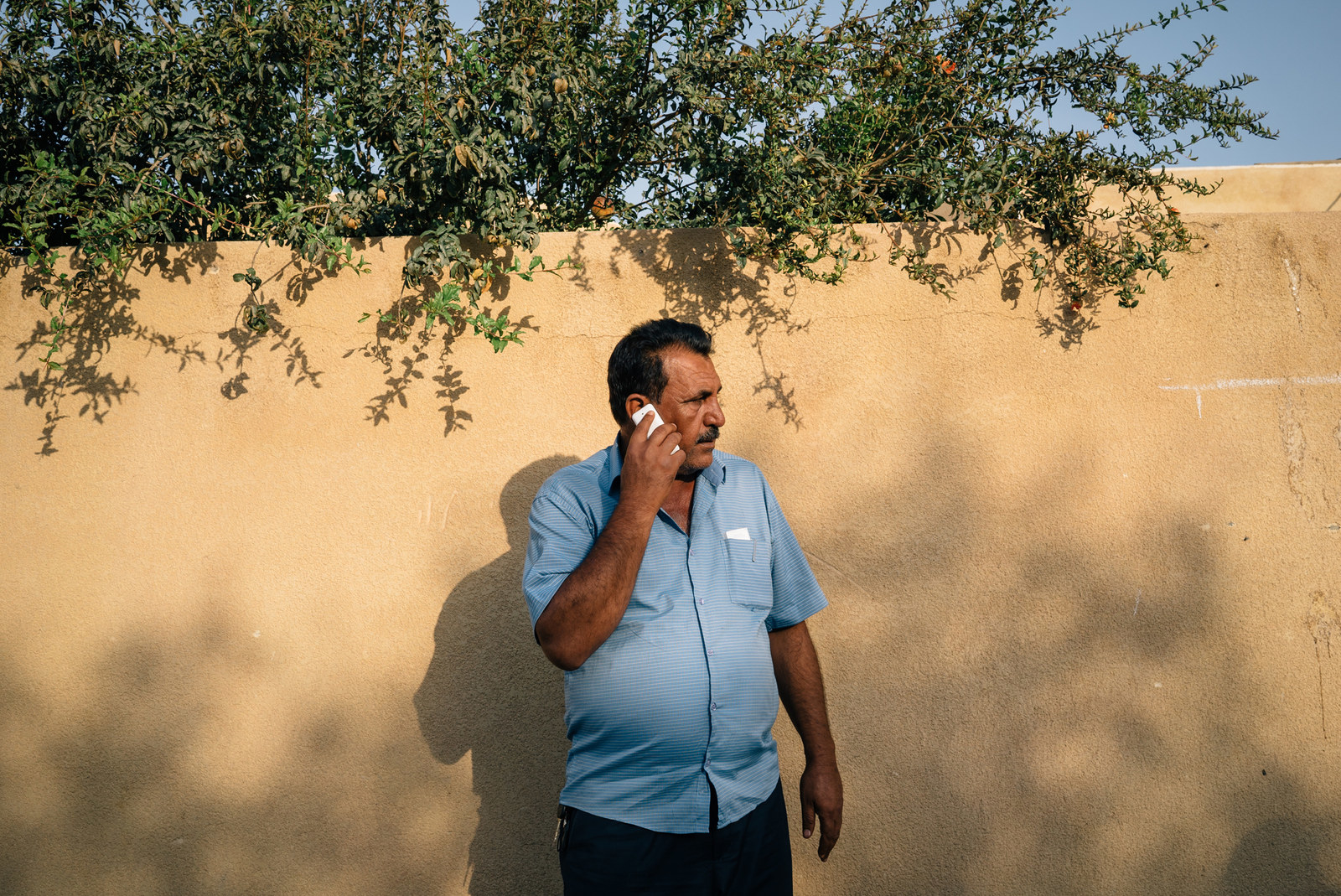 Mahamdi and other officials began again contacting officials in Baghdad, members of parliament, and leaders of various security branches in a vain attempt to locate the whereabouts of the missing men. The news quickly made it to the office of the prime minister, who added the Saqlawiyah case to several ongoing investigations, and the United Nations, which has launched its own examination of the incident.
"This appears to be the worst — but far from the first — such incident involving unofficial militias fighting alongside government forces against ISIS," the UN's Hussein said.
Attempts to find out what happened to the missing men ultimately yielded no definitive answers. Officials at the highest levels of government say they have little idea. "When we liberated Fallujah and Saqlawiyah, there were some men that went missing," said Mustafa Ahmed al-Jumeili, the deputy governor of Anbar province and a member of the prime ministerial committee investigating Saqlawiyah, as well as two other cases of men going missing or being killed in Anbar province. "Until now no one knows where they are."
Some Iraqi officials downplayed what happened in Saqlawiyah, worried that reports of large-scale massacres and disappearances in Anbar could drain domestic and international support for the ongoing offensive in and around Mosul, and from Iraq's Shia-dominated government. "Something definitely happened — but not hundreds," said Mowaffak al-Rubaie, a Shia member of parliament and former national security adviser. "Maybe 10, 20, 30 missing."

But Iraqis say the most disturbing dimension of the Saqlawiyah episode was the alleged collaboration or acquiescence of the regular armed forces, as well as Sunni tribal militias now leading the fight to retake Mosul.
"What's so horrible about what happened in Saqlawiyah is the participation of the army," said one Anbar province security official, who spoke on condition of anonymity.
The events in Saqlawiyah point to subterranean tribal and regional animosities that are potentially just as dangerous as those between Iraq's Shia and Sunni sects. In conversations with more than a dozen Sunni security officials and militia leaders in Anbar, many were sanguine, and some even tried to justify the alleged mass killings.
"The problem is half of the tribes in Anbar went with ISIS," said Mohamed al-Shabaan, leader of a Sunni tribal militia in Anbar province. Shabaan said he had no idea what had happened to missing men from Saqlawiyah, but he had no pity for anyone who submitted to ISIS rule, regardless of whether they were a fellow Sunni.
"Anyone the Shia hashed arrests, they might kill him on the spot," he said. "But if the Shia hashed kill them 50%, the Sunni hashed will kill him 100% of the time."
The incident in Saqlawiyah is a grim harbinger of what the new US administration faces as it attempts to defeat ISIS and considers winding down what has become a significant US troop presence in Iraq, without risking the country falling apart again. Despite relatively close international scrutiny, Iraq remains a place where unknown armed men can disappear hundreds of people, where tribal and sectarian blood feuds persist, and security forces and locals distrust each other as well as their political leaders. Many in Anbar province declined to speak about the Saqlawiyah abductions, at least publicly or within earshot of any security officials, fearful of retribution.
In hushed voices, others sought to discreetly draw attention to the events. One provided BuzzFeed News with a spreadsheet listing the names of those missing, a document he had also forwarded to the UN, the Iraqi government, and human rights organizations,
Others, like Mahamdi, were more willing to speak openly. Maqdaf, the tribal leader, has established a committee of 12 other elders to gather testimony from survivors of the mass abduction. He said he was willing to go public because he had little left to lose — more than 600 men remain missing. "Ninety percent of the tortured and disappeared were from my tribe," he said.
"There's nothing to be afraid of any more. All my people are gone."