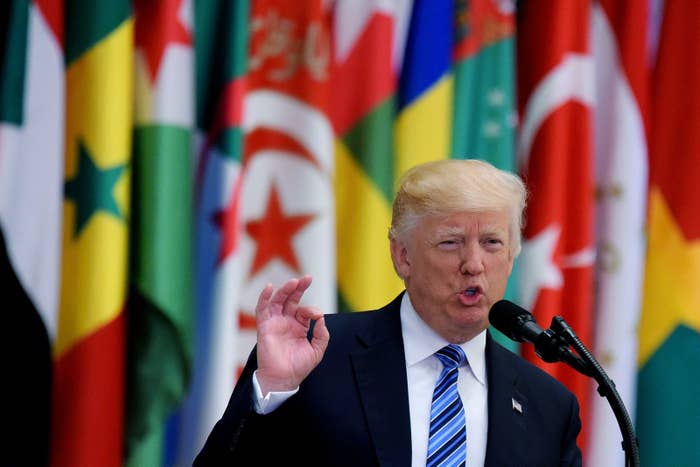 Moroccan historian and human rights advocate Maati Monjib is currently being prosecuted for vague but grave crimes against national security by the country's shadowy security forces. On Wednesday, the 55-year-old faces yet another court hearing. So it was with disappointment that he watched US President Donald Trump deliver a lengthy speech to the Muslim world without once mentioning "human rights," "democracy," or "freedom."
"At least he's saying bluntly that the US is not interested in human rights and democracy of the world," he said in a telephone interview from Rabat, the Moroccan capital. "It is only interested in the promotion of the economy and American business, and the huge amount of money in the contracts with the Saudis signify the single-minded orientation of the Trump administration: business and only business."
Trump's election terrified democracy activists across the world, perhaps especially in Middle East allies like Saudi Arabia, Morocco, and Egypt, which keep a close eye on messages coming from the White House.
Many saw Trump's choice of Saudi Arabia for his first trip abroad as a signal that human rights, democracy, and civil liberties have a low priority on the US agenda. Saudi Arabia is a leader in the bloody fight against rebel forces in Yemen, and has also put pressure on Morocco to tamp down activism in that country.
In his 30-minute speech at the Arabic Islamic American Summit in Riyadh on Sunday, Trump spoke about the region's potential for moneymaking while delivering strident denunciations of terrorism, Islamic and Islamist extremism, and Iran's role in the region.
He talked sympathetically about the suffering of the Syrian people under the Iranian-backed regime of Bashar al-Assad, but said nothing about his Saudi hosts' involvement in the war in Yemen. He also did not bring up the Saudi kingdom's history of beheadings, or its jailing of dissidents like Raif Baddawi.
Instead, he spoke about the region's tourism and business opportunities.
"Our vision is one of peace, security, and prosperity — in this region, and in the world," Trump said. "Our goal is a coalition of nations who share the aim of stamping out extremism and providing our children a hopeful future that does honor to God."
Rights advocates say Trump's formula will fail.
"In all the talk in Riyadh about security, there seems to be zero understanding that there is no peace without justice and no long-term stability without respect for human rights," Andrew Stroehlein, spokesman for Human Rights Watch, told BuzzFeed News.
As Amnesty International's Tirana Hassan watched the gathering of Trump and Muslim leaders in Riyadh, she dreaded the consequences for Yemen, where civilians have been crushed in Saudi air raids and starved by sieges imposed by Saudi allies and Iranian-backed Houthi rebels.
"I was very concerned about what the arms deals would mean for Yemen, and the civilians in Yemen," she said in a phone interview from Geneva.
"We know that these weapons have been used without apparent regard for civilians," she said. "It was very disappointing that the US had an opportunity to exert its leadership and influence but instead put human rights on the back burner. The simple fact that the human rights dialogue is absent will have consequences for people living in these countries."
In the wake of the Arab Spring uprisings, Morocco's monarchy sought to implement reforms and open up its political system, moves encouraged by Rabat's European allies and the former administration of Barack Obama. But critics say it has backslid badly, in part because of Saudi pressure; Riyadh didn't want to see an example of a democratically inclined monarchy rising in the Arab world. Those like Monjib fear Trump's agenda will hasten the erosion of freedoms in the region.
"At least the Obama administration was trying to reconcile American interests with a minimum of respect for human rights and a democratic perspective," said Monjib. "Now the Saudis can continue their campaign against human rights and democratization in the Arab world. This will have very bad consequences on the situation for human rights and democracy across the Arab world."