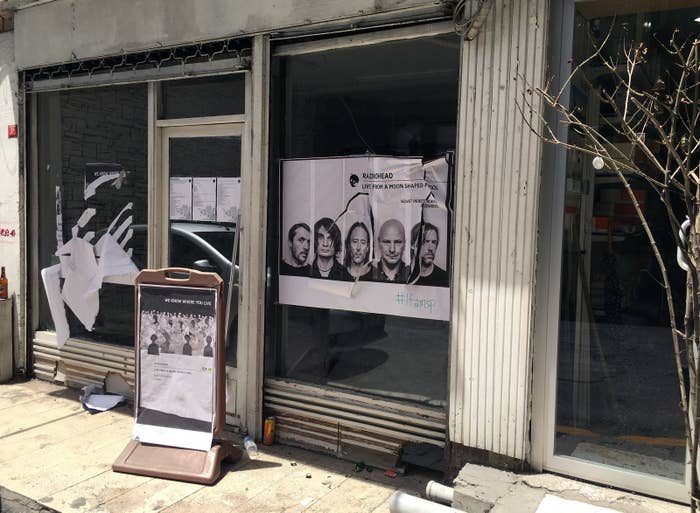 ISTANBUL — Screaming thugs stormed an alternative record store in central Istanbul Friday night where fans of the band Radiohead had gathered for a listening party.
The enraged unidentified assailants yelled, beat customers and smashed equipment, driving the fans outside, where more shouting ensued. Much of the encounter was captured on video. The mob was apparently incensed that those inside the record store, including what appeared to be at least two foreigners, were drinking beer and listening to rock music during the holy month of Ramadan.
There were no serious injuries, CNN Turk reported. The incident will surely further damage the tourism industry of Turkey and its premier city, which has been battered by numerous terrorist strikes claimed by ISIS and Kurdish separatist guerillas.
Islamist and nationalist vigilantes are on edge, having threatened to violently smash up the city's annual gay pride march next weekend. The mayor of the city, citing security concerns in the wake of the threats by the rightwing extremists as well as the attack on gays in an Orlando nightclub, abruptly canceled the parade, the largest in the Middle East.
The record store, Velvet Indieground, caters to Western and Turkish underground and indie music aficionados. It is located in a corner of the mostly upscale Cihangir neighborhood that remains on the frontline of gentrification, with foreigners and wealthy urbanites working in the arts and media bristling against traditionally minded families who have lived in the neighborhood for decades.
Radiohead responded to the attack in a statement saying it offered fans in Istanbul "love and support."
"Our hearts go out to those attacked tonight at Velvet IndieGround in Istanbul. We hope that someday we will be able to look back on such acts of violence as things of the ancient past. For now, we can only offer our fans in Istanbul our love and support."