Why I Quit Working In Nail Salons
Conditions are bad for everyone. But undocumented workers are afraid of losing their jobs.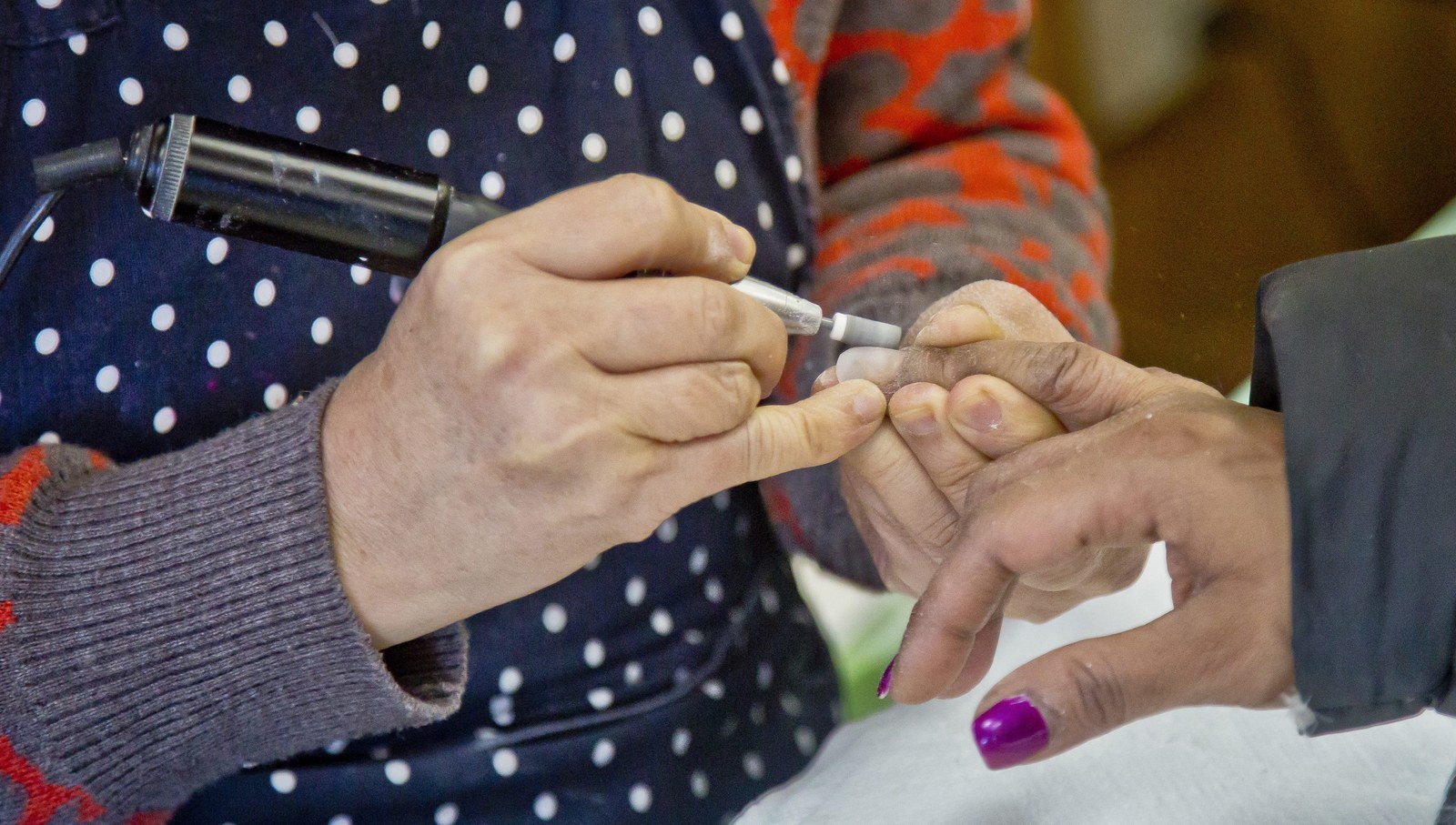 A New York Times investigation into New York City nail salons shed light on the exploitation behind $10 manicures — low pay, racial discrimination, health hazards — as well as the worker-led movements to make nail salons safe and fair.
Blanca Fernandez, 36, is part of a proposed class-action lawsuit against the owners of a chain of Manhattan salons over alleged below-minimum wages and 10-hour days without breaks or overtime pay. A lawyer representing the salons disputed most of Fernandez's account (as well as those in the complaint filed last month) but declined to comment on the record because both parties hope to reach a settlement.
As told to Mariana Marcaletti and Kat Stoeffel. Translated by Erica Sánchez. Read it in Spanish here.
I decided to sue the owner of the nail salons where I worked for six years on the same day I was fired.
I started working there on the recommendation of a friend who knew I was looking for a job. I had worked at another nail salon but left when I had my baby — when I came back two years later, the job no longer existed.
This chain of nail salons was on the Upper East Side. I've lived in Corona, Queens, since I moved here from Ecuador 14 years ago; my commute was an hour or more, and I needed to take three trains.
The job was worse than my old one right off the bat. First, the money wasn't as good. Second, the owner didn't give us any breaks. I don't know how I tolerated that for so many years. They didn't give us breaks for lunch or breakfast; they wanted us to work 12 hours nonstop — we were asked to eat in two minutes. Nobody can eat in two minutes! People were sick to their stomachs.
I didn't want to sue her, but I felt I had no choice. I was so tired.
The day I got fired I arrived at work without having breakfast. I didn't have time at home. I left my house at 8:30 and I took my kids to the school. I arrived at the salon and cleaned the equipment, like we did every day. I assisted a client and, when I finished at noon, went out to buy a coffee and something to eat. The owner got mad, and gave a client of mine — who had a previous appointment with me — to another worker. "You weren't here, so you lost your appointment," she told me. Then I got angry and she fired me.
Along with another manicurist, I've filed a class-action lawsuit against her for failing to pay us minimum wage and overtime pay. My husband, who works as a marble fitter, encouraged me to. He never wanted me to work there. He said it was unfair that I worked 12 hours a day.
I didn't want to sue her — I don't like to do this to people — but I felt I had no choice. I was so tired. She also fired four other women, but they were afraid. Everyone at the salon complains, but they don't want to speak up because they don't have papers. The conditions are bad for everyone, but undocumented workers are very afraid of losing their jobs.
I was paid a daily rate of $60, before tips, doing nails, massage, and waxing. I learned how to do everything from my previous employer. I was working 10, sometimes 12 hours a day. I would arrive at 9:30 a.m. and I never left the nail salon until 8:30 p.m. I got paid in cash at the end of the week. It wasn't until I talked to a lawyer that I learned that I was working overtime and should have been paid more.
Sometimes my boss wanted me to work on Sundays. If I said I couldn't — because I had to take care of my baby — she would get mad at me and she wouldn't give me good clients. I felt like I had no choice but to work. Other times I had to cancel with the babysitter because I wasn't working after all. I lost a lot of babysitters. Sometimes I would get mad, and my boss knew it was because of the money — but if I complained about it, she gave me less work.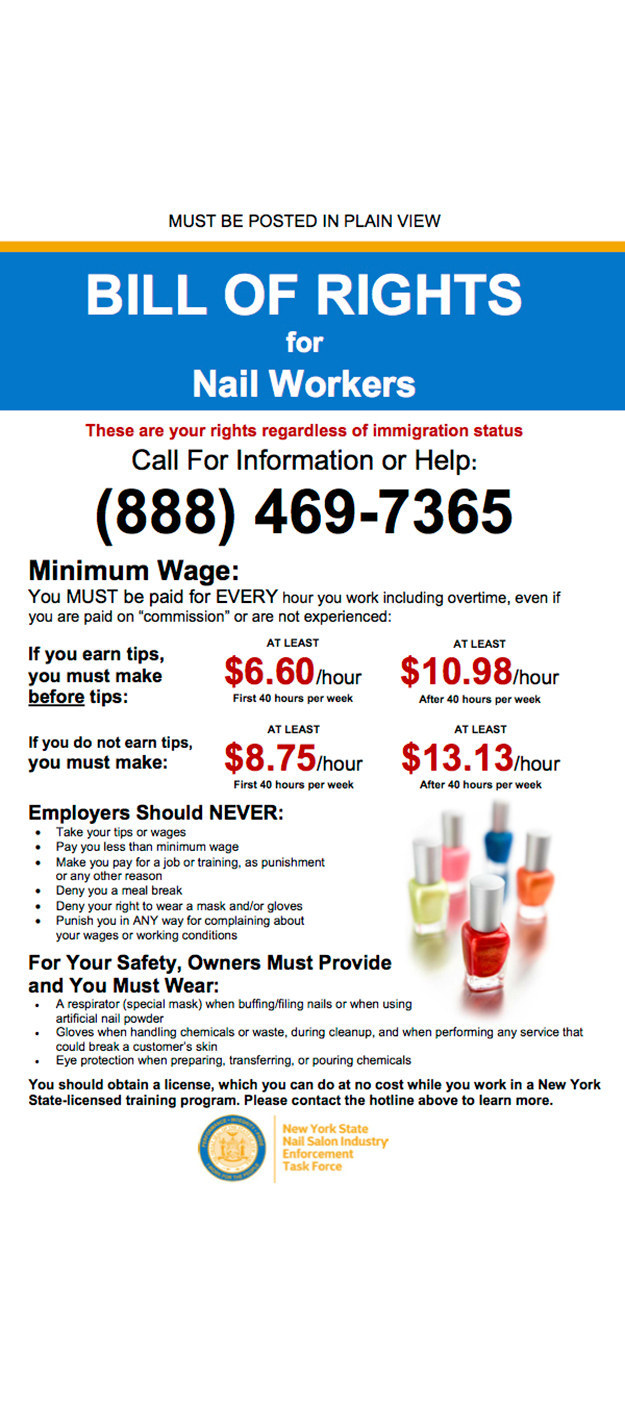 The daily rate came out to less than minimum wage. We depended totally on tips. With tips, I was making $70 to $80 a day — a little more on the weekends, around $90. It wasn't enough. The owner gave the richest clients — who paid the biggest tips — to her favorite workers. Once, I got a $2 tip from a client on an hourlong massage. I told the owner I deserved more money. She told me she had nothing to do with it and wasn't going to give me any more.
Part of the problem is that, in order to work, I had to pay the babysitter $25 a day, plus pay for the train ticket. At this salon, we also had to pay for everything we used, like tools; we had to pay to sharpen the tools.
I've heard from friends who work in nail salons that owners have heard about the New York Times investigation and Gov. Cuomo's emergency measures through TV news and have made some changes. Some workers have been asked to lie to regulators and say they earn more money than they do, or act like they make this much money year-round. It's summer. You have more chances to earn money in tips because there are more people coming into the salon. But in the winter it's impossible to earn more than $40 a day in tips.
I'm still giving manicures, but now privately, for my own individual clients. I like it better because I can decide the hours, but sometimes I have to commute to do just two clients. I'm not making enough money yet.
Blanca Fernandez works at a nail salon in New York City.

Got a confidential tip? Submit it here.