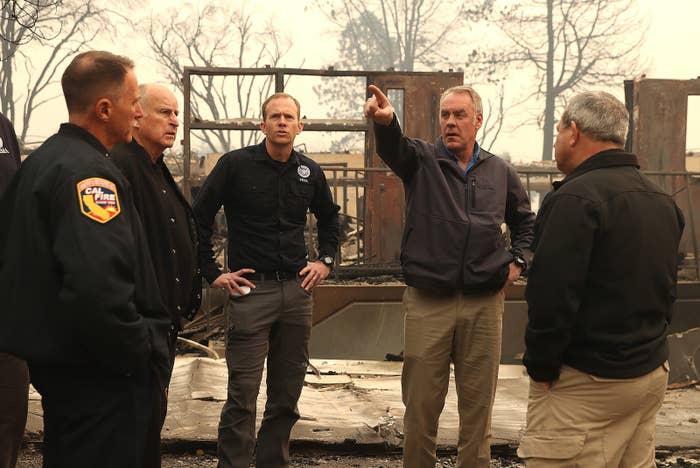 After touring the charred remains of California's most destructive wildfire in history, officials painted a grim picture of the devastation and warned of a long road to recovery, even as the state continued to burn.
Interior Secretary Ryan Zinke called the Camp fire, which practically destroyed the town of Paradise in Northern California, "worse than any war zone I saw in Iraq."

California Gov. Jerry Brown echoed Zinke's assessment, saying he barely had the words to describe the destruction.
"It's so devastating, I don't even have the words," he told reporters at a media briefing. "It looks like a war zone — and it is."
The Camp fire in the north and the Woolsey fire in Southern California have so far scorched more than 200,000 acres. The Camp fire has killed 48 people and burned 8,800 structures, making it the most deadly and destructive in the state's history. Butte County officials also posted a preliminary list of dozens of people still missing in the fire.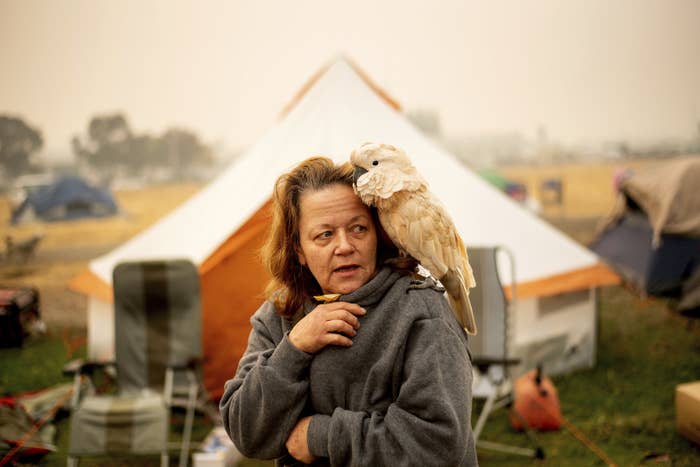 Three other people have died so far in the Woolsey fire, which hit the Malibu region and surrounding forest lands particularly hard.
Statewide, more than 272,000 people have been evacuated.
"It's one of the worst disasters I've seen in my career, hands down," FEMA Administrator Brock Long said.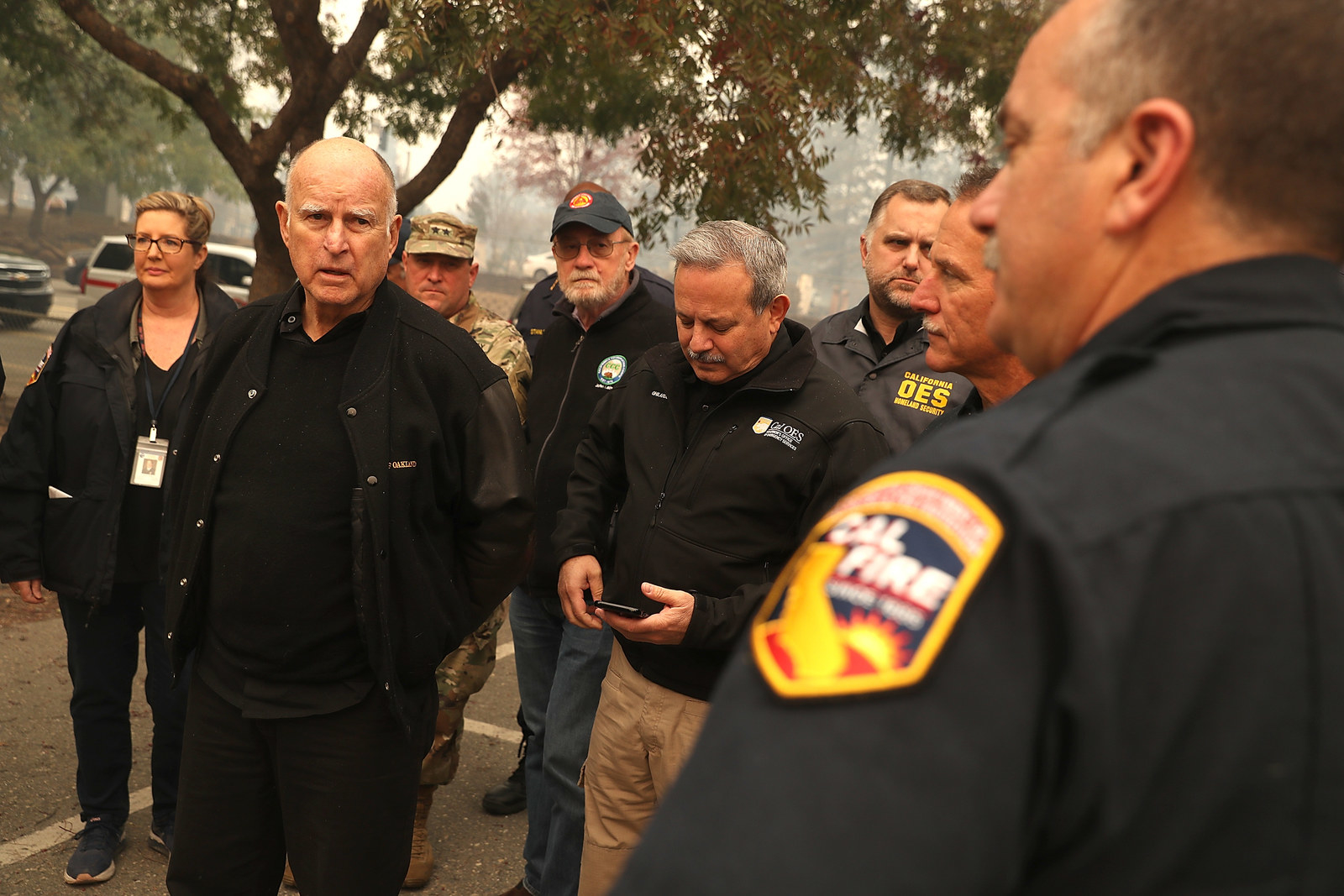 The Camp fire, so far at 135,000 acres, was 35% contained as of Wednesday, while the 97,000-acre Woolsey fire was at 45% containment, California Director of Forestry Ken Pimlott said. There were also about 9,000 firefighters battling the blazes statewide, he added.
The dry weather was expected to persist into next week, but the destructive, gusty winds that have fueled the fires' explosive speed will likely subside, bringing relief to firefighting efforts, Pimlott added.

Zinke said it was "unacceptable" to expect the state to deal with wildfires on this order "year after year after year," saying better forest management was needed.
"This is unsustainable," he said.
Zinke's reference to forest management as a way to address the blistering wildfire seasons echoed the controversial statement his boss, President Trump, posted on Twitter, which said in part, "There is no reason for these massive, deadly and costly forest fires in California except that forest management is so poor."
Trump later reversed his threat to withhold federal assistance, approving a major disaster declaration for California on Monday evening. Asked about the potential liability of Pacific Gas & Electric, which was blamed for more than a dozen fires in October 2017 alone, Brown declined to comment. PG&E reported an incident in Butte County just minutes before the Camp fire started.
Brown, who has been publicly critical of Trump's dismissal of climate change and its effects on California's fire season, said there was no doubt environmental factors were playing a role. But he urged stakeholders to stick together on the more immediate tasks of protection and rebuilding.
Officials said that a sense of shared effort would be required for years as the government works to figure out how to rebuild towns like Paradise in the wake of the disaster.
"This is going to be a very long and frustrating event for the citizens of Paradise, but we all have to work together to find a new normal," Long said.