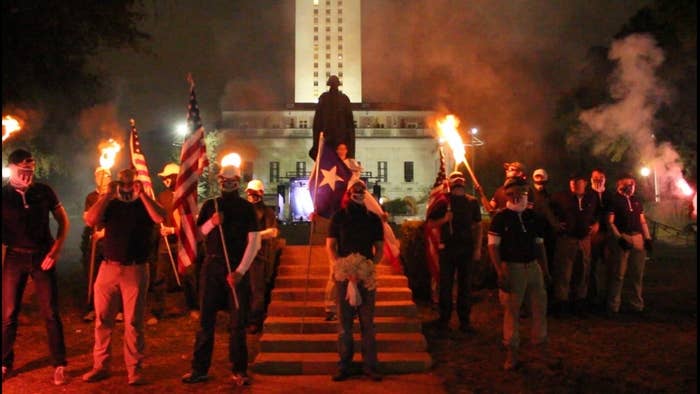 White supremacists are targeting colleges "like never before," with the number of posters, banners, and other messages on campuses up 258% in 2017, according to a new report by the Anti-Defamation League.
"They see campuses as a fertile recruiting ground, as evident by the unprecedented volume of propagandist activity designed to recruit young people to support their vile ideology," ADL CEO Jonathan Greenblatt said in a statement.

Comparing the fall semester of 2016 (Sept. 1 to Dec. 30) to that of 2017, the ADL found that the number of instances of white supremacists putting up stickers, posters, and banners on college campuses went from 41 to 147, an increase of 258%.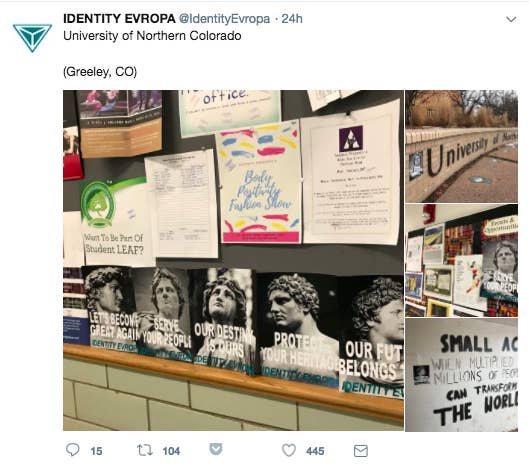 The ADL said it had recorded 346 incidents of white supremacists putting up their materials on college campuses since September 2016 across 216 colleges and universities in 44 states, with 147 of those happening in 2017. Texas was hardest hit, with 61 incidents.
Oren Segal, the director of the ADL's Center on Extremism, told BuzzFeed News he believes white supremacists target college campuses to find isolated students.
"When the groups focus on the 'threat' of multiculturalism, diversity and liberalism, they're hoping that some students who feel that that atmosphere on campus is too much for them will view white supremacist groups as an alternative," he said.
But sometimes it's less about the students than the school, he added.
"They also just want to troll campuses," Segal said. "Part of it is just about getting a reaction from the school itself. They'll also post their flyer images on social media to make it seem like they have a much bigger reach than they do."
One white supremacist group, Identity Evropa, which focuses on colleges almost exclusively, was responsible for 158 of the incidents, according to the report. Vanguard America, the group that the alleged car attacker marched with in the deadly march in Charlottesville, Virginia, posted flyers on campuses 46 times since September 2016, the ADL found.

"Upon reviewing their negative statements about Identity Evropa, the Anti-Defamation League has either done poor research about our organization, or has a motive for labeling us as something other than what we are," Identity Evropa said in a statement.
Vanguard America did not immediately responded to a request for comment.
The ADL said white supremacists may spread messaging about "saving" the white race, or materials meant to attack racial, religious, and sexual minorities.
The materials detailed by the ADL ranged from images like Michelangelo's David, emblazoned with slogans, to more overt symbols, like blood-spattered swastikas.

"While campuses must respect and protect free speech, administrators must also address the need to counter hate groups' messages and show these bigoted beliefs belong in the darkest shadows, not in our bright halls of learning," Greenblatt said.

But Segal said he's not sure if the raw number of incidents makes a difference.
"I don't think the volume of the propaganda will make students on certain campuses spontaneously realize they've secretly always been white supremacists," he said.

The ADL released a separate report in January that said white supremacists had murdered twice as many people in 2017 as they had in 2016.
Segal said that more young people are joining white supremacist groups than before, "Look no further than Charlottesville to see the movement is getting younger."