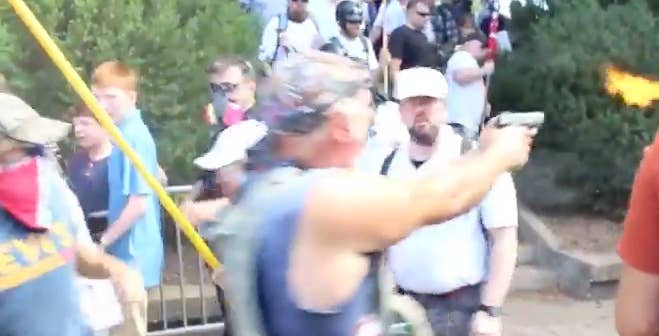 A white supremacist faces up to 10 years in prison and a $100,000 fine for firing a gun toward a black counterprotester at last year's "Unite the Right" rally in Charlottesville, Virginia.

Richard Preston, who identified himself as a Ku Klux Klan imperial wizard, pleaded no contest on Tuesday to charges of firing a gun within 1,000 feet of a school, according to the Washington Post and other news outlets. He was caught on video shooting at the ground near a black counterprotester, Corey Long, who was using an aerosol can and a lighter as a flamethrower.
The bullet did not strike anyone, and Preston's attorneys have argued that he was acting in self-defense, the Charlottesville Daily Progress reported. The video of Preston shooting his gun went viral as critics pointed to it as evidence of police inaction at the rally.

In pleading no contest, Preston, 53, is not admitting guilt but acknowledges that there is enough evidence to convict him of a crime. After entering his plea, prosecutors laid out the case and Judge Richard E. Moore found Preston guilty.
Preston is scheduled to be sentenced in August after the judge ordered a presentencing report, according to local news outlets. The judge is also allowing Preston to leave Virginia to travel to his home in Baltimore.
Long, meanwhile, faces misdemeanor assault and disorderly conduct charges.
The Albemarle County commonwealth attorney did not immediately respond to a request for comment.
Preston's shot is far from the only violent incident at Unite the Right. James Alex Fields Jr., a young white supremacist, allegedly mowed down dozens of protesters with his car, killing one, Heather Heyer. His trial is slated for November.
Another white supremacist was found guilty of malicious wounding in the beating of a black man, DeAndre Harris, the same day, and three others await trial on similar charges.