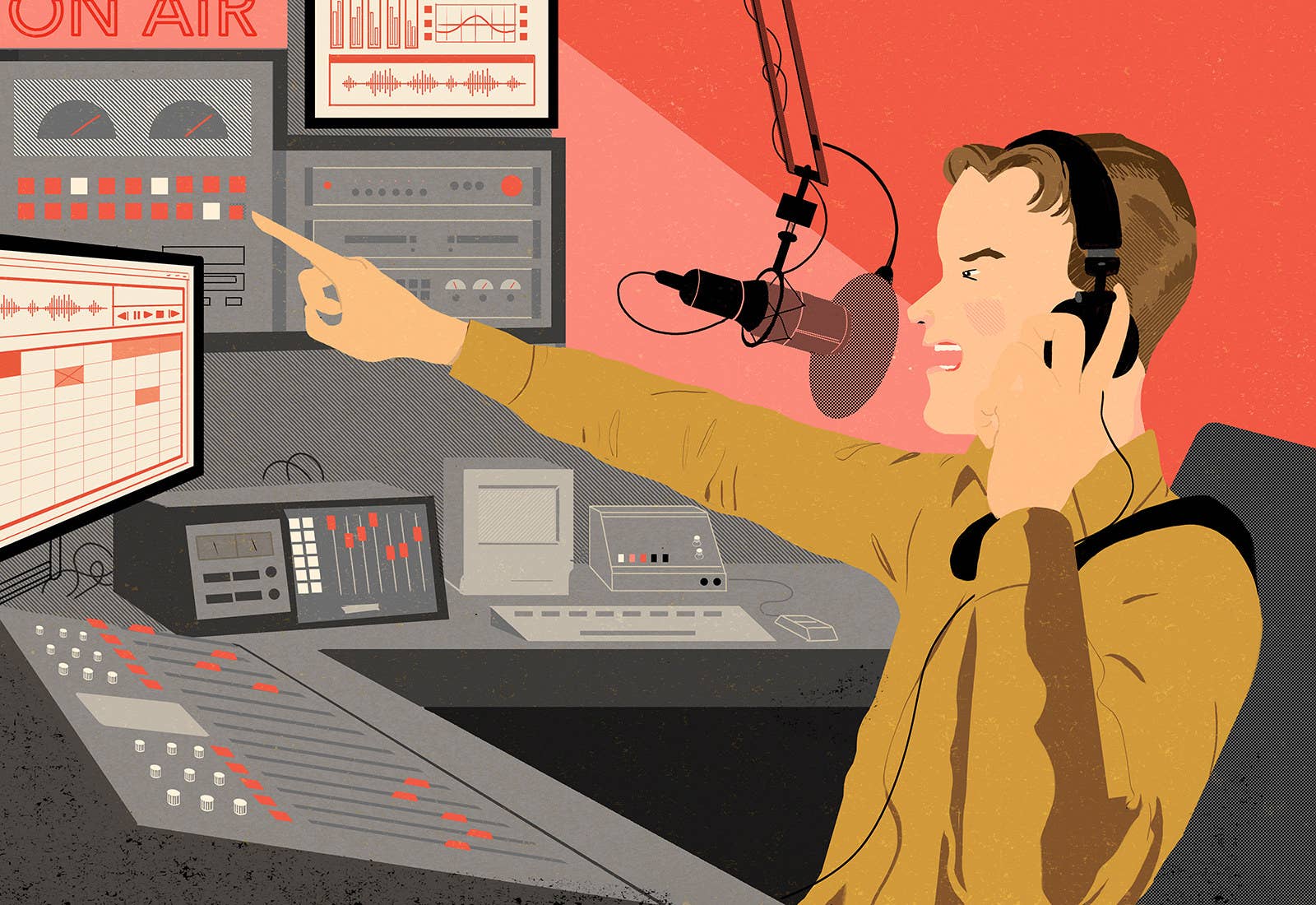 Major companies including McDonald's, Lyft, and Kaiser Permanente have pulled advertising from one of the last remaining bastions for white nationalists and neo-Nazis, internet radio, following inquiries from BuzzFeed News.
The companies said they were unaware of the ad placements, which appear to have found their way to racist internet radio programs via algorithms without direct human oversight. The ad-buying programs have created a sprawling and unruly online landscape where some platforms have been unable, or unwilling, to police content that violates their terms of service.
"It's impossible to overstate how important these broadcasts are for sustaining the movement," said Keegan Hankes, a member of the Southern Poverty Law Center's Intelligence Project, who monitors far-right radio. "People are fiercely loyal to these shows, and they listen to them over and over. They create an 'in' culture and a sense of community."
"It's impossible to overstate how important these broadcasts are for sustaining the movement."
In the wake of the deadly events at the Unite the Right rally in Charlottesville in August, many of the most powerful tech companies took swift action to banish neo-Nazis and curtail purveyors of hate speech from their platforms. YouTube also took aim at an important lifeline in March, stripping ads on racist alt-right videos and preventing the videos from generating revenue for their creators.
But neo-Nazis and white nationalists have still been able to distribute their shows on platforms like the internet radio networks TuneIn and Stitcher, where ads for major companies have been airing alongside their programming.
The radio hosts don't make money from the ads, which are played in exchange for free use, but the reach is potentially vast. In a media kit for advertisers, TuneIn claims to have 26 million monthly active listeners in the US and 75 million in total for its 120,000 stations. Stitcher had 8 million registered users as of June 2016, according to the Wall Street Journal.
On Oct. 31, an ad for Kaiser Permanente's cardiology division aired on TuneIn before a station called Radio Aryan began with the line: "You can't fix the crime problem without addressing the black problem, and you can't fix the culture problem without addressing the Jew problem."
Simultaneously, a banner ad for Kaiser ran on Radio Aryan's webpage hosted on TuneIn.

Audio ads for a partnership between McDonald's and UberEats's delivery service also aired multiple times on Radio Aryan's page through October and into November, according to a review of air time by BuzzFeed News. In one instance, a McDonald's ad played before broadcasters praised Hitler's Mein Kampf.
When contacted by BuzzFeed News about the ads, Uber said in a statement that it was working with McDonald's, which purchased the air time, to ensure the advertisements would no longer appear on "discriminatory sites."

A McDonald's spokesperson said it has since removed the ads from the radio channel.
"Discrimination has absolutely no place at McDonald's and we apologize for this inadvertent ad placement, which was handled via a third party," the spokesperson said in a statement. "Once we learned of the placement, we worked to remove it from that channel."
Christine Paige, Kaiser Permanente's senior vice president of marketing and digital services, said in a statement that the company has canceled advertising with TuneIn while it investigates what happened.
"Our policy is not to place ads on sites with offensive content," she said. "This should not have happened."
However, TuneIn spokesman Patrick Wixted defended the advertisers, saying they didn't know their ads would run on neo-Nazi radio programming.
"Our advertisers' ads are never targeted to this type of content, and we regret the fact that a very small number of ads appeared alongside it," said Wixted, who declined to specify what the actual number was. "TuneIn does not condone or tolerate hateful, offensive content on our platform. As soon as we became aware of this content, it was removed from the TuneIn service. We will continue to improve our processes for identifying and removing offensive content."
Wixted declined to specify what the changes for reviewing content would be.
In addition to Radio Aryan, TuneIn had been hosting Black Sun Radio, a neo-Nazi music station where Kaiser Permanente ads aired multiple times in October and November. TuneIn removed the station following an inquiry from BuzzFeed News.
Hans Pruitt, the 71-year-old retired freelance programmer who runs Black Sun Radio, told BuzzFeed News he had operated on TuneIn for more than a year. He calls himself a member of the alt-right, believes in the idea of a white ethnostate, and describes the music he plays as "fashwave" — white nationalist electronica.
"I play music for white people," he said.
"Radio is where you'll find all the leaders of this movement."
For him, it's not about the money, it's about being part of the white nationalist power structure, where broadcasters model themselves after mainstream conservative talk radio personalities.
"Radio is where you'll find all the leaders of this movement," he said.
Programmatic advertising — or ads distributed by an algorithm on the internet without direct human oversight — has been a challenge for brands trying to steer clear of objectionable or offensive content that has been disseminated on a range of stations.
Some wield more influence than others, however. Hankes described Black Sun Radio, Radio Aryan and Renegade Broadcasting — the latter two did not respond to requests for comment — as "second tier" in the neo-Nazi radio scene because they accrue fewer plays than others. The neo-Nazi station Red Ice Radio and the alt-right network of podcasts The Right Stuff, or TRS, are the two major players, racking up thousands of plays per episode and inspiring strong listener devotion, Hankes said. That's a problem for critics who say internet broadcast platforms should be doing more to police the content they distribute.
TuneIn and Stitcher explicitly forbid content that promotes bigotry, discrimination, hatred, intolerance, and racism. However, a weeks-long review of programming by BuzzFeed News found that hate messages regularly airing on their sites.
Heidi Beirich, director of the SPLC's Intelligence Project, said that by not effectively policing their content, the internet radio platforms are essentially "monetizing hate" by running ads against them. She said the SPLC works with online ad suppliers to ensure ads don't appear alongside racist or otherwise offensive content.
"They're paying for Radio Aryan and others to be on the air, and that shouldn't be allowed to happen," she said. "They should be screening their content against lists of hate groups."
John Rosso, president of market development at the online ad distributor Triton Digital Exchange, estimated that the cost per thousand impressions for these types of ads would be between $5 and $10, a middle-of-the road price for pre-roll audio ads. But he added that it's not possible to know how much the advertisers paid without knowing how many people the ads reached, a number TuneIn did not disclose.
The same problem is affecting Stitcher, where ads for UPS, Lyft, and others were also aired on racist programming, including Radio Aryan.
Advertisers contacted by BuzzFeed News have since pulled their ads. Matthew O'Connor, a spokesperson for UPS, said the company wouldn't restart advertising with Stitcher "until we are assured that this will not happen again."
"If there's a philosophy of allowing hateful content to grow a service, that's almost like having blood diamonds."
Lex Friedman, the chief revenue officer at Stitcher's parent company, Midroll, said the company "deeply regrets" that Radio Aryan managed to go unnoticed by management, calling the program "a violation of human decency."
Radio Aryan, which debuted on the platform in May, has since been removed for violating Stitcher's terms of service, but critics say that does little to address the root problem.
Stitcher, Friedman said, receives tens of thousands of submissions per week and therefore does not review the content of each show. Instead, the company relies on its community members to flag inappropriate content, and since Radio Aryan's audience was small, Friedman said it never reached a size that would put it on the radar.
He added that Stitcher is "working to help surface potentially objectionable content faster," but would not specify what shape those changes might take.
Jack Krawczyk, the former head of ad product marketing at Pandora and a former Google AdSense product manager, said the solution for platforms like TuneIn and Stitcher is transparency through categorizing content, such as "not safe for advertising."
He pointed to a problem Pandora once had with comedy shows. Much of the site's most popular comedy was offensive to many people, and advertisers became uncomfortable with their ads appearing next to it, Krawczyk said. So Pandora simply stopped airing ads on all comedy channels.
"If there's a philosophy of allowing hateful content to grow a service, that's almost like having blood diamonds," he said. ●