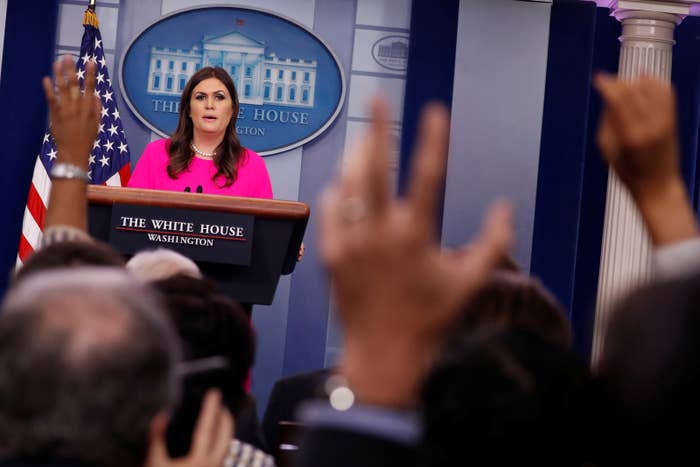 White House press secretary Sarah Huckabee Sanders on Tuesday declined to address the growing sexual assault scandal enveloping Hollywood movie mogul Harvey Weinstein days after President Trump said he wasn't surprised by the allegations.
Speaking to reporters outside the White House on Saturday after the New York Times published the first of multiple media reports detailing decades of sexual assault and harassment allegations, Trump said he had known Weinstein "for a long time" and was not surprised.
"I'm not at all surprised to see it," he said.

When a reporter asked if he thought the movie producer's behavior — which includes allegations of rape, assault, and harassment by actresses and industry workers over decades — was inappropriate, the president responded: "Well, he says they were inappropriate."
On Tuesday, after The New Yorker published an investigative report on other sex assault allegations, Sanders was asked about how much the president knew of Weinstein's alleged behavior if, as he said earlier, he wasn't surprised by the allegations.
"I think that statement speaks for itself," Sanders responded. "Nothing to add."

Trump was famously recorded telling former Access Hollywood host Billy Bush in 2005 that famous men "can do anything" they want with women.
"Grab them by the pussy. You can do anything," he said. He later chalked the comments up to "locker room talk."
Weinstein has come under increasing fire from those in the movie industry he once dominated, and in the Democratic party, for which he was a major donor and fundraiser.
Democrats in the US Senate rushed last week to condemn Weinstein and donate any contributions they received from the movie executive to charities.
Hillary Clinton on Tuesday said she was "shocked and appalled by the revelations," although she did not address any campaign donations.