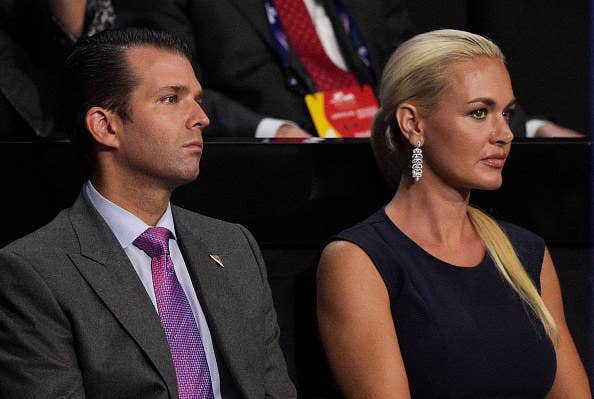 The wife of Donald Trump Jr. was taken to the hospital as a precaution Monday after opening an envelope with white powder in it.
An investigation into the substance that Vanessa Trump was exposed to after opening the letter remains ongoing, but a New York Police spokesperson said the powder was deemed to be nonhazardous.

Trump and two other people were decontaminated by firefighters at her Manhattan residence after she opened the envelope around 10 a.m., police said. CBS New York reported that Vanessa Trump's mother also handled the envelope.

Trump tweeted her thanks to the first responders Monday evening: "Thank you so much for all the help today in NYC! I appreciate all the quick response to make sure that I was safe!"
Donald Trump Jr. tweeted in response to the incident, "Thankful that Vanessa & my children are safe and unharmed after the incredibly scary situation that occurred this morning. Truly disgusting that certain individuals choose to express their opposing views with such disturbing behavior."

Police did not identify the substance or the origin of the envelope.
The Secret Service is also investigating the scene.
A spokesperson for Donald Trump Jr. did not immediately respond to a request for comment.
White House press secretary Sarah Huckabee Sanders said Monday that the president had spoken to Vanessa Trump about the incident. Citing an ongoing investigation, however, Sanders said she could not comment further.
Ivanka Trump tweeted that she was "Thinking of @MrsVanessaTrump & wishing I was by her side today. No one deserves to be frightened this way."