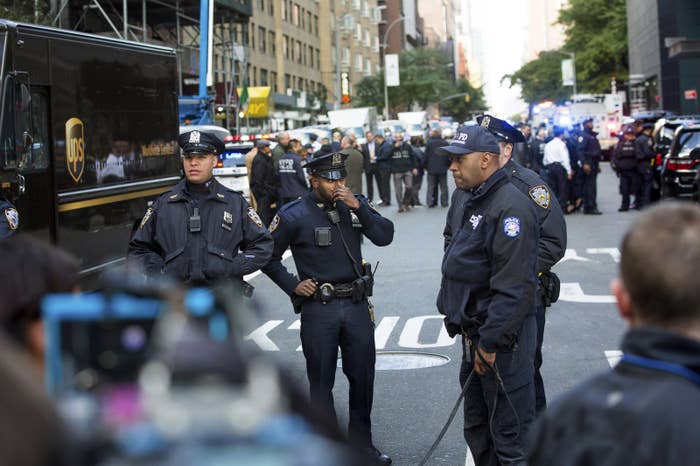 Twitter promoted hashtags devoted to baseless conspiracy theories about the explosive devices mailed to Democratic figures and Trump critics in its widely viewed Trending section on Wednesday.

Authorities intercepted "live explosive devices" mailed to Hillary and Bill Clinton, former president Barack Obama, and US Rep. Maxine Waters, as well as former Democratic National Committee chair Debbie Wasserman Schultz's Florida office (addressed to former attorney general Eric Holder), and CNN offices in New York (addressed to former CIA director John Brennan). No one was harmed in the scare.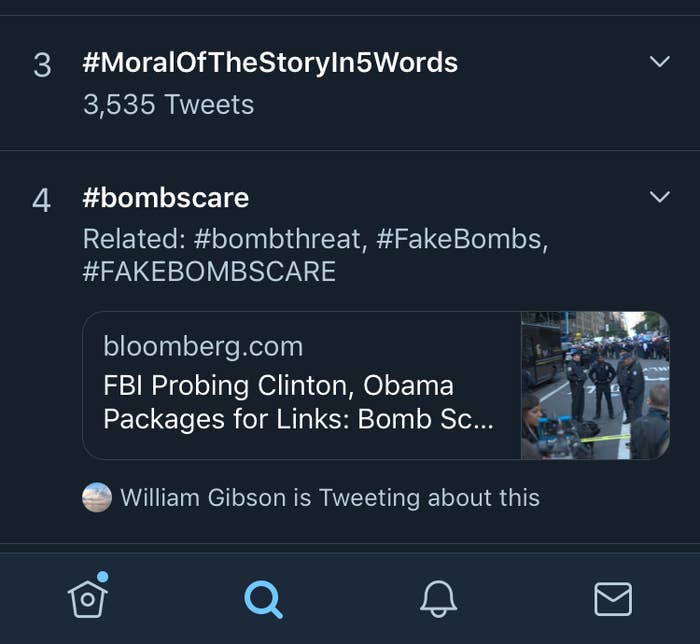 But people on Twitter, including right-wing commentators with name recognition like Ann Coulter, James Woods, and Candace Owens, tweeted that the devices, described as being similar to pipe bombs, were a scheme concocted by Democrats to boost sympathy and turnout before the midterm elections in November. However, there is no evidence to support their claims. And neither the identity nor political affiliation of the perpetrators are known.

Still, #FAKEBOMBSCARE, #FakeBombs, and #FalseFlag — all dedicated to the conspiracy theory — trended alongside #BombScare. Many used #BombScare to tweet the theory as well, but the hashtag itself is not blatantly false like the others. #MAGABOMBER, a hashtag devoted to the idea that the bomber was a right-winger attacking the president's nemeses, also trended, again with no proof.
Some people were using the hashtag to tweet against it and debunk it, repeating the information that the bomber's identity and motivation were unknown.
A Twitter spokesperson directed BuzzFeed News to the company's Frequently Asked Questions page, which states that related hashtags appear alongside trending ones about the same topic. It's unclear if the Trending feature has human oversight. Twitter determines trends based on an individual user's location and who they follow.

"Algorithmically, trends and hashtags are grouped together if they are related to the same topic," the policy states.

The spokesperson clarified that the hashtags trended as a result of real people tweeting rather than an editorial decision by Twitter staff or a manipulation campaign. A source within Twitter said that it would be difficult to ascertain how many people the hashtags trended for.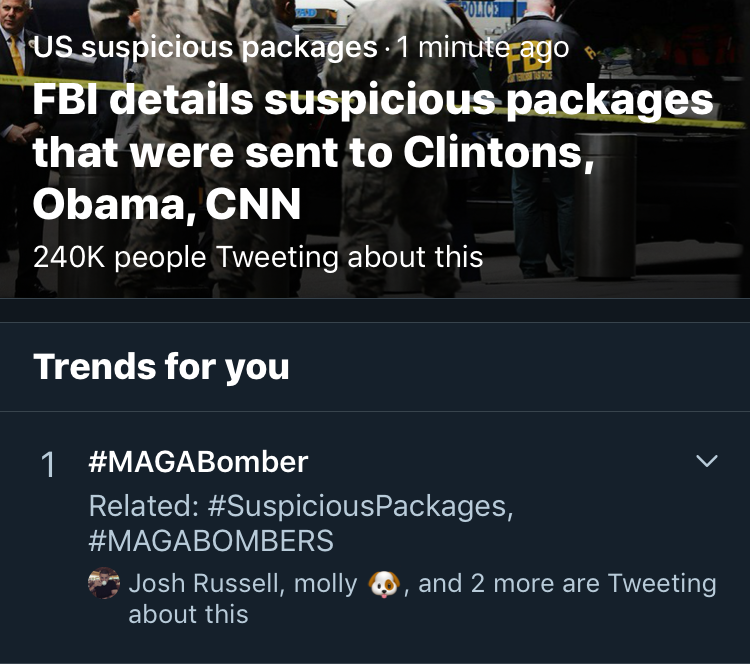 "We want trends to promote healthy discussions on Twitter. This means that at times, we may prevent certain content from trending," the FAQ page adds.
The FAQs do not address misinformation and conspiracy theories, and a source within Twitter confirmed that such things do not violate Twitter's content rules.
One user also tweeted that Twitter's algorithmic feed was promoting a tweet calling the pipe bombs an "obvious political stunt," again with no basis in fact. Twitter's algorithmically ranked feed often promotes tweets that people you follow engage with, though it is possible to down-rank the tweets or turn off the algorithmic timeline altogether.
Twitter has continuously struggled with the algorithmic promotion of misinformation before and pledged to curb it.