Donald Trump's Former Chauffeur Is Suing Him
Trump's driver for 20 years claims that the president never paid him overtime for working nights, weekends, and holidays.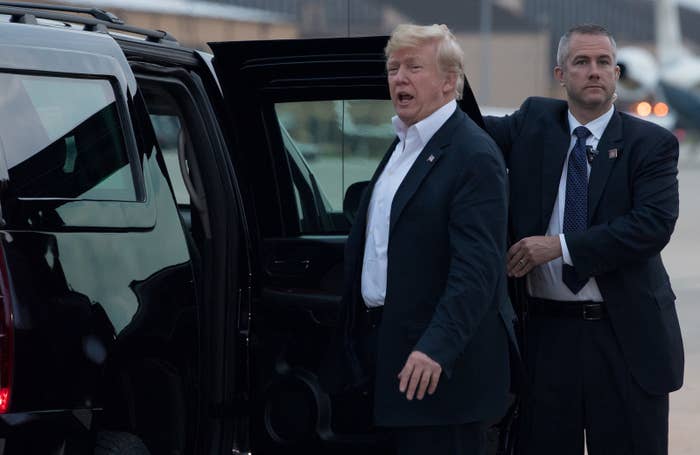 Donald Trump's chauffeur of more than 25 years has filed a lawsuit alleging that he was never paid nearly $175,000 in overtime wages.

Noel Cintron, who was Trump's driver until the Secret Service took over the role in 2016, alleges the president didn't pay him overtime wages for the past six years, a violation of state and federal labor laws.
Cintron's attorney, Larry Hutcher, called it "an utterly callous display of unwarranted privilege and entitlement."

Cintron worked 550 hours of overtime every year — including nights, weekends, and holidays — driving Trump, members of the Trump family, and their business associates, according to the lawsuit, which describes his schedule as running "from 7 am to whenever Donald Trump, his family or business associates no longer required Plaintiff's services."
He's suing for $178,200, interest, attorneys' fees, and punitive damages, which would be determined by the court if he wins.

The lawsuit states Cintron worked 50 to 55 hours per week for Trump for a salary of $75,000 a year without health benefits as a "non-exempt employee" — salaried but entitled to overtime pay. He still works at the Trump Organization's security department.

A spokesperson for the Trump Organization said in a statement, "Mr. Cintron was at all times paid generously and in accordance with the law. Once the facts come out we expect to be fully vindicated in court."
Cintron alleges that Trump stiffed him the entire time he worked for the Trump Organization, but concedes that the statute of limitations only allows him to claim payment for the past six years.
Hutcher said his client had only recently realized the problems with his former job.

"He's recognizing and learning what his rights were and now has the courage to come forward and make a claim that he's entitled to make," Hutcher said. "He's finally having the strength to ask for what he's entitled to recover."
Cintron also alleges that the Trump Organization slashed his health care in 2010, nullifying the raise he received that year, and did not provide annual wage notices or accurate wage statements.

The Trump Organization and the White House did not immediately respond to requests for comment.