A soldier who President Trump believes should not be allowed to serve in the military because she is transgender will be in the audience for the State of the Union address at the invitation of a Democratic lawmaker.

Rep. Joe Kennedy III, who is scheduled to deliver the Democratic Party's rebuttal speech from Massachusetts on Tuesday night, invited Staff Sgt. Patricia King, 37, to attend the president's speech in the House Chamber.
Trump blindsided the Pentagon and top military officials last year when he declared on Twitter that he was banning transgender people from serving "in any capacity" in the military.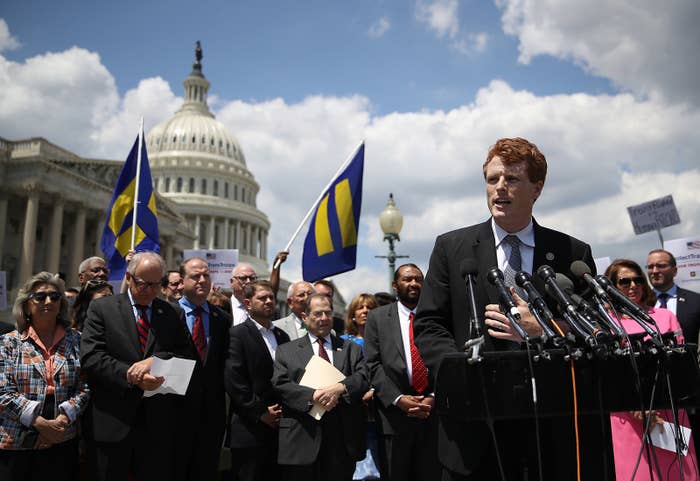 Kennedy, who serves as chair of Congress's Transgender Equality Task Force, has been a vocal opponent to the ban. His office did not immediately respond to a request for comment, but he told the Boston Globe that he wanted King at the address to humanize the issue.

"I want her to be there as a real person, and the face of an inhumane policy," he said.
King is stationed at Fort Lewis in Washington state and grew up in Marstons Mills, Massachusetts. She enlisted nearly 19 years ago after graduating from Cape Cod Tech and has been deployed to Afghanistan three times, according to her website. She began her biological transition in March 2015, she said on the site.
She did not immediately respond to a request for comment on Monday, but told WMUR: "I'm proud to be able to go and be a representative of the transgender community. I'm proud to be there and be a part of this process and I hope that gives others hope for the future."
Trump's announcement on Twitter in July came just one year after the Defense Department under President Obama lifted the ban on transgender soldiers serving openly.

But Trump's efforts have faltered in federal courts, which blocked any delay of the Pentagon's previously set deadline for allowing transgender military recruits starting Jan. 1. Transgender troops have also asked the courts to permanently halt the administration from enforcing a ban.
The path forward has been so stymied that the Justice Department appears to have all but given up.
At the same time, neither the Pentagon nor the White House have provided answers for what the ban would mean for the thousands of transgender people already serving in the military.
Trump's assertion that the military "cannot be burdened with the tremendous medical costs and disruption" of transgender troops contradicted an exhaustive study commissioned by the Pentagon that found that allowing transgender service members to serve openly would have "minimal impact on readiness and health care costs."

There are between 1,320 and 6,630 transgender individuals currently on active duty, or about .05% of the total active force, according to a Rand Corporation analysis. Other studies say that number may be as high as 15,000.