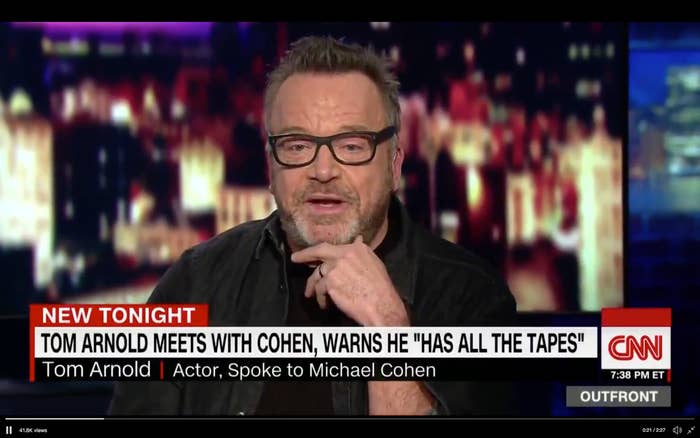 Tom Arnold, comedian and former husband of actor Roseanne Barr, made the rounds on cable news Friday and wow, have we got a show for you.

For starters, Arnold said that he was planning to spend a great deal of time with President Donald Trump's former lawyer and longtime fixer Michael Cohen in his quest to dig up dirt on the president. But since he apparently didn't want to get into any details, there was plenty of...awkward silence.
So here's the backstory: Arnold is working on a Viceland show called The Hunt for the Trump Tapes that is set to air in the fall. In a teaser for the show, Arnold says he is pursuing a number of recordings of Trump's most salacious alleged misconduct (watching Russian prostitutes urinate, etc).
You can watch the trailer here:
Cohen would theoretically have some access to potential dirt. He is, after all, the one who paid porn star Stormy Daniels $130,000 as part of a hush agreement right before the 2016 election to stop her from discussing an alleged affair with Trump.
Earlier in the day, Arnold tweeted a picture of himself and Cohen with the caption, "I love New York," which Cohen retweeted. George Conway, the husband of Trump's senior adviser Kellyanne Conway, then tweeted a screenshot of the tweet with Cohen's retweet visible.
A New York Times reporter called it "a nesting doll of drama," and Arnold did not disappoint.
In interviews with CNN and MSNBC, Arnold spoke about how Trump should be worried that he is going to "spend the weekend with Michael Cohen," implying that the two would work together to expose the president's secrets.
"You've disrespected [Cohen], and there's a lot going on," he told CNN anchor Poppy Harlow.
When pressed, however, there didn't seem to be much substance to Arnold's bluster.
"Did Michael Cohen tell you specifically that he's cooperating with the authorities?" Harlow asked.
Cue awkward silence.
After his long pause, Arnold rambled about the seriousness of the topic and how he has two children before saying he didn't want to answer the question.
He also went on MSNBC, where he said that Cohen would "take care of his family and his country," but he didn't offer anything specific when asked if Cohen would cooperate with authorities in their investigations.
He did add, however, that "Michael Cohen did not make any promises with me."
Whether Cohen would cooperate with authorities didn't seem to matter to Arnold, though, who said he was on a mission.
"I'm not going to quit until he's out of office," he said of Trump on MSNBC. "Because he and his family are just awful grifters, horrible people."

Arnold's publicist did not immediately respond to a request for comment, but the internet was full of reactions.
People were like, "???"
"TRAINWRECK of an interview."
The cringe.
And then Cohen went and stirred the pot, using fire hashtags #done and #ridiculous in reference to Arnold's claims.
So this is where things appeared to stand...
But wait. The drama wasn't over. Arnold responded to Cohen's tweet acknowledging that he didn't really like his CNN appearance and appeared to let go of their ~friendship~.
"Get some rest brother. I won't trouble you anymore."