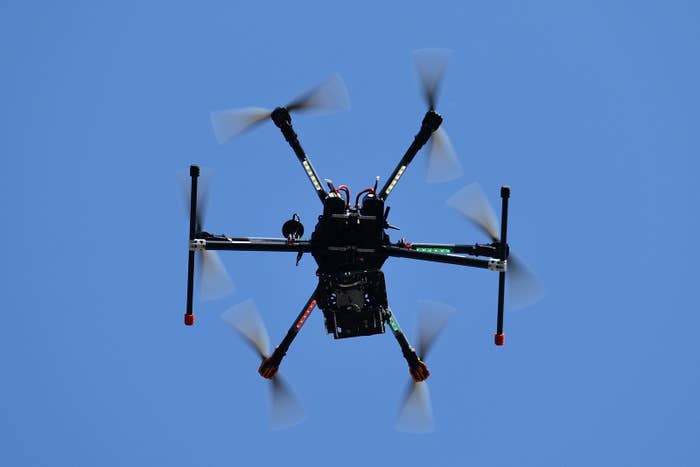 The Trump administration wants Congress to let it surveil, hijack, or strike down any drone in US airspace.
Trump's team has published a 10-page draft of legislation requesting authority for the federal government to develop countermeasures and take action against any drone over US soil deemed to pose a threat. The proposed bill focuses on commercial drones, such as small quadcopters like the DJI Mavic or Phantom that are easy to purchase online. The New York Times first reported the news.
What kind of threats do drones actually pose?
Drones pose a rising security risk as their technology advances, their range improves, and they're able to bear heavier payloads.
After ISIS used small quadcopter drones like ones you'd buy at Radioshack to surveil and drop explosives in Iraq and Syria, it stoked US officials' fears that the group will attempt to use drones to carry out terrorist attacks. And in 2015 when a drone evaded the White House's radar system and mistakenly crash landed on its lawn, the incident prompted a Secret Service investigation.
More and more people also have drones. Sales are expected to go well beyond $1 billion this year, up sharply from around $800 million last year. An estimated one million drones were sold in the 2015 holiday season alone.

So here are powers the government wants to have over drones:
Surveil them: "Detect, monitor, identify, or track, without prior consent, an unmanned aircraft system, unmanned aircraft, payload, or cargo, to evaluate whether it poses a threat to the safety or security of a covered event or location."

Hijack them: "Redirect, disable, disrupt control of, exercise control of, seize, or confiscate, without prior consent, an unmanned aircraft system."

Strike them down: "Use reasonable force to disable, disrupt, damage, or destroy an unmanned aircraft system, unmanned aircraft, or unmanned aircraft's payload or cargo that poses a threat to the safety of a covered facility."

Research them: "Conduct research, testing, training on, and evaluation of any equipment."

"Threats" in this case are defined as anything that could interfere with a wide range of government activities: disaster rescue or emergency services, prisoner detention, the safety of military or government personnel, transportation of nuclear materials, and other processes.
The document does say that the Federal Aviation Administration would still hold sway over the regulation of the general national airspace, so the Trump administration's power wouldn't be limitless if the new legislation passed as it is right now. But the regulation is likely to change as the administration consults the Department of Transportation, the FAA, and Congress.
The reason the Trump administration is having to ask Congress to give it this control over drones is because current privacy protection laws technically prevent the government from interfering with drones. As noted in the bill's draft, "some of the most promising technical countermeasures for detecting and mitigating [unmanned aircraft systems] may be construed to be illegal under certain laws that were passed when [drones] were unforeseen."
The Trump administration did not immediately respond to a request for comment.

What are the privacy concerns?
The administration is asking for a broad swath of powers that may trouble drone owners. According to the draft, any drone that the government disables is immediately considered US government property, and its communications as well as its hardware may be dissected to develop more defenses against drones. That kind of research would subject all the digital records of your drone to government investigation.
The act does, however, stipulate that the privacy implications of any new measures must be reviewed by the Secretary of Homeland Security, a position appointed by the president. A recent court decision struck down the regulation obligating consumers to register their recreational drones with the Federal Aviation Administration.
The draft says that the government would have to take action against drones while respecting "privacy, civil rights, and civil liberties," but it also says that US courts would have no power to hear lawsuits over the federal government's actions against drones, which means drone owners would have no recourse to recover their forfeited equipment. The information gathered under the legislation would also be exempt from information disclosure laws, according to the draft.
DJI, the world's largest drone manufacturer and seller, declined to comment, saying it was still evaluating the impact of the proposed legislation.