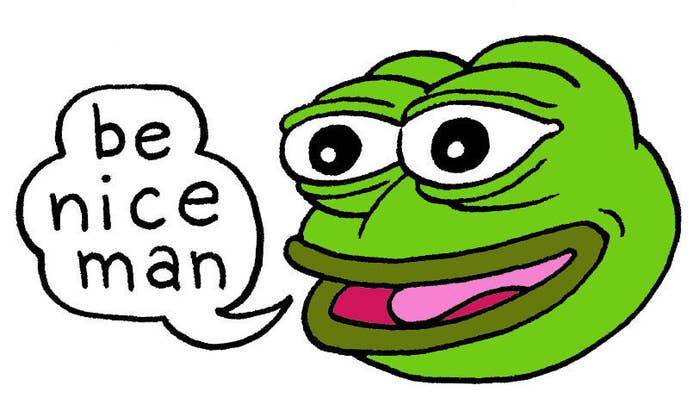 The creator of Pepe the Frog, the cartoon character co-opted by the alt-right for Nazi and pro-Trump memes, has sued the the right-wing conspiracy theory site InfoWars for copyright infringement.
In a lawsuit filed in California federal court, Pepe's creator, Matt Furie, alleges that InfoWars unlawfully used the character in a poster that features the frog, InfoWars host Alex Jones, former Breitbart editor Milo Yiannopoulos, Donald Trump, the slogan "MAGA," Kellyanne Conway, Roger Stone, and others. Furie alleges that the poster promotes "a message of hate."
Furie is seeking unspecified damages, attorneys' fees, and a permanent injunction against InfoWars to prevent the site from ever using Pepe again. Furie's attorney, Louis Tompros, said InfoWars has not yet formally been served with the lawsuit, but that he had sent the site a copy.
"We'd prefer if the store would drop the poster voluntarily," he said.
The poster in question was still for sale on InfoWars' site as of Tuesday afternoon.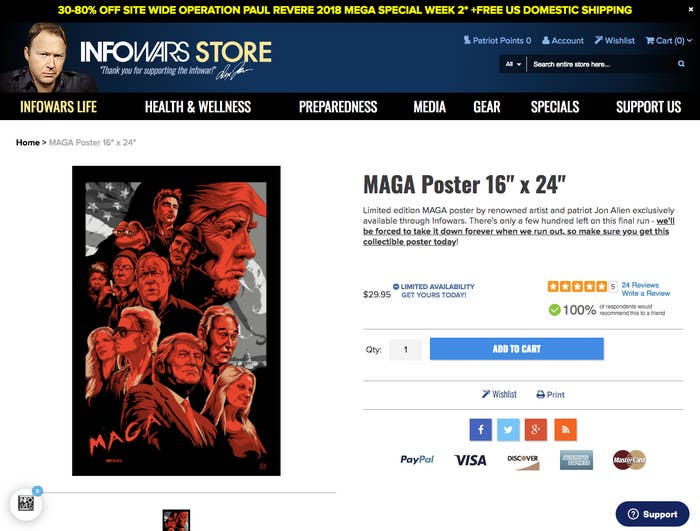 Furie's attorneys sent cease-and-desist letters to some of the most prominent players in the alt-right and pro-Trump sphere in September. Tompros called the letters "very successful" and said that all but one of the recipients had complied.
"Our goal is to make sure no one feels like they can associate Pepe with images of hate and think they'll profit from that," Tompros said. "That's what we're trying to stop. Ideally, it would stop right away."
It's not InfoWars' first tango with copyright infringement. The site has published more than 1,000 articles from the state-run Russia Today without permission since 2014.
"At his creation, Pepe was a 'peaceful frog dude,'" Furie's attorneys wrote in the most recent lawsuit. Furie first published Pepe in 2003 for his comics Boys Club, and, according to the complaint, "by 2014, the Pepe character featured prominently in internet memes." But by 2015, the suit says, various fringe groups connected with the alt-right, 4chan especially, attempted to co-opt Pepe by mixing images of the frog with images of hate.
Furie has collaborated with the Anti-Defamation League to stop the spread of Pepe as an alt-right meme with the #SavePepe campaign. He also attempted to metaphorically kill the frog, drawing a comic in 2017 of Pepe at his funeral.
"The association of Pepe with symbols of hate and with the alt-right movement has been a nightmare for Furie," his lawsuit states.
InfoWars did not immediately respond to request for comment.