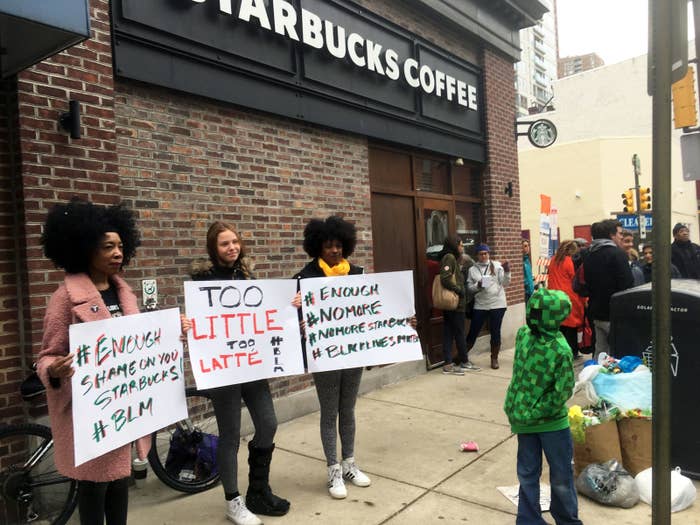 Starbucks will close more than 8,000 stores and corporate offices in the US on the afternoon of May 29 to hold anti–racial bias training as the company struggles to cope with the fallout of two black men being arrested at a location in Philadelphia.

Fierce backlash against the coffee chain followed after a video of the two men being arrested on April 12, despite being defended by other customers, went viral. Witnesses said the two men hadn't ordered anything while they were waiting for a friend, but the manager asked them to leave and called the police. Their names have not been released, and no charges were filed.
Nearly 175,000 employees will take part in the anti–racial bias trainings, which will be focused on "preventing discrimination in our stores," according to a statement from Starbucks, The curriculum, developed with several partners, including the NAACP and a former US attorney general, will also become part of the company's training for new hires, Starbucks said, and will be made available to other companies.
"Closing our stores for racial bias training is just one step in a journey that requires dedication from every level of our company and partnerships in our local communities," CEO Kevin Johnson said in the statement.
Philadelphia police released the 20-second 911 call Tuesday, as well as audio clips of officers discussing the incident. In that audio compilation, a woman called police at 4:37 p.m. on April 12, and calmly told the operator, "Hi, I have two gentlemen in my cafe who are refusing to make a purchase or leave," giving the address of the Starbucks.
After telling the caller that police will be there "as soon as possible," the audio cuts to the dispatcher telling police officers that a "group of males" — rather than two men — were "causing a disturbance" and "refusing to leave."
From that point on, dispatchers and officers heard on the recordings referred to the men as a "group of males inside," with one man calling for backup and a supervisor.
At 5:00 p.m., an officer calls in and reports that he is coming back to headquarters with two men.
In an incident report, Philadelphia police officers noted that the two men had asked to use the store's bathroom, and that after being told the restroom was only for customers, they cursed at the manager. After police arrived, according to the report, the men pushed back, saying "we ain't got to go...cops don't know the laws...y'all make 45G a year."
Police then called multiple units for backup.
Over the past few days, Johnson and Starbucks founder Howard Schulz have met with the two men who were arrested, as well as other Philadelphia community leaders.
"We will learn from our mistakes and reaffirm our commitment to creating a safe and welcoming environment for every customer," Schulz said in a statement.